Admission Prices & Other Info
Monday 8th June 2020
Back to blog posts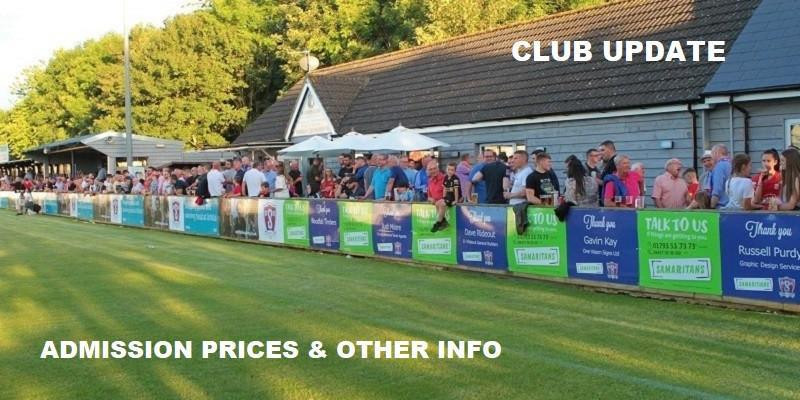 MATCHDAY ADMISSION COSTS
Our supporters will be aware that the club hadn't changed its admission price for two seasons until the start of last season and this helped with the ever increasing running costs for a club competing in the Southern League Premier Division, step 3 on the non-league pyramid and just three promotions away from the Football League.
After an exciting and enjoyable season, we were in fourth place (a playoff place) when the dreadful Covid-19 virus MEANT all football was suspended in March which brought the season to a close shortly afterwards.
The Chairman and Directors have met and have now confirmed that there will not be any increase to our admission prices for the 2020/21 season, when it hopefully kicks off in August 2020. The matchday admission prices will be as follows:
Adult - £10
Concession (over 60's and 12 to 17-year-olds) - £6
Children U12 (Must be accompanied by an adult) - FREE
SEASON TICKET PRICES
Our supporters that purchased a season ticket will also be pleased to note that they will also not be increased from last season.
There was a number of last seasons ticket holders writing on the club forum recently that they wouldn't be looking for a refund due to the last six home game being cancelled due to Covid-19. Again this demonstrates the fantastic support the club has and is most welcomed and appreciated by the Chairman, Directors and every member of staff at the club.
This is a fantastic gesture during this difficult time, especially when every club is fighting to remain financially sound, particularly the non-league football families. If these thoughts have changed for those supporters that intend on renewing their season ticket for the 2020/21 season then please discuss this with the club secretary Keith Yeomans when you apply for your season ticket and he will offer you a refund by way of a reduction in your 2020/21 season ticket when it IS purchased.
Cost - Adults £180 / Concessions £100
If you would like further details, please email Swindon Supermarine FC or Football Secretary
Season Ticket Application Form PDF
Season Ticket Application Form Word
MATCHDAY PROGRAMMES
Likewise, although there have been huge printing costs, we have a huge desire to stay away from publishing an online digital programme so our matchday programme cost will remain the same price as the past eight seasons. The programme will continue to be informative, packed with statistics, data and in colour.
Cost - £2.00
MATCHDAY CAR PARKING
Our matchday car park is situated just to your left as you enter the Supermarine Sports Ground from Supermarine Road and has a capacity of over 250 spaces and is only a couple of minutes walk to the ground entrance. We also have parking immediately outside the ground entrance which includes a number disabled parking spaces.
Car Parking Cost - FREE
Many thanks in anticipation of your support and understanding about the slight increases from last season.
The Chairman & Directors of Swindon Supermarine FC