Beaconsfield Town 1 Marine 0
Southern League Premier South | Tuesday 6th November 2018
Back to blog posts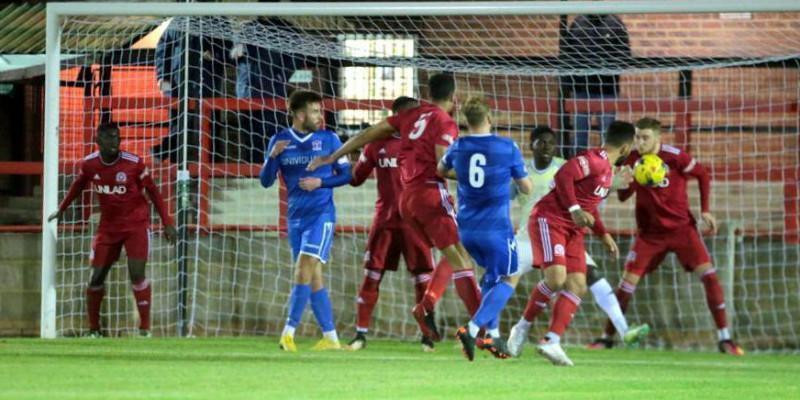 Match Report
by Brian Davis (Media & Press Officer)
It was another case of déjà vu for Supermarine as they had the better of the chances in another scrappy game at Holloways Park but came away goalless and pointless. The Beaconsfield pitch looked in excellent condition ahead of the game and leant itself to 'Marine's fast paced attacking football, but unfortunately, it wasn't to be as Ravan Constable was in fine form in the Rams goal.
Conor McDonagh tested Constable early, but his low effort from the edge of the box was drilled straight at the home keeper. Beaconsfield's first chance fell to Brendan Matthew, but he failed to hit the target with his curling effort. At the midpoint of the first half, 'Marine had a good spell of pressure and forced three successive corners. From the first, defender Matt Williams was unlucky to see his near post effort brilliantly parried away off the line by Constable.
Five minutes later, Matthew then missed the target with a free header inside the 'Marine box as a spot of head tennis lead to the Striker finding himself unmarked, but couldn't direct his header on goal which was a big let off but a warning sign of things to come for Lee Spalding's men. McDonagh once again fired on goal from distance, but his rising effort was comfortable for Constable.
HT 0-0
Home midfielder Louis Stead had two early chances to start the second half, firstly missing the target low from 20 yards before forcing Kev Sawyer to parry an effort wide for a corner. Tony Mendy missed the target when he pounced on a loose ball forward and as Sawyer advanced to corner of his box to close him down, Mendy's lob went tamely behind for a goal kick. Stuart Fleetwood had Marine's first chance of the second half on the hour mark, collecting a ball in the Beaconsfield half, he advanced on goal, only to see his chip fall agonisingly over the bar with Constable beaten.
Shortly after, with Dan Williamson winning a free kick by the corner flag, Spalding sent on target man and loan signing from Hereford United, Mike Symons and with his first touch in the Supermarine colours, he headed just over the bar at the far post from fellow substitute Brad Gray's freekick. Gray, instrumental again in pulling the strings, playing out on the left, cut inside on his right foot and fired an effort that flashed across goal and wide of the far post.
'Marine had the home side on the back foot and then the sucker punch came. With another game of head tennis in the away side's box and 'Marine failing to clear their lines, the ball eventually fell to Matthew and he made no mistake, firing home low just inside the near post. With the game heading towards a close and the home side delaying proceedings and excellently trying to control the tempo and possession at every opportunity, Fleetwood had a chance to win a point, but with the goal gaping in front of him, he lashed his effort goalward only to see Constable spread himself to deny the veteran Welshman.
As the game ticked into additional time, Constable handled outside the side of his penalty area to deny the advancing Gray a goalscoring opportunity and got a booking for his troubles, it could have been a second booking given his very slow process of taking goal kicks, which got even slower after the home side took the lead, even after being spoke to on several occasions by the referee. Gray once again sent over a dangerous set-piece but Matt Coupe couldn't quite get a good connection at the back post as his header dropped into the side netting which would be the final chance of the match.
Saturday's trip to Staines almost puts Supermarine into a must-win-match. A little extra quality in the final third of the pitch and this team will shoot up the table. They've held their own against each of the top six this season with two draws (Weymouth and Salisbury) and now four 1-0 defeats (Tiverton, Hendon, Taunton, and Beaconsfield). There's still a lot to get excited about with this young group of players and manager as they look to consolidate and build on their place as a Step 3 Football club, but they've got to start turning these "should have, would have. could have" games into points.
FT 1-0
Match Photo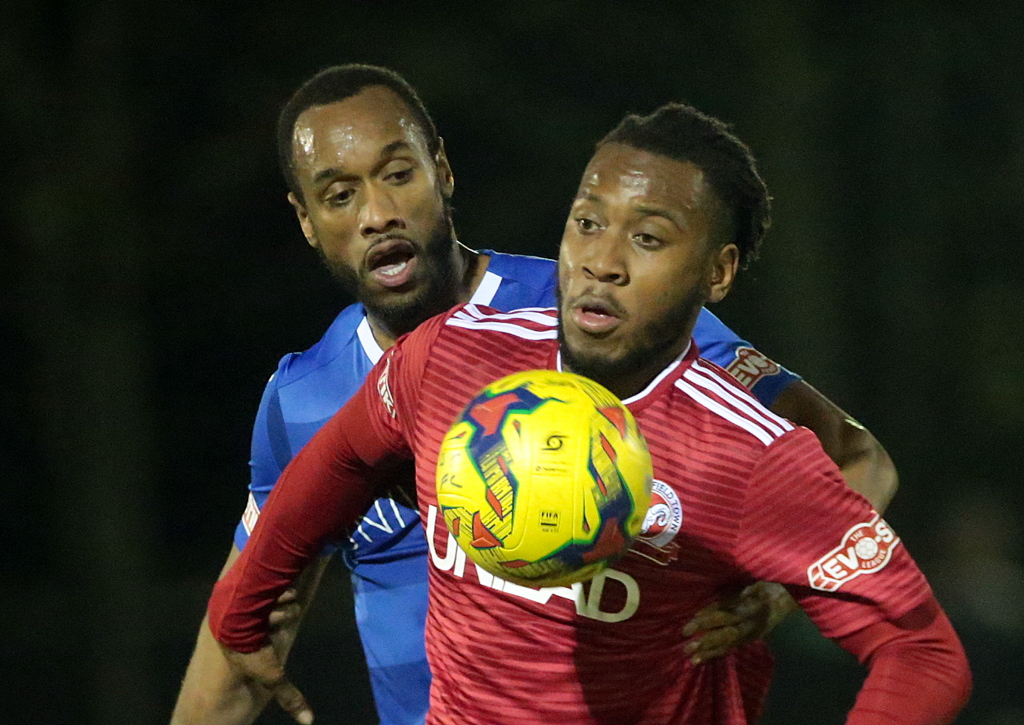 Dan Williamson in action
Match Gallery
Jeff Youd Photography
Match Video's
Match Highlights
Courtesy of You Sport Swindon
Match Statistics
SWINDON SUPERMARINE
Manager: Lee Spalding
Line-up: 1. Kev Sawyer 2. Dan Williamson 3. Connor Thompson 4. Joe Shepherd (14. Brad Hooper 75') 5. Matt Coupe 6. Matt Williams 7. Joe Selman (15. Mike Symons 65') 8. Luke Williams 9. Stuart Fleetwood © 10. Conor McDonagh 11. Ryan Campbell (12. Brad Gray 60')
Subs not used: 16. Jon Else 17. Babz Jarra
Goalscorers: None
Star Man: Dan Williamson
Cards:
Matt Coupe 83'

None

None

BEACONSFIELD TOWN
Manager: Gary Meakin
Line-up: 1. Ravan Constable 2. Omar Vassell 3. Mayowa Balogun 4. Reece Yorke 5. Jordan Ajanlekoko 6. Wes Daly © 7. Louis Stead (16. Charlie Lasasso 60') 8. Dan Brown 9. Brendan Matthew 10. Tony Mendy (17. Alex Cathline 80') 11. Bajram Pashaj (15. Jerome Eccleston 46')
Subs not used: 12. James Taylor 14 Joe Adoo-Peters
Goalscorers: Brendan Matthews 67'
Star Man: Wes Daly
Cards:
Wes Daly 81', Ravan Constable 89'

None

None

Match Officials:
Referee: Hugh Gilroy
Assistant Referees: Stuart Beekman, Elliott Mayer
Southern League Sponsor