Chippenham Town 2 Marine 2
The Emirates FA Cup 2nd Qualifying Round | Saturday 22nd September 2018
Back to blog posts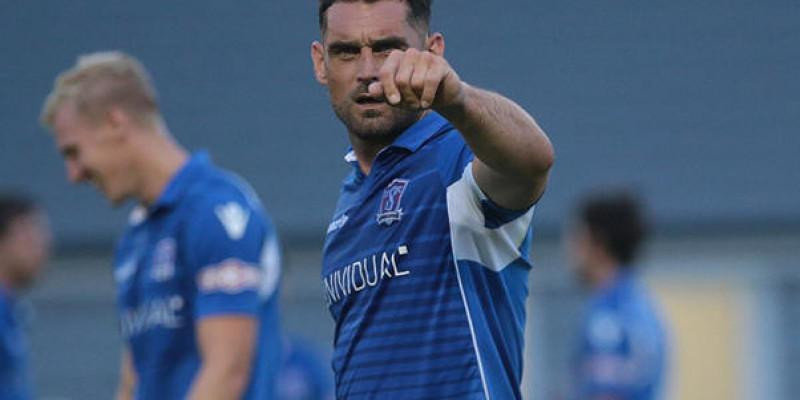 Match Report
MARINE SECURE A DESERVED DRAW…
Marine were disappointed to not come away from Hardenhuish Park with a "cup upset" victory after dominating proceedings against their National League South opponents, Chippenham Town. With plenty of links between both sides, Lee Spalding's men started the brighter of the two, against former Supermarine Manager, Mark Collier's team.
The away side should have led as early as the third minute when from Michael Hopkins's free kick, Matt Coupe headed down to force a great diving save out of Brad House and when the ball fell to the feet of striker, Stuart Fleetwood. It looked like the only outcome would be a goal, but somehow, Fleetwood's effort was blazed over the bar from just a few yards out.
House was again forced into action when Conor McDonagh cut inside and forced the on-loan West Bromwich Albion keeper into another good save, palming the ball to safety. Brad Gray was next to test his reactions, as he tipped over his header for a corner, before McDonagh forced him into action again a minute later. It was going to take something special to beat keeper House on the day!
The Bluebirds first chance came from a set-piece, which would be 'Marine's achilles heel in this game. Jack Compton's curling effort went just over the bar from 22 yards. Compton did provide the telling ball from his next free-kick when he curled a ball into the danger zone for striker Nat Jarvis to rise highest to nod home.
It took just four minutes for the away side to reply, as from a throw in down the right wing, the ball was headed towards Brad Hooper who in a single motion turned and volleyed high into the top far corner of House's net for a quite spectacular goal to deservedly level the game and it was something special to get past the excellent keeper Brad House.
With the clock ticking over the 45 minute mark, Chippenham broke down the left hand side and a dangerous ball was played across to Jarvis. Hill came out low to punch the ball away, but Jarvis' momentum took him into the shot-stopper and Hill, although now on his feet, looked in significant pain with a shoulder injury.
It was later confirmed that he had indeed broken his shoulder blade and will be out for a significant period. Hill was unable to continue in goal and with no replacement keeper on the bench and after discussions between the team, Jon Else stepped up to take over goalkeeping duties with Dan Williamson coming on at right back.
HT: 1-1
Else had only a goal-kick to take, but in the second half after seeing a Karnell Chambers curling effort rebound off his left-hand post and straight back across goal into his arms, and making a good low save from a shot from distance, he would only be picking the ball out of the back of the net just before the hour mark.
Matt Coupe gave away a sloppy free-kick near the right hand touchline which James Guthrie swung in deep at the back post. Else was unable to claim as Jarvis nodded in to reclaim the lead. At this point, it should have been a matter of how many they would win by, however, Marine had other ideas.
When Chippenham had the ball, they were exceptionally disciplined with two banks of four, pressing and hounding the home side, barely letting them get a sight at goal and then hitting them on the break. Gray struck a low free-kick from distance low and straight at House before the next game would take another unexpected turn.
With the ball running towards Williamson in the middle of the field, Chippenham midfielder James Guthrie inexplicably went diving in over the top of the ball earning himself a straight red catching Williamson very high. It was needless, reckless and almost served as a leveller given the Marine goalkeeping crisis at the other end of the pitch.
House once again denied McDonagh with a wonderful near post save before McDonagh was replaced by Ryan Campbell. Dave Bampton hit a rasping near post drive, which just didn't bend enough, hitting the side netting at the near post from fully 20 yards. Fleetwood glanced a header wide from 8 yards with little over five minutes to play and it just didn't look as if it would be their day until Hooper prodded a ball into Fleetwood, who turned a Chippenham defender in the area, leaving him on his backside, before curling home an effort into the far corner of the goal to give Marine a deserved equaliser as the Chippenham back four fell to their knees in despair.
Chippenham poured forward in an effort to grab a dramatic late winner and avoid a replay but Else bravely punched a ball clear before spreading himself to block another effort in the follow up. It was a monumental effort from Spalding's men who said afterwards: "The result and performance today shows just how far we've come as a team, I thought we were the better side today, we had so many great chances today, enough to win the game."
"It was a bizarre game. We didn't really take our chances for the first 30 minutes, we could have been 3-0 up, so you end up thinking that we're going to get punished for missing them. "With Josh (Hill) off injured, Jon (Else) has gone in goal and done fantastically. We knew second half that they'd load it on us, that's where their second goal came from. "Overall, I'm really pleased with our lads, they put in a great performance and we move onto Tuesday night, when we now need to finish the job off."
FT: 2-2
Attendance: 384
Swindon Supermarine
Manager: Lee Spalding
Line-up: 1. Josh Hill (17. Dan Williamson 45') 2. Jon Else 3. Michael Hopkins 4. Dave Bampton © 5. Matt Coupe 6. Babz Jarra 7. Brad Gray 8. Brad Hooper 9. Stuart Fleetwood 10. Luke Williams 11. Conor McDonagh (15. Ryan Campbell 75') Subs not used: 12. Connor Thompson 14. Jack Alexander 16. Joe Selman 18. Zak Westlake
Goalscorers: Brad Hooper 40', Stuart Fleetwood 88' Bookings: Matt Coupe 61'
Star Man: Jon Else (for his goalkeeping skills!)
Chippenham Town
Manager: Mark Collier
Line-up: 1. Brad House 6. Will Richards 8. Matt Smith 9. Nat Jarvis 10. Jack Compton (12. Lewis Ellington 86') 11. James Guthrie 14. Kieran Pasrselle 15. Dean Evans 16. Curtis McDonald © 17. Karnell Chambers (2. George Rigg 67') 19. Josh Smile (20. Jan Klukowski 60') Subs not used 4. Mike Jones 18 Nick McCootie
Goalscorer: Nat Jarvis 35', 64'
Bookings: Kieran Parselle 25', Jack Compton 66' Dismissal James Guthrie 70'
Star Man: Brad House
Match Officials:
Referee: Andrew Humphries (Daventry) Assistant Referees: Shaun Barry (Northampton), Seth Sheehan-Galia (Northampton) Observer: David Ricketts