FA Trophy 2nd Round Proper Draw
Wednesday 9th December 2020
Back to blog posts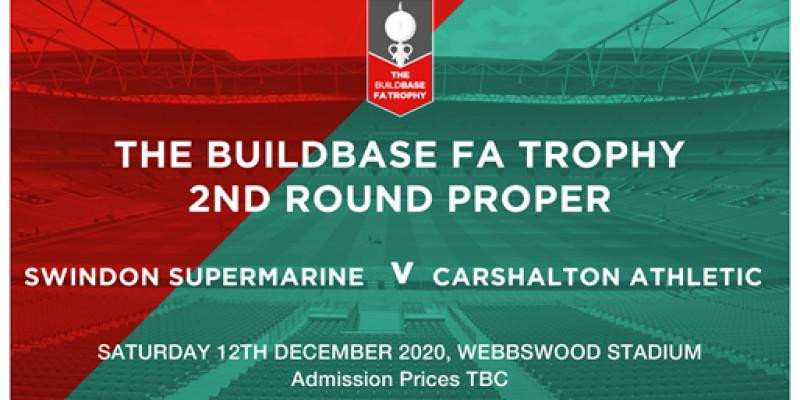 HOME TIE IN 2ND ROUND PROPER
The Buildbase FA Trophy 2nd Round and 3rd Round Proper draws were made earlier today. In the 2nd Round we have been given a home tie against Isthmian League Premier Division side Carshalton Athletic.
The 2nd Round ties were originally scheduled for Tuesday 15th December but the FA has stated that if the two clubs agreed then the tie can be brought forward and played either on Saturday 12th or Sunday 13th December.
Earlier this evening both clubs agreed to bring the tie forward to Saturday 12th December with a 3:00pm kick off and we just await for the FA to confirm the switch tomorrow. Admission prices will be Adults £10, Concessions £6 and U12s FREE. Our Covid-19 procedures will be sent out on Friday as in our previous games.
In the draw for the FA Trophy 3rd Round Proper the winners of our cup tie will be away to the winners of the Bath City v Chelmsford tie. This is scheduled to be played Saturday week 19th December, kick off 3:00pm.
Although our clubhouse bar will be closed as per Tier 2 restrictions our kitchen facility will be OPEN this Saturday after the Swindon Borough Council gave us permission to serve hot beverages and snacks etc during the game.