Harrow Borough 2 Marine 3
Bet Victor Southern League Premier South | Saturday 9th November 2019
Back to blog posts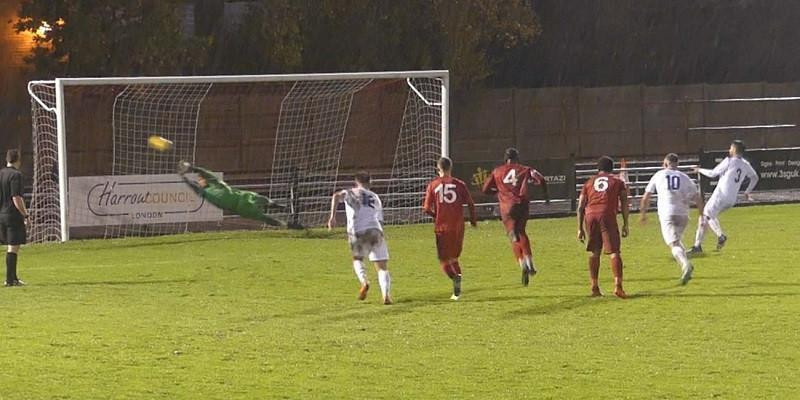 MATCH REPORT
by Brian Davis (Media & Press Officer)
During that Met Police away victory last month the Football Rollercoaster was born. The beauty of the Football Rollercoaster is you never know when you're going to ride it again. Well, Supermarine rode it again Saturday in Harrow although with the best part of 70 minutes played, didn't know they were going to.
There must be something in that London Air that gets them in the mood for topsy-turvy rollercoaster football, as the final 20 minutes of the game at Earlsmead were quite incredible. After dominating the first half, 'Marine found the home 'keeper Halfed Al-Droubi in fine form, making a number of saves to keep the home side level as the game went into the second half goalless.
Martin Horsell made the games first save as he did well to get down low to deny Chinua Cole's effort from distance, which would be all the visiting netminder really had to do in a first half that the hosts rarely threatened. Brad Gray skilfully created himself some space in the box, but once he got himself some space, his powerful effort was too close to Al-Droubi who parried it wide for a corner.
James Guthrie then forced Al-Droubi into action shortly after; Stuart Fleetwood played in the wide man with a lovely flicked header but his rising near post effort was also parried behind for a corner. From the resulting corner, Harry Williams headed over the bar. Gray then forced Al-Droubi into action again when his fine header was tipped over the bar.
HT: 0-0
It was a fast start to the second half as Guthrie fired wide for Lee Spalding's side which was immediately countered by Harrow with Manny Williams flicking a header just wide at the other end. Harry Williams played in Fleetwood who danced into the side of the area and around three home defenders before hitting a shot that was deflected wide for another corner.
Gray then fed a lofted ball over the top to Williams who capitalised on some uncertain defending from Adam Pepera but once again, found Al-Droubi standing strong who got a strong arm to the forwards goal bound effort.
With little over 20 minutes to play, George Moore found himself in acres of space on the left hand side of the area and steered an effort into the corner of the net to give the home side the lead, completely against the run of play.
Things went from bad to worse though as just two minutes later substitute Jordan Ireland played a defence splitting pass to Manny Williams who lifted his effort over Horsell and the home side into an improbable and unlikely looking 2-0 lead.
Spalding responded by throwing both Conor McDonagh and Ryan Campbell on, and the pair of them would be the difference makers for the remainder of the game. McDonagh, with his first touch, sent over a deep cross, which Ryan Campbell with his first touch, steadied himself, before firing past the unsighted Al-Droubi at his near post.
It was a stroke of genius from the manager and you could tell from the reaction from his team that this was game on and there was at least a point, maybe three to be had here.
Louis Spalding made a quite outstanding tackle to deny Dylan Kearney who looked all set to restore the two goal advantage as he received a pass into him from Moore, but the full-back excellently disposed him of the ball, judging his sliding tackle to perfection with Kunle Otudeko's follow up being too close to Horsell.
Lewis Cole then fired an effort wide from distance before the game turned completely on it's head. Ryan Campbell picked up a mis-placed pass from the Borough back four, played a neat one-two with Harry Williams and although he could have gone down from the contact from Shaun Preddie he managed to stay on his feet to steer a low equaliser underneath Al-Droubi in the Harrow goal.
It was good advantage played from the referee, and advantage would be used again shortly after when McDonagh went down outside the box from a George Fenton tackle but picked himself up to advance into the area only for Fenton to then pull him again, giving the officials no choice but to point to the penalty spot.
Michael Hopkins, whose last penalty came in the playoff Semi-Final shootout win at Evesham in 2018 converted the kick off the post, despite Al-Droubi getting both hands on the ball and another sensational comeback was almost complete.
It was a heart in the mouth situation at the end as the official gave the home side a free kick right on the edge of the area, but the effort from George Moore kissed the top of the crossbar and the game was over. An inspired double substitution from Spalding means Marine are now sat in fourth in Southern Premier Division South and four points from the summit.
As Alex Ferguson once said "Football, bloody hell!"
FT: 2-3
Att: 146
POST MATCH FROM LEE SPALDING
Spalding explained his relative shock to watching his team go 2-0 down and heaped praise on the home goalkeeper for preventing Marine from running away with the game. Spalding said: "I thought the performance was really good and we never dropped off throughout the 90 minutes. "We started really brightly and probably should have been two or 3-0 up at half-time. Their goalkeeper was undoubtedly their best player.
"We continued to play well after the break and we created opportunities, so to go 2-0 down was a bit of a kick in the teeth. "At that point, I was thinking it might be a day where our missed opportunities were going to cost us, but I made a couple of substitutions after the second goal and that proved to make a massive difference."
Spalding said: "I thought we played well before we conceded, but we just hadn't taken our chances when they came along. "Ryan Campbell scored twice, and Conor McDonagh set one of them up and won the penalty, so they made a difference.
"But I still thought we were the better side up until then anyway. "We were just unfortunate that we came up against a team whose best player was their goalkeeper. "On another day, we would have won quite comfortably."
MATCH VIDEO
Post match with goalscorers Michael Hopkins and Ryan Campbell
Video's Courtesy of Your Sport Swindon

MATCH STATISTICS
HARROW BOROUGH
Manager: Steve Baker
Line-up: 1. Hafed Al-Droubi 2. Josh Andrew (14. Jordan Ireland 46m) 3. Chinua Cole 4. Adam Pepera (c) 5. George Fenton 6. Shaun Preddie 7. Excellence Muhemba 8. Lewis Cole 9. Dylan Kearney 10. George Moore 11. Manny Williams (15. Dylan Ive 80m)
Subs not used: 12. Joseph Otudeko 13. Lee Pearce [GK]
Goalscorers: George Moore 71m, Manny Williams 73m
Star Man: Hafed Al-Droubi
Cards:
Shaun Preddie 35m, Manny Williams 56m, Adam Pepera 86m

None

None

SWINDON SUPERMARINE
Manager: Lee Spalding
Line-up: 1. Martin Horsell 2. Louis Spalding 3. Michael Hopkins 4. Jamie Edge 5. Matt Coupe 6. Mat Liddiard 7. Brad Gray 8. Joe Shepherd 9. Stuart Fleetwood (c) (12. Conor McDonagh 73m) 10. Harry Williams (16. Calvin Dinsley 90m) 11. James Guthrie (15. Ryan Campbell 73m)
Subs not used: 14. Henry Spalding, 17. Bradley Hooper
Goalscorers: Ryan Campbell 75, 82m, Michael Hopkins 84m pen
Star Man: Michael Hopkins
Cards:
Matt Coupe 44m, Jamie Edge 90m

None

None

MATCH OFFICIALS
Referee: Stuart Kyle
Assistant Referees: Craig Harper, Tom Green