Hayes & Yeading United Preview
Friday 6th March 2020
Back to blog posts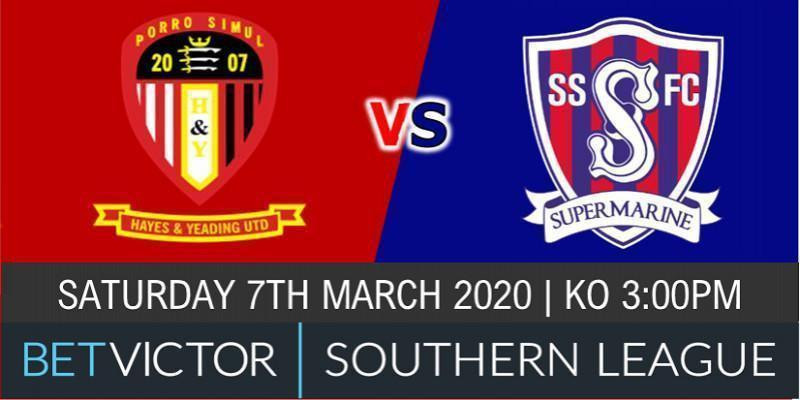 SPALDING LOOKS FORWARD TO HAYES & YEADING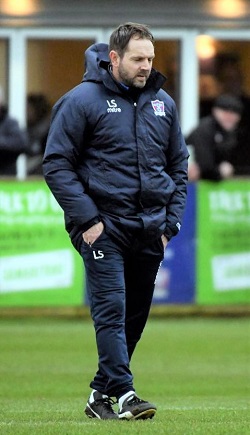 Manager Lee Spalding is expecting another top-notch advert for Southern League football when Swindon Supermarine visit Hayes & Yeading United on Saturday.
The pair of playoff hopefuls played out a 1-1 draw just two weeks ago in Wiltshire, the last time Marine were out on the pitch after their weekend game against Tiverton Town was postponed.
Henry Spalding scored a superb equaliser for Supermarine after Hayes had gone in front after just three minutes of the game. Making the visit to London this time, Spalding has their last meeting fresh in his mind and knows what to expect – with a good game a given.
"It's always a little bit different when you play away from home," he said.
"The good thing is we know what they're about now. "We obviously had a good look when we played them and watched the video back.
"We know their strengths and weaknesses so it's important we look to exploit them and make sure we're as solid as we can be. "It'll be a good game. Last time we played them it was two good teams going toe-to-toe with each other in a very quick game.
"For the standard there was some good football played." Hayes are one of the form teams in the Southern League Premier South division with six wins from their last nine outings, a streak which has seen them bounce up to fifth.
Another victory this weekend would see them leapfrog Marine. Spalding, however, has confidence his side can bring home the points. "To be fair, their start to the season wasn't great, but if you look at their recent form they're right up there," he said.
"They were a good side and had some good players in the reverse fixture, but on the day I thought we more than matched them once we got going. "It's going to be another tough game, no doubt about that, away from home up against a team that are looking to pull back the three points and catch us up in the league.
"We've got to do everything we can to make sure we get the win; we go there, we play well, we're hard to beat. "The most important thing Saturday is that we come away with something from the game. "But I am confident if we play well we'll come away with all three points."
Supermarine enter the game with a clean bill of health with Spalding eager to return to action following the Tiverton Town postponement. Spalding said: "It was disappointing last weekend but with the weather the way it was a lot of fixtures didn't go ahead, so it didn't really affect our league position too much. "We're still in a good place and everyone's in good spirits.
"Training was lively on Tuesday and Thursday night and we've been preparing with a view of making sure we're as ready as we can possibly be for the game."
It's not too late to book a seat on the coach leaving for Hayes at 11:15am from the club, cost £10. To book a seat please email the club.
ADMISSION PRICES & OTHER INFO
ALL PAY AT THE TURNSTILE FROM 1:30PM
Adults | £10     
Concessions | £6     
U16's | £3  
Programme | £2       
Car Parking | FREE