Marine 2 Salisbury FC 2
BetVictor Southern League Premier South | Saturday 24th August 2019
Back to blog posts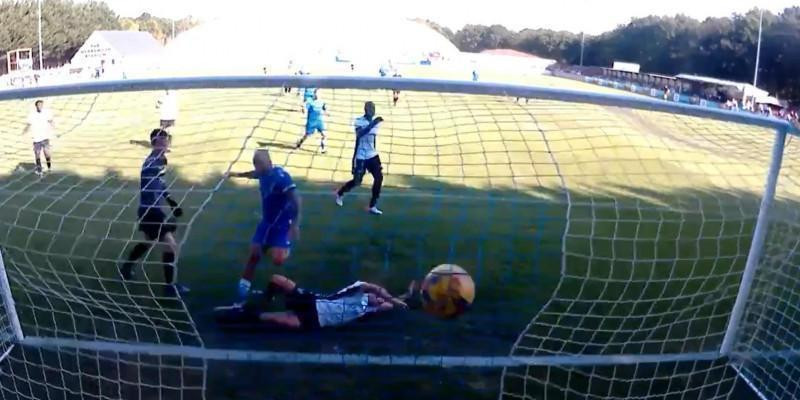 MATCH REPORT
by Brian Davis (Media & Press Officer)
For a third season in a row at the Webbswood and for a fourth league game in a row between these two Wiltshire sides, honours ended even at two-a-piece between Supermarine and Salisbury.
It'll probably be unclear as to which manager will be the most disappointed at this result though. 'Marine's Lee Spalding who saw his side create the majority of the chances to win two, maybe three games, or Steve Claridge whose team blew a two goal lead with little over 25 minutes of the 90 remaining before losing their heads in injury time with another red card in this fixture. One thing that this fixture always seems to throw up is a late, late goal and under a scorching hot Bank Holiday this fixture was no different.
A sign of things to come came as early as the second minute when visiting keeper Tom Smith who is at Salisbury on Work experience from Arsenal saved well from a Matt Williams volley who found himself in plenty of space from a Jamie Edge corner. It would be the post that was next to deny the home side as Conor McDonagh was played through on goal, who rounded Smith but his effort from a tight angle bounced back off the inside of the post, but Smith did well to disrupt the striker enough forcing him wide enough to make the chance harder than it looked to many in the crowd. Smith then denied McDonagh again parrying away his effort from the edge of the box.
Both teams were playing some nice football in the glorious conditions and it was Kane Simpson who rolled a low effort at Smith before the game changed on two incidents in the blink of an eye missed by one of the assistant referee's eight minutes before the half. George Colson played a ball into Dan Fitchett who appeared to firstly control the ball with his hand, and secondly looked at least a yard offside before advancing on goal and steering his effort across Martin Horsell into the far corner with pretty much The Whites first effort on goal. That's football!
HT: 0-1
Spalding's men almost replied immediately from the second half kick off when Stuart Fleetwood found himself in on goal after what appeared to be another missed offside call, but he failed to take advantage curling his effort just over the bar from the angle. Horsell then made two good saves to keep the score at 0-1 when he parried away Ricky Wellards effort from the edge of the box before denying the same player shortly after.
With ten minutes of the second half played, Spalding reverted back to a 4-4-2 formation The change didn't work immediately though as two minutes later, Claridge's team doubled their lead. Fitchett picked up on a wayward back header and after jinking into the box, played a ball back to substitute Warren Bentley who took an excellent first touch before curling high beyond Horsell. Despite playing some excellent football, the home side found themselves in a hole and once again, the strength in the squad is clear to see as is the depth on the bench who again played its part in changing the game around.
Last season's prolific strike force linked up to cut the lead when another substitute Henry Spalding was involved in winning the ball back in the right channel playing in McDonagh who took his time, looked up and played across a lovely low cross that Fleetwood buried from just a few yards out. Game on! McDonagh was then denied by Smith who took the ball away from the strikers toes as he looked set to advance into the box with the ball and the game should have been won by the away side when Shaquille Hippolyte-Patrick went on a mazy run down the left touchline and somehow found himself right in front of Horsell, but 'Marine #1 stood his ground, made himself big and made a game saving stop from the substitute winger.
Smith then denied McDonagh two more times and even with the home side having the bit between their teeth, it looked like it might not be their day and the jinx they have over Salisbury might come to an end, but as referenced above, this game is rarely about the 90 minutes, it's often about the extras. Campbell's low free-kick after a foul along the 18 yard line on Henry Spalding was once again comfortable for the young shot-stopper, but as the clock ticked towards the 90th minute, McDonagh picked up the ball outside the box from Henry Spalding, advanced in on Smith and coolly finished into the far corner of the net to jubilant scenes at The Webbswood.
The additional minutes were marred and disrupted somewhat when Lewis Benson launched an assault not too dissimilar to those seen in an Octagon on Campbell, breaking up another 'Marine attack to which referee Thomas Holden had absolutely no hesitation in producing his red card for. Following the melee there was little time or momentum for either side to make an impact.
FT: 2-2
Attendance: 389
POST MATCH WITH LEE SPALDING
Although his side had to come from 2-0 down to snatch a draw, Marine manager Spalding felt a point was the least they deserved."We were definitely worthy of the point," said Spalding. "Salisbury didn't have many chances, but the ones they did have, they took. Whereas if I was being critical of us, we weren't clinical enough. "But I can't moan as we are creating good chances and we showed a lot of spirit to come back and get a draw."
Spalding conceded his team made life difficult for themselves by failing to take control of the contest in the early stages, but was full of praise for the way Marine battled back to earn a share of the spoils.
"We started the game really well and I thought we should have been 2-0 up, maybe even 3-0, by the time they scored. We created a lot of chances," said Spalding. "We know the way Salisbury set up – they are a team that likes to keep possession of the ball. We set up to try to stop that, and we didn't really succeed on the day.
"In the first half, they had a lot of possession, which made it difficult on a hot day. But when we won the ball back, we created some great opportunities. If we had taken them, I think it would have been a much different game. "It was slightly disappointing to go in at half-time 1-0 down but the message to the players was to keep creating chances like we had done and be more clinical in front of goal.
"We changed the shape after going 2-0 down and that worked a lot better. The lads we brought off the bench made a lot of difference."We kept going and the goals came in the end. By the time we got to full-time, I was a little disappointment not to take the three points as we had created enough chances to win two games." Marine are back in action on Bank Holiday Monday when they travel to Merthyr Town. The bus to Merthyr departs The Webbswood at 11:15, to book your place, please email Keith at Supermarinefc@aol.com
MATCH GALLERY
No match gallery available
MATCH PROGRAMME
View the matchday programme v Salisbury on line (click the programme cover or link to review)
Salisbury programme online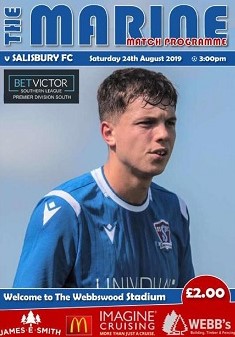 MATCH VIDEO'S
None available
MATCH STATISTICS
SWINDON SUPERMARINE
Manager: Lee Spalding
Line-up: 1. Martin Horsell 2. Michael Hopkins 3. Louis Spalding 4. Jamie Edge 5. Mat Liddiard 6. Matt Williams 7. Calvin Dinsley (12. Henry Spalding 60') 8. Brad Hooper 9. Stuart Fleetwood © 10. Conor McDonagh 11. Kane Simpson (14. Ryan Campbell 52')
Subs not used: 15. Joe Shepherd 16. Joe Turley
Goalscorers: Stuart Fleetwood 62', Conor McDonagh 89'
Star Man: Conor McDonagh
Cards:
Matt Williams 86', Henry Spalding 89'

None

None

SALISBURY
Manager: Steve Claridge
Line-up: 1. Tom Smith 2. George Colson 3. Josh Sommerton 4. Aaron Dawson © 5. Kevin Amankwaah 6. Nathan Oseni 7. Lewis Benson 8. Darren Mullings 9. Dan Fitchett (12. Toby Holmes 78') 10. Ricky Wellard (14. Warren Bentley 52') 11. Dan Young (15. Shaquille Hippolyte-Patrick 59') Subs not used: 16. Ollie Knowles **17.**Jacob McLeod-Bancroft
Goalscorers: Dan Fitchet 39', Warren Bentley 55'
Star Man: Tom Smith
Cards:
Nathan Oseni

None

Lewis Benson 89'

MATCH OFFICIALS
Referee: Tom Holden (Reading)
Assistant Referees: Isaac Blakey (Reading), David Pilling (Reading)
MATCH SPONSORS