Marine v Shepton Mallet Essential Info
Monday 21/09/2020
Back to blog posts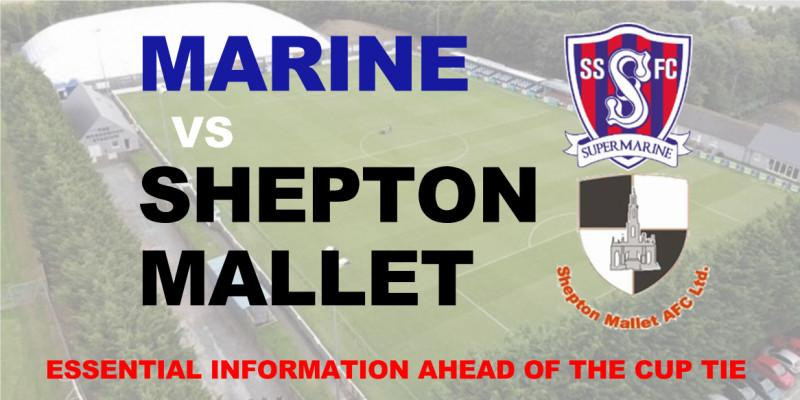 RISK ASSESSMENT & ACTION PLAN
FOR SPECTATORS COMING TO THE WEBBSWOOD STADIUM vs SHPERTON MALLET
Football returns to the Webbswood Stadium again on Tuesday evening with spectators in attendance once more for this FA Cup tie. With our previous game against Bath City going to plan we now entertain SHPETON MALLET tomorrow night and the same Covid-19 measures will be in place as we had against Bath City.
The ground will have a reduced capacity of 600 for the game against SHEPTON MALLET as per FA guidelines under Stage 2 of allowing spectators to return to the Webbswood Stadium, so there will be plenty of room for the spectators to social distance, AND SOICAL DISTANCING IS PARAMOUNT FOR FOOTBALL TO CONTINUE.
Admission for this match will be £8 for Adults, £5 for Concessions** and Children U12 £2. Once again, for this game we will be taking cash payments at the turnstile but this may change for future matches.
The turnstile will open from 18:15 for access to the ground for spectators along with the bar and kitchen at the same time.
Entrance to the clubhouse bar will once again be via the COMMUNITY ROOM and then exit from the CLUBHOUSE DOOR with the route clearly signposted, a steward will be on duty to guide you and also restrict access if there are to many waiting in the bar area.
Both home and away spectators are asked to complete their contact details ahead of the game if they attending this cup tie on Tuesday, 22nd September.
You can do this by clicking HERE to download the form. Then you can print the form, complete and bring along with you to help reduce a queue and potential congestion at the turnstile.
The completed form should then be handed to the steward on duty outside the turnstile entrance. The steward will also have a form for you to complete if you can't do this ahead of the match but we strongly recommend spectators to print and complete this ahead of matchday, and don't forget to bring it with you!
The club has completed a Covid-19 risk assessment and action plan and there will be measures in place for spectators, players, and official's safety, which includes:
• One-way system for the clubhouse
• Kitchen open for a small selection of food & beverages
• Track and trace measures
• Spot temperature checks (agreeing to this is a condition of entry)
• Social distancing measures with sign posting, including walkways
• Sanitising stations
• Wall mounted sanitisers
• Reduced seating in the stands
Many thanks and your understanding ahead of the game Tuesday and with your help and patience we believe we have the foundation of a successful evening before our next home match, the first league fixture at the Webbswood Stadium in the 2020/21 season against Tiverton Town on Saturday 26th September, KO 3pm.
Take care and stay safe