Merthyr Town 2 Marine 2
Southern League Premier South | Tuesday 14th August 2018
Back to blog posts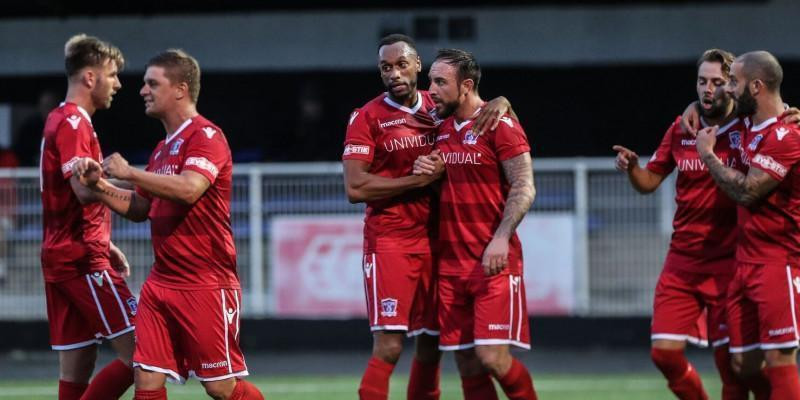 Match Report: Your Sport Swindon Photo Jeff Youd
Swindon Supermarine boss Lee Spalding couldn't help but feel disappointed after coming away from Merthyr Town which just a point. A missed Brad Gray chance with the score 2-1 in Marine's favour coupled by a controversial penalty awarded to the hosts, left Spalding's men having to settle for a draw at Penydarren Park.
Spalding admitted he would have deemed a draw a good result prior to the match but couldn't help but feel hard done by at the final whistle. "At 2-1 we have a had a great opportunity to score when Brad's hit the post and on another day that goes in," said Spalding.
"We feel we we slightly hard done by with the penalty. But to come here and get a point, I am delighted with that. "The lads have been outstanding, it is a hard place to come to. It's an evening where I'm delighted we got something out of the game but I must admit I think we could have come away with all three points."
Swindon Supermarine deservedly gained their first league point of the new season with a gritty 2-2 draw away at Merthyr Town on Tuesday night, though travelled back down the M4 feeling very aggrieved as they succumbed to a highly controversial penalty equaliser, writes Nick Taylor.
After their disappointment of a 1-0 home defeat to Tiverton Town in their opening fixture on Saturday, Lee Spalding's side journeyed through the Welsh rush hour traffic to arrive at the recently refurbished Penydarren Park to take on Gavin Williams' team, who were fresh from their 3-0 away win at Chesham United at the weekend. Spalding shuffled his pack, bringing experienced campaigner Dave Bampton to sit in front of the defence, whilst Brad Gray started on the right hand side, with Joe Selman and Josh Parsons dropping to the bench.
In front of a passionate crowd of 431, Marine settled early on the well-used 3G pitch, though keeper Josh Hill had to be alert to block home centre half Craig McDonnell's effort on five minutes from a goal-mouth scramble. Marine opened the scoring on 10 minutes when Brad Hooper was clipped by Joel Hunt just inside the box with his back to goal and after referee Stacey Pearson pointed to the spot, Hooper himself calmly sent home stopper Joe Perry the wrong way to make it 1-0.
Merthyr picked themselves up and were soon back on level terms on 17 minutes when Kieran Lewis sprayed a quality diagonal 50-yard ball over Michael Hopkins' head for the dangerous Ian Traylor to control brilliantly before squaring across the six-yard area for Tom Meechan to tap home. Good work from Conor McDonagh out on Marine's left flank then saw his tempting driven cross evade all players as it flashed across the box to the relief of the home fans.
Merthyr forward Kerry Morgan then fired wide down the other end as the ball ricocheted back of the defiant Marine defence.Gray was next to try his luck, this time from fully 30 yards out, his effort whistling just over Perry's upright. McDonagh then had a golden chance to put the Swindon side back in front but somehow managed to scuff his shot when finding himself unmarked back post. After more pressure, Marine regained the advantage on 39 minutes, skipper Zak Westlake rising majestically first on the near post from Gray's driven corner to power home a thumping header.
HT: 1-2
With neither side making any changes at the interval, Marine again made a promising start to the second half, the slippery McDonagh wriggled his way past a tackle before cueing up Gray, but his first time strike cannoned agonisingly back off the Merthyr post with Perry beaten.
Referee Pearson, who up until 62 minutes had kept herself quietly in the background, drew the wrath of the vociferous home supporters when she waved away appeals for a penalty after Perry's long clearance found forward Tom Meechan go to ground in the box under a challenge from Williamson.
The officiating school teacher from Bristol, who aspires to be the first female referee in the Premier League, was under great pressure again only moments later when an overhit right wing cross flew over Marine's box with full back Dan Williamson and home skipper Ashley Evans competing for the ball, only for Evans to theatrically throw himself to ground as the ball sailed over their heads, with Pearson instantly pointing to the penalty spot to the amazement of the Marine players.
Following remonstrations from the visitors, The Martyrs' top scorer last season, Traylor, stepped up to blast home despite Hill diving the right way. Despite feeling a huge injustice, the Marine side dusted themselves down and showed great character to continue striving towards a first win. McDonagh again eluded several challenges before curling his effort just wide.
Marine boss Spalding shuffled his pack, replacing midfielders Luke Williams and Bampton with Harrison Bennett and Sam Morris as the home side, spurred on by their noisy fans, pushed for a decisive third goal. More pressure was applied, a long throw in on 90 minutes found Adam Davies head wide on the back post, but the Marine defence, which held strong so many times last season, stood firm to the final whistle.
FT: 2-2
Attendance: 431
Swindon Supermarine
Manager: Lee Spalding
1.Josh Hill, 2.Dan Williamson, 3.Michael Hopkins, 4.Dave Bampton (14.Sam Morris 85'), 5.Matt Coupe, 6.Zak Westlake ©, 7.Brad Gray, 8.Brad Hooper, 9.Stuart Fleetwood, 10.Luke Williams (15.Harrison Bennett 75'), 11.Conor McDonagh, Subs not used: 12.Joe Selman, 16.Josh Parsons, 17.Jack Alexander.
Bookings: Dave Bampton 65', Dan Williamson 65'
Goalscorers: Hooper 28'pen, Westlake 39'
Star Man: Brad Gray
Merthyr Town
Manager: Gavin Williams
1.Joe Perry, 2.Adam Davies, 3.Joe Hunt (14.Connor Young 62'), 4.Ashley Evans ©, 5.Craig McDonnell, 6.Jarrad Wright, 7.Corey Jenkins (12.Miles John 73'), 8.Kieran Lewis, 9.Tom Meecham, 10.Kerry Morgan (15.Craig Ready 82'), 11.Iain Traylor Subs not used: 16.Lee Price.
Bookings: Adam Davies 64', Joe Hunt 90'
Goalscorers: Tom Meecham 17', Iain Traylor 65'pen
Star Man: Iain Traylor
Match Officials:
Referee: Stacey Pearson. Assistant Referees: Greg Wentland, Kevin Slade. Observer: None