Nuneaton Ticket & Safety Info
Monday 7th September 2020
Back to blog posts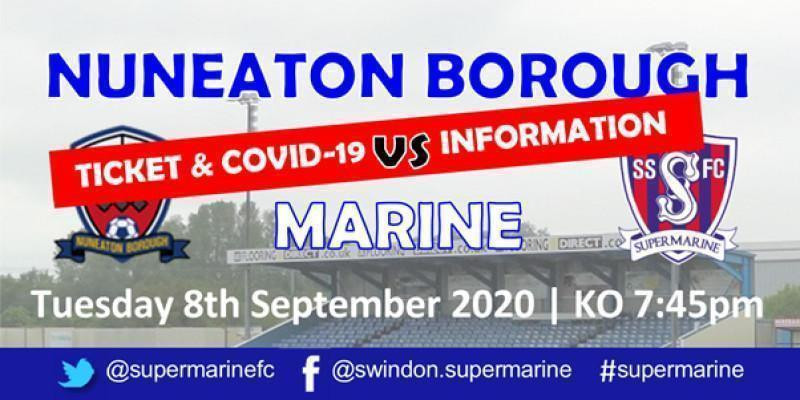 BORO V SWINDON SUPERMARINE - TICKET AND SAFETY INFORMATION
For Tuesday 8th September
______________________________________________________________________________
Boro host Swindon Supermarine in a pre-season friendly at Liberty Way on Tuesday evening, kick-off is at 7.45pm.
TICKET INFORMATION:
To help us with current Covid safety guidelines it is preferred that you purchase your match tickets in advance online HERE Boro season ticket holders will be admitted for free but so that we can comply with track and trace requirements they will need to email their name and phone number to secretary@nuneatonboroughfc.com in advance.
Thank you for your co-operation.
IMPORTANT SAFETY ADVICE:
Please familiarise yourself with the information below prior to attending Liberty Way.
1. The turnstiles section is THE designated access control point for ALL supporters. Please adhere to social distancing whilst in any queue.
2. Track & Trace sign in procedures will be in place for supporters.
3. Online match tickets are available for purchase and this is the preferred method. Cash will be accepted but to reduce interaction please give the turnstile operator the exact amount. Change will be given if required. Adults £8 / Concessions (60+) £4 / U16's £2 / U11's Free
4. The Sports Bar will have a controlled in/out door near to the Boro Shop area. All drinks will be in plastic non-returnable receptacles. These must be taken immediately out of the Sports Bar, whilst at the same time adhering to the one-way system put in place. There will be waste bins located throughout the ground to put your empty receptacles into.
5. No drinks are allowed to be taken into any toilets at any time.
6. Food and refreshments will be available from the Sports Bar kitchen. There is a reduced menu which is subject to change but typically includes; Frank Parker's burger batches, with or without cheese, chips with or without cheese, steak pies, hot-dogs, tea, coffee, Bovril, soft drinks.
7. There will be pre-recorded tannoy messages regarding Covid-19 awareness played, please listen and adhere to these for all of our safety.
8. Access for disabled & elderly supporters, is designated in the seating stand, along the first row. All drinks will be allowed in the seating stand. All sections of the seating stand will also be segregated to incorporate, home & away directors, players/subs & supporters.
9. The Boardroom & decking area will be isolated from use.
Please help your club through this unprecedented transition period by 'doing your bit' for COVID-19 awareness & the safety of all of us.
Thankyou,
Nuneaton Borough Football Club