Player Update
Tuesday 22nd June 2021
Back to blog posts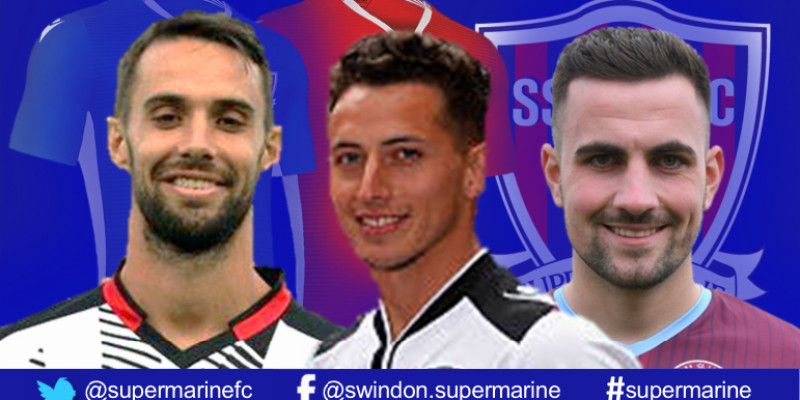 PLAYER UPDATE
As the players returned to the club for the start of preseason training last night, manager Lee Spalding is pleased to announce the signing of three new players, along with a return to the Webbswood Stadium of most of last seasons squad.
Spalding and his management team are very excited in announcing three new signings, midfielder Frankie Artus (pictured left), attacking midfielder Pablo Haysham (centre) and left sided defender Lewis Hall (right) who signed for the club last night.
Frankie Artus
Frankie has joined Marine from Bath City after spending six seasons with them. He began his career at Bristol City in 2006 before loan spells followed at Exeter City, Brentford, Kettering Town, Cheltenham Town (2) and Chesterfield Town before signing permanently for Cheltenham in 2010. In successive season's he then signed for Grimsby Town and Hereford before joining Bath in 2014.
Pablo Haysham
Pablo played for Banbury United last season having joined them from Salisbury FC in the 2019/20 season. He began his career at Oxford City before he moved to Didcot Town and then onto Hereford FC and Salisbury. After a loan spell at Didcot in February 2019 he signed for Banbury.
Lewis Hall
Lewis began his career at Bristol City before signing for Gloucester City after his release. He played for Gloucester for over three seasons before he signed for Hereford FC. After a short period at Hereford he moved to our league rivals Taunton Town in October 2018 before signing for Weston-super-Mare a year later. After leaving Weston at the end of last season there were a few clubs looking to sign the defender but he decided to sign for Marine after talks with manager Lee Spalding.
These three new signings were amongst a number of the returning squad who also put pen to paper last night, midfielders Brad Hooper, Henry Spalding, Jack Stanley and Rhys Wells, defenders Pierce Mitchell, Louis Spalding and Matt Coupe.
With the following eight players currently under contract until May 2022, Martin Horsell, Jamie Edge, Ryan Campbell, Conor McDonagh, Harry Williams, Mat Liddiard, Zack Kotwica and David Pratt the squad is looking strong ahead of the 2021/22 season, and hopefully a season that will be completed.
In addition to the above Spalding also invited a number of trialists along last night and with a trial game planned against our Development side next week we will bring you any news of further signings ahead of our preseason fixtures that start at Highworth Town on Saturday 3rd July.