Preseason Fixtures 2021 Update 3
Sunday 2nd May 2021
Back to blog posts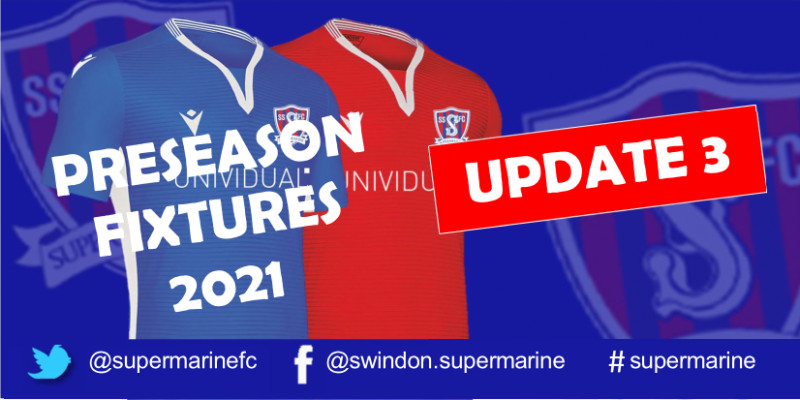 Preseason UPDATE 3
Manager Lee Spalding is pleased to announce two more fixtures to our preseason games. He has arranged the friendlies with Royal Wootton Bassett Town on Saturday 3rd July and Chipping Sodbury Town on Saturday 10th July with both games away and kicking off at 3:00pm.
---
Friendlies arranged so far
Sat 3rd July - Away - Royal Wootton Bassett Town - KO 15:00
Sat 10th July - Away - Chipping Sodbury Town - KO 15:00
Tues 13th July - Away - Shrivenham Town - KO 19:30
Sat 17th July - Home - Gloucester City -KO 15:00
Tues 20th July - Away - Chippenham Town -KO 19:30
Sat 24th July - Away - Bracknell Town -KO 15:00
Tues 27th July - Away - Wantage Town -KO 19:30
Tues 3rd August - - Away - Hungerford Town -KO 19:45
Sat 7th August - Home - Banbury United -KO 15:00
---
Covid-19
Of course, the return to preseason training and friendly matches is dependant on the position with the Government's planned roadmap for a return to playing fixtures in front of spectators, so these dates in the diary may have to be changed.
Fingers crossed that we can return to our preseason friendlies in front off our wonderful sponsors, supporters and friends at the Webbswood Stadium currently planned for July 17th but hopefully it will be the 3rd or 10th of July against one of our regular preseason opponents?
Take care, we hope to see you back at the Webbswood Stadium from July!