Supporters Evening is a 'HUGE' Success
Friday 18th October 2019
Back to blog posts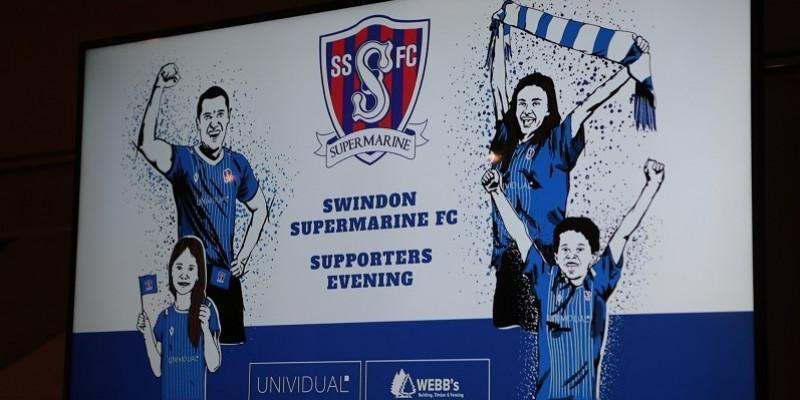 The First SSFC Supporters Evening is a HUGE Success!
Over 150 people through two sittings, including fans, players, academy players and parents, sponsors, staff, volunteers and directors gathered in the Supermarine Community Room on Thursday night as the Football Club hosted their first supporters evening at the Webbswood Stadium.
The panel of four consisting of Chairman Jez Webb, First Team Manager Lee Spalding, Women's & Academy Team Coach Kerry Walklett and Main Club sponsor Cherie-Anne Baxter from Unividual took questions and each outlined their visions for the football club over the coming seasons to all in attendance as well as the progress made in their respective times at the club.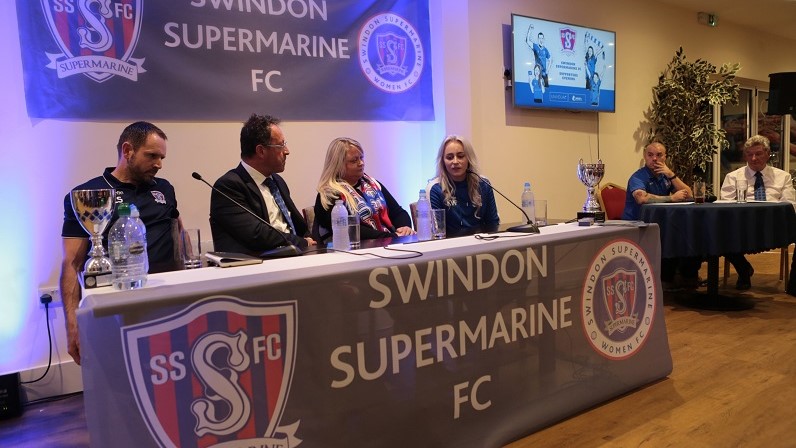 Last nights panel © Jeff Youd Photography
The evening started with an incredible video filmed by Club President, Steve Moore's son Leigh Moore through his company Creative Players. It was filmed last season and included interviews with a number of fans, volunteers and staff at the club and what the club means to them and we hope to be able to bring you this content very soon.
Some questions were pre-submitted for all, as well as a number from the audience in attendance. The Chairman committed to try and take the club to a National League level as well as making the necessary ground improvements to facilitate this move and growth at the club, whilst being financially prudent at the same time.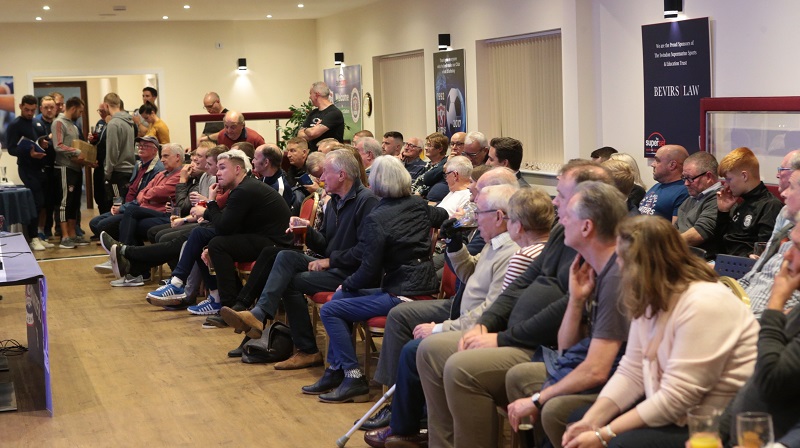 Last nights packed audience © Jeff Youd Photography
The Manager took several questions and also stated his ambition to play at a high a level as possible, speaking about players' contracts, signings, what a typical day for him entails, both matchday and through the week, praising his staff, players, the staff at the club as well as the fans for all their support, stating that the recent upsurge in volume from the fans both home and away has made a huge impact on the club.
Kerry fielded questions about the Academy and the benefits to the club that this will bring, including a passionate speech about getting "home-grown" players into the first team one day whilst Cherie also laid out her ideas for marketing the club further and how the sponsors wholly embrace the family club feel that was presented in the video, that is present on a matchday and how it's like no other club that many people have been to.
Everybody enjoyed the kind generosity of the food and drink laid on by the club and we hope to do something similar again in the future.
by Brian Davis (Media & Press Officer)