Taunton Town Preview
Friday 13th September 2019
Back to blog posts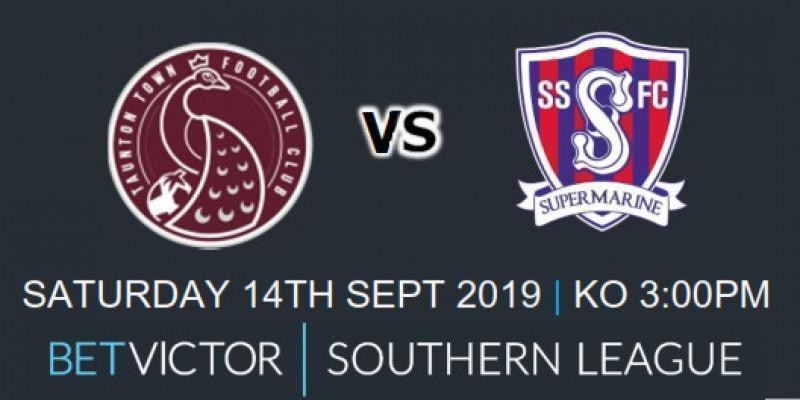 Taunton Town v Marine
Supermarine manager Lee Spalding believes the tide is turning in a positive direction for his side ahead of their Bet Victor Southern League Premier South meeting with Taunton Town in Somerset tomorrow. A pair of recent victories bookended a difficult few weeks in August that yielded just one point from a possible 12 for Marine. A 3-0 win secured their safe passage through to the next round of FA Cup qualifying on Saturday before Marine put four past Larkhall Athletic in a 4-1 Southern League Cup success on Tuesday evening.
Spalding has been largely pleased with the performance of his players in recent outings, but felt that the victories Marine had deserved in league defeats finally arrived in their cup matches, and the Marine boss is now hoping his squad can use their positive results to push on in the league. Spalding said: "I think these cup games have come at a good time for us.
"They have definitely injected a little bit of confidence into us and given us the opportunity to have a look at a couple of other players. "The players that came in on Tuesday, especially Joe Turley and Brad Hooper in central midfield, did really well. "They've given themselves a chance of being included in the squad for Saturday and that's good for them and for the squad."
Marine head to Somerset in search of their first league win in a month on Saturday while their only other opportunity to accumulate points comes in a fortnight's time away at Dorchester Town. As such, Spalding is keen for his players to grasp the opportunity of three points on the road to allow the club to hit the ground running when league action returns in earnest in October.
Spalding said: "Taunton didn't have a great start, losing their first two, and were exactly the opposite to us in terms of results. "But they're coming strong again, they've got a lot of good players down there and I would imagine they'll be one of the favourites to push for promotion this season. "It will show us how close we are to them, and if we play to our full potential, there is no reason why we can't go there and get a result. "We need to be going there confident, with a positive attitude thinking that we can take all three points. "Every single player will have to be either at their best or somewhere near for us to get a result."
With Harry Williams and Ryan Campbell having a run out from the subs bench on Tuesday following injuries, player coach Matt Coupe joining the squad after suspension and Simon Downer returning after being rested in midweek, manager Lee Spalding has a full squad to select from and some difficult decisions to make after that 4-1 win against Larkhall Athletic and the previous FA Cup win at Wantage Town on Saturday.
Previous meeting at Taunton
Our journey to Taunton last season came on a Tuesday evening on February 27th and ended with a 1-1 draw. It was stalemate at half time but then in the 54th minute Andrew Neal (pictured below) pounced on a poor clearance and hammered the ball into the net. Marine had a lot of possession after the goal as Taunton sat back and defended their lead. It took to the last few minutes to grab the equaliser.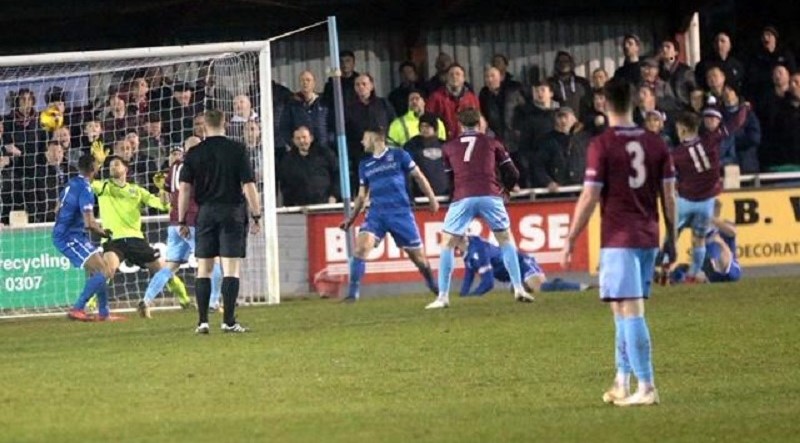 Andrew Neal opens the scoring in last seasons league match at Taunton
© Jeff Youd Photography
The assistant referee flagged for a foul on Brad Hooper, the replacement referee who had replaced the injured referee at the break, didn't look like he was going to give until the flag went up! The free kick was swung over into the box by Ryan Campbell, the ball dropped to Jamie Edge who steered a low effort towards goal where the waiting Mat Liddiard (pictured below) was on hand to divert the ball over the line from six-yards as the keeper looked to gather Edge's shot.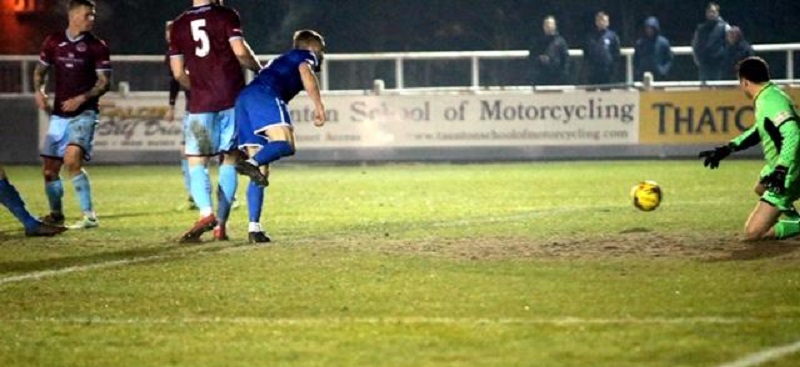 Mat Liddiard scores our late equaliser at Taunton
© Jeff Youd Photography
Taunton's Admission Prices & Info
Adults | £10     
Concessions | £8     
U18's | £5      
U14's | Free     
Programme | £2       
Car Parking | £1 per vehicle