Truro City 1 Marine 0
BetVictor Southern League Premier South | Saturday 17th August 2019
Back to blog posts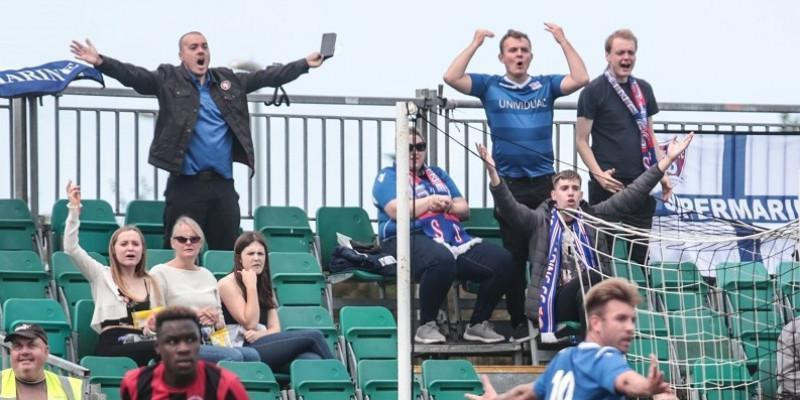 MATCH REPORT
by Brian Davis (Media & Press Officer)
Missed chances hurt Swindon Supermarine in Truro City loss - manager Lee Spalding reacts
Manager Lee Spalding felt his side were not rewarded with the rub of the green in their 1-0 defeat away to Truro City on Saturday. Despite having a plethora of chances, Marine were unable to squeeze one over the line and were forced to make the four-and-a-half hour journey back to Wiltshire empty handed.
Both sides came into the fixture with two wins from two games, but after Marine saw a handful of key decisions go against them, Spalding felt his team were always going to be up against it when searching for a positive result. Truro headed in the eventual winner 10 minutes before the break, and after several chances were wasted by the visitors, Conor McDonagh saw a late effort smack the post as Marine left empty handed.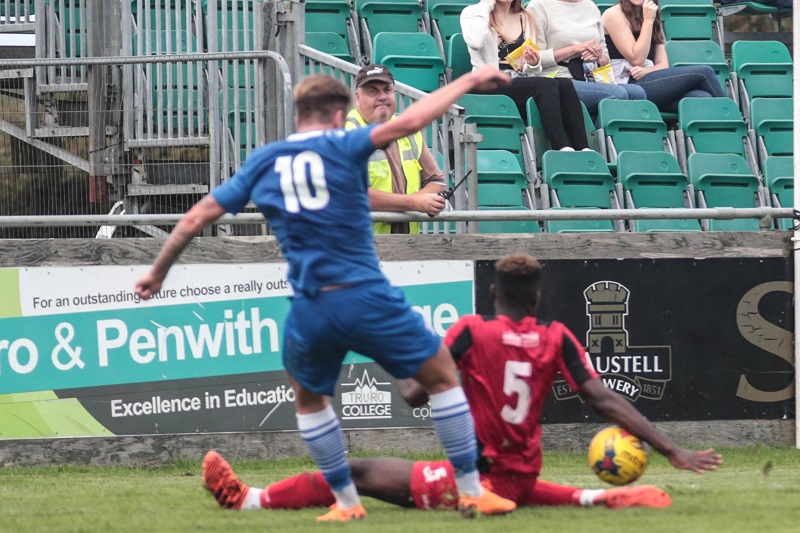 To add insult to injury, Matt Coupe was dismissed in the 86th minute for his part in an on-field disagreement. Reflecting on a frustrating afternoon for Marine, Spalding insisted his side would have been worthy of a point while praising some of the football on show from his players.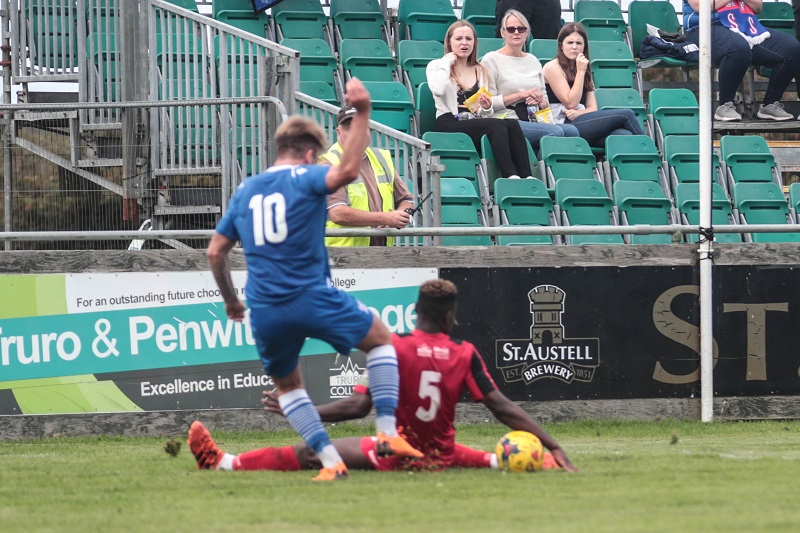 He said: "In the first two minutes, we were unlucky because Conor has been put in on goal and their lad has pulled him down on the edge of the box. "For me, it's got to be a sending off because he was the last man and Conor was through on goal. "That was disappointing, and then we've had a handball appeal waved away, view the handball in these photo's.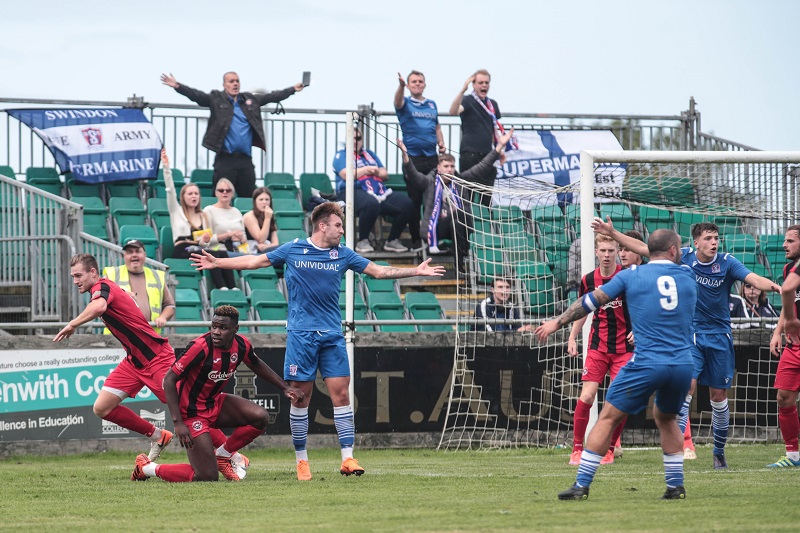 "It was just one of those days, at the end of the second half, Conor has a had a strike pushed onto the post. "Things just didn't quite break for us and we didn't get the rub of the green to be honest. "We certainly played well enough to get something from the game, and with the ball it was definitely one of our best performances of the season."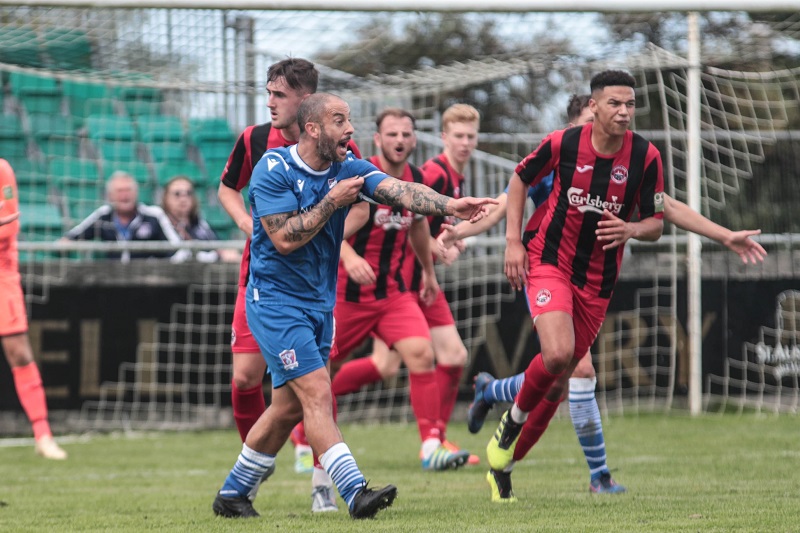 © Naomi Youd Photography | The handball incident in the second half, where's VAR when you need it? It's clearly handball as Conor McDonagh's cross is handled by Truro's Mbayo in two movements but the referee said NO PENALTY?
Despite the defeat, the Marine manager felt his side could take a lot from their performance, however, Spalding was still left disappointed at the manner of the goal his players conceded. He said: "On the ball, it was one of our best performances of the season so far.
"I thought we passed the ball better than we had done in the previous two games that we'd won. "We're disappointed to concede in the way we did, from a set-piece. "We've done quite a bit of work on being organised and making sure people understand their jobs, so I thought it was a really poor goal to give away."
FT: 1-0
Attendance: 428
MATCH GALLERY
To follow
from Naomi Youd Photography
MATCH VIDEOS
None taken
MATCH STATISTICS
TRURO CITY
Manager: Paul Wooton
Line-up: 1. James Hamon 2. Harrison Davies 3. Ryan Law 4. James Ward 5. Harlain Mbayo 6. Jamie Richards © 7. Noah Keats (17. Max Smallcombe 85') 8. Will Dean 9. Niall Thompson (14. Louis Rooney 62') 10. Luke Jephcott 11. Austin Booth
Subs not used: 12. Moulaye Ndaye 14. Stewart Yetton 15. Rio Garside
Goalscorers: Luke Jephcott 30'
Star Man: James Hamon
Cards:
None

None

None

SWINDON SUPERMARINE
Manager: Lee Spalding
Line-up: 1. Martin Horsell 2. Michael Hopkins 3. Louis Spalding 4. Jamie Edge 5. Matt Coupe 6. Matt Williams 7. Henry Spalding (14. Brad Hooper 68') 8. Calvin Dinsley (16. Joe Turley 85') 9. Stuart Fleetwood © **10.**Conor McDonagh 11. Ryan Campbell (12. Kane Simpson 77')
Subs not used: 15. Joe Shepherd 17. Reece Evans (GK)
Goalscorers: None
Star Man: Martin Horsell
Cards:
Jamie Edge 38', Calvin Dinsley 72'

None

Matt Coupe 88'

MATCH OFFICIALS
Referee: Devon Campbell (Plymouth)
Assistant Referees: Mark Hosking (Penzance), Paul Kempen (Penzance)