Ben Whitehead
Previous Clubs
Evesham United, Cirencester Town (loan), Didcot Town, Chippenham Town, Wantage Town, Banbury United, Didcot Town, Swindon Supermarine, Abingdon Town
Profile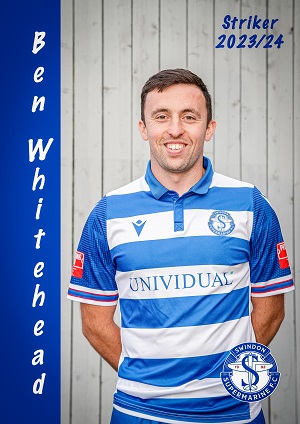 Ben began his football career as a junior at Oxford United before having a two-year scholarship at Swindon Town. After being released by Swindon he joined then Southern League Division One side Abingdon United for the start of season 2012/13 subsequently moving on to Swindon Supermarine where he made 39 appearances and scored 10 goals over two seasons from 2012 to 2014.
He then joined Didcot Town before moving to Banbury United in October 2014, followed by spells at Wantage Town, Chippenham Town, Didcot Town. From there he signed for Cirencester Town where he made 76 appearances and scored 85 goals over two seasons. His prolific goal scoring earned him a move to Weston-super-Mare where unfortunately he only played a handful of games over the next two seasons due to a cruciate injury.
On his return to competitive football, he played 31 games and scored 14 goals on loan at Cirencester Town in 2021/22. In 2022/23 he moved to Evesham United but only played 7 games due to a reoccurrence of a knee injury. He now returns to Swindon Supermarine for a second spell and is hoping to put his last two seasons disappointment in terms of fitness behind him.
If you would like to sponsor Ben for the 2023/24 season and see you name or company in the matchday programme and on the club website then please email the club for more details click here.
Sponsors

Other Sponsorship is available for Ben