Basingstoke Town 2 Marine 0
Evo-Stik Southern League Premier South | Saturday 9th March 2019
Back to blog posts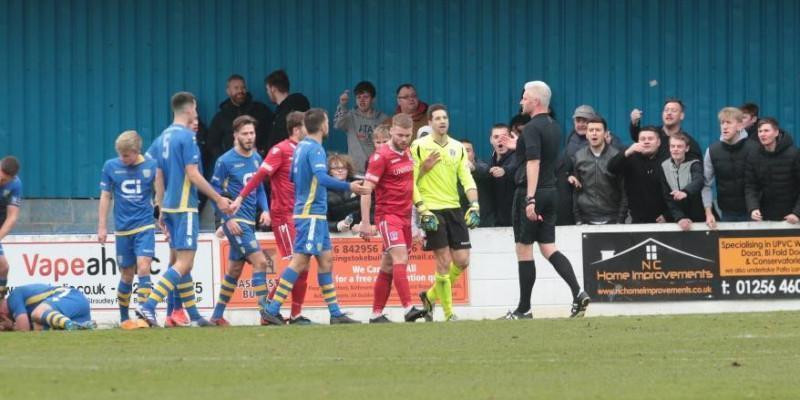 This is an advert on behalf of BetVictor, to sign-up click here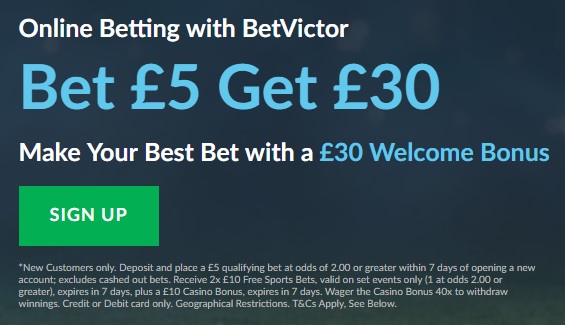 Gamble responsibly. Club officials and players cannot bet on football matches
Match Report
by Brian Davis (Media & Press Officer)
It was an afternoon to forget at the Camrose Saturday afternoon as Supermarine's slim playoff hopes took a huge dent with a surprise defeat at relegation threatened Basingstoke Town.
Lee Spalding's men weren't at the races all afternoon and could have lost by more but for some good goalkeeping and poor finishing from the Hampshire side. Spalding also now has a goalkeeping problem after Martin Horsell was sent off for the second time in six-games and has the unenviable record of having as many red cards as clean sheets in his Supermarine career to-date.
Basingstoke took the lead when Matt Williams misjudged the flight of the ball I the strong wind and handled in the box, leaving referee Daniel Simpson no choice but to point to the spot. Horsell guessed correctly, but Ben Wright's kick was well placed into the corner to give the hosts the lead and once they had it, they wouldn't look back.
Horsell made a fantastic near post save just a couple of minutes from Sam Argent and from the rebound Argent stabbed goalward but Michael Hopkins was on hand to chest off the line. Sam Deadfield couldn't quite get enough on Sam Smart's cross and his effort went wide as the Supermarine goal lead a charmed life.
Jamie Edge scooped an effort over the bar from 20-yards for the visitors before Deadfield somehow missed the target once again when it looked easier to score. Conor McDonagh had a near post effort that McGill spilled wide for a corner which was about as close as the away side got in the first half.
HT: 1-0
McDonagh should have equalised shortly after half time, but after creating space for himself in the box, his curled effort was well wide of the post. Argent tried his luck with a spectacular overhead kick but failed to find the target.
Smart also failed to hit the target when played in on goal before a couple of minutes of madness at the back for 'Marine. Firstly Horsell slid out to deny the hosts and Argent with the goal gaping missed the target.
Horsell then failed to gather the bouncing ball under pressure from Argent and after a coming-together of the players for which Horsell actually won the free kick, Horsell for some reason, raised his hands to Argent who took a theatrical tumble in the box leaving Simpson with little choice but to send the keeper off for his reaction. Mat Liddiard filled in as an emergency keeper, the third time this season an outfield player has had to go in goal for Supermarine.
Martin Kuhl's men wrapped up the win with five minutes to play when Argent played a through ball to Harry Pearse who finished past stand-in keeper Liddiard to earn themselves a well-deserved win and 3 points towards safety.
FT: 2-0
ATT: 357
Post Match with Lee Spalding
On a day that Spalding said not a single player stood out for a positive reason, the Marine manager argued his side were lucky not to have been beaten by more in Hampshire. He said: "It was a disappointing result on the back of a poor performance – the only positive was, in the first half, we kept it to only 1-0.
"We could have easily been 3-0 down at half-time. Basingstoke were the better side and the played most of the better football. "We didn't get to grips with the conditions or with ourselves, really. We didn't perform anywhere near like we have done in our previous three games.
"We were miles off it in the second half. I expected a reaction and we didn't really get it, to be honest." Just a few weeks ago, an encouraging run of results, that began before Christmas, had rocketed Marine up the table and given the Webbswood Stadium outfit a slim chance at sneaking a play-off place.
But Spalding was left frustrated on Saturday as he said none of his players put in a performance that was expected of them. He said: "Since the end of November, that was our worst performance.
"As a team, there wasn't a single player that really stood out – it was just a really poor team performance and that was the most disappointing thing about it. "At this level, if you're all off it then you're not going to win any games.
"We were slow again out of the blocks, we didn't get the ball down and pass it well enough and struggled on the day to get anything going. "Then having the keeper sent off was another added disappointment to the day."
Match Gallery
Match Video's
Courtesy of Your Sport Swindon
Match Statistics
BASINGSTOKE TOWN
Manager: Martin Kuhl
Line-up: 1. Tom McGill 2. Dean Stow 3. Adam Everiss 4. Michael Atkinson 5. Jack Wakeley 6. Charlie Kennedy © 7. Sam Smart 8. Harry Pearse (15 Dan Bayliss 85') 9. Sam Argent 10. Sam Deadfield 17. Ben Wright (11. Zidan Akers 70')
Subs not used: 12. Jim Orvis 14. Aiden Harris 16. Liam Hunt
Goalscorer: Ben Wright 15' pen, Harry Pearse 85'
Star Man: Harry Pearse
Cards:
Dean Stow 60'

None

None

SWINDON SUPERMARINE
Manager: Lee Spalding
Line-up: 1. Martin Horsell 2. Dan Williamson 3. Michael Hopkins 4. Jamie Edge 5. Mat Liddiard 6. Matt Williams 7. Joe Selman (14. Ryan Campbell 65') 8. Calvin Dinsley (12. Brad Hooper 65') 9. Stuart Fleetwood © 10. Conor McDonagh 11. Henry Spalding
Subs not used: 15. Dave Bampton 16. Jerel Ifil 17. Matt Coupe
Goalscorers: None
Star Man: None
Cards:
Calvin Dinsley 14', Michael Hopkins 45', Stuart Fleetwood 80'

Martin Horsell 75'

None

Match Officials:
Referee: Daniel Simpson (London)
Assistant Referees: Thomas Baines, Oliver Cross
Southern League Sponsor