Beaconsfield Town 0 Marine 0
BetVictor Southern League Premier South | Saturday 23rd November 2019
Back to blog posts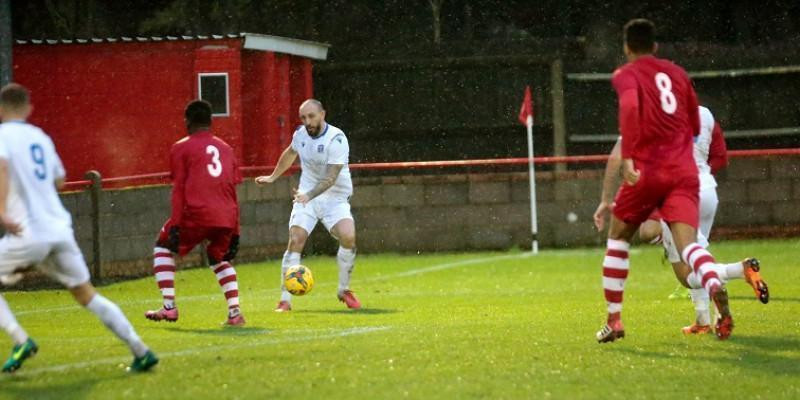 MATCH REPORT
by Brian Davis (Media & Press Officer)
It was a third consecutive clean sheet for 'Marine following their goalless draw at bottom side Beaconsfield Town in a game which will not live long in the memory for the 80 people, sparsely populated around Holloway Park Saturday afternoon.
Photo's above and below: One of the good chances we had as Brad Gray passes across the box to Conor McDonagh but he just fails to connect properly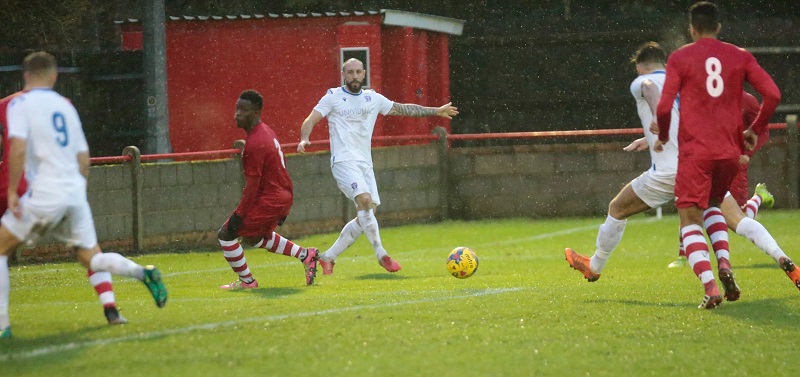 © Jeff Youd Photography
The result was a disappointing one with a lack of creativity and finishing letting the side down against the leagues cellar dwellers who defended well, whilst offering very little going forward.
Joe Shepherd and James Guthrie both missed the target from distance with Conor McDonagh being denied twice in the box by excellent challenges by Luke Neville and Alex Nolan as the striker was about to pull the trigger on both occasions.
Brendan Matthew and Charlie Lasosso followed suit for the hosts as neither goalkeeper was really tested in the uneventful first half.
HT: 0-0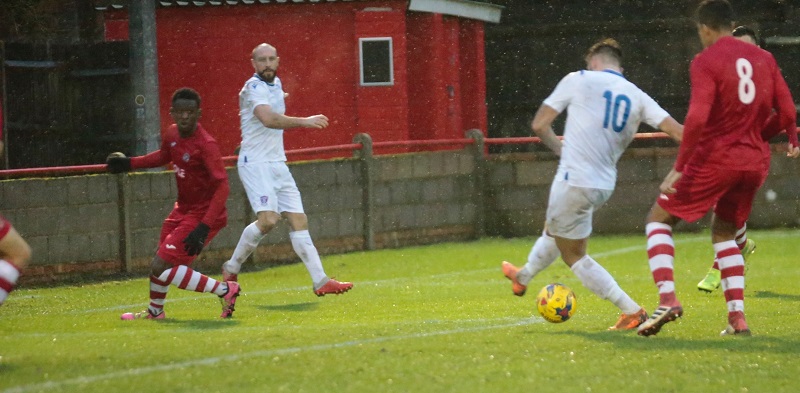 Lee Spalding's men look like they came out with a flea in their ear and made a fast attacking start, looking to catch the hosts napping with Harry Williams forcing a corner straight from the kick-off which was eventually cleared to safety.
Horsell made a save from the counter attack and the second half, which was as poor as the first, saw a number of corners for either side with very little quality to be found in the final third of the pitch.
McDonagh saw a low effort saved by Bowman. Jamie Edge curled over a free kick whilst Williams slid in missing a near post effort from a Brad Gray cross.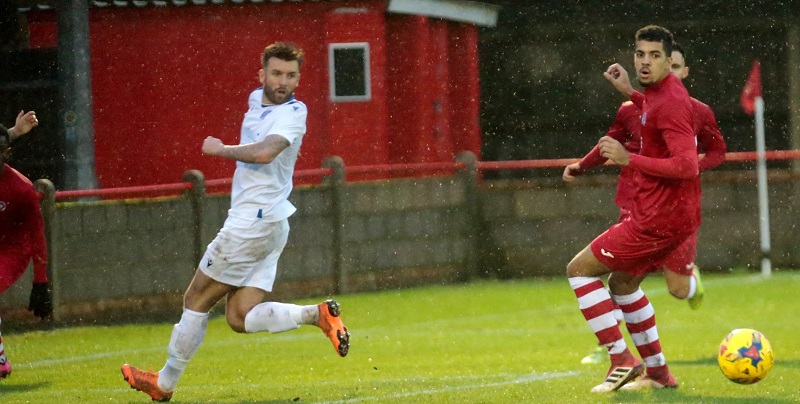 © Jeff Youd Photography
Harry Williams then saw a scuffed effort cleared off the line following a brilliant run down the left by Michael Hopkins which turned out to be the best chance for either side.
FT: 0-0
Att: 80
POST MATCH WITH LEE SPALDING
After the match manager Lee Spalding said: "When you play a team at the bottom of the table off the back of a good run, you expect to take three points. "But Beaconsfield defended really well, and so did we to be honest. Beaconsfield were strong on the ball going forward, and we stood up to that task well.
"We had a couple of good opportunities, and on another day we would've taken those chances – that's the biggest frustration. "We just weren't clinical enough in front of goal. We've been strong of late and have taken those chances when they've been presented to us."We can play better than we did on Saturday. It's one of those where the expectation was there for us to win, but we couldn't manage it."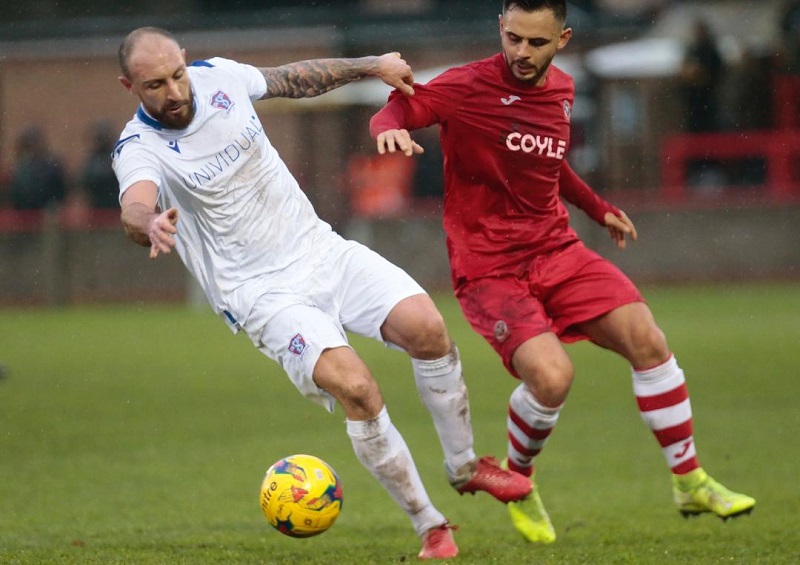 Brad Gray in action against Beaconsfield
© Jeff Youd Photography
Taunton's postponed game at Hartley Wintney meant Marine remained fourth in the table with well over a third of the season completed. Thirty-one points have been accumulated by the club from their first 17 games.
A run such as the above makes it hard for Spalding to weigh his frustration on Saturday's result too much on his players. Instead, focus will quickly be switched to next weekend's visit of former National League South club Weston-Super-Mare.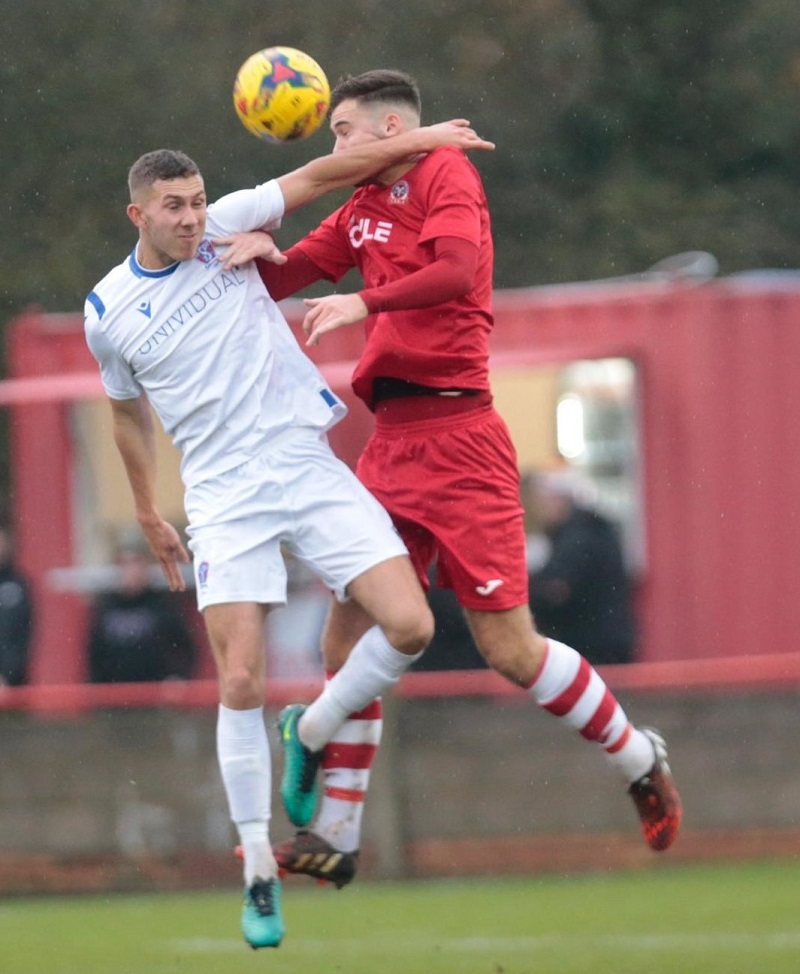 Harry Williams in action at Beaconsfield
© Jeff Youd Photography
"We'll take the positives from it – we got a clean sheet and continued the unbeaten run," said Spalding. "That's without mentioning the point, that point could be very important come the end of the season. It's not all negative.
MATCH GALLERY
Match Photo's © Jeff Youd Photography
MATCH VIDEO
Video's Courtesy of Your Sport Swindon

MATCH STATISTICS
BEACONSFIELD TOWN
Manager: Gary Meakin
Line-up: 1. Myles Bowman 2. Alex Nolan 3. Mayowa Balogun 4. James Taylor 5. Luke Neville (c) 6. Nathan Webb (14. Ade Shokunbi 46m) 7. Louis Stead 8. Jordan Ajanlekoko 9. Jon-Jo Bayes 10. Brendan Matthew (15. Kane Guy-Seifert) 11. Charlie Lasasso
Subs not used: 12. Wes Daley 16. Shawnikki Clement-Peter 17. Chiriac Miha-Andrei
Goalscorers: None
Star Man: Jon-Jo Bayes
Cards:
Alex Nolan 68m

None

None

SWINDON SUPERMARINE
Manager: Lee Spalding
Line-up: 1. Martin Horsell 2. Louis Spalding 3. Michael Hopkins 4. Jamie Edge 5. Matt Coupe 6. Mat Liddiard (c) 7. Brad Gray 8. Joe Shepherd 9. Harry Williams (14. Stuart Fleetwood 80m) 10. Conor McDonagh 11. James Guthrie (17. Ryan Campbell 60m)
Subs not used: 12. Brad Hooper, 15. Calvin Dinsley, 16. Henry Spalding
Goalscorers: None
Star Man: Mat Liddiard
Cards:
Matt Coupe 40m, Louis Spalding 52m

None

None

MATCH OFFICIALS
Referee: Nick Metcalfe
Assistant Referees: Chris Williams, Callum Peter