Farnborough 2 Marine 1
Evo-Stik Southern Premier South | Saturday 5th January 2019
Back to blog posts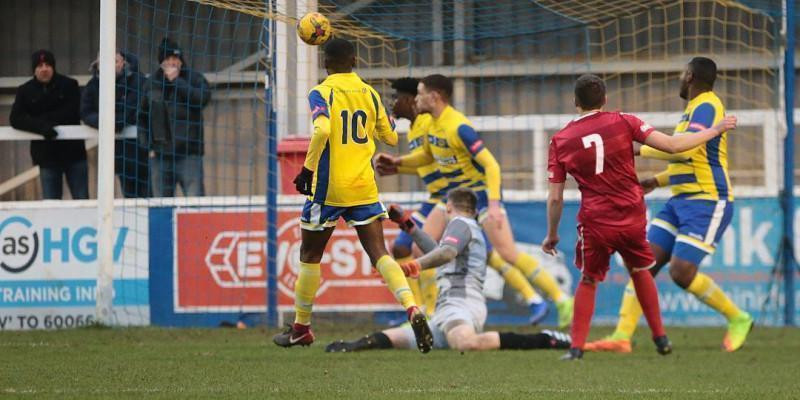 Match Report
by Brian Davis (Media & Press Officer)
A game of very few chances and little quality saw Supermarine's seven game unbeaten run come to a halt at the "Easy as HGV" Stadium Saturday afternoon. It looked like it might have been one game too many over the festive and new year period for 'Marine with a lot of players looking tired and not on their game as the team conceded two sloppy goals in a disappointing performance. Connor Thompson missed the game through illness, so Dan Williamson started at right back with Matt Coupe returning to the squad on the bench.
Lee Spalding's team almost gifted the home side an early goal when Williamson's loose ball was pumped forward by Rob Bartley setting Reggie Miller away to outpace Jerel Ifil down the left hand side, with Will Henry out of his area, Miller went past him, but from the very tight angle from the side of the area, he couldn't find the target. 'Boro took the lead shortly before the half hour mark when Marc Charles-Smith held off Ifil in the box, turned inside him and hit an effort that bounced off Matt Williams's chest, falling to Kurtis Cumberbatch who couldn't miss from six yards out. Charles-Smith should have done better shortly after, but he couldn't direct Fernandes's cross on target with his header.
A flowing 'Marine move led to the equaliser. Jamie Edge laid the ball off to Michael Hopkins, who sent a delightful ball down the left wing which set Conor McDonagh away, his inch perfect cross was met by Stuart Fleetwood, who slightly over ran the ball, taking a couple of touches at the far post, before laying the ball off to Henry Spalding who took a touch inside the defender before curling into the top corner from 8-yards out. McDonagh then couldn't hit the target with a dipping half volley from 25-yards. Spalding had a low shot on target from 18-yards when Henry quickly gathered the ball and sent him away with a superb long ball downfield.
HT 1-1
McDonagh did have the ball in the net in the 59th minute, but he had just strayed offside from Spalding's defence splitting pass. Five minutes later Fleetwood delightfully controlled Hopkins long free kick but his effort lacked power and was comfortable for Liam Beach in the Farnborough goal. Spencer Day's team scored the winner in the 82nd minute when Matt Bevans played a ball into Charles-Smith who held off a challenge from Ifil to return the ball to Bevan's whose run wasn't tracked and he fired an effort low off the outside of his boot into the bottom corner of the net.
FT: 2-1
Attendance: 232
Match Gallery
Top Photo: Henry Spalding scores the equalising goal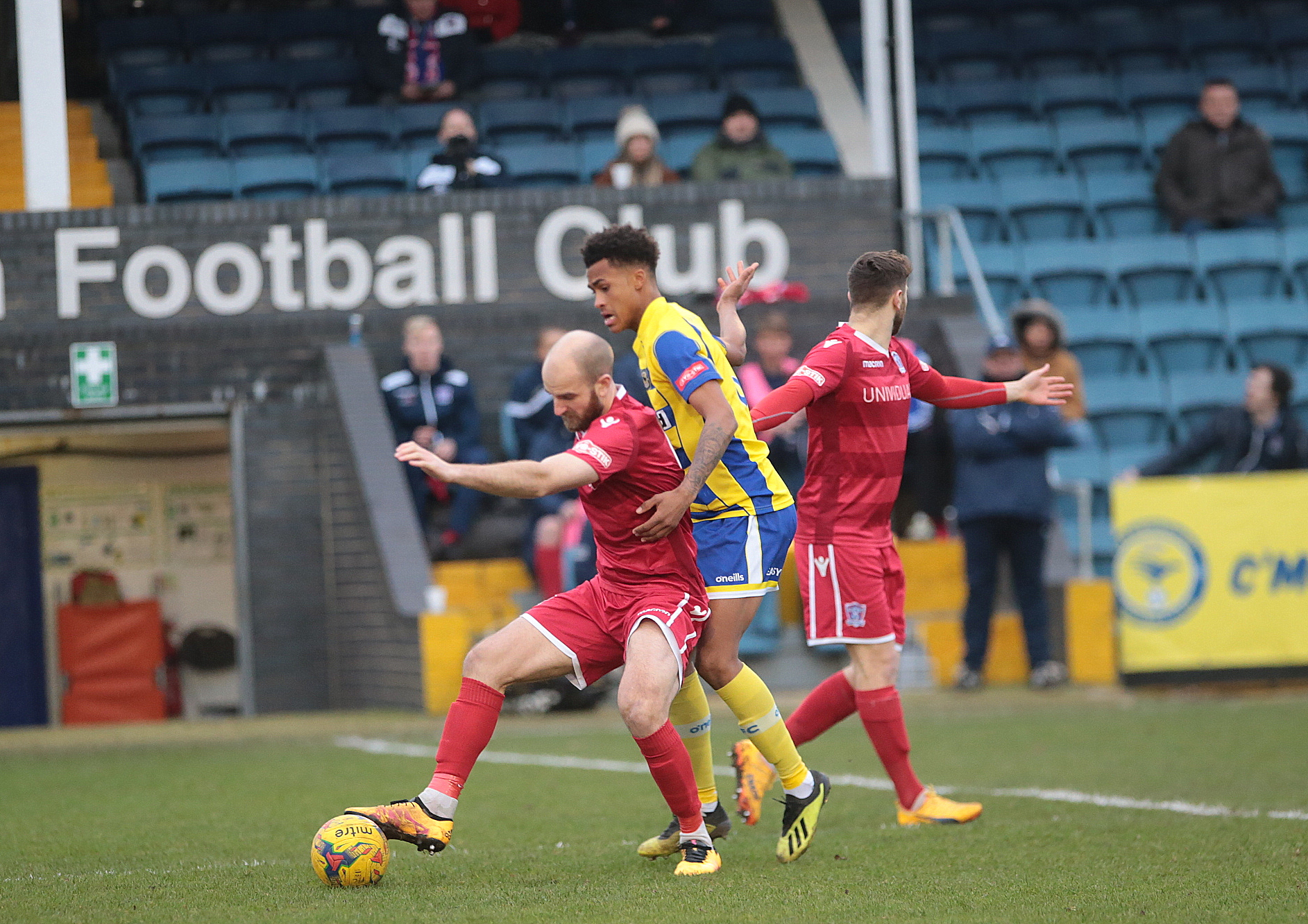 Jamie Edge on the ball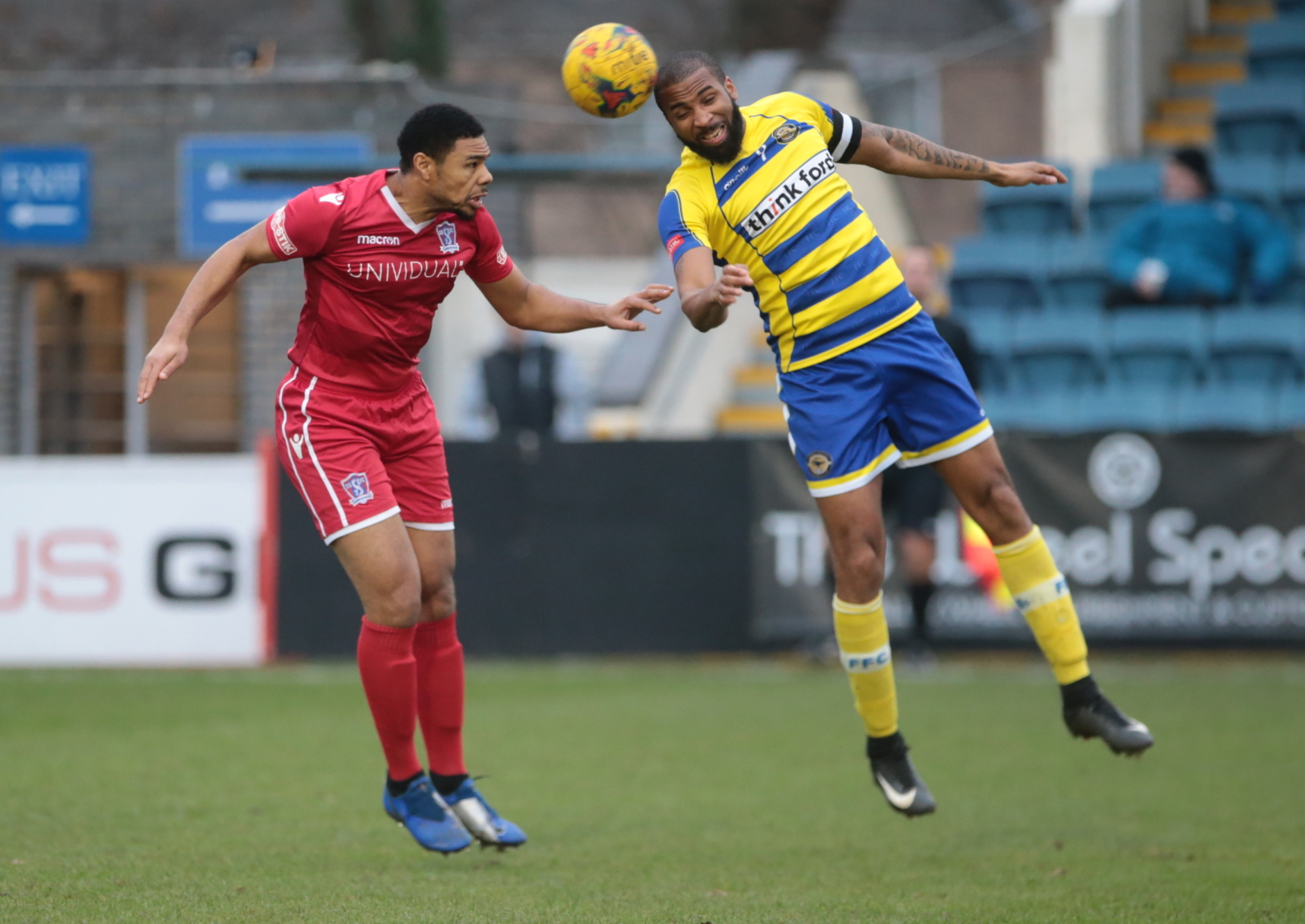 Jerel Ifil challenges for the ball
Match Video's
Courtesy of Your Sport Swindon
Match Statistics
FARNBOROUGH
Manager: Spencer Day
Line-up: 1. Liam Beach 2. John Oyenuga 3. Seth Owens 4. Matt Bevans 5. Michael Kamara 6. Rob Bartley 7. Michael Fernandes 8. Elliott Bonds 9. Marc Charles-Smith © 10. Kurtis Cumberbatch (14. Tom Leggett 62') 11. Reggie Young (12. Connor Cullen 75')
Subs not used: 15. CJ Fearn 16 Rafael Lutkowski
Goalscorer: Kurtis Cumberbatch 26', Matt Bevans 72'
Star Man: Michael Fernandes
Cards:
Kurtis Cumberbatch 45', Michael Fenandes 90'

None

None

SWINDON SUPERMARINE
Manager: Lee Spalding
Line-up: 1. Will Henry 2. Dan Williamson 3. Michael Hopkins 4. Jamie Edge 5. Jerel Ifil 6. Matt Williams (16. Matt Coupe 72') 7. Henry Spalding 8. Brad Hooper (14. Joe Shepherd 88') 9. Stuart Fleetwood © 10. Conor McDonagh 11. Ryan Campbell (12. Joe Selman 65')
Subs not used: 15 Dave Bampton 17 Zak Westlake
Goalscorers: Henry Spalding 38'
Star Man: Henry Spalding
Cards:
Conor McDonagh 29', Joe Selman 71'

None

None

Match Officials:
Referee: Craig Robson (Clanfield)
Assistant Referees: David Morey (Farnham), Tom Chambers (Farnham)
Southern League Sponsor