Highworth Town 0 Marine 4
Southern League Cup 1st Round | Wednesday 2nd October 2019
Back to blog posts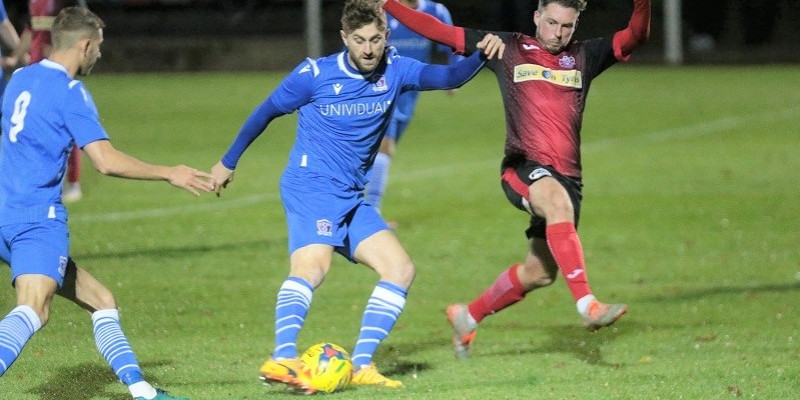 MATCH REPORT
by Brian Davis (Media & Press Officer)
Second half goals sees Marine win
Supermarine's fitness and extra quality final shone through on Wednesday night when a strong second half performance saw them knock near neighbours Hightworth Town out of the Southern League Challenge Cup following goals from Brad Hooper, Conor McDonagh, Harry Williams and Henry Spalding.
Both teams had early chances in the game as Williams saw former 'Marine keeper Connor Johns smother his effort after a fine through ball from Henry Spalding as another former Webbswood player Jacob Davidge flashed an effort across goal at the other end.
Johns did well again shortly after when he parried away Calvin Dinsley's effort from distance before two real flash points occurred. Davidge appeared to land a high blow on Dave Bampton for which he would receive some treatment and after the referee let the incident go unpunished, Bampton then put in a lunging tackle on Davidge which also went unpunished.
Matt Coupe who had replaced the injured Simon Downer also forced Johns into action with yet another Former 'Marine legend Sam Morris giving Martin Horsell a chance to warm his hands up at the other end with a fine headed effort.
Town had a shout for penalty when a coming-together of legs in the box occurred and with Horsell gathering, both the referee and well positioned Assistant referee saw no infringement. Louis Spalding sent over a wonderful cross that McDonagh couldn't get a turn and finish on before the left back had his own effort on goal which was saved by Johns.
HT: 0-0
The first fifteen minutes of the second half saw few chances. Davidge headed wide, Ryan Campbell sliced wide from distance and McDonagh missed the target at the back post and it would be another Lee Spalding substitute who got the first goal less than a minute later.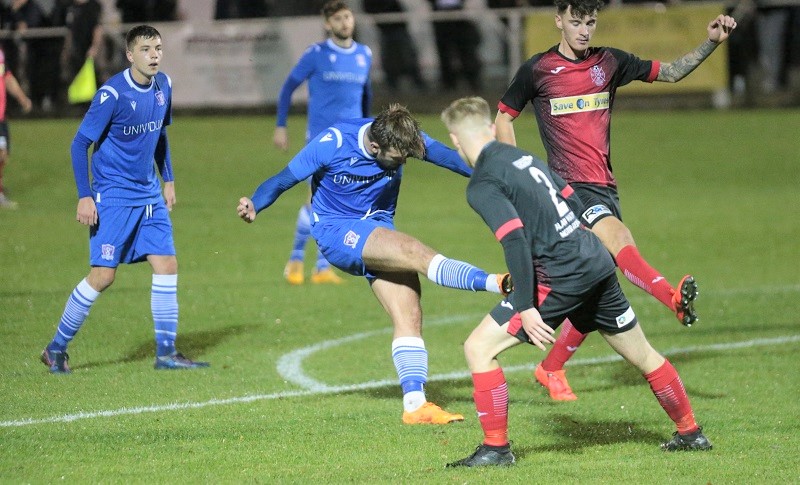 Conor McDonagh scores our second goal
© Jeff Youd Photography
Substitute Brad Hooper made an instant impact as seconds after coming on for Jamie Edge a bursting run into the box before taking a touch past a defender, he steadied himself and finished low beyond Johns with his second touch. A great finish from a player who would have been disappointed to not start but certainly made a quick statement and impact off the bench.
Johns will not want to see the next goal back as Conor McDonagh turned his defender on the edge of the box and hit a low tame effort which Johns didn't see until the last second as it rolled past him and into the net. Two goals in three minutes and the game was as good as over at that point.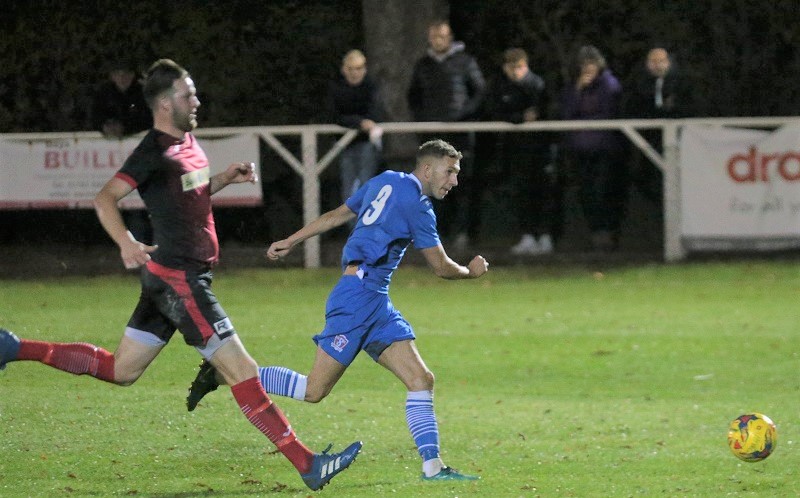 Harry Williams scores our third goal
© Jeff Youd Photography
Marine were dominant in possession and now looked like creating chances each time they went forward. Johns went a little way to make amends when he saved excellently from Mat Liddiard's powerful header and parrying away Hooper's effort from 20-yards. Highworth sub Edjidja Mbunga tried to hit back but his powerful effort went just over Horsell's bar.
With just over ten minutes remaining, substitute Brad Gray played a delightful long ball forward to Harry Williams who got ahead of his marker, nodded the ball into the box and finished clinically beyond Johns. Then five minutes from time Henry Spalding wrapped it up when he lashed home Williams's ball from the byline.
FT: 0-4
Attendance: 141
MATCH GALLERY
Match Photo's
© Jeff Youd Photography
MATCH VIDEO
Video's Courtesy of Your Sport Swindon

MATCH STATISTICS
HIGHWORTH TOWN
Manager: Jeff Roberts
Line-up: 1. Connor Johns (c) 2. Matt Gabbe 3. Dan Comer 4. William Davidson 5. Matt Cheetham (14. Aaron Oakley 59') 6. Sam Morris 7. Corey King 8. Sean Wood 9. Ash Edenborough (16. Edjidja Mbunga 57') 10. Ralph Graham (17. Sol Pryce 63') 11. Jacob Davidge
Subs not used: 12. Dan Drewett 15. Leon Morrison
Goalscorers: None
Star Man: Connor Johns
Cards:
Sean Wood 60'

None

None

SWINDON SUPERMARINE
Manager: Lee Spalding
Line-up: 1. Martin Horsell 2. Dave Bampton 3. Louis Spalding 4. Jamie Edge (16. Brad Hooper 59') 5. Simon Downer (14. Matt Coupe 10') 6. Mat Liddiard (c) 7. Henry Spalding 8. Calvin Dinsley (15. Brad Gray 70') 9. Harry Williams 10. Conor McDonagh 11. Ryan Campbell
Subs not used: 12. Stuart Fleetwood 17. Josh Milsom [GK] Goalscorers: Brad Hooper 60', Conor McDonagh 62', Harry Williams 79', Henry Spalding 85'
Star Man: Louis Spalding
Cards:
Dave Bampton 56'

None

None

MATCH OFFICIALS
Referee: Gareth Dunn
Assistant Referees: Daniel Spyer, Robert Finn