Merthyr Town 3 Marine 1
BetVictor Southern League Premier South | Monday 26th August 2019
Back to blog posts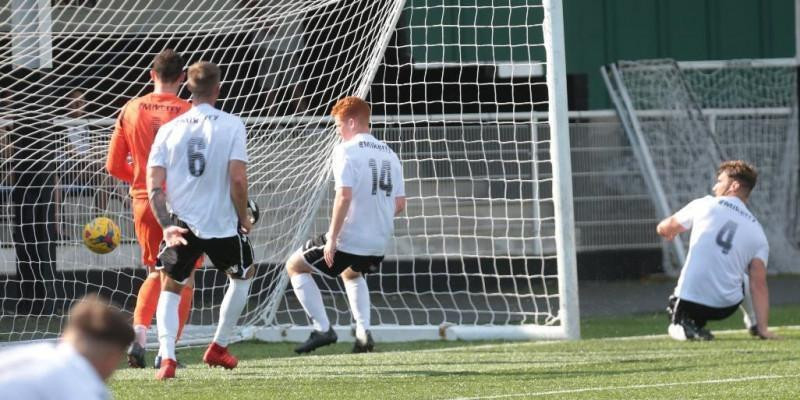 MATCH REPORT
by Brian Davis (Media & Press Officer)
Marine slump to defeat in sunny Wales
Supermarine's Merthyr curse lives on as they came away from Wales empty handed following a very flat Bank Holiday Monday outing in searing heat. 'Marine were never really at the races failing to deal with the constant pressing and hard-working Merthyr outfit and were always second best.
It was a competitive start to the game with both midfields receiving early warnings following some robust challenges as early as the third minute before Jamie Veale had the games first chance seeing his effort deflected over. It wasn't long before the home side did find the target as Kerry Morgan went untracked down the right who in turn found Lee Lucas who also enjoyed the freedom of the penalty area to rifle his effort home from the angle.
Lee Spalding's side had their first real effort at goal when Jamie Edge curled a free-kick around the wall and wide of the far post following a foul on Conor McDonagh 20-yards out. McDonagh then found the target himself, but his rising effort was always comfortable for Alex Harris in the Merthyr goal.
Town then rattled the frame of the goal, so much so that mobile goal alerts let us all know that they had gone ahead 2-0, however, the free kick from fully 30-yards crashed against the inside of the post and rebounded across in front of the line to safety. Are the Southern League and flash Scores secretly using goal line technology?
HT: 1-0
A guilt edged chance went begging early in the second half when Calvin Dinsley's free header was blocked on the line and eventually gathered by Harris at the second attempt. Mat Liddiard was then on hand to deny Owain Jones as he cleared off the line before picking up a booking for a foul which led to the second goal.
From a tight angle it looked more favourable for a cross than a shot, but Ian Traylor stepped up and whacked in a low effort to the near post which Dinsley could only deflect high into his own net.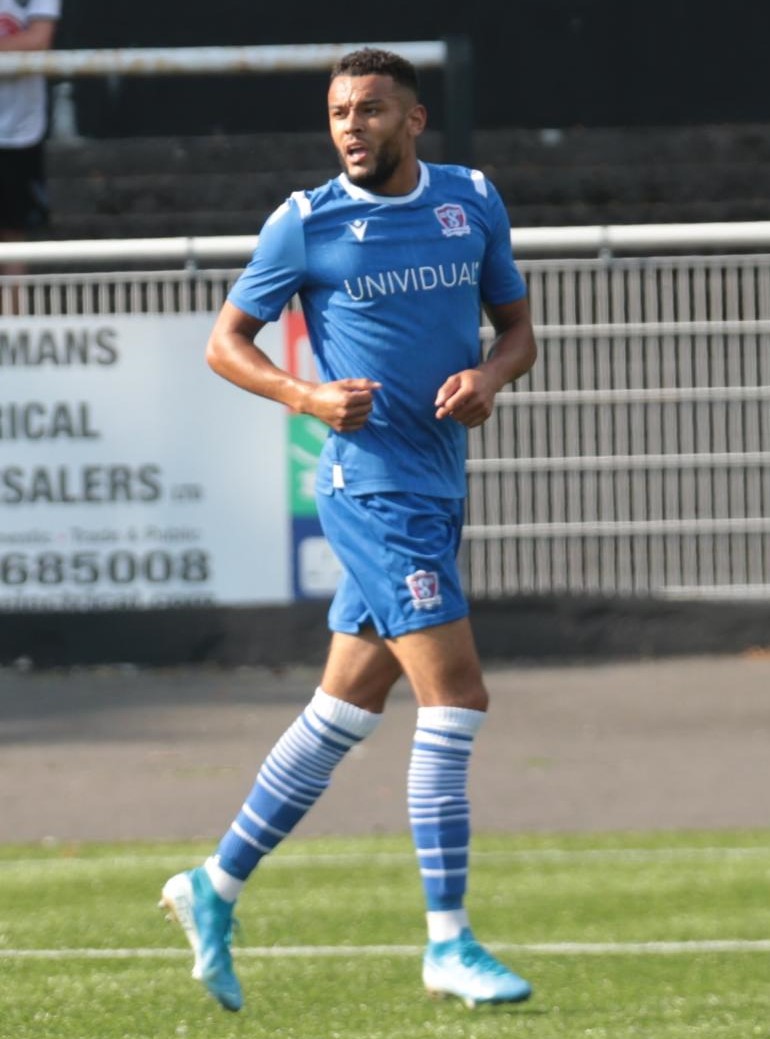 © Jeff Youd Photography | Top and above pictures: Kane Simpson has just scored our goal at Merthyr
Keeper Horsell then parried over substitute Rhys Davies' long range effort as the home side looked to kill the game off, but before they could do that, they were made to sweat when they appeared to finally tire from their industrious pressing game and another Spalding substitution paid off as Kane Simpson scored. Knocking in after Ryan Campbell's effort had come back off the bar. Four of the team's eight goals this season have now come from the bench, with six points being won beyond the 89th minute.
However, there would be no points or last minute equalisers this week, when Traylor made the game safe latching onto a long ball over the top and jinking inside Williams and then finishing into the corner of the net to seal the win.
FT: 3-1
Attendance: 509
POST MATCH WITH LEE SPALDING
Manager Lee Spalding said: "We started poorly and until Merthyr scored their first goal, we didn't really get playing. "We didn't start brightly enough, we didn't get the ball down and we didn't pass it well enough. "We were sloppy in possession and when they scored, it put us on the back foot even more.
"For the next 20 minutes, we did play some OK stuff, we just didn't exploit them enough in the areas we thought we could hurt them. "We spoke about it at half-time and we came out in the second half and showed a bit of a response. "We started to play wide and get the ball forward quicker but when they scored a second goal, it took the wind out of our sails.
"We kept going and scored through Kane but then with five minutes left, they scored again to make it 3-1 and kill us off. "It was probably one of our worst performances of the season. We weren't at it for the full 90 minutes. "In spells, we showed what we are capable of but, unfortunately, playing for 30 minutes of 90 isn't going to win you many games of football. "That was the story of the day."
MATCH GALLERY
Gallery
from Jeff Youd Photography
A MERTHYR SUPPORTERS BLOG | "THE GREAT BRITISH BALE OFF"
A delightful blog from a Merthyr Town supporter, always a good read! A Merthyr supporters Blog
MATCH VIDEO
None taken
MATCH STATISTICS
MERTHYR TOWN
Manager: Gavin Williams
Line-up: 1. Alex Harris 2. Adam Davies (c) 3. Kerry Morgan (14. Reece Davies 63') 4. Craig McDonnell 5. Jarrad Wright 6. Kyle Patten 7. Owain Jones (15. Ashley Evans 78') 8. Lee Lucas 9. Tom Meecham (12. Corey Jenkins 53') 10. Jamie Veale 11. Ian Traylor
Subs not used: 12. Moulaye Ndaye 14. Stewart Yetton 15. Rio Garside
Goalscorers: Lee Lucas 18', Calvin Dinsley o.g.65' Ian Traylor 85'
Star Man: Ian Traylor
Cards:
None

None

None

SWINDON SUPERMARINE
Manager: Lee Spalding
Line-up: 1. Martin Horsell 2. Michael Hopkins 3. Louis Spalding 4. Jamie Edge 5. Mat Liddiard 6. Matt Williams 7. Brad Hooper (12. Henry Spalding 56') 8. Calvin Dinsley (14. Joe Shepherd 69') 9. Stuart Fleetwood (c) (15. Kane Simpson 69') **10.**Conor McDonagh 11. Ryan Campbell
Subs not used: 16. Joe Turley
Goalscorers: Kane Simpson 77'
Star Man: Louis Spalding
Cards:
Mat Liddiard 64'

None

None

MATCH OFFICIALS
Referee: Andrew Shepherd (Gloucestershire) Assistant Referees: Darren McMillan (Gloucestershire), Ian Butler (Gloucestershire)