Swindon Supermarine v Swindon Town Preview
Sunday 2nd July 2023
Back to blog posts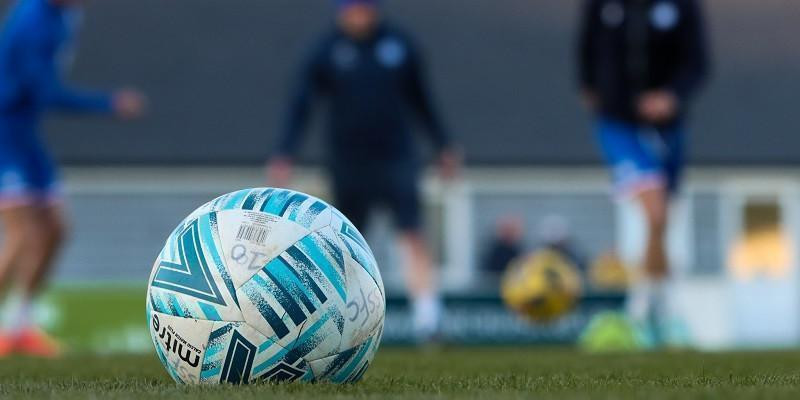 We're fortunate to be opening our preparations for the 2023/24 campaign with our annual preseason derby against our EFL 2 neighbours Swindon Town on Wednesday 5th July, kick off 7.45pm.
We make a welcome return to football this coming Wednesday evening as neighbours Swindon Town make the short trip to the Webbswood Stadium as both clubs begin their preparations for the new season.
With our visitors' season getting underway with a trip to Colchester United on August 5, there's sure to be a number of trialists on show for both sides as they look to finalise their opening day rosters in the coming weeks.
But this game marks the first opportunity for players to get minutes in to their legs and it's always an enjoyable occasion to host the Robins, so we hope you can join us on the night!
Saturday July 9th 2022
Swindon Supermarine 2 (James Harding 38' and Sal Alubakar 85')
Swindon Town 0
Family 4 Ticket - £25** (2 Adults + 2 Students / Youths)
Adult Ticket - £12** (18 to 59-years-old)
Concession Ticket - £8 (over 60-years-old)
Student Ticket - £6 (Students / Youths 12 to 17-years-old)
Children's Ticket - FREE (Under 12-years-old / Ticket required and they must be accompanied by an adult)
To purchase your tickets for the match please click Tickets
We will not have Match Programme's on sale for our preseason games this month, but they will return for the start of our Southern League Premier South campaign starting from August 5th.
We've got a number of Swindon Town themed prizes for our half-time draw!
2 x Match hospitality tickets
2 x Match Swindon Town EFL 2 tickets
4 x Match tickets for Swindon Town Women
Signed Swindon Town Match Ball
Signed Swindon Town Shirt
So, don't forget to pick up a ticket or two at the game, there will have a number of ticket sellers going around the ground!
We have invited teams that have already been our Match Day guests at the Webbswood Stadium along for our preseason games and we're delighted to have a full complement already secured!
The young players will become mascots this time round and then will take up the ball boy / ball girls role so we thank everybody who has signed up to come along!
For our first friendly against Swindon Town, we welcome back coach Luke Alford, his staff and his Supermarine U14s side for the opening preseason game. We're looking forward to seeing you all at the game!
Martin Osman will have the supporters club shop open where he has a range of football goodies and a wide selection of Swindon Town programmes available from the 1970's onwards, so do drop by and take a look at the collection and you may pick up a bargain! Some programmes are priced at just 50p each and please note for this game only, Martin will only be accepting cash.
If you can't join us at the game we'll have a link to the official Swindon Town coverage via our social media platforms as we're unable to cover this one due to holidays! We'll have half-time and full-time updates on Facebook and game highlights will follow on our own Supermarine TV and our friends Your Sport Swindon.
Whilst we have FREE car parking for over 300 cars in our car park at the Webbswood Stadium, it does get very busy when we play Swindon Town so either travel to the game earlier than normal or why not travel by public transport and then save the issue off finding a parking space!
We encourage our spectators to use the Stagecoach Number 7 bus from the town centre bus station, with a route via Groundwell Industrial Park and The Crown Inn at Stratton. It's a twenty-three minute bus ride to the last stop in the South Marston Industrial Estate (Exel stop).
Just ask the bus driver to stop for you at the bus stop for the Supermarine Sports Complex, and then its just a few minutes walk from there to the ground. This makes the Webbswood Stadium more accessible to all and has greener credentials, please try it!