Weymouth 2 Marine 1
Evo-Stik Southern League Premier South | Saturday March 23rd 2019
Back to blog posts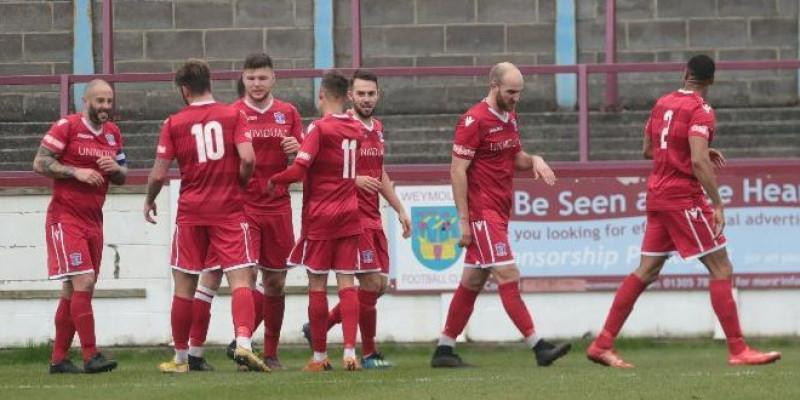 This is an advert on behalf of BetVictor, to sign-up click here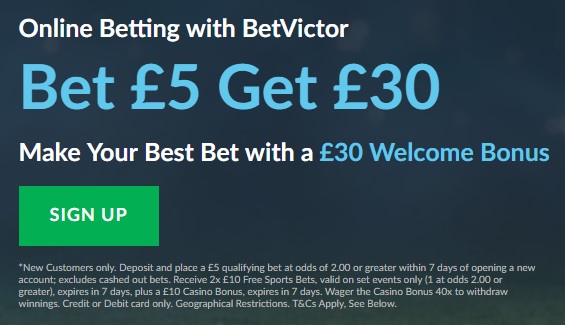 Gamble responsibly. Club officials and players cannot bet on football matches
Match Report
Courtesy of the Swindon Advertiser
A harsh penalty decision was the difference between Swindon Supermarine and Weymouth as Lee Spalding's men went down 2-1 at the league leaders on Saturday. Marine held their own for the vast majority of the first half, but a lapse in concentration from their wide men allowed Weymouth to get in down the left and set up the opening goal.
Spalding's side responded through Stuart Fleetwood shortly into the second half, however a debatable handball decision gave Weymouth the chance to respond immediately from the penalty spot.
They took it, sending Marine to their second defeat in three outings, although Spalding felt his side were worthy of taking some kind of prize from the game and called the decision to award the penalty for handball a 'kick in the teeth.'
He said: "The performance today was still very good. For 42 minutes, we were excellent – we passed the ball well, we created a few chances and it was going well, so to concede on 42 minutes was disappointing." "To concede with three minutes to play was a bit of a kick in the teeth."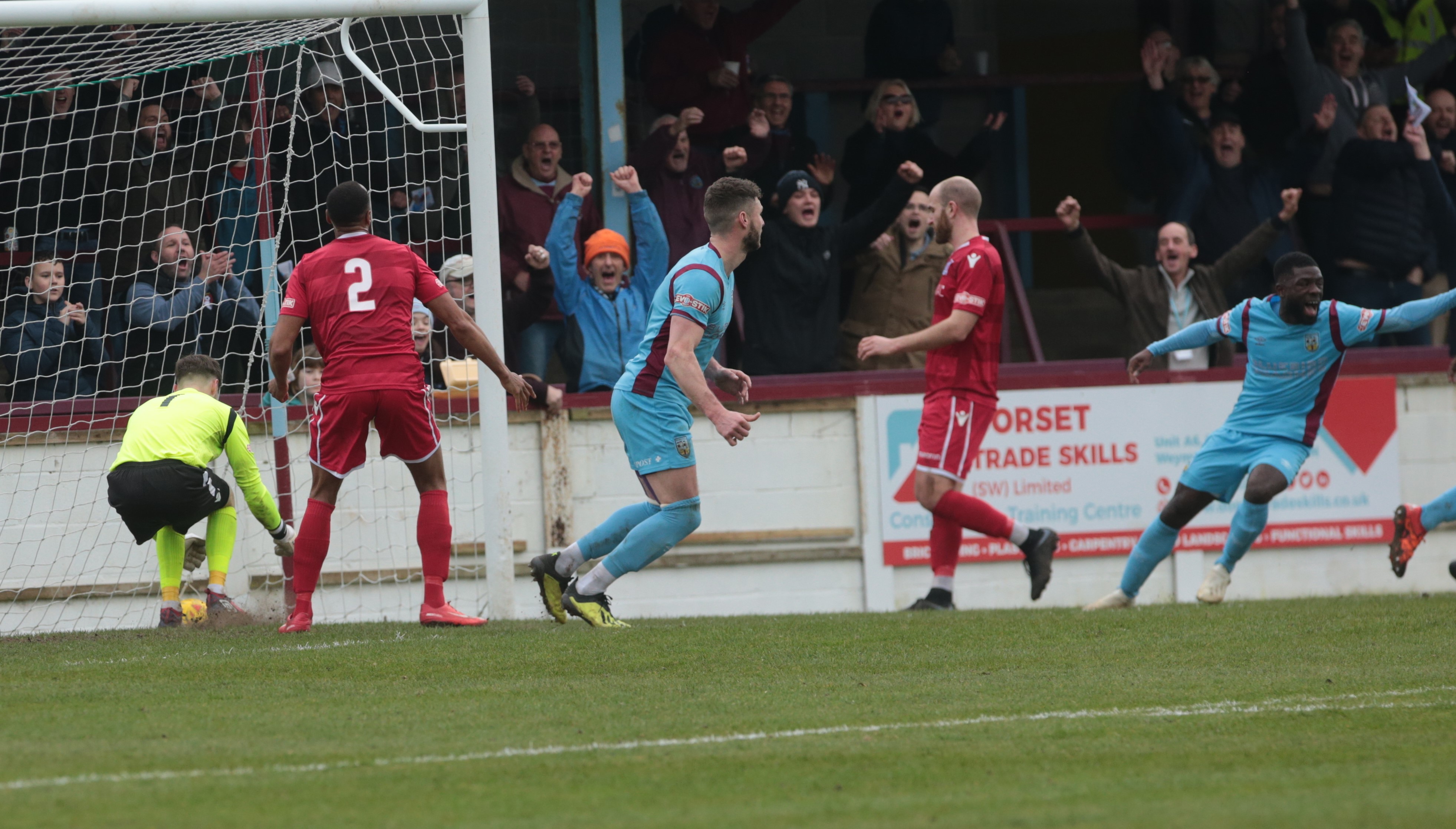 Yemi Odubade scores the opening goal in the 42nd minute. Photo by Jeff Youd Photography
He said: "We got them in at half-time and spoke about getting a reaction and to be fair, we started the second half brilliantly."
"Everyone was good in and out of possession and then we got the ideal response on the hour from Stuart Fleetwood."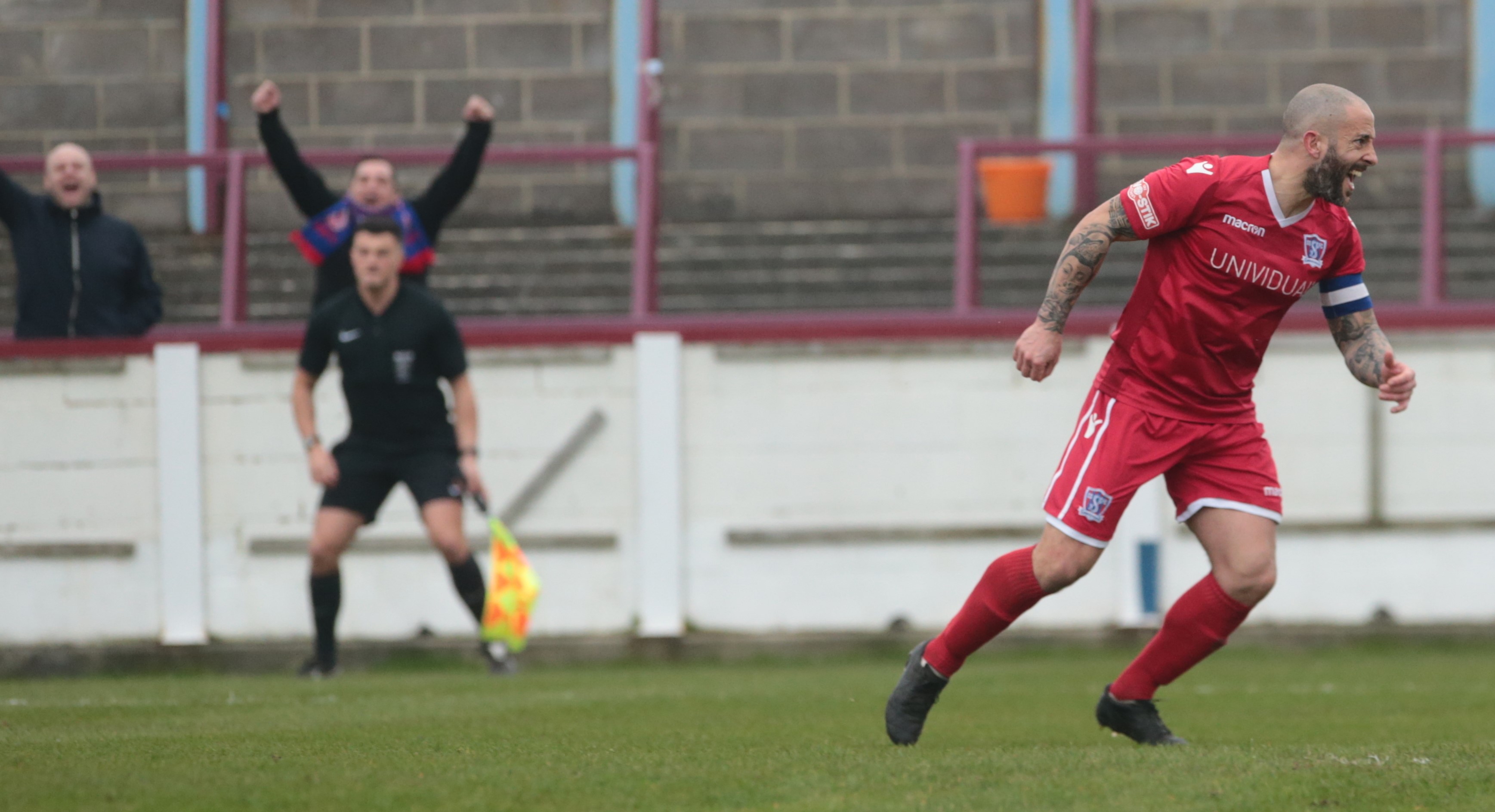 Stuart Fleetwood scores the equalising goal in the 58nd minute. Photo by Jeff Youd Photography
"At 1-1, they looked quite deflated, but straight from kick off, they've gone down the left, put a ball into the box and it's hit Dan Williamson on the arm. It was such a soft penalty – it was beyond belief to be honest. But when you're top of the league, you're at home and you've got 900 people screaming at the referee 'handball', I suppose that's what happens isn't it?"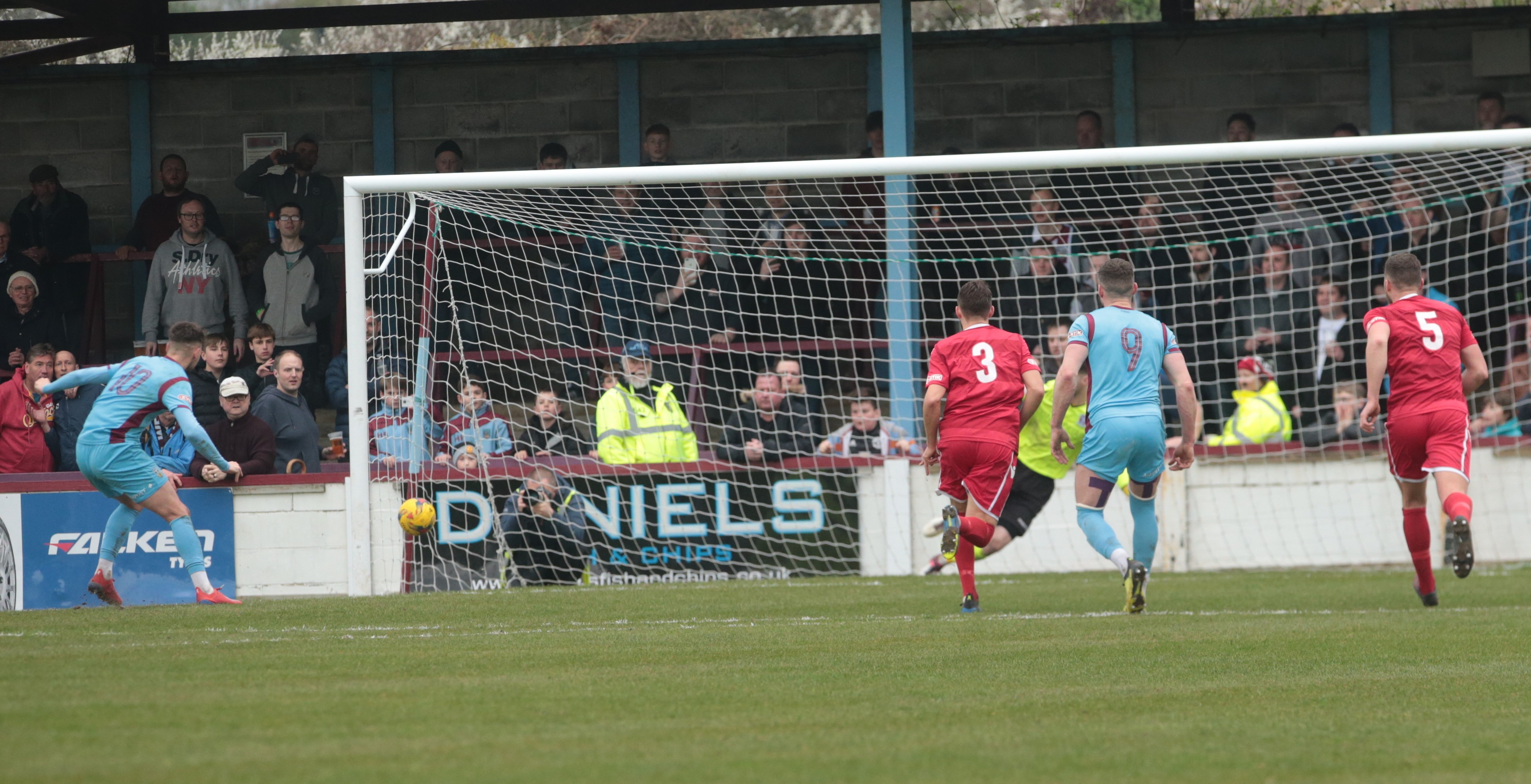 Brandon Goodship scores the Weymouth second and winning goal in the 60nd minute after a harsh penalty decision. Photo by Jeff Youd Photography
"To lose the game on a really, really soft decision like that – it's disappointing, because the players worked their socks off and put a really good performance in and I thought they deserved better than that."
HT: 1-0 FT: 2-1
ATT: 858
Post Match with Lee Spalding
Match Gallery
Photo's by Jeff Youd Photography
Match Video's
Courtesy of Your Sport Swindon
Match Statistics
WEYMOUTH
Manager: Mark Molesley
Line-up: 1. Tom McHale 2. Calvin Brooks 3. Ashely Wells 4. Sam Sherring 5. Steph Zubar 6. Jake McCarthy © 7. Yemi Odubade (15 Josh Carmichael 77') 8. Cameron Murray 9. Ben Thompson 10. Brandon Goodship (12 Josh Wakefield 88') 11. Abdulai Baggie
Subs not used: 13. Mark Childs (GK) 14. Harry Baker 16. Jordan Ngalo
Goalscorer: Yemi Odubade 42', Brandon Goodship 60' pen
Star Man: Jake McCarthy
Cards:
None


None


None

SWINDON SUPERMARINE
Manager: Lee Spalding
Line-up: 1. Josh Hill 2. Dan Williamson 3. Michael Hopkins 4. Jamie Edge 5. Mat Liddiard 6. Matt Williams 7. Henry Spalding 8. Brad Hooper (14. Joe Shepherd 77') 9. Stuart Fleetwood © 10. Conor McDonagh 11. Ryan Campbell (12. Harry Williams 77')
Subs not used: 15. Joe Selman 16. Matt Coupe
Goalscorers: Stuart Fleetwood 58'
Star Man: Jamie Edge
Cards:
Stuart Fleetwood 80'


None


None

Match Officials:
Referee: Phil Eddie (Plymouth)
Assistant Referees: John Pike (Wimborne), Paul Barber (Bournemouth)
Southern League Sponsor