Lee Spalding
Previous Clubs
Swindon Supermarine (Assistant Manager), Highworth Town (Assistant Manager), Wycombe Wanderers, Swindon Town
Profile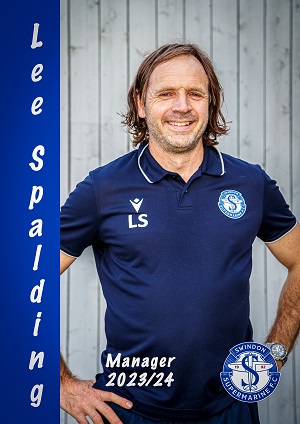 Lee joined Marine as Assistant Manager in July 2012 having spent the previous few seasons at Highworth Town, firstly as a player and then as assistant to Dave Webb. After playing at a high level, including time at football league sides Swindon Town and Wycombe Wanderers, he began working alongside manager Webb in 2011 when he also took on the coaching role and he continued to do so at Marine.
Lee left the club for three months in February 2015 to take time out to obtain his coaching badges and watch his sons play for Bristol City and Swindon Town, respectively.
In January 2018 he became caretaker manager after the departure of manager Dave Webb.
This was until the end of the 2017/18 season and then after leading the team to a playoff final victory at Wimborne Town on penalties and promotion to the Southern League Premier Division he was rewarded with the managers role on a permanent basis at the start of the 2018/19 season.
After the two Covid effected seasons he established the team in the Premier South Division with a creditable mid-table finish in 2021/22 season before finishing last season, the 2022/23 season in sixth place, the highest ever league position for Marine.
Also, just one position and two points off a playoff place in what was a tremendous season. We had a number of notable wins throughout the season and none more so than the 4-0 win over highflying National League South side Dartford in the FA Trophy in November.
If you would like to sponsor Lee for the 2023/24 season and see you name or company in the matchday programme and on the club website please email the club for more details click here.
Sponsors

Other Sponsorship is available for Lee