Marine 3 Hartley Wintney 2
BetVictor Southern League Premier South
Back to blog posts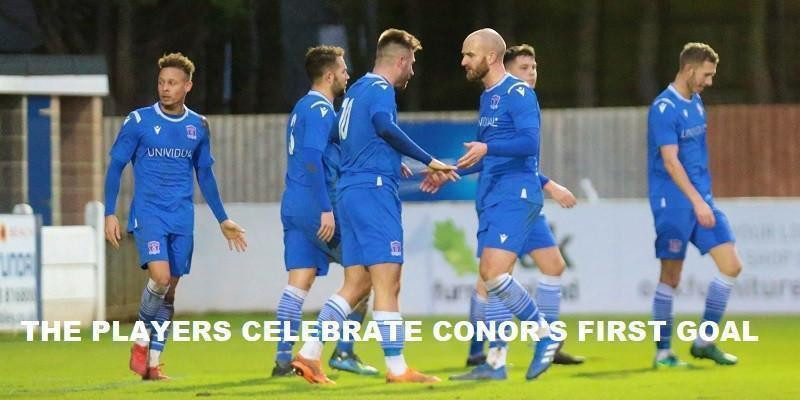 MATCH REPORT
by Brian Davis(Media & Press Officer)
It was a sixth 3-2 win of the season for Supermarine as another two goal salvo from leading marksman Conor McDonagh won the game for them in the second half.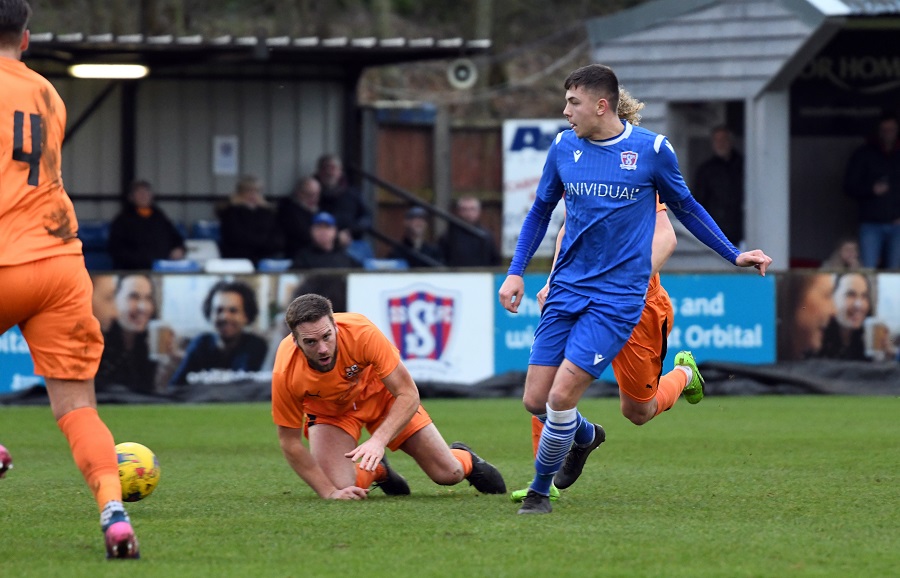 Henry Spalding slides the ball through to Harry Williams for the opening goal
© Motion Sport Photography
Hartley had the first chance of the game as the returning Sam Argent headed powerfully downwards, but 'Marine keeper Martin Horsell pulled off a stunning save to deny the frontman.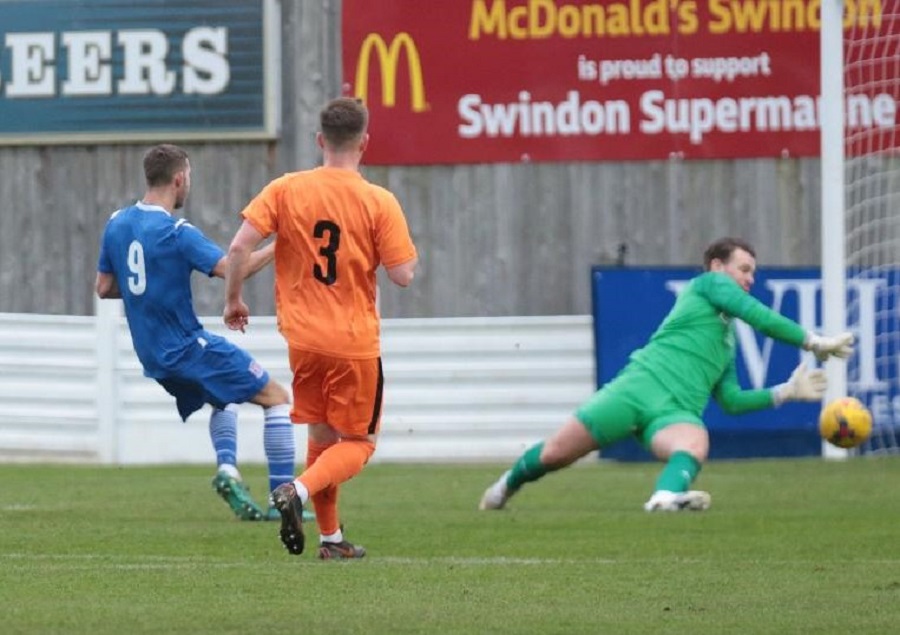 Harry Williams scores the opening goal
© Jeff Youd Photography
The home side then took the lead when former Reading midfielder Aaron Kuhl gave the ball away to Henry Spalding who played in Harry Williams who fired home.
HT: 1-0
Kuhl made amends for his earlier mistake early in the second half when he cut inside the defence and lashed home an effort into the far corner from the edge of the area to equalise.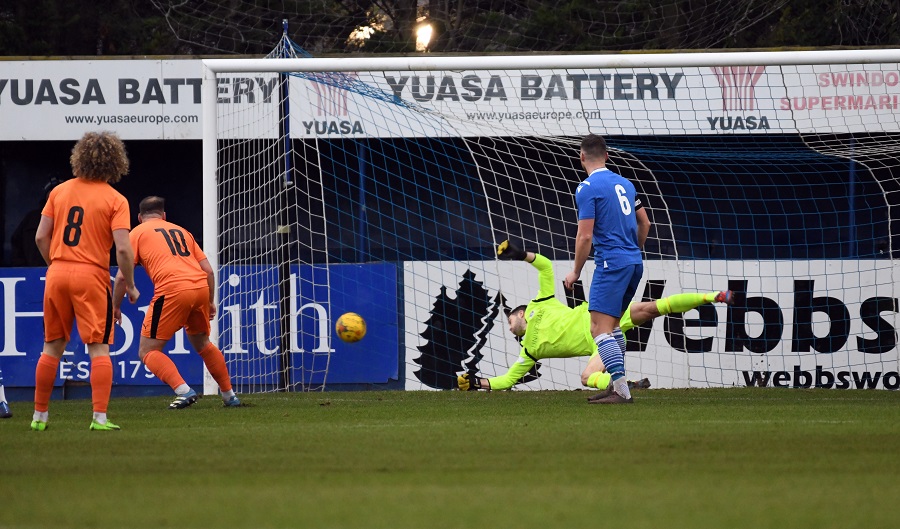 Sam Argent's (10) early header looks as though its in but Marine keeper Martin Horsell pulled off an excellent save
© Motion Sport Photography
With the visitors slowly gaining control, Marine stuck on the counter attack as Spalding pulled the ball back for Conor McDonagh to squeeze the ball past Hartley keeper Thomas Williams.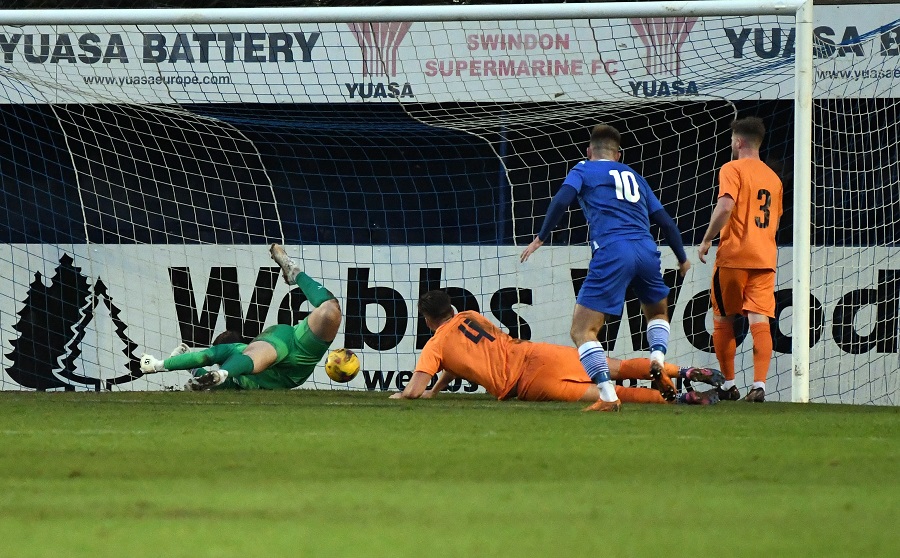 Conor McDonagh puts Marine 2-1 ahead with our second goal
© Motion Sport Photography
McDonagh and Ryan Campbell both forced further saves out of Williams before the in-form McDonagh latched onto Jamie Edge's lovely ball forward and buried the ball past Williams to increase the lead.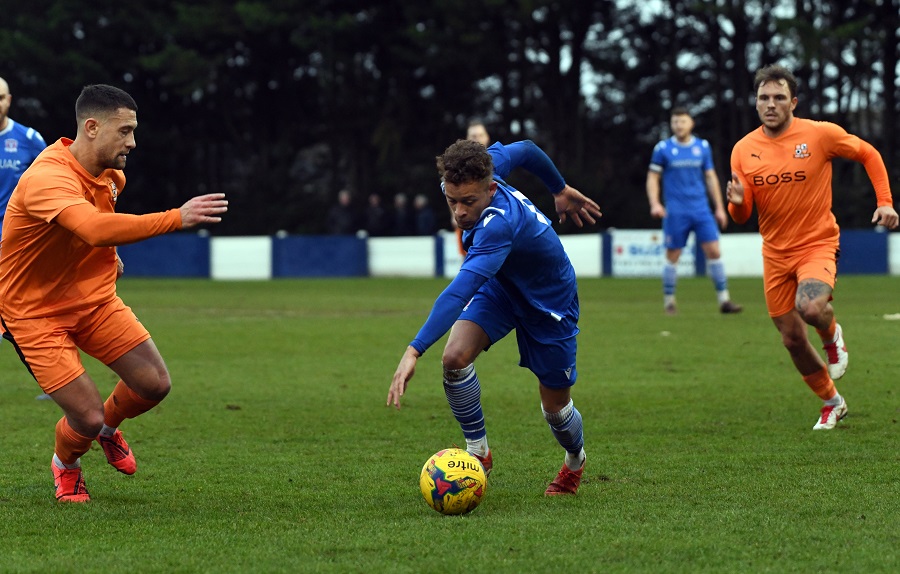 Ryan Campbell attacked the Hartley defenders all game
© Motion Sport Photography
With time up in injury time, Hartley bundled the ball in when substitute Steve Duff's header left nearly everybody at a complete standstill waiting for a whistle or flag for offside but the prone Ryan Campbell kept them onside to give the score a fairer reflection on the game.
FT: 3-2
Attendance: 309
POST MATCH WITH MANAGER LEE SPALDING
Manager Spalding even admits Saturday's win could've been even greater had his players' final pass been that little more accurate.He added: "Hartley Wintney started very well – they were on the front foot for the first 15 minutes. "We hardly had a touch, but limited them to minimal chances. I thought we did well to keep our shape and discipline in that time.
"When we did start, I thought we played some great football in the first half. We should've gone in at half time two or three nil up, to be honest. "I feared us missing chances could come back to haunt us, because they had a lot of quality going forward. "If our final ball was better, we could've won by four or five. The score flattered them a bit, based on how we played and the chances we created."
Despite being keen not to take the gloss off of what was a fine team performance, Spalding admitted after the game that he would like to see more from his defenders – and therefore has prioritised keeping a clean sheet when Marine visit Yate on Tuesday. Yate defeated promotion hopefuls Taunton 4-1 at home on Saturday, suggesting Marine will come up against some stiff midweek attacking play.
Spalding added: "Both goals were quite sloppy to concede, though their first was a good finish. "It's an area we've got to make sure we concentrate getting better at. I want us to be keeping clean sheets, because we have a goal threat in us. "It's a case of tightening up at the back and not giving teams opportunities to score soft goals against us. "Overall, I'm delighted with the performance."
Post match video with Lee Spalding Video's Courtesy of Your Sport Swindon

GOAL CAM
from Brian Davis(Media & Press Officer)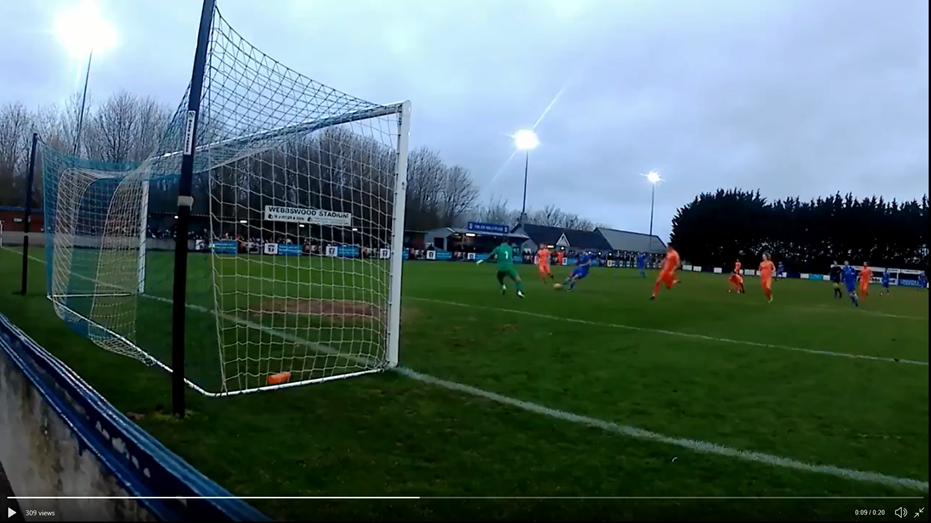 1st goal Harry Williams 19m
2nd goal Conor McDonagh 69m
3rd goal Conor McDonagh 85m
MATCH GALLERY
Jeff Youd Photography Match Photo's
© Jeff Youd Photography
Motion Sport Photography Match Photo's
© Motion Sport Photography
MATCH STATISTICS
SWINDON SUPERMARINE Manager: Lee Spalding
Line-up: 1. Martin Horsell 2. Louis Spalding 3. Michael Hopkins 4. Jamie Edge 5. Matt Williams 6. Mat Liddiard (c) 7. Henry Spalding (14. Calvin Dinsley 89m) 8. George Dowling (12. Brad Hooper 62m) 9. Harry Williams (12. Stuart Fleetwood 82m) 10. Conor McDonagh 11. Ryan Campbell
Subs not used: 15. Joe Shepherd 16. Matt Coupe
Goalscorers: Harry Williams 19m, Conor McDonagh 69m, 85m
Star Man: Conor McDonagh
Cards:
George Dowling 29m


None


None

HARTLEY WINTNEY
Manager: Anthony Millerick
Line-up: 1. Tom Williams 2. Nathan Smart (c) 3. Tom Bird 4. Joe Gater 5. Shane Hollamby (14. Josh Webb 51m) 6. Alex Albert 7. Tyron Smith 8. Aaron Kuhl 9. Michell Parker 10. Sam Argent (15. Dean Rule 70m) 11. Salhin Abubakar (16. Steve Duff 29m) Subs not used: 12. Ryan Matthews
Goalscorers: Aaron Kuhl 58m, Steve Duff 90+2m
Star Man: Michell Parker
Cards:
None


None


None

MATCH OFFICIALS
Referee: Tom Staten (Gloucester)
Assistant Referees: Craig Jinks (Gloucester), Andy McAnoy (Cheltenham)
MATCH SPONSOR

MATCHBALL SPONSOR