Bradford Town 3 Marine 4
Wiltshire Premier Shield | Wednesday 11th December 2019
Back to blog posts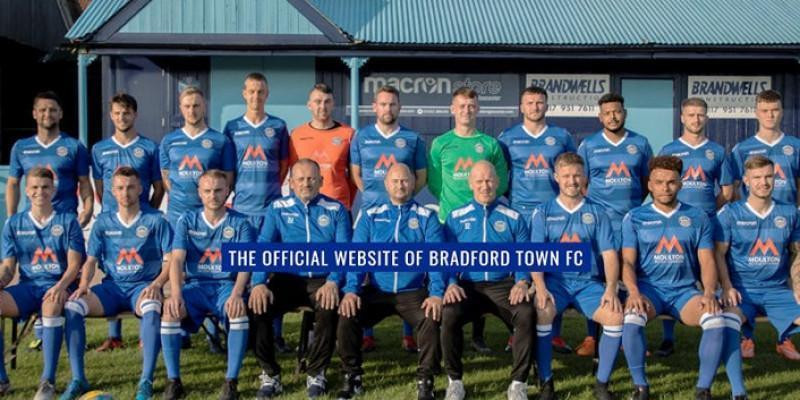 MATCH REPORT
Courtesy of the Wiltshire Times, from a Bradford Town perspective
Bradford Town missed out on a place in the semi-finals of the Wiltshire Premier Shield on Wednesday night after giving higher-league opponents Swindon Supermarine a huge scare before slipping to a 4-3 defeat.
Wayne Thorne's Bobcats, from the Toolstation League Premier Division, ply their trade two tiers below Southern League Premier Division South side Marine but there was little to choose between the teams on the night.
Matt Williams' strike for Marine was all that separated the two teams at half-time at Trowbridge Road before the action exploded into life after the break.
Will Hailstone hauled Bradford level on the hour mark but parity did not last long as Conor McDonagh swiftly restored the visitors' lead. Calvin Dinsley then made it 3-1 to Marine but the Bobcats rallied once more as Harrison Simmonds cut the gap to a single goal.
Supermarine were likely to have thought they had killed off the tie for good with just a minute to play when McDonagh netted his second of the game to make it 4-2 to the visitors.
However, Bradford were not going to go down without a fight and Hailstone got a second of his own in stoppage time to make it a one-goal game once more. Time was against the home side, though, and they were unable to bring the scores back level as Marine held on to clinch their place in the last four.
The Webbswood Stadium side join Swindon Town, Chippenham Town and Salisbury in the semis after they won their own quarter-final ties last week.
HT: 0-1
FT: 3-4
Att: unknown
MATCH GALLERY
Gallery
© Jeff Youd Photography
MATCH STATISTICS
BRADFORD TOWN
Manager: Wayne Thorne
Line-up: 1. Brandon Sawyer 2. Charlie Maddison 3. Leon Greenland 4. Tom Stocks (c) 5. Sean Keet (14. Gary Higdon 85m) 6. Jamie Lyons 7. Lewis Powell (16. Harrison Simmonds 79m) 8. Will Hailston 9. Dean Griffiths 10. Kieran Baggs (12. Tyson Pollard 65m) 11. Charlie Walton
Subs not used: 15. Mark Brimson 17. Dan Warton
Goalscorers: Will Hailston 60m, 90m, Harrison Simmonds 80m
Star Man: Will Hailston
Cards:
Dean Griffiths 29m, Leon Greenland 83m

None

None

SWINDON SUPERMARINE
Manager: Lee Spalding
Line-up: 1. Martin Horsell 2. Joe Shepherd 3. James Guthrie 4. Dave Bampton (14. Henry Spalding 60m) 5. Simon Downer 6. Matt Williams 7. Alex Henshall (17. Conor McDonagh 60m) 8. Calvin Dinsley 9. Stuart Fleetwood (c) 10. Mat Liddiard 11. Ryan Campbell (16. Michael Hopkins 87m)
Subs not used: 12. Jamie Edge
Goalscorers: Matt Williams 16m, Conor McDonagh 61m, 88m, Calvin Dinsley 65m Star Man: Conor McDonagh
Cards:
Dave Bampton 19m, Calvin Dinsley 83m, Simon Downer 85m

None

None

MATCH OFFICIALS
Referee: Stephen Oakley
Assistant Referees: Stephen Liddiard, George Lyng