Walton Casuals 2 Marine 4
BetVictor Southern Premier South | Saturday 4th January 2019
Back to blog posts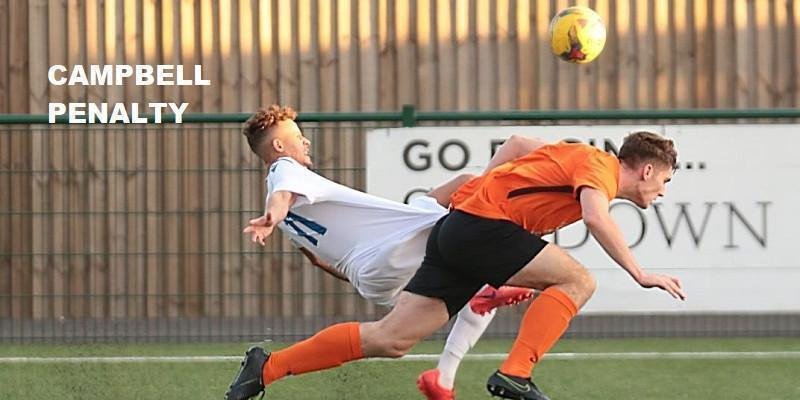 MATCH REPORT
by Brian Davis (Media & Press Officer)
Two goals from Conor McDonagh, his third game in row that he has scored twice in a game and now has seven goals in his last four games.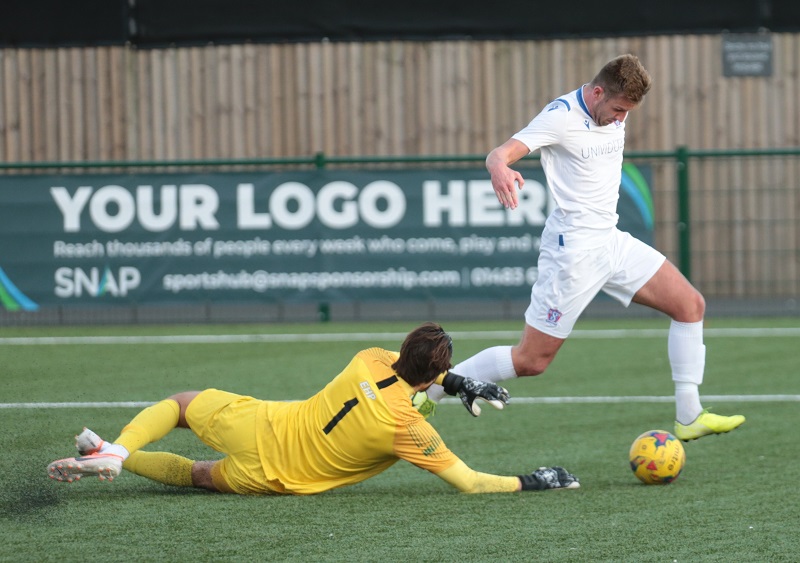 A penalty from Michael Hopkins and a Henry Spalding volley gave Supermarine a relatively comfortable victory over Walton Casuals, who replied through Cheyce Grant and their own spot kick from Rohdell Gordon. The win extends 'Marines unbeaten run to ten games in all competitions and eight in the league. It was October the last time the team tasted defeat.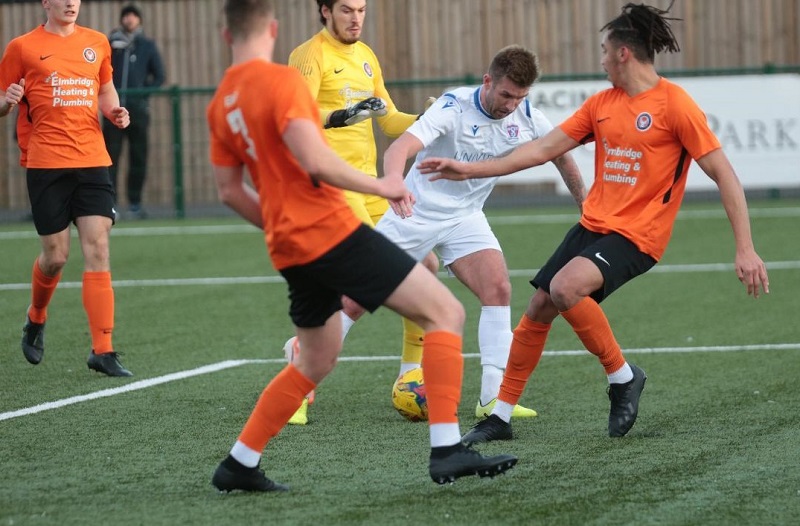 After a very quiet opening 25 minutes, it looked like the Marine players had missed the views of the roller coasters on the journey down! Although with the games first real chance they took the lead as McDonagh picked up the through ball and danced into the area along the touchline, cut inside the six-yard box around keeper Alex Tokarczyk and with recovering defenders throwing themselves around him, kept calm and squeezed the ball inside the post to put the away side one up.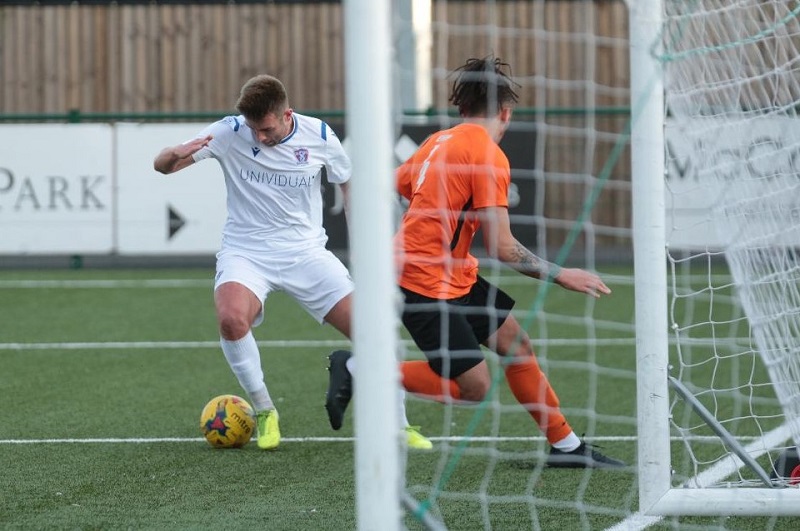 Conor McDonagh bamboozles the Walton defence to score the opening goal
© Jeff Youd Photography
Ryan Campbell who once again was outstanding on the wing all game, then won the visitors a penalty when he was taken to the ground right in the corner of the box. Hopkins stepped up to send Tokarczyk the wrong way and it looked like it might be comfortable afternoon for Lee Spalding's side.
However, Walton struck back immediately when Gordon crossed for Grant to bundle home from six-yards as he beat Louis Spalding to the ball. Marine soon restored the two goal advantage though when from a corner won by George Dowling, making his first start for the team, was sent over to the back post by Jamie Edge where Henry Spalding was waiting and he volleyed into the net off the post and the back of goalkeeper Tokarczyk's heels. Somehow a game of very few chances had mustered up four goals with the four real chances that were made by either team.
HT: 1-3
Tokarczyk was called into action early in the second half as he denied both Henry Spalding and Ryan Campbell in quick succession before saving again from Campbell and just getting on top of the ball as Harry Williams was about to pounce. Matt Williams won a header from Edge's corner which Harry Williams turned goalward, but saw his effort cleared off the line, the ball eventually worked it's way back to Dowling who hit a howitzer of an effort that ricocheted off the top of the bar from fully thirty-yards.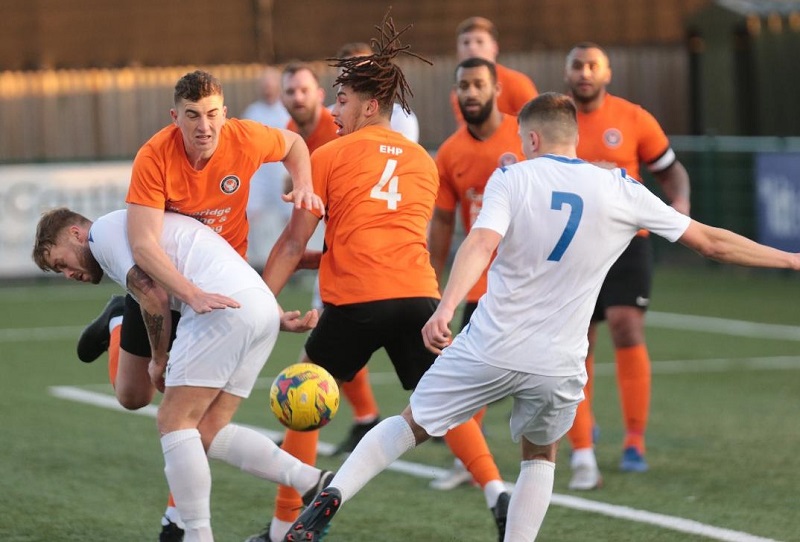 The officials then awarded a penalty to Casuals when Jay Gassos was wrestled to the ground from a corner by Matt Williams and after what seemed like an age, a penalty was confirmed and despite Martin Horsell going the right way, Gordon's penalty was too high for him reducing the deficit to one again.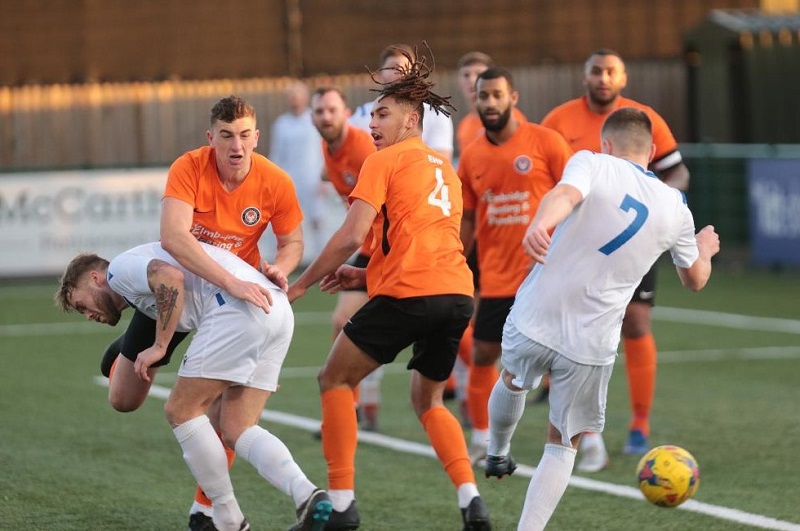 Henry Spalding volleys home the third goal from a Jamie Edge corner
© Jeff Youd Photography
Marine didn't let that rattle them too much though and played some wonderful football on the artificial pitch and on another day, would have possibly won this game at a canter with better finishing and a little more creativity in the final third. The fourth goal though, was a wonderful effort from McDonagh. After some good midfield passes Henry Spalding was set free down the right wing, he beat his marker and sent over an inch perfect cross for the in form striker to volley high into the net over Tokarczyk from twelve-yards to round out the scoring for the day.
FT: 2-4
Att: 183
POST MATCH FROM LEE SPALDING
Despite the win the Supermarine boss was disappointed the game was as close as it turned out to be. He said: "It probably shouldn't have been such a good game if I'm honest. We were more than capable of having a four or 5-0 win. "We went 2-0 up playing some good football and I thought we were well on top – there was only one team in it."Then they've scored out of nothing, and that was disappointing because we'd dominated the game so much and had a lot of possession.
"We'd limited them to no chances whatsoever, so to concede in the manner that we did – giving them a goal which got their tails up was a bit disappointing. "We'd scored another one before half-time, but the message at the break was do not concede again and make sure we stay disciplined."
Spalding was keen to see his side extend their advantage further in the second half, but a brief moment of ill-discipline gave Casuals hope from the penalty spot. Though Marine would go on to win the game, Spalding was disappointed with his forwards for not finishing even more of their chances, and is eyeing more 90-minute performances from his team.
Spalding said: "Again, it was disappointing to concede a second through a penalty. "The linesman said he'd seen someone pull one of their players back and they've given a penalty which at the time I felt was harsh but having just seen the video the referee got it correct.
"That gave them hope anyway, but we've gone on to score an excellent fourth goal from McDonagh which has killed the game off. "We've had two or three other really good opportunities, but we haven't taken them. "Other than in the final third, I thought we were excellent."
GOAL CAM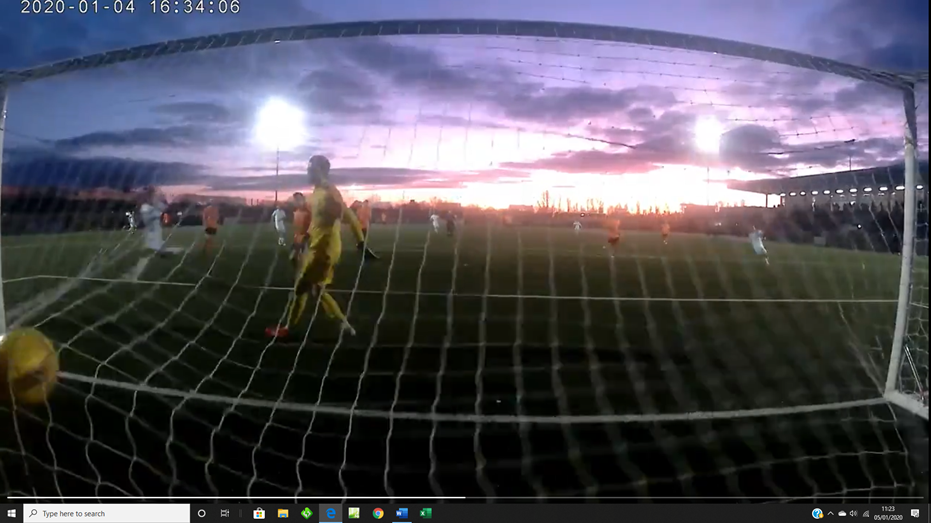 from Brian Davis(Media & Press Officer)
1st goal Conor McDonagh 25m
2nd goal Michael Hopkins 35m pen
3rd goal Henry Spalding 42m
4th goal Conor McDonagh 78m
MATCH GALLERY
Match Photo's
© Jeff Youd Photography
MATCH VIDEO
Highlights and Post Match with George Dowling and Henry Spalding
Video's Courtesy of Your Sport Swindon

MATCH STATISTICS
WALTON CASUALS
Manager: Justin Skinner
Line-up: 1. Alex Tokarczyk 2. Bradley Pearce 3. Charlie Fox 4. Joe Morrison 5. Jay Gasson 6. Howard Hall 7. Dave Fitzpatrick (12. Andrew Ofosu 72m) 8. Manolis Gogonas 9. Rene Howe (c) (16. Afriyle Gyimaha 89m) 10. Rohdell Gordon 11. Cheyce Grant (17. Harry Shepherd 79m)
Subs not used: 14. Jerimiah Gyebi 15. Jack Skinner
Goalscorers: Cheyce Grant 37m Rohdell Gordon 73m pen
Star Man: Cheyce Grant
Cards:
Bradley Pearce 33m

None

None

SWINDON SUPERMARINE
Manager: Lee Spalding
Line-up: 1. Martin Horsell 2. Louis Spalding 3. Michael Hopkins 4. Jamie Edge (16. Bradley Hooper 83m) 5. Matt Williams 6. Mat Liddiard (c) 7. Henry Spalding 8. George Dowling 9. Harry Williams (12. Stuart Fleetwood 68m) 10. Conor McDonagh 11. Ryan Campbell (17. Alex Henshall 80m)
Subs not used: 14. Calvin Dinsley 15. Joe Shepherd
Goalscorers: Conor McDonagh 25m, 78m, Henry Spalding 42m, Michael Hopkins 35m pen
Star Man: George Dowling
Cards:
Louis Spalding 52m, Matt Williams 62m, Harry Williams 68m

None

None

MATCH OFFICIALS
Referee: Barry Small
Assistant Referees: Tom Copping, Jordan McRitchie