Marine 3 Kings Langley 0
Southern League Premier South | Saturday 21st August 2021
Back to blog posts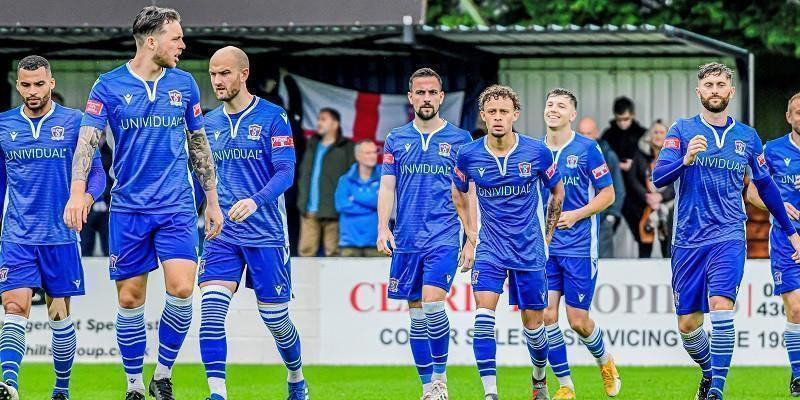 Match Report from Aleck Everard
MARINE BACK ON TRACK WITH FIRST WIN OF THE SEASON
Swindon Supermarine returned to winning ways with a 3-0 victory over Kings Langley at the Webbswood Stadium on Saturday afternoon. It was a welcome present for manager Lee Spalding on his 49th birthday as Marine rolled back the clock to rediscover their form from the previous two seasons. Pierce Mitchell and Conor McDonagh returned to the starting line up replacing the injured Jack Stanley and Zack Kotwica who moved to the bench.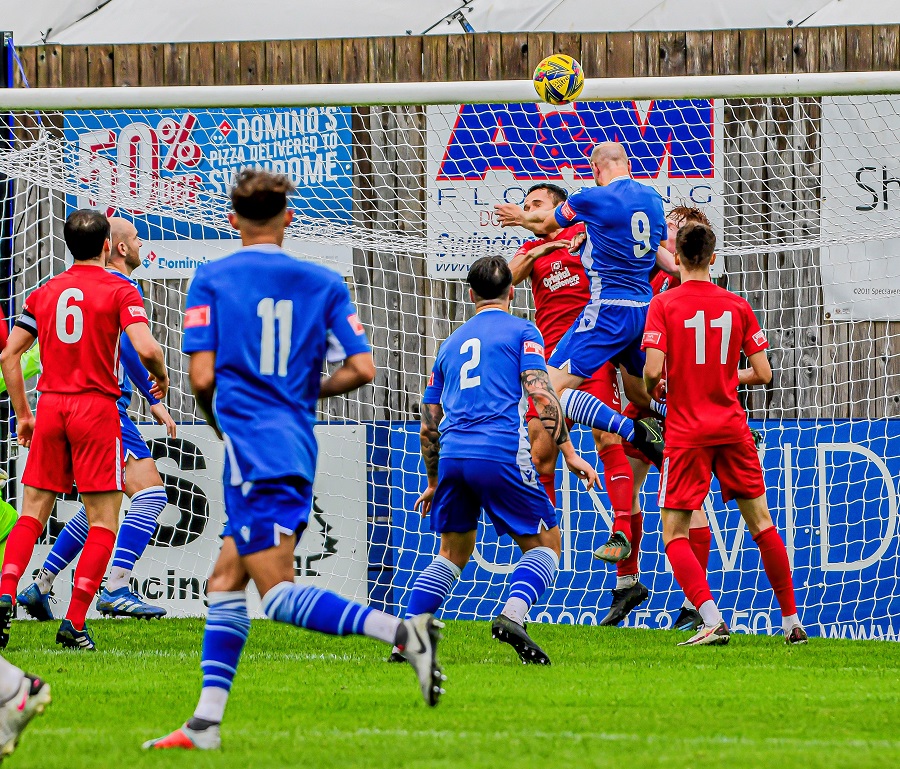 David Pratt hits the bar and Jamie Edge follows up to score
Photo © MotionSport Photography / Match Album
It was another slow start to the match but Marine were enjoying the better possession and it was no surprise when they took the lead on 21 minutes with their first real opportunity when David Pratt saw his header strike the bar having beaten visiting keeper Alfie Marriott but JAMIE EDGE was quickest to react and put the ball home opening goal. There was a brief debate about the validity but after checking with his assistant the referee rightly awarded the goal.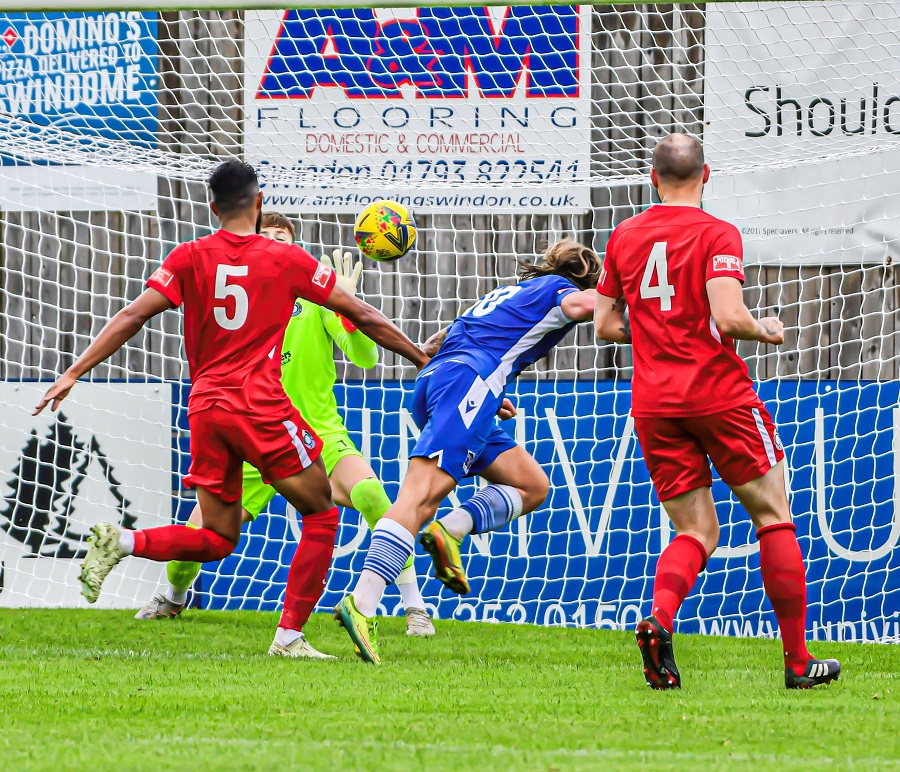 Conor McDonagh meets Henry Spalding's cross to score our second goal
Photo © MotionSport Photography / Match Album
The visiting skipper Rod Collins was booked soon after for a hard challenge on goalscorer Jamie Edge. Brad Hooper had a long range shot on 25 minutes but it was straight at the keeper. The next real chance came close to half time and the score became 2-0 as Marine put together their best move of the game which saw Henry Spalding's pinpoint cross was expertly guided home by the head of CONOR McDONAGH to open his account for the campaign emphatically. McDonagh was now on fire and he went through again almost immediately only to see his shot blocked and out for a corner.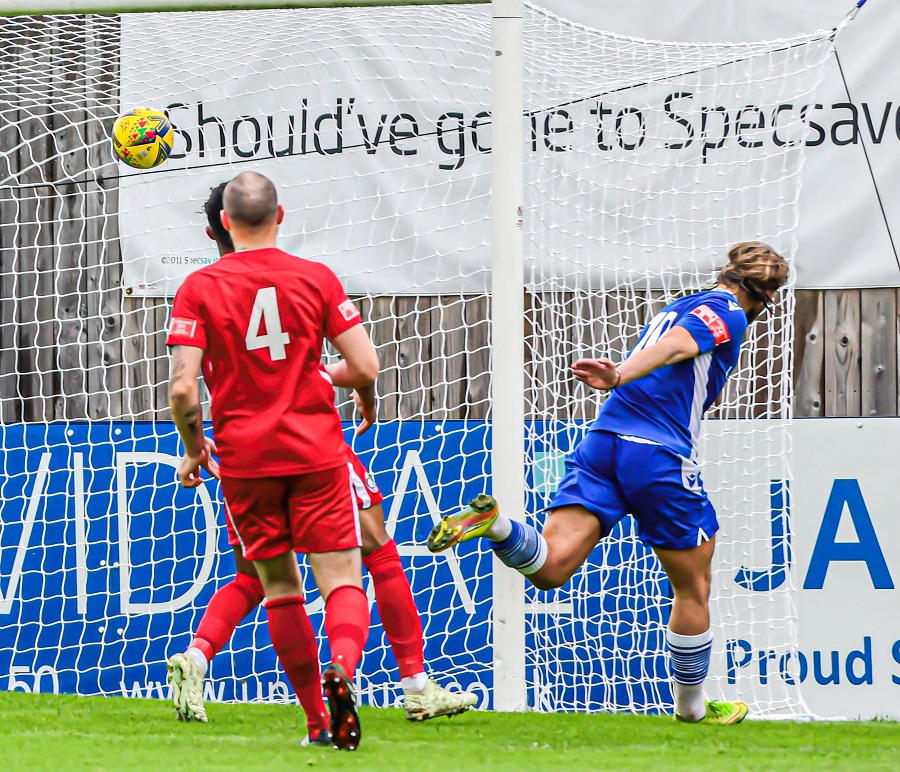 Conor's header hits the back of the net
Photo © MotionSport Photography / Match Album
A good half from Supermarine who were growing in confidence with each minute and this was reflected in the second half which was all Supermarine despite the visitors making a double change at half time to try and alter things. Dominating possession and chances Ryan Campbell had a couple of efforts early on. Hitting one shot over the top of the crossbar and then seeing an excellent drive parried away by the Kings Langley keeper Marriott. Pratt almost got on the end of a McDonagh cross but was pulled back but nothing was given by the referee and then in a repeat performance a minute later Pratt did get there only to be denied by the post from close range.
Marine defender Lewis Hall challenges Kings Langley's Leo Farruch
Photo © MotionSport Photography / Match Album
Minutes later on 60 minutes came the goal of the game from Conor McDonagh. Linking up with Pratt on the edge of the box a quick interchanging of passes saw CONOR McDONAGH place a beautiful drive into the top corner, leaving the diving keeper Marriott with no chance and to wrap up the three points. Before kick off from the goal Zack Kotwica came on for Pratt who had put in a tremendous shift.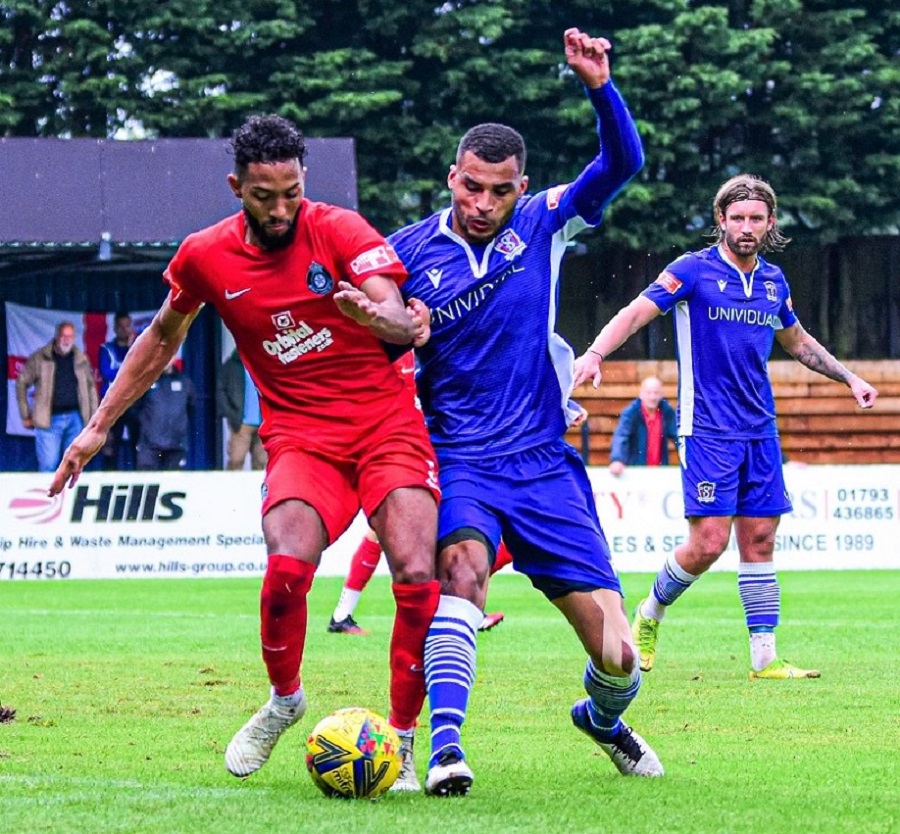 Tyrone Duffus challenges for the ball
Photo © MotionSport Photography / Match Album
Marine keeper Martin Horsell was then called into the action for the first time in the game as Langley's Leo Farruch got in their first effort at goal but the Marine custodian was down quickly to push the ball away from goal. Our super sub from midweek George Dowling then replaced Jamie Edge on 65 minutes.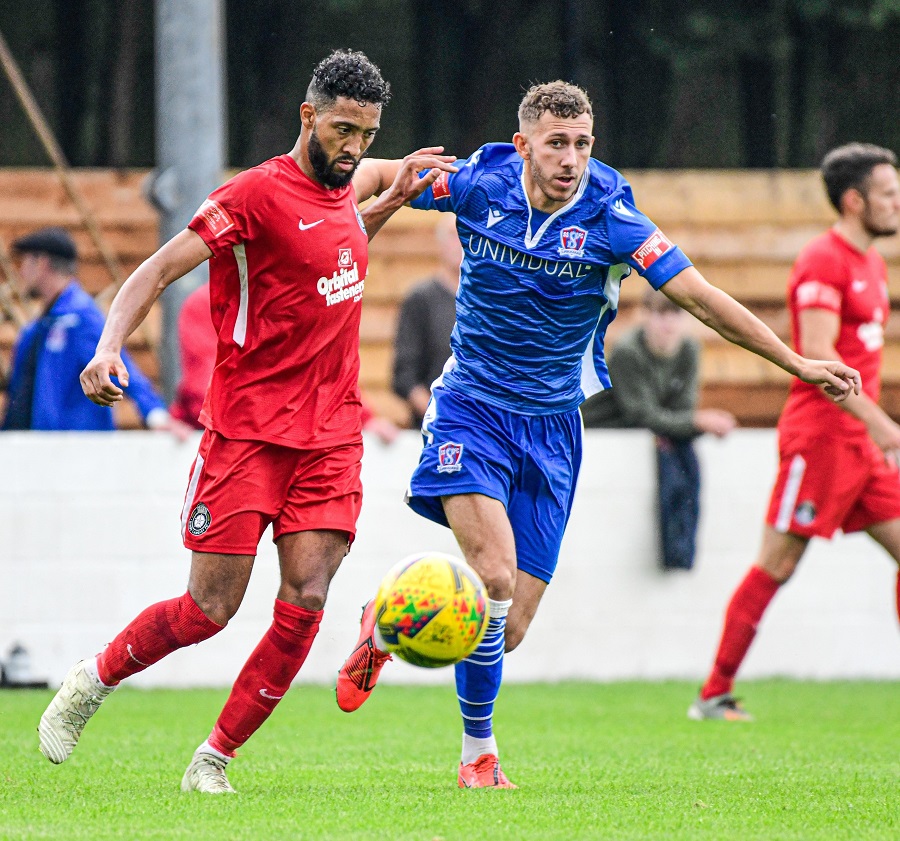 Harry Williams came on for goalscorer McDonagh
Photo © MotionSport Photography / Match Album
Skipper Mat Liddiard, who was excellent game throughout and a great return to form for him, also managed to find the bottom of the post from a header on 70 minutes. The final sub saw Harry Williams come on for two goal man McDonagh who was warmly applauded by the home faithful. Kings Langley then had a rare long range shot easily saved by Martin Horsell before the final action of the match saw Dowling drive into the box only to see his excellent effort tipped over the bar.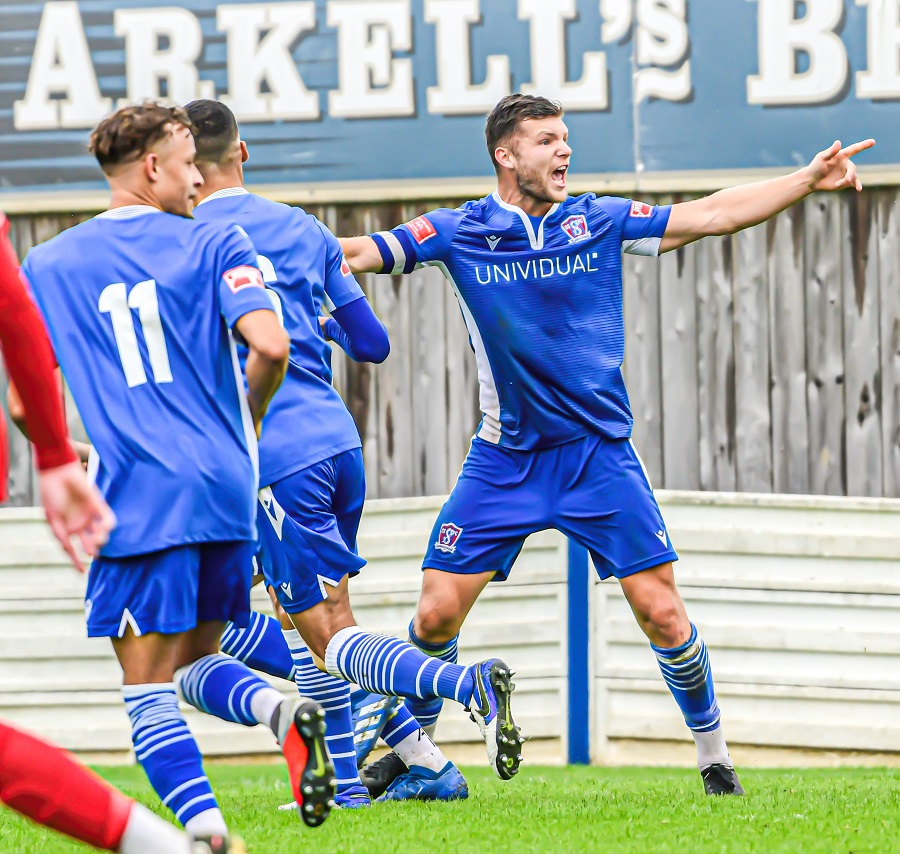 Mat Liddiard had an excellent game alongside Tyrone Duffus
Photo © MotionSport Photography / Match Album
An excellent match for the home team who picked up their first three points of the season and rightfully so pretty much dominating from start to finish. Kings Langley hit the bottom of the table having now lost all three games but their performance suggests to me that better things are to come for them?
Fans man of the match: Conor McDonagh
Line Ups
Swindon Supermarine


Manager: Lee Spalding
Line-up: 1. Martin Horsell 2. Pierce Mitchell 3. Lewis Hall 4. Jamie Edge (12. George Dowling 65m) 5. Tyrone Duffus 6. Mat Liddiard (c) 7. Henry Spalding 8. Brad Hooper 9. David Pratt (15. Zack Kotwica 60m) 10. Conor McDonagh (14. Harry Williams 78m) 11 Ryan Campbell
Subs not used: 16. Louis Evans,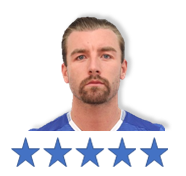 Goalscorers: Jamie Edge 21m

Conor McDonagh 38m, 60m



Editors 5 Star Man: Conor McDonagh
Cards:
Pierce Mitchell 41m, Lewis Hall 53m


None


None

Manager: Chris Cummins
Line-up: 1. Alfie Marriott 2. Elijah Hearn (15. James Gurteen 60m) 3. Kyle Connolly 4. Kyle Lincoln 5. Jorrel Johnson 6. Rod Collins (c) 7. Jack Wood 8. Gary Connolly 9. Corree Wilson (19. Jack Moriarty 46m) 10. Leo Furruch 11. Tecan Shrowder (14. Kyal Williams 46m)
Goalscorer:
Editors Star Man: Leo Furruch
Cards:
Rod Collins 22m


None


None

Post Match Team Sheet
Click here for post match team sheet
Match Officials
Referee: James Welsh (Salisbury)
Assistant Referees: Andrew Hunt (Witney), Paul Herbert (Witney)
Video's from Your Sport Swindon
Match Highlights
Access to the highlights from all of Marine's matches can be viewed on a monthly subscription of just £2:50. Click the 'match highlights' above to subscribe.