Marine 4 Hendon 1
Southern League Premier South | Saturday 13th August 2022
Back to blog posts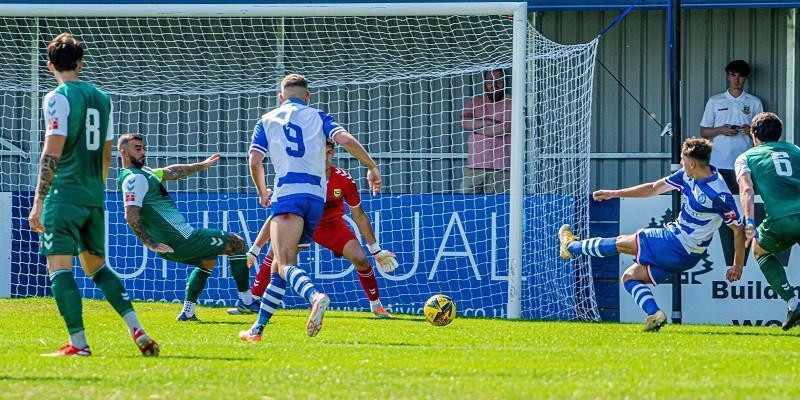 Match Report from Aleck Everard
Swindon Supermarine roared to the top of the table in their '30th anniversary season' making it two wins in two by beating Hendon 4-1 at the Webbswood Stadium on Saturday afternoon. Sporting their new one-off anniversary Blue & White Hoops, manager Lee Spalding made one change from the side that won at Hartley Wintney the previous week. Henry Spalding came in for the injured Ryan Campbell with Mat-Liddiard and Jack-Stanley appearing in the matchday squad this season for the first time amongst the substitutes.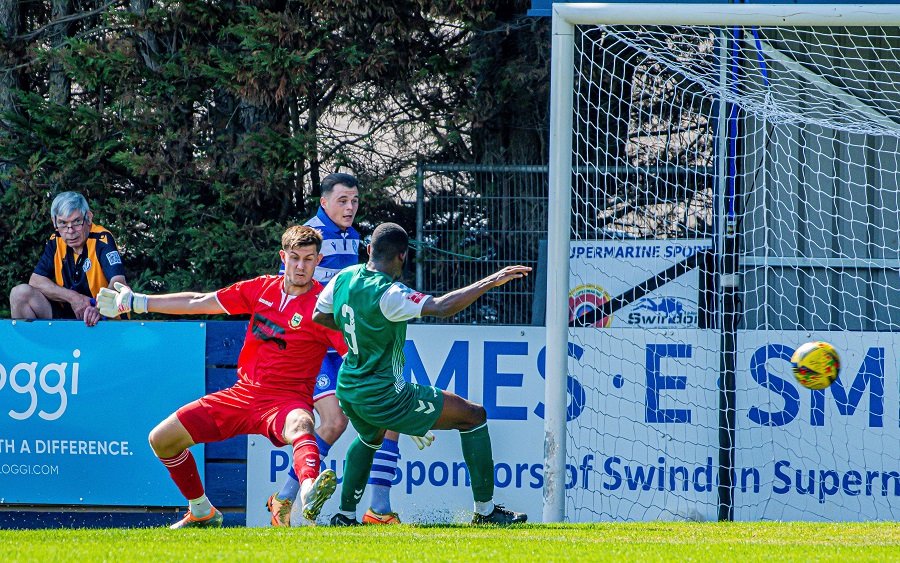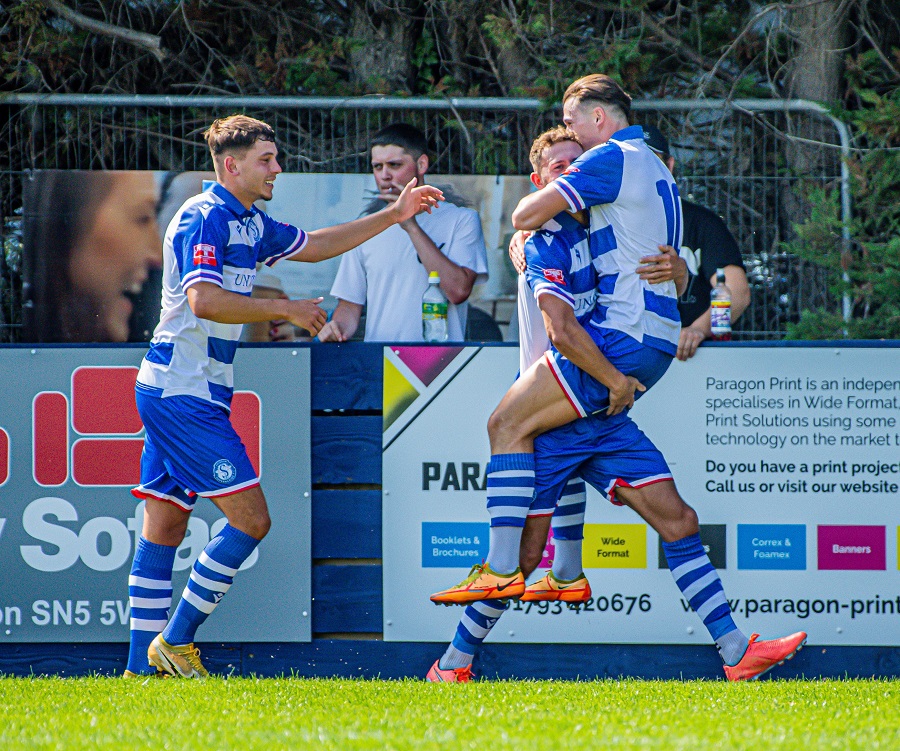 Harry Williams scores Marine's first goal and celebrates with James Harding
Photo © Motion Sport Photography / Match Album
The game started with a bang as Harry Williams broke away down the left and went down in the box but nothing was doing although it would have been a soft one to start with. After the early exchanges Marine settled quicker with Zack Kotwica hitting a shot wide. Then on thirteen-minutes, James Harding did brilliantly along the goal line to beat two Hendon defenders Tommy Brewer and Kevin Diomande before pulling the ball back for HARRY WILLIAMS to open his account for the season.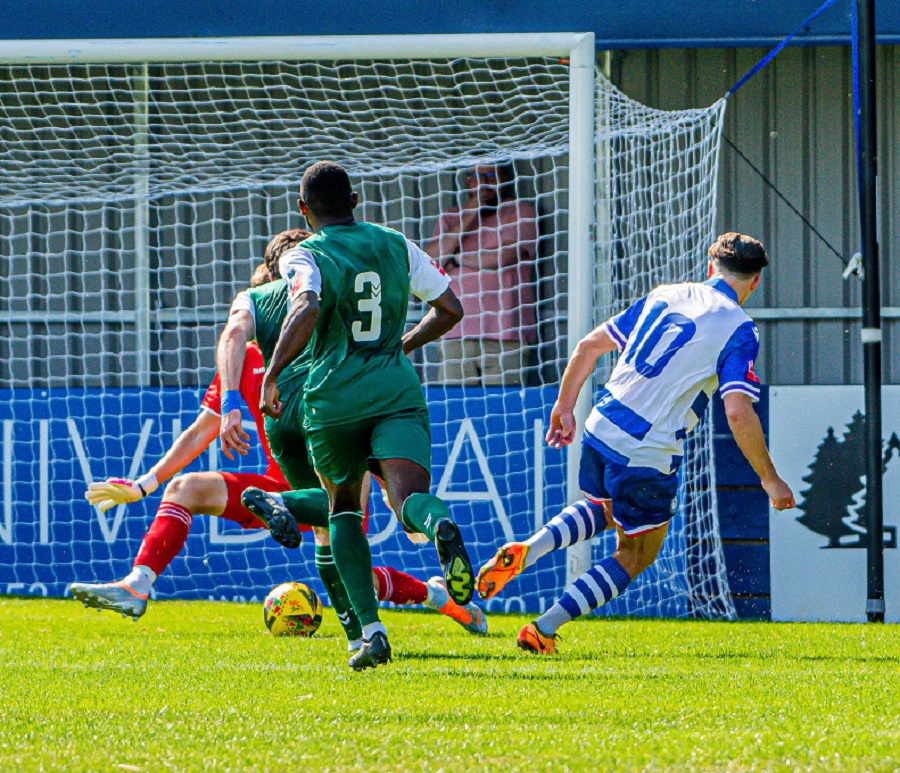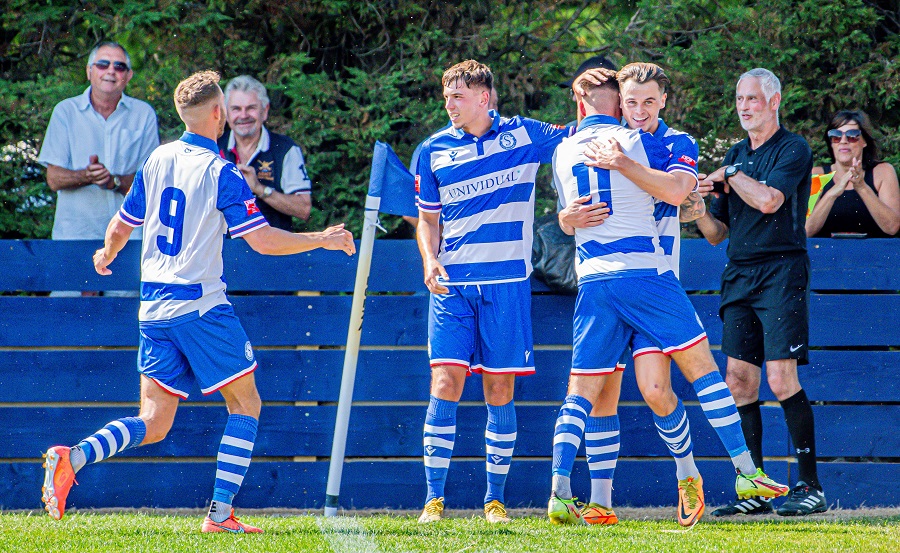 James Harding scores Marine's second goal and celebrates
Photo © Motion Sport Photography / Match Album
The perfect start in searing conditions. Hendon responded well and a clever corner routine skimmed the bar from Arthur Iontton. There was a bit of a wobble at the back for Marine when the ball failed to run through to Connor Johns in goal and Hendon's Frank Keita just beat him to it but dragged his shot wide of the post. Then on the half hour it looked like it would be 2-0 but someone Henry Spalding poked the ball wide of the goal after a delightful backheel from Harry Williams that took two defenders out of the game. But on thirty-five minutes it was 2-0 after JAMES HARDING broke clear from a Zack Kotwica through ball and he drove the ball past Hendon keeper Marcin Brzozowski. Hendon responded by attacking with Rohdell Gordon's shot that was well held by Connor Johns. Hendon's Alfred Bawling went into the referee's book just before the break for a late tackle on Sam Turl, who was having another excellent game.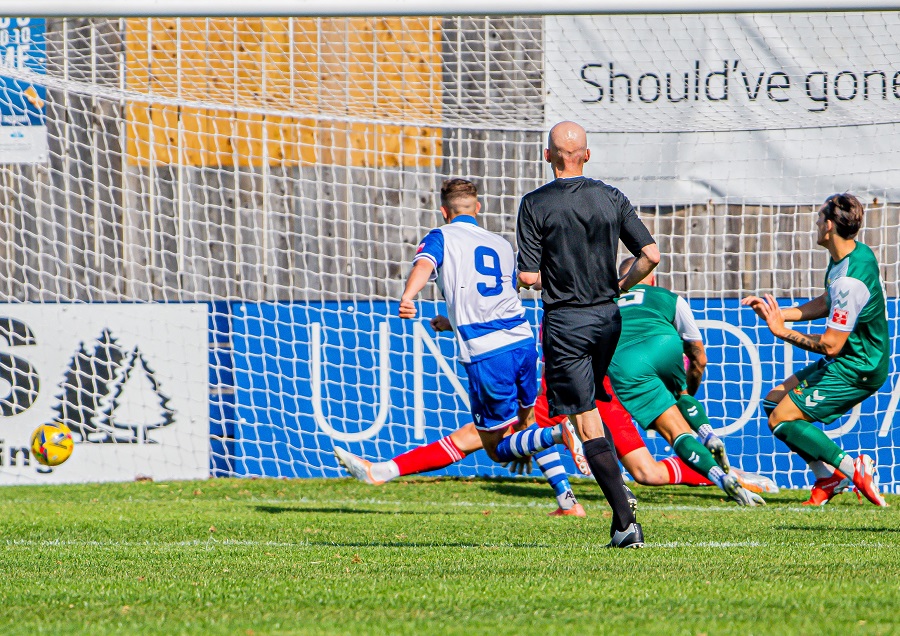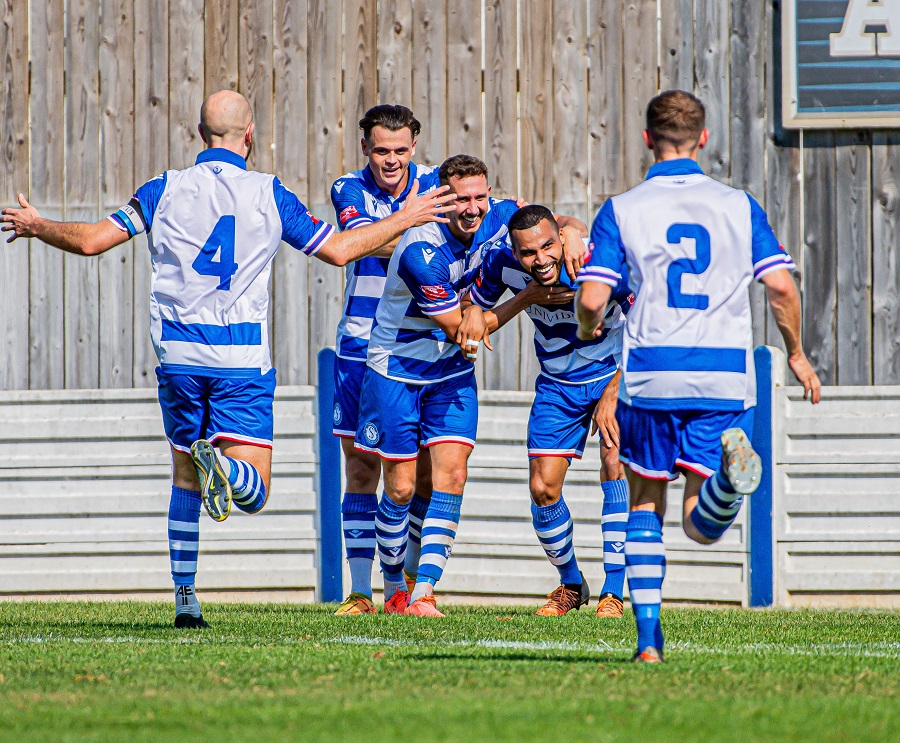 Harry scores Marine's third goal after a great run and pass by Tyrone Duffus
Photo © Motion Sport Photography / Match Album
Into the second period and Hendon made their first change at the break with Solomon Sambou replacing Guri Demuria. Early on in the half there was another mix-up in the Marine defence as Tom Sharpe took the ball away from keeper Connor Johns, but Tyrone Duffus was on hand clear the ball away from the Hendon strikers as they looked to capitalise on the mistake. Minutes later Duffus made a difference at the other end. He intercepted the ball in the middle of our half and went on a stunning run down the wing and past a number of Hendon players before reaching the goal line where he picked out HARRY WILLIAMS to smash home and make it a resounding 3-0 to the hosts and his second goal of the game. Hendon's Keita was replaced by Dan Williams, but it looked like it would be 4-0 as James Harding got on the end of a cross from Henry Spalding but he was denied by a tight offside call.
James Harding's tap in at the far post from Henry Spalding's cross is disallowed for offside
Photo © Motion Sport Photography / Match Album
On sixty-five minutes Hendon reduced the deficit when winger Rohdell Gordon cut in from the wing to fire a low effort on the Marine goal. The shot was unfortunately spilled a very short distance by keeper Connor Johns and in a flash and a typical poaches goal, centre forward JOE WHITE got in between Johns and Tom Sharpe to poke the ball over the line as the visitors looked to get back in the game. But within a minute the three goal lead was restored. James Harding broke away and was brought down by keeper Marcin Brzozowski just inside the box as he went past him. HARDING stepped up himself to convert his third goal in two games as he sent the Hendon keeper the wrong way. Before the game restarted Lee Spalding sent on Brad Hooper and Conor McDonagh for Jamie Edge and James Harding, with both players putting in an outstanding shift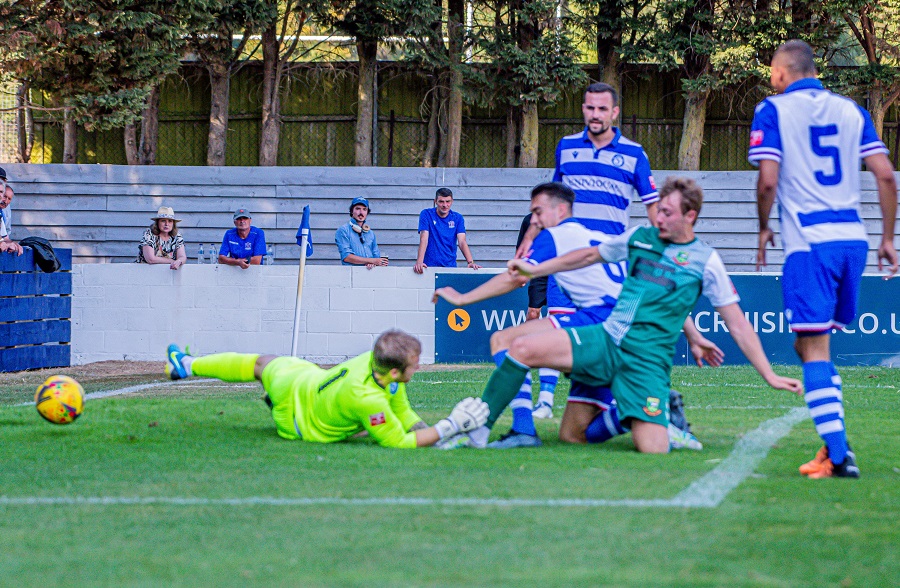 Hendon's Joe White nipped in between Connor Johns and Tom Sharpe to score Hendon's goal
Photo © Motion Sport Photography / Match Album
Conor McDonagh was quickly into the action with a shot that was well held by Brzozowski before Tom Sharpe received a yellow card from the referee after tripping a Hendon player on the edge of the box. With ten minutes left Marine's Harry Williams went so close to his hat-trick after he broke through a static Hendon defence, but his final shot skimmed the top of the crossbar with keeper Brzozowski well beaten. That was his final touch for Williams as Rudy Plummer came on for Marine to make his club debut. Conor McDonagh was denied again by the visiting keeper late on as he got down well to a fierce drive before Duffus cleared the ball away from a corner in the extended minutes.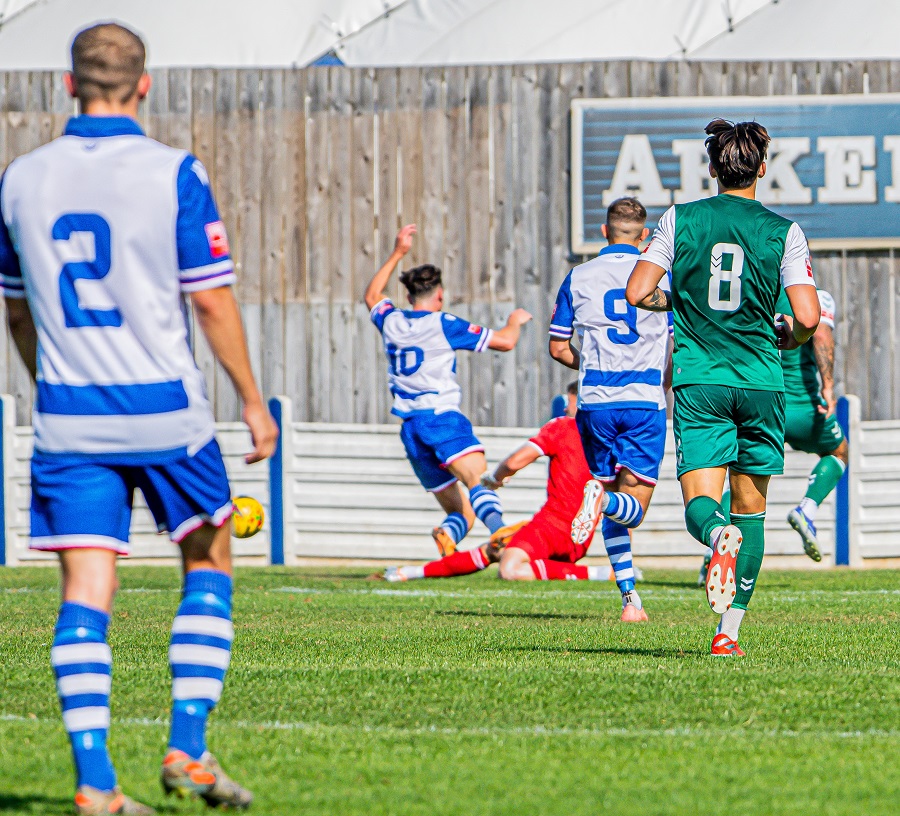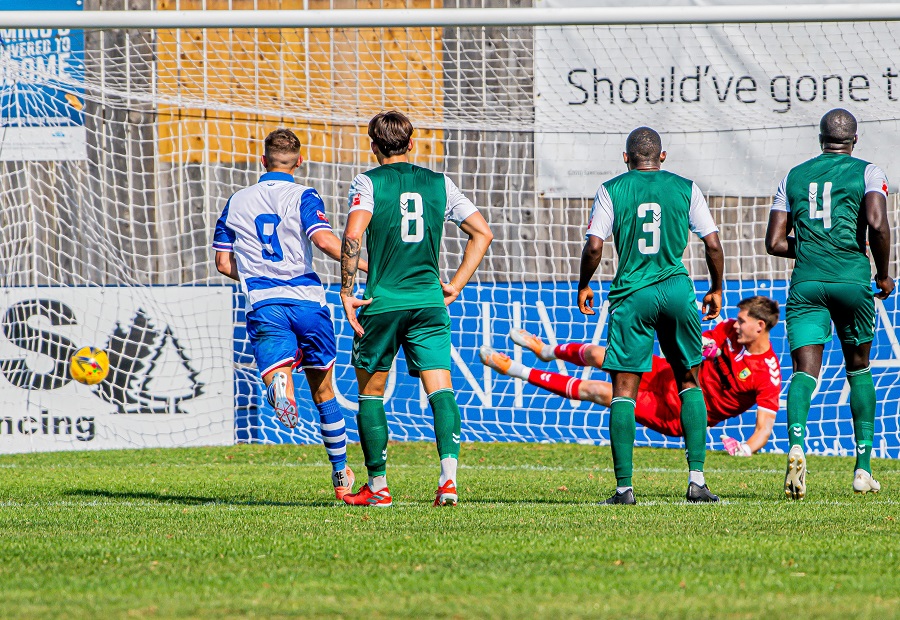 James Harding is brought down by the Hendon keepers outstretched leg and then scores the subsequent penalty
Photo © Motion Sport Photography / Match Album
A superb effort from everyone involved today, to all the players from both sides. They played the game the right way and in the right spirit and in particular the match officials who as well as getting nearly all the big calls right had to do more running than anyone else in in what was a temperature of 35 degrees, no mean feat let me tell you! Top of the table after two games and we travel to Gosport Borough next on Wednesday before entertaining the Met Police at home next Saturday, See you there!
Tom Sharpe clears the danger with an overhead kick
Photo © Motion Sport Photography / Match Album
Fans Star man: James Harding who really made the different up top in that key first half, but in truth it could have been any of the starting 11 once again with some amazing running, showing how important the fitness work had been in preseason.
Attendance: 242
Line Ups
Swindon Supermarine


Manager: Lee Spalding
Colours: Blue & White Hoops, Blue, Blue & White Hoops
Line-up: 1. Connor Johns 2. Sam Turl 3. Lewis Hall 4. Jamie Edge (c) (15. Brad Hooper 68') 5. Tyrone Duffus 6. Tom Sharpe 7. Henry Spalding 8. George Dowling 9. Harry Williams (17. Rudy Plummer 80') 10. James Harding (12. Conor McDonagh 68') 11. Zack Kotwica
Subs not used: 14. Mat Liddiard, 16. Jack Stanley
Goalscorer:


Harry Williams 15', 55',


James Harding 35', 68'pen
Editors Star Man: Tyrone Duffus
Cards:
Tom Sharpe 73'


None


None

Hendon


Manager: Lee Allinson
**Colours: All Green
Line-up: 1. Marcin Brzozowski 2. Kevin Diomande 3. Gio Palmer 4. Dave Diedhiou 5. Tommy Brewer (c) 6. Guri Demuria (15. Solomon Sambou 46') 7. Alfred Bawling (17. Robbie Buchanan 73') 8. Arthur Iontton 9. Joe White 10. Frank Keita (14. Dan Williams 58') 11. Rohdell Gordon
Goalscorer:

Joe White 65'
Subs Not Used: 12. Tarik Moore-Azille, 16. Isaac Galliford
Editors Star Man: Joe White
Cards:
Alfred Bawling 45', Marcin Brzozowski 67'


None


None

Supermarine TV
Match Highlights
Courtesy of Mike Wray
Team Sheet
Match Officials
Referee: Iain Parsons (Salisbury)
Assistant Referees: Peter Doolan (Faringdon), Roger Smith (Chippenham)