Marine 4 Met Police 2
Southern League Premier South - Saturday 20th August 2022
Back to blog posts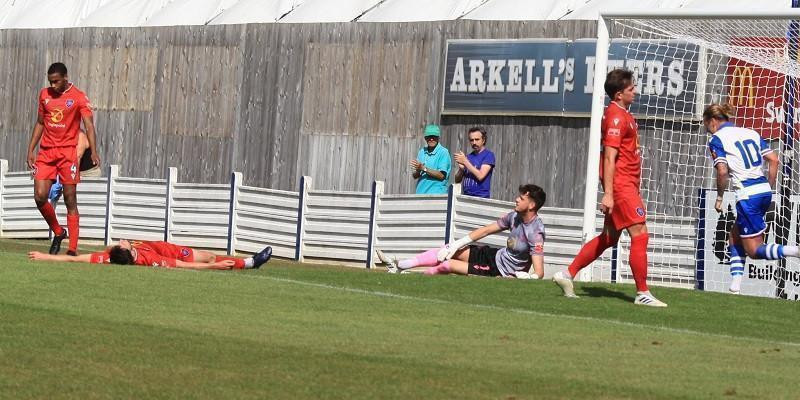 Match Report from Aleck Everard
Swindon Supermarine took on their latest opponent at the Webbswood Stadium on Saturday afternoon entertaining the regular play off chasing Metropolitan Police who sat just below Marine in the table in fifth place. After their first defeat in midweek manager Lee Spalding decided to freshen up the team making three changes. Skipper Mat-Liddiard made his first start of the season and was joined by fellow long term players Brad Hooper and Conor McDonagh in the starting eleven.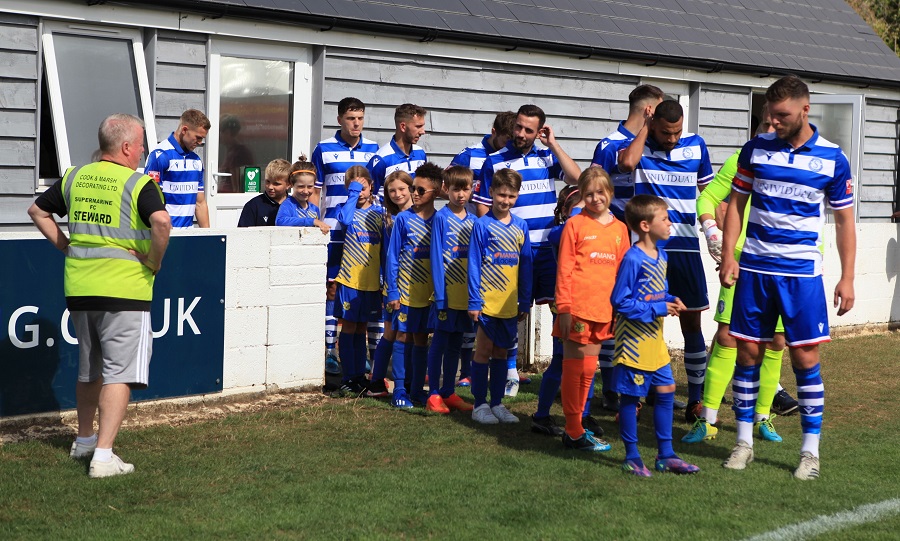 The Marine squad are out with the mascots and itching to go
Photo © Carol Bullock Photography
Jamie Edge, George Dowling and James Harding were on the substitutes bench along with Sal Abubakar who was also in the squad for the first time this season. With Ryan Campbell out with his broken foot, also missing from the matchday squad was Rudy Plummer and Wayne Nderemani.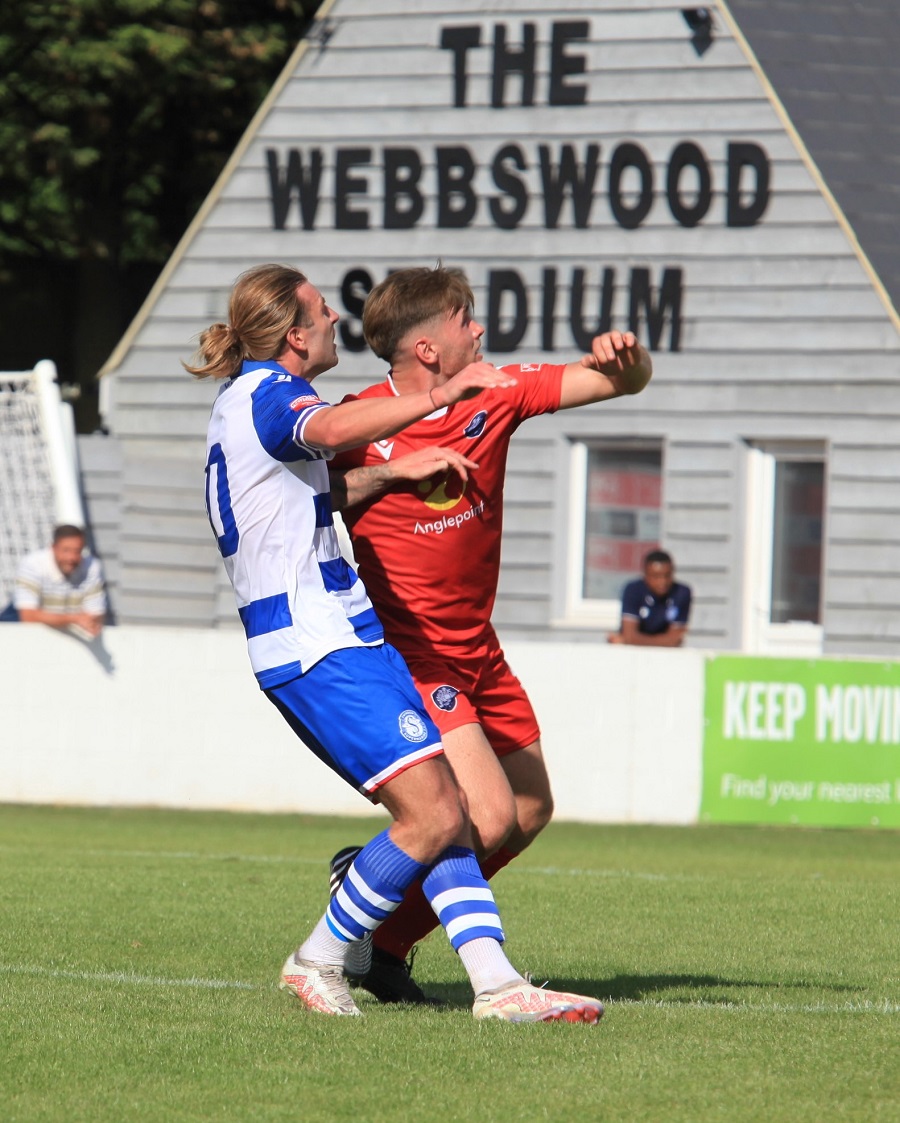 Marine's Connor McDonagh started brightly
Photo © Carol Bullock Photography
Marine started brightly earning an early corner and pressure before the first shot of the match from Conor McDonagh straight into the keeper's hands. McDonagh started the match brightly and was looking lively as he hit another effort over the top. Lewis Hall was first into the book after a challenge on sixteen minutes before the best chance of the game fell to Marine soon afterwards. Harry Williams was put through after some neat passes but dragged his shot wide of the Met Police goal.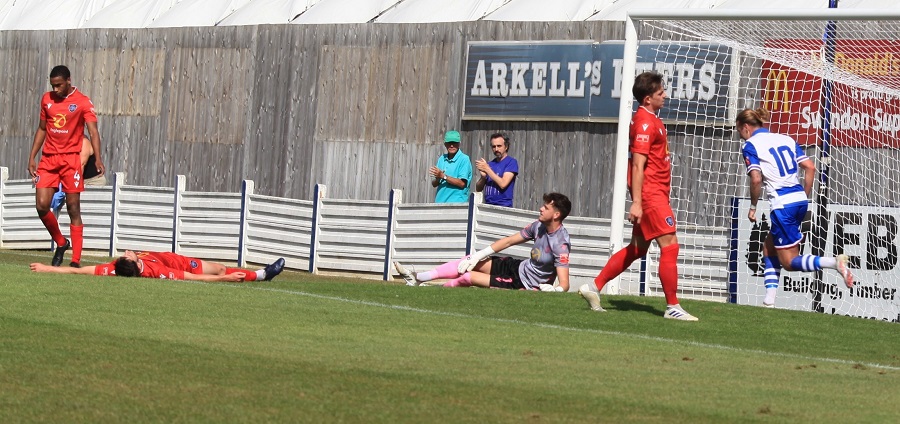 Met Police's Harry Taylor lays prone after scoring the opening own goal
Photo © Carol Bullock Photography
By this time Marine were pressing hard and it looked that it was only going to be a matter of time before a goal arrived and just after the half hour the beginning of a crazy fifteen-minute spell began. Marine took the lead when Harry Williams broke through the Met Police defence and his pass to set up Conor McDonagh was intercepted by HARRY TAYLOR who's outstretched leg put the ball past his own keeper Callum Coulter before McDonagh could get a tap in at the back post. A minute later Harry Williams broke away again but this time his shot was blocked by Coulter in the Police goal.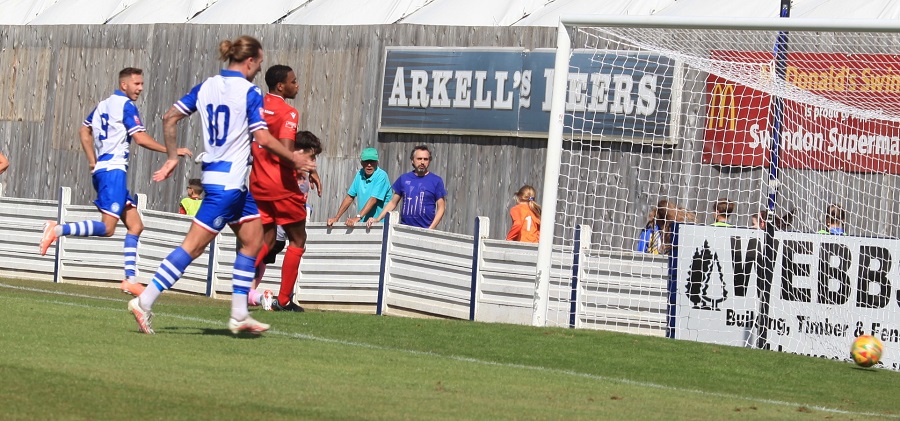 Harry turns to celebrate his third goal
Photo © Carol Bullock Photography
But Harry Williams wouldn't be denied. With thirty-eight minutes gone Tom Sharpe blocked a Met Police clearance and the ball fell nicely to Conor McDonagh who found Marine's top scorer WILLIAMS to net our second goal to double Marine's lead.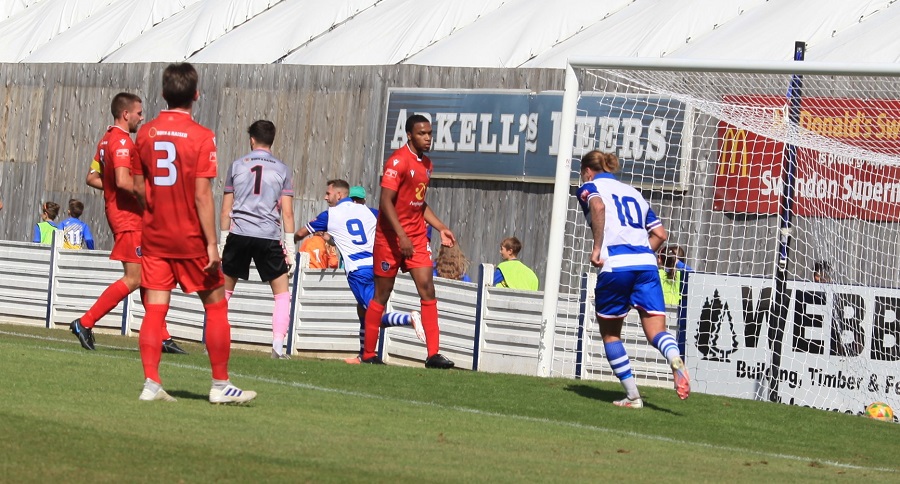 Harry Williams turns to celebrate his hat-trick goal
Photo © Carol Bullock Photography
Just four minutes later and we had another goal and our third of the half. This time Brad Hooper intercepting an attempted Met Police pass out of defence and setting up and HARRY WILLIAMS who slid the ball home for his second of the match and a 3-0 lead for Marine. And we wasn't finished there, as a crazy spell saw HARRY WILLIAMS grab a hat-trick in a six-minute spell just before the break. This time a brilliant ball out of defence by Tyrone Duffus found Henry Spalding whose cross was met in front of goal by WILLIAMS who volleyed home his sixth goal of the campaign in four games.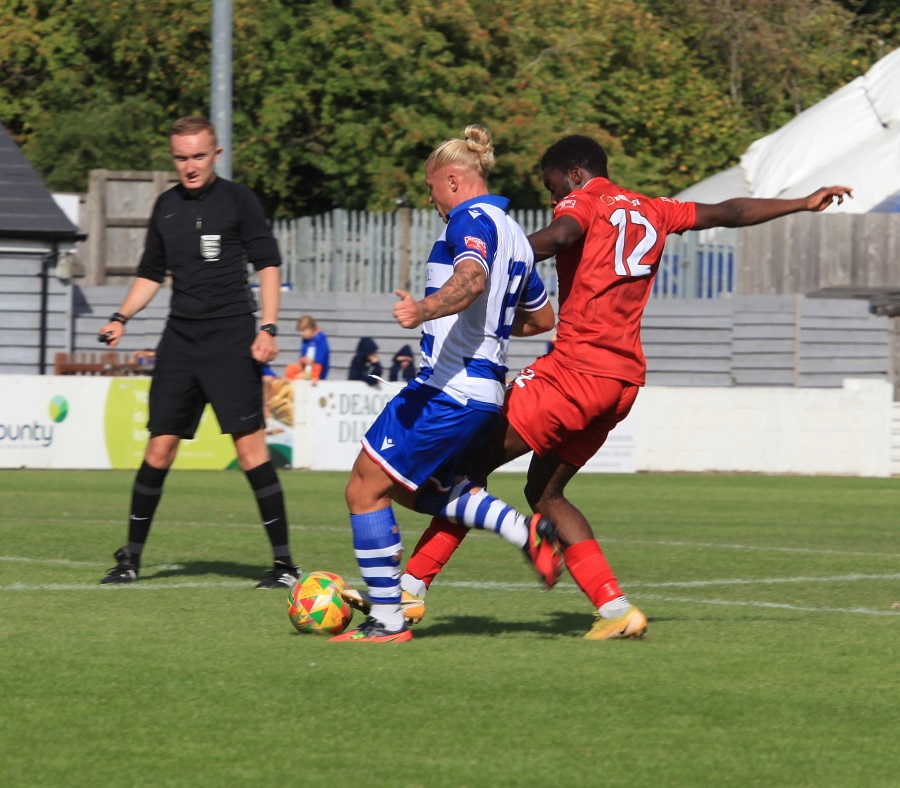 George Dowling wins the ball in midfield
Photo © Carol Bullock Photography
A devastating spell inside six minutes had more likely won the match but the Met Police management and players had other ideas. At the break Jamie Edge replaced the impressive Tom Sharpe, who had a tightness to his thigh just before the interval. Marine nearly started the second period as they finished the first with Conor McDonagh's effort being deflected wide when perhaps he should have pulled the ball back and set up Harry Williams who was in a good position in front of goal. Tyrone Duffus then headed the resulting corner just wide of goal. Another chance fell soon afterwards when soon afterwards Henry Spalding only had the Met Police keeper Coulter to beat but hit his shot straight at him with the goal at his mercy.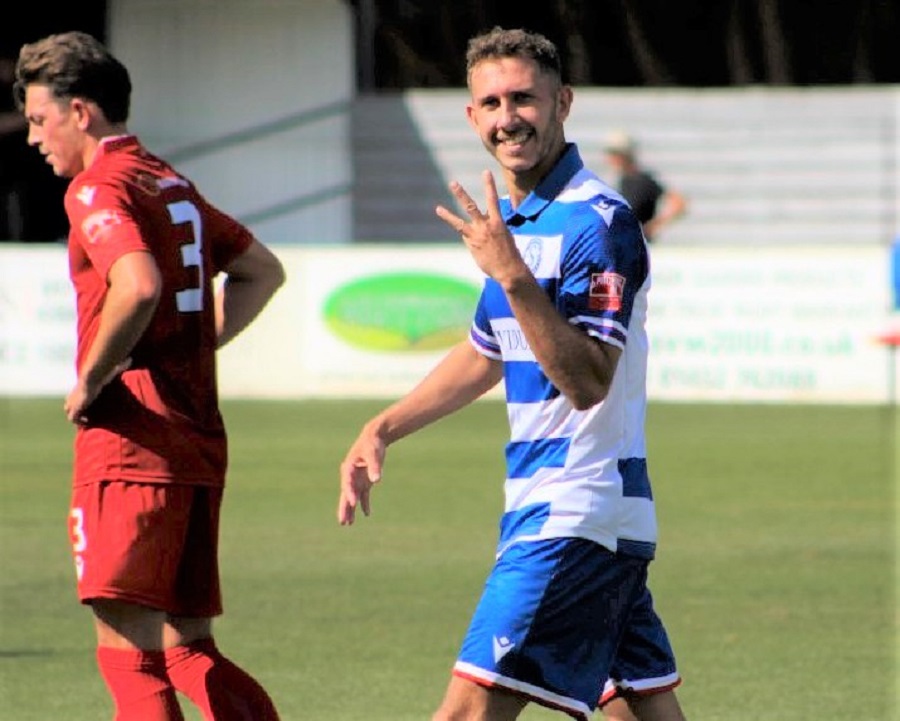 Harry Williams indicates three goals before leaving the pitch to a loud applause
Photo © Alex White Photography
Just before the hour mark and seeking some freshness up top James Harding replaced the impressive Harry Williams who had little more to prove on the day, and we could certainly understand the change as the management team wanted to protect the hat-trick hero and save him for Marine's next match at Salisbury.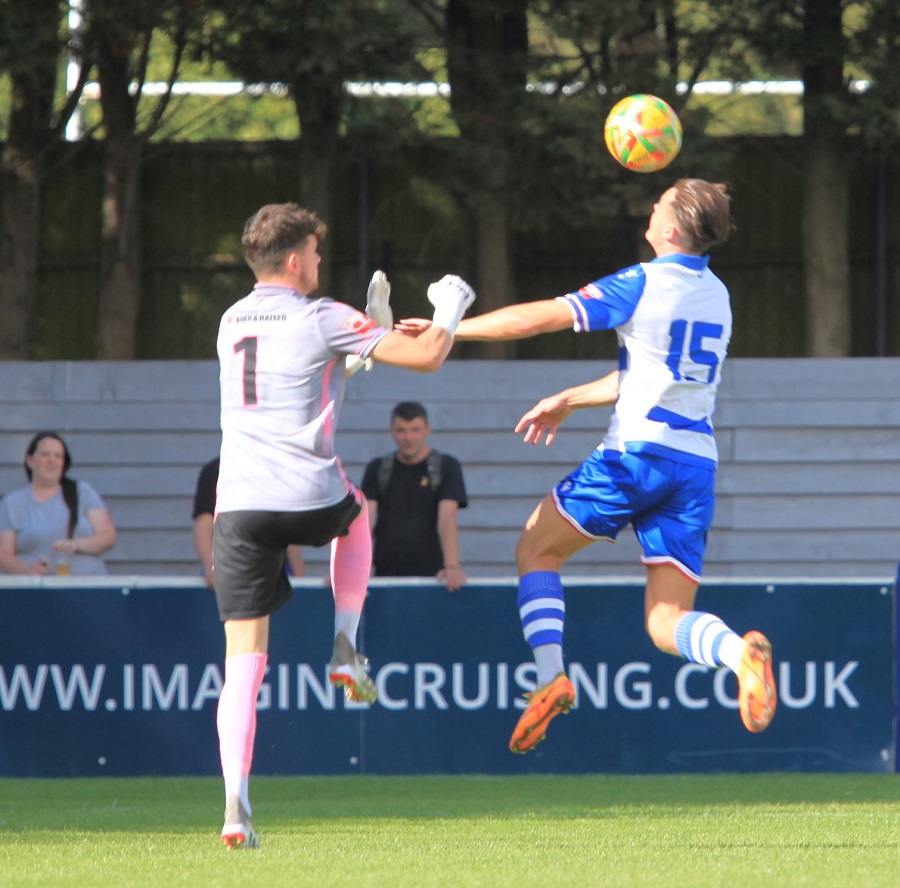 James Harding is fouled by the Met Police keeper but the referee had already blown for offside
Photo © Carol Bullock Photography
Met Police finally forced Marine keeper Connor Johns action on sixty-two minutes with a fine one handed stop from Herson Alves, closely followed by another save from the same player with the foot as the visitors finally started to find their game and go on to dominate the last thirty odd minutes. George Dowling replaced Zack Kotwica as Marine looked to tighten up the defence, but with twenty minutes left a spot kick was awarded for a trip by Sam Turl on the Met Police substitute Conor Lee that was just inside the box. Up stepped HERSON ALVES send Connor Johns the wrong way.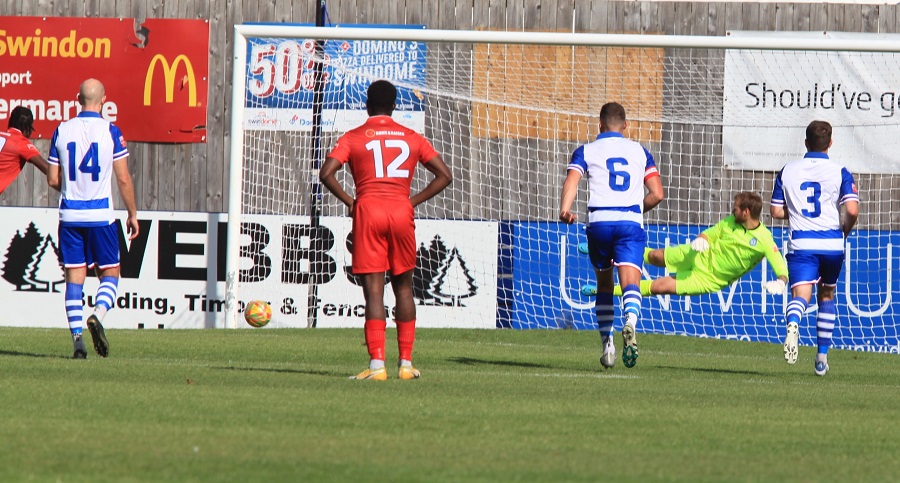 Met Police's Herson Alves scores from the penalty spot
Photo © Carol Bullock Photography
This gave Met Police a belief and within a minute they won the ball back and the ball was lid through to HERSON ALVES for his and Met Police's second goal. Marine looked nervy but regained their composure to see out the game despite Alves having to be denied deep in injury time again by Connor Johns who had made at least three good saves in the second period to deny Met Police. There was a late booking for Sam Turl after some off the ball shenanigans as he waited for a met Police corner.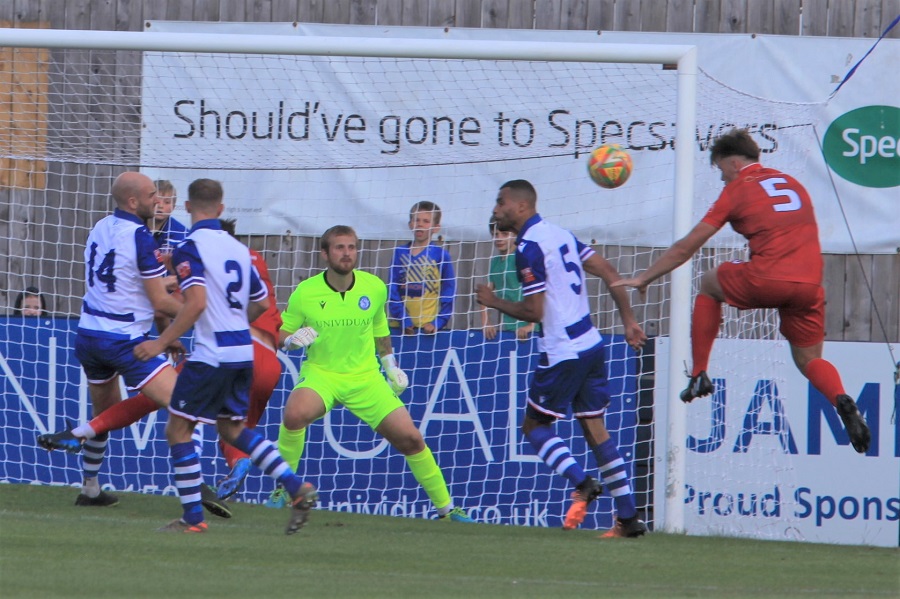 Met Police's Bernie Tanner missed a good chance in the final minutes to reduce our lead
Photo © Carol Bullock Photography
Overall, an excellent first half display made it three wins out of four for Marine and they sit third in the table. A great start to the campaign and next up the big Wiltshire Derby as we travel to Salisbury on Saturday.
Attendance: 203
Line Ups
Swindon Supermarine


Manager: Lee Spalding
Colours: Blue & White Hoops, Blue, Blue & White Hoops
Line-up: 1. Connor Johns 2. Sam Turl 3. Lewis Hall 4. Tom Sharpe (14. Jamie Edge 46') 5. Tyrone Duffus 6. Mat Liddiard 7. Henry Spalding 8. Brad Hooper 9. Harry Williams (15. James Harding 59') 10. Conor McDonagh 11. Zack Kotwica (12. George Dowling 63')
Subs not used: 16. Leon Morrison, 17. Sal Abubakar
Goalscorer:

Harry Taylor 30' own goal,



Harry Williams 38', 42',44'
Editors Star Man: Harry Williams
Cards:
Lewis Hall 16', Sam Turl 90+4'


None


None

Met Police


Manager: Gavin Macpherson
Colours: All Red
Line-up: 1. Callum Coulter 2. Daniel Carr 3. Alex Fisher (14. Conor Lee 67m) 4. Zak Brown (15. Joshua Keeya 46m) 5. Bernie Tanner 6. Louis Birch (c) 7. Ollie Knight 8. Harry Taylor 9. Mason Galloway 10. Herson Rodrigues-Alves 11. Archy Taylor (12. Didi Ndombe 57m)
Goalscorer:


Herson Rodrigues-Alves 70', 72'
Subs Not Used: 16. Jasper Mather
Editors Star Man: Herson Rodrigues-Alves
Cards:
Ollie Knight 77', Louis Birch 88'


None


None

Supermarine TV
Highlights
Courtesy of Mike Wray
Match Album
Courtesy of Alec White Photography
Team Sheet
Match Officials
Referee: Sam Fudge (Bristol)
Assistant Referees: John Duffy (Bristol), Fraser Lewis (Thornbury)