Marine 5 Chesham United 3
Southern League Premier South | Saturday 22nd April 2023
Back to blog posts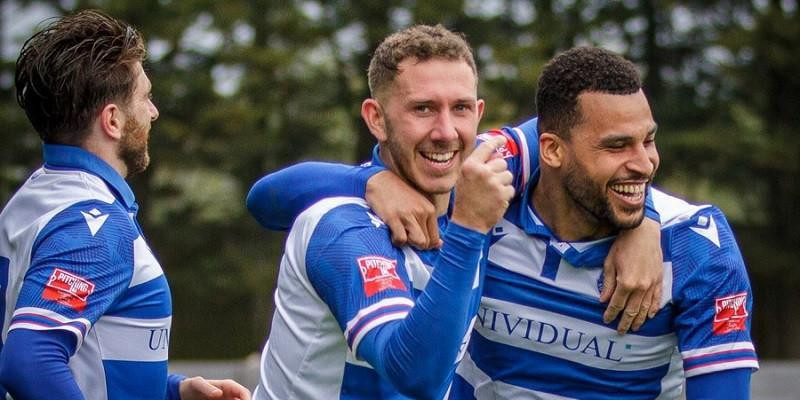 Match Report from Aleck Everard
Swindon Supermarine ended their 30th anniversary season in style with a fabulous 5-3 victory over playoff qualifiers Chesham United at the Webbswood Stadium. Manager Lee Spalding opted to make one change with striker James Harding in for midfielder Joe Tumelty.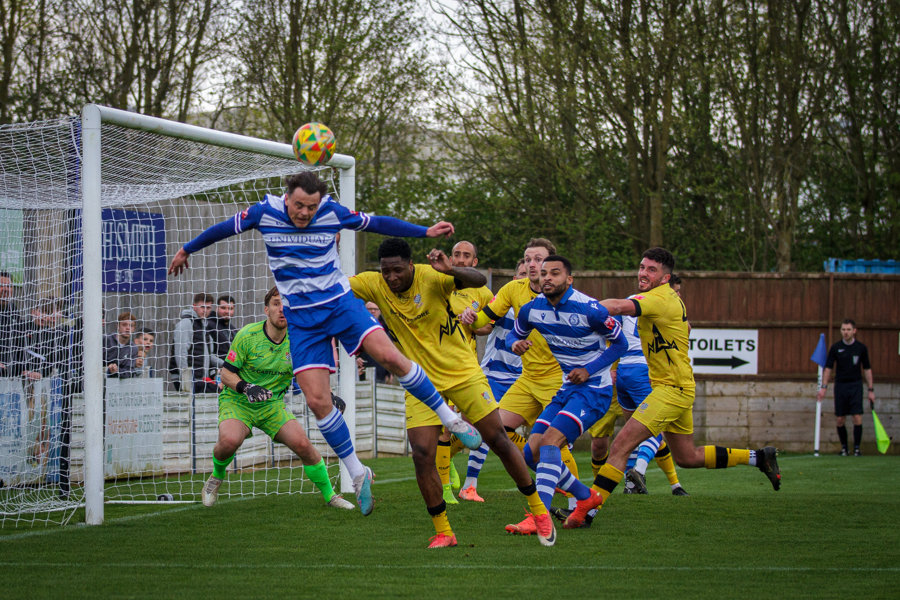 James Harding heads on an early corner Photo © Rob Mashford Photography Match Album
Needing a mathematical miracle to make the playoffs themselves Marine started strongly with Harry Williams having a good strike blocked by a defender but he never gave up and replied with a fine pass which found its way through to Henry Spalding who rounded stand-in keeper Lewis Rolfe to net after 15 minutes.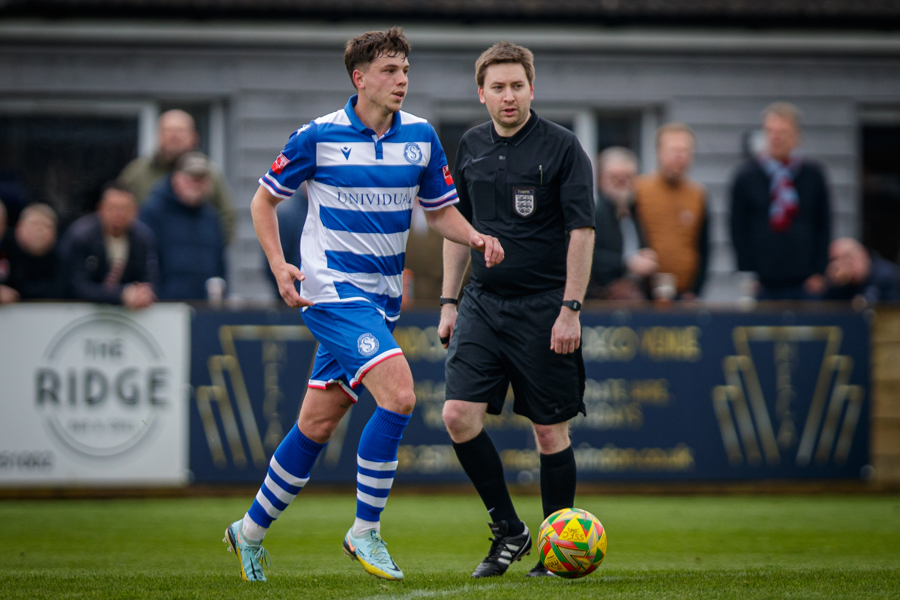 Henry Spalding opened he scoring after fifteen minutes
Photo © Rob Mashford Photography Match Album
Within minutes Marine were awarded a penalty when Zack Kotwica was brought down in the box by a late tackle. *Harry Williams stepped up to make it 2-0 and he was so close to making it three seconds later when heading over the crossbar from a corner after a Tyrone Duffus flicked the ball on at the near post.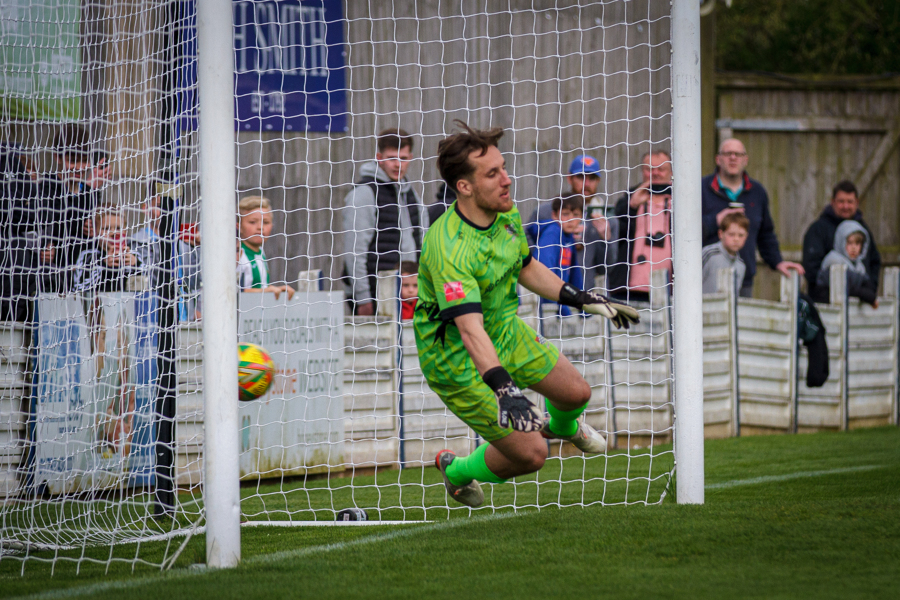 Harry Williams send the keeper the wrong way with his first goal
Photo © Rob Mashford Photography Match Album
Then out of the blue a Chesham breakaway caught the Marine defence square as Shaq Hippolyte-Patrick ran through to put away a neat finish past Charlie Searle for 2-1. Marine were soon back in control with James Harding having an effort deflected wide and Zack Kotwica striking an effort over the bar after a good Mat Liddiard run forward. Then just ahead of the break Jamie Edge scored when he headed home from a Henry Spalding corner.
Jamie Edge heads home Marine's third goal
Photo © Rob Mashford Photography Match Album
With Poole still drawing at Hendon the hope remained and within minutes of the second half the points looked secure for Marine as *Harry Williams earnt his brace when Henry Spalding's cross was headed back into the goalmouth by Tyrone Duffus and the league's joint top scorer going into the game was quickest to react and it was 4-1 to Marine.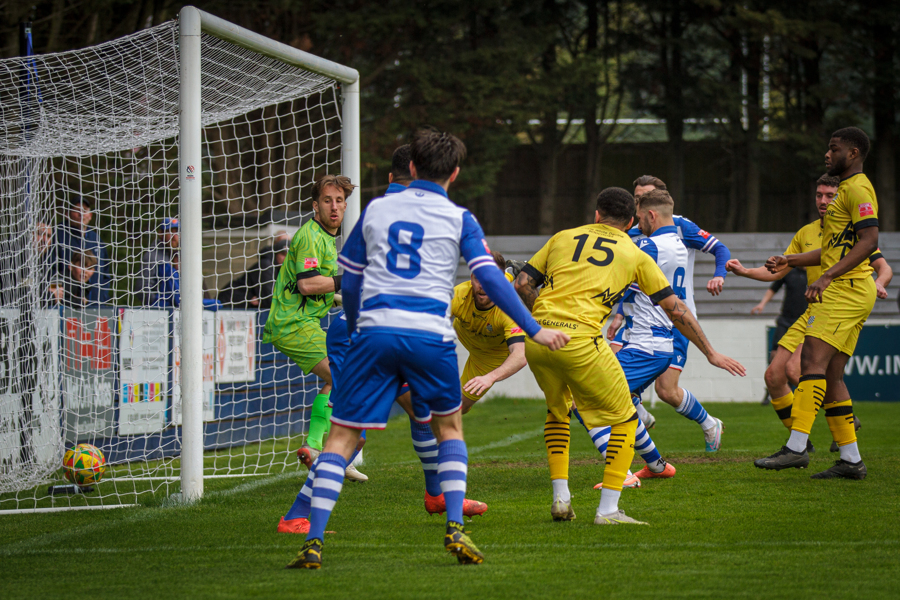 Harry Williams scores his second from close range
Photo © Rob Mashford Photography Match Album
Marine made a double change with twenty minutes left, Joe Tumelty and George Cowmeadow replacing Brad Hooper and Henry Spalding. But it was Chesham substitute Jordan Edwards who grabbed a goal back with fifteen minutes left despite looking offside. After a lengthy discussion with his linesman the goal was given. Then after a terrific solo run and finish by Omar Rowe, Chesham had a third to make it jittery for the hosts. Tom Sharpe was introduced replacing James Harding as Marine looked to see out the win.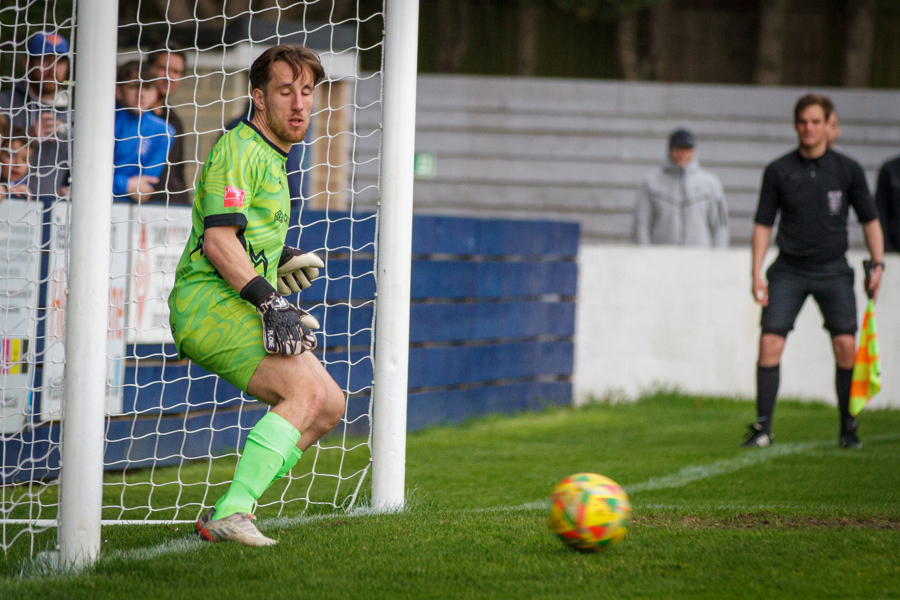 Harry Williams scores his third goal as he send the keeper the wrong way again from his second penalty
Photo © Rob Mashford Photography Match Album
Their fears of a comeback were allayed when Harry Williams was too hot to handle and was hauled down in the box for a second spot kick. *Williams converted it himself with five mins left to seal his hat-trick, he's 34th league goals for the season and 39 in total. He finishes the league's top goalscorer along with Moses Emmanuel of Hayes and Yeading. Minutes before the final whistle Williams nearly grabbed his fourth and an outright award but his shot flew over the crossbar.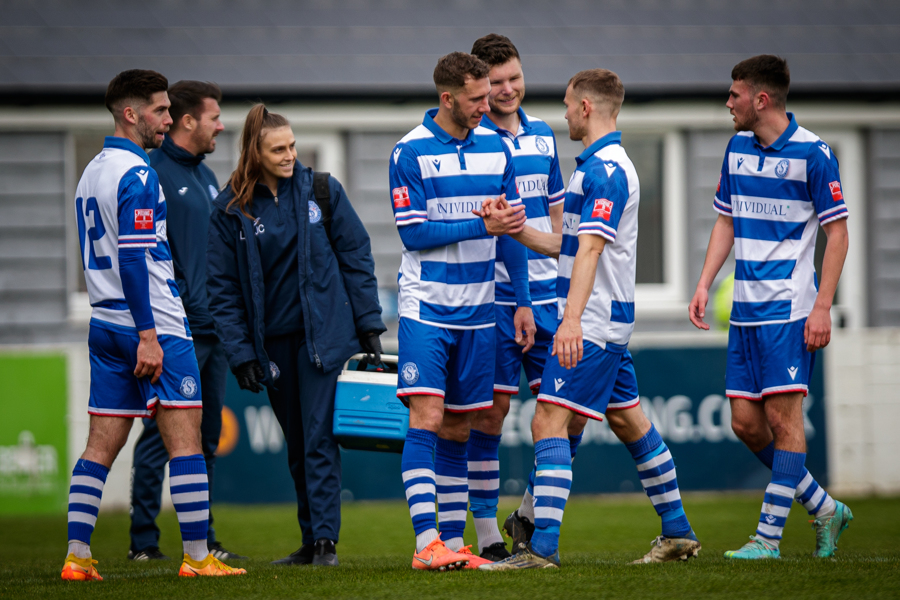 The players celebrate the end of the game and the season
Photo © Rob Mashford Photography Match Album
This was a terrific win to end what has been a terrific season for Marine. The best tribute to the anniversary was the highest ever finish to a league season for the club in 6th place. Credit goes to everyone especially manager Lee Spalding, assistant Charlie Griffin and the backroom boys, well done to one and all!
Line Ups
Swindon Supermarine


Manager: Lee Spalding
Colours: Blue & White Hoops
Line-up: 1. Charlie Searle 2. Sam Turl 3. Ryan Campbell 4. Jamie Edge 5. Tyrone Duffus 6. Mat Liddiard (c) 7. Henry Spalding (15. George Cowmeadow 69') 8. Brad Hooper (12. Joe Tumelty 69') 9. Harry Williams 10. James Harding (14. Tom Sharpe 75') 11. Zack Kotwica
Subs not used: 14. Will Tunnicliff, 16. George Dowling
Goalscorers:

Henry Spalding 15',



Harry Williams 17'pen, 46', 84'pen,

Jamie Edge 40'
Editors Star Man: Harry Williams
Cards:
None


None


None

CHESHAM UNITED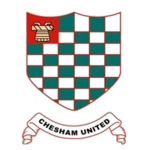 Colours: All Yellow Manager: James Duncan & Michael Murray
Line-up: 1. Lewis Rolfe 15. Jordan Gibbons 3. Frankie Sutherland 4. Eoin Casey 5. Steve Brown (c) 6. Scott Shulton 7. Tobias Braney 8. Omar Rowe 20. Ricardo German (16. Jordan Edwards 69') 10. Karl Ollyide (2. Ronny Mfinda 46') 11. Shaquille Hippolyte-Patrick
Goalscorers:

Shaquille Hippolyte-Patrick 20',

Jordan Edwards 72',

Omar Rowe 75'
Subs Not Used: 9. Zak Joseph, 12. Brad Clayton 14. T'Sharne Gallimore
Editors Star Man: Omar Rowe
Cards:
Steve Brown 17', Omar Rowe 78'


None


None

Supermarine TV
Click here for highlights
Courtesy of Mike Wray
Match Gallery
Click here for Match Photo's
Courtesy of Rob Mashford Photography
Post Match Team Sheet
Match Officials
Referee: Jake Hillier
Assistant Referees: Isaac Blakey, Jake Atkinson