Poole Town 2 Marine 2
Southern League Premier South | Tuesday 7th February 2023
Back to blog posts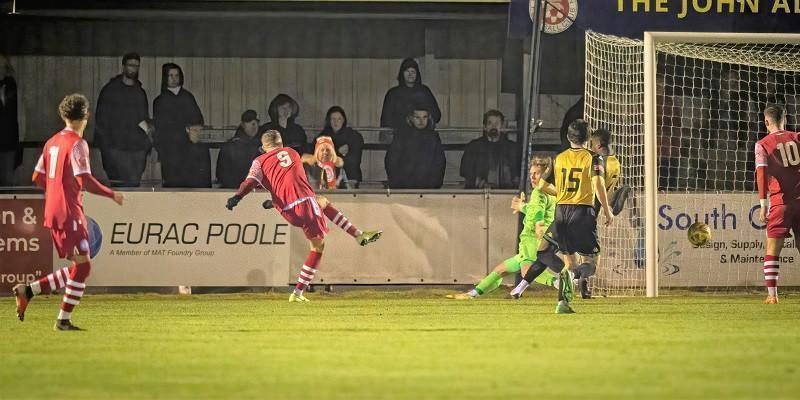 Match Report from Pete Crockett
In recent years Marine's record at Poole Town's Black and Gold Stadium has been decidedly disappointing. The last three visits have seen Marine defeated on each occasion conceding nine goals in the process and only netting one. The pre-match portents for this match were not good as the visitors found themselves with three of their four centre backs unavailable.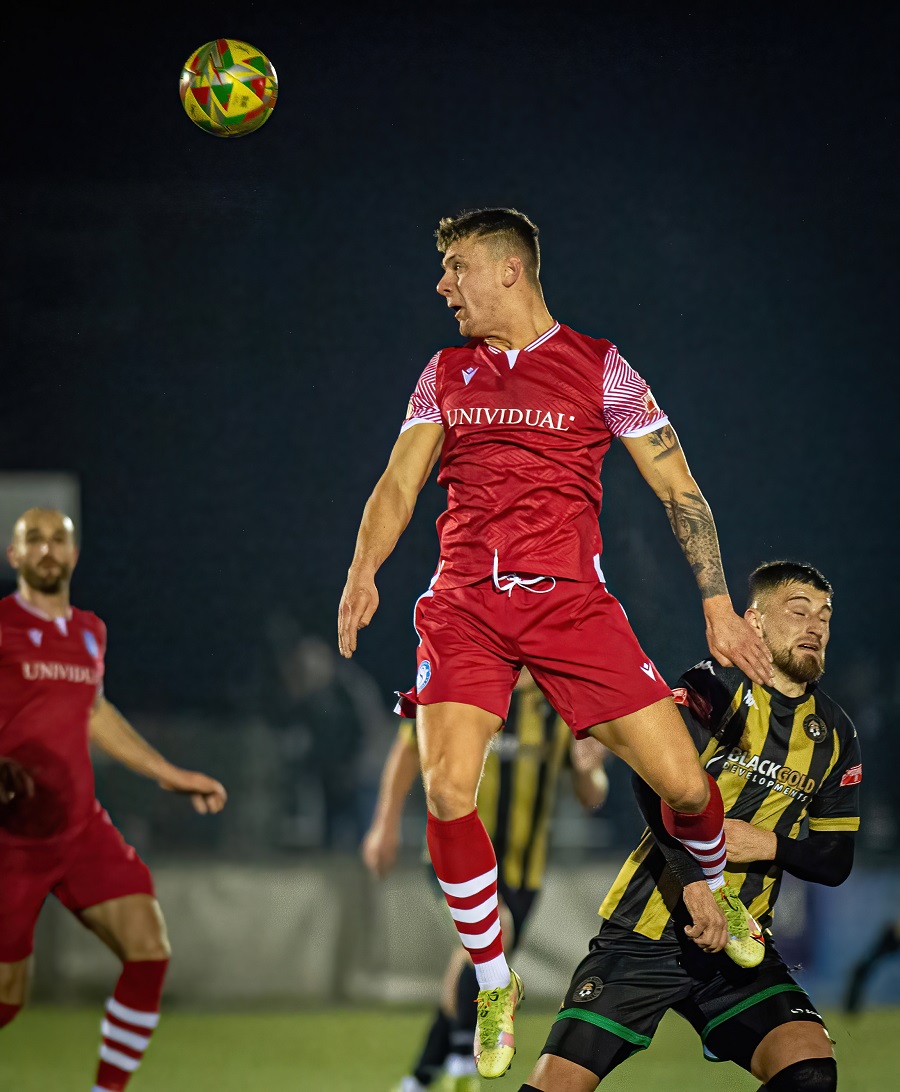 Will Tunnicliff moved to centre back against Poole
Photo © Ian Middlebrook Photography Match Album
Tyrone Duffus being out with a long-term injury whilst Tom Sharpe and Leon Morrison both had hamstring tweaks. There one change Zack Kotwica from Saturday's starting eleven and that was Zack Kotwica coming in to replace Morrison. This inevitably was going to face the Marine management team with having to ask some players to operate outside their normal role. This entailed Will Tunnicliff moving to centre back and Ryan Campbell operating at left back.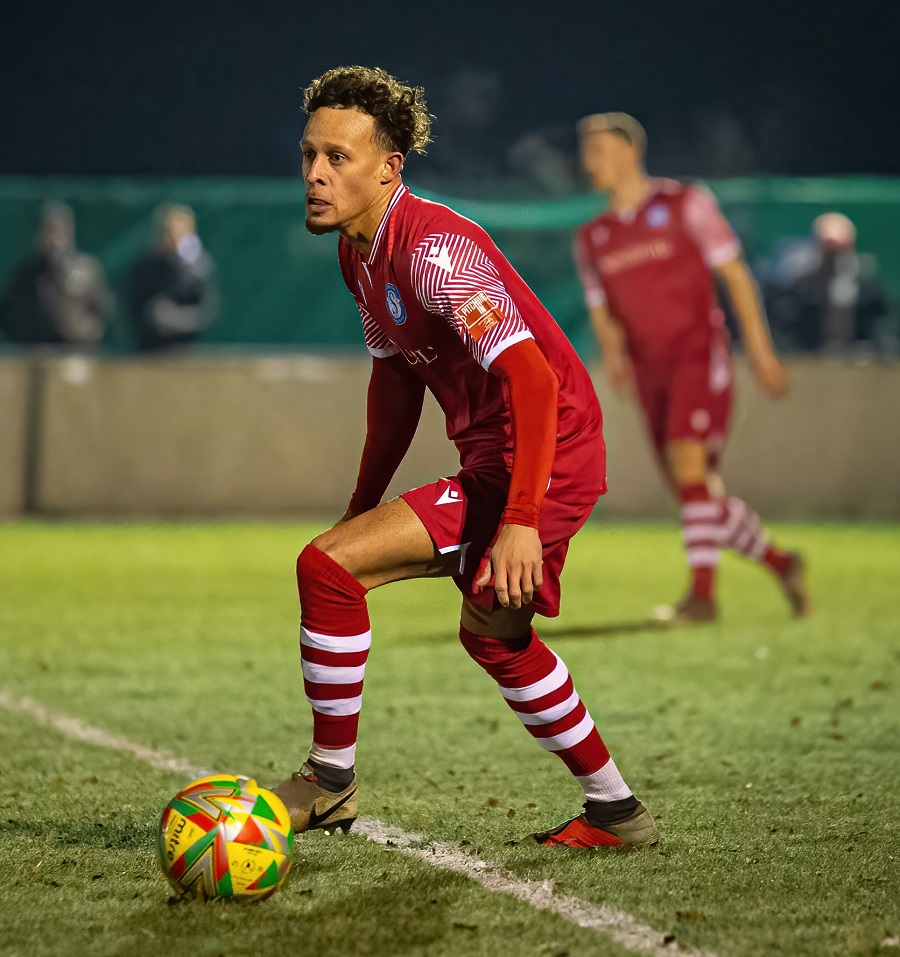 Ryan Campbell operating at left back against Poole
Photo © Ian Middlebrook Photography Match Album
The early exchanges were even with both sides stringing together some good passing and creating some half chances. Then eight minutes in Poole's Luke Pardoe knocked a ball down the left-hand touchline that found the host's Corby Moore. He advanced at pace into the box where he was halted by Marine's keeper Josh Gould who sent the forward tumbling as he strived to get a diving touch on the ball. The Marine protests at the resultant penalty were muted, and TONY-JAMES LEE sent the spot kick firmly past Josh Gould to give the hosts an early lead.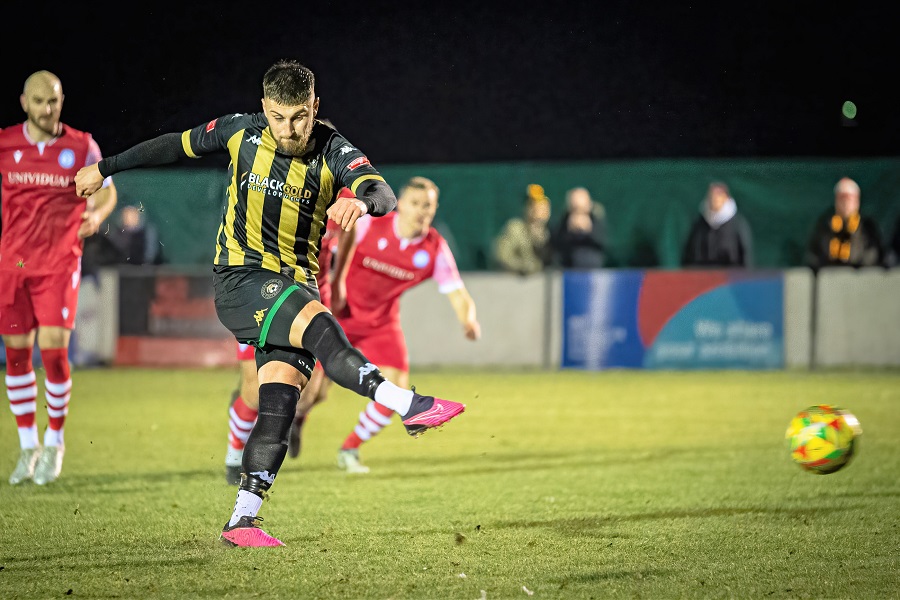 Tony-James Lee score the first goal from the penalty spot
Photo © Ian Middlebrook Photography Match Album
A minute later matters could have got worse for Marine when Luke Pardoe's cross found Tony Lee unmarked at the back post. Thankfully, from a Marine perspective, the striker headed over the bar. This escape saw a Marine rally and they started to establish themselves in the match. On 17 minutes Zack Kotwica saw a tantalising curling effort slip just wide of the far post as he cut in from the left. Then some two minutes later the same player fell to the floor in the host's penalty area but Marine's relatively subdued appeals for a penalty were waved away.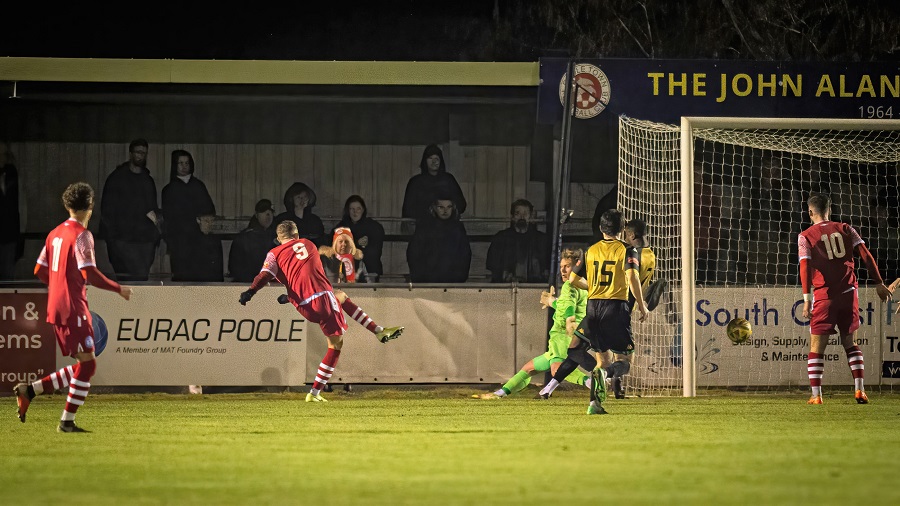 Harry Williams slots the ball home for the first Marine equaliser
Photo © Ian Middlebrook Photography Match Album
It was starting to feel like the Marine equaliser might be coming and halfway through the first half it did. Some good Marine pressure and inter passing and movement from Zack Kotwica and Harry Williams saw WILLIAMS collect the ball on the left-hand edge of the area. The Marine front man cut inside and from close range netted with his usual composure thus notching his twenty-ninth goal for the season.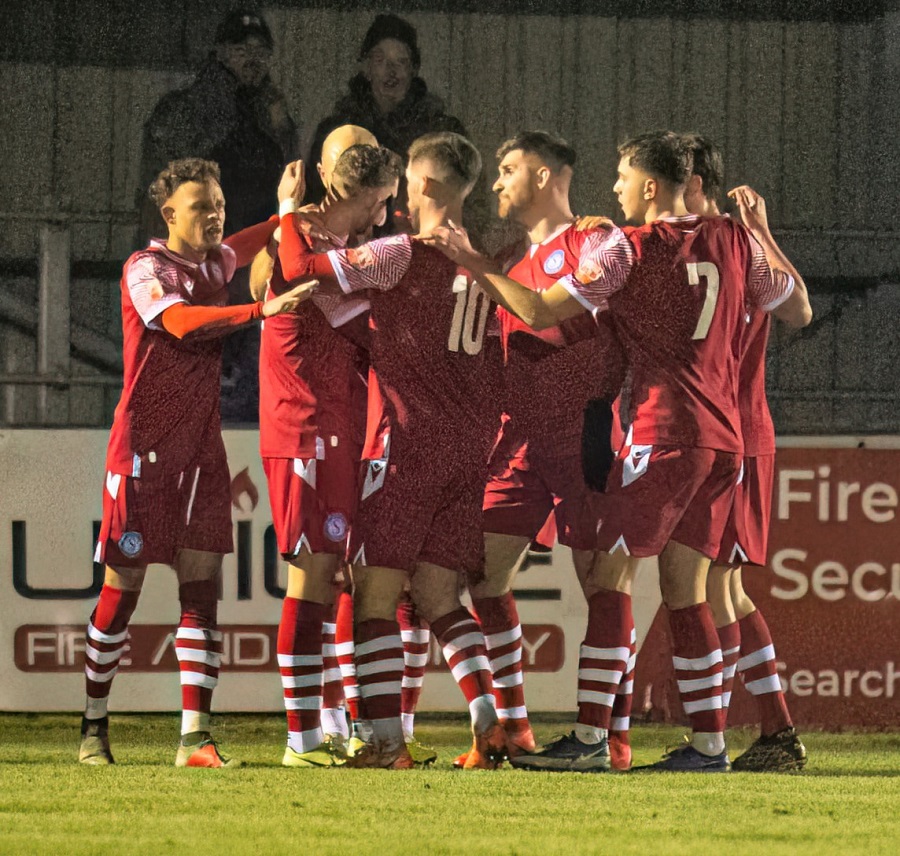 The players celebrate Harry's goal
Photo © Ian Middlebrook Photography Match Album
On thirty-two minutes the host's restored their one-goal lead. Some skilful play from Toby Holmes on the left flank saw him cut inside defenders and fire a cross-shot to the back post where TONY-JAMES LEE had the easiest of tasks to slide the ball home. What was ultimately to be one of the game's most significant moments occurred just before half time.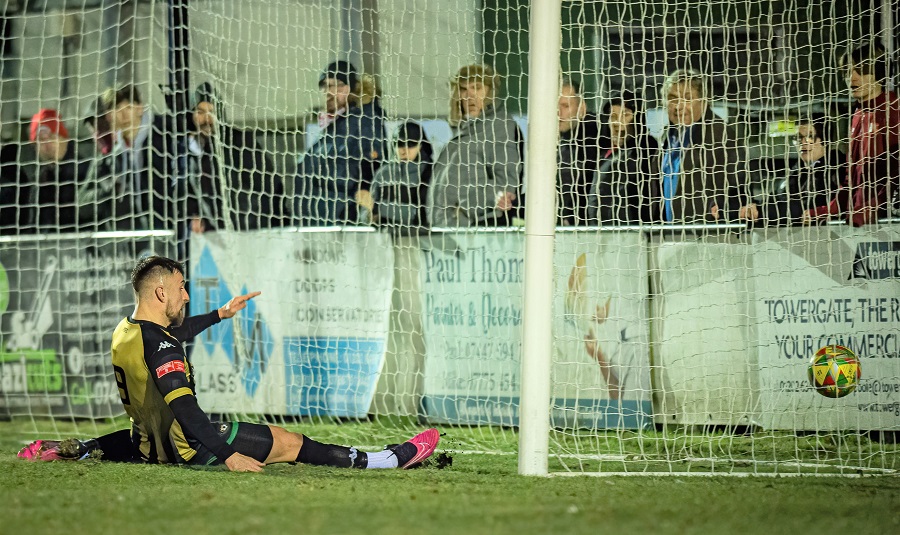 Tony-James Lee slots home for Poole's second goal
Photo © Ian Middlebrook Photography Match Album
After a free kick was awarded against his team Poole Town's Jack Dickson bounced the ball disdainfully to the floor in what was a clear case of dissent. Unsurprisingly his outburst saw him receive the game's first yellow card. The second goal seemed to temporarily stall Marine's momentum. This was a spell of the contest where the visitor's had to dig deep to stay in contention. However, finding themselves two-one down at half-time meant they could justifiably believe they were very much in the match.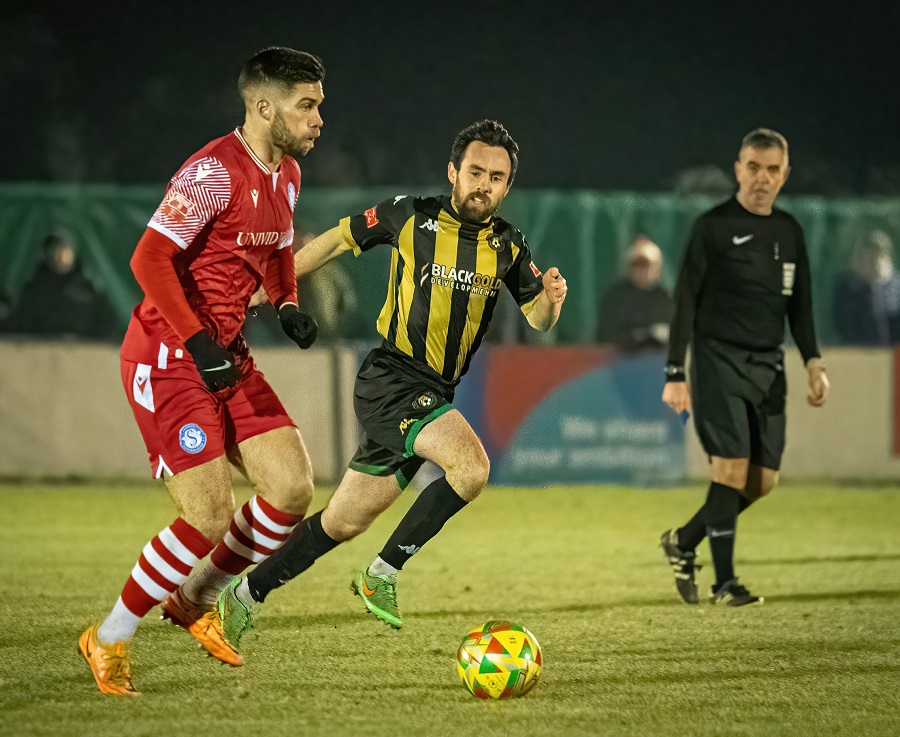 Joe Tumelty had an excellent game in midfield
Photo © Ian Middlebrook Photography Match Album
The first quarter of an hour of the second half saw Marine start to regain some composure and pass the ball with greater assurance. It also saw some indiscipline creep into the host's approach with Cameron Murray and Tony Lee collecting cautions.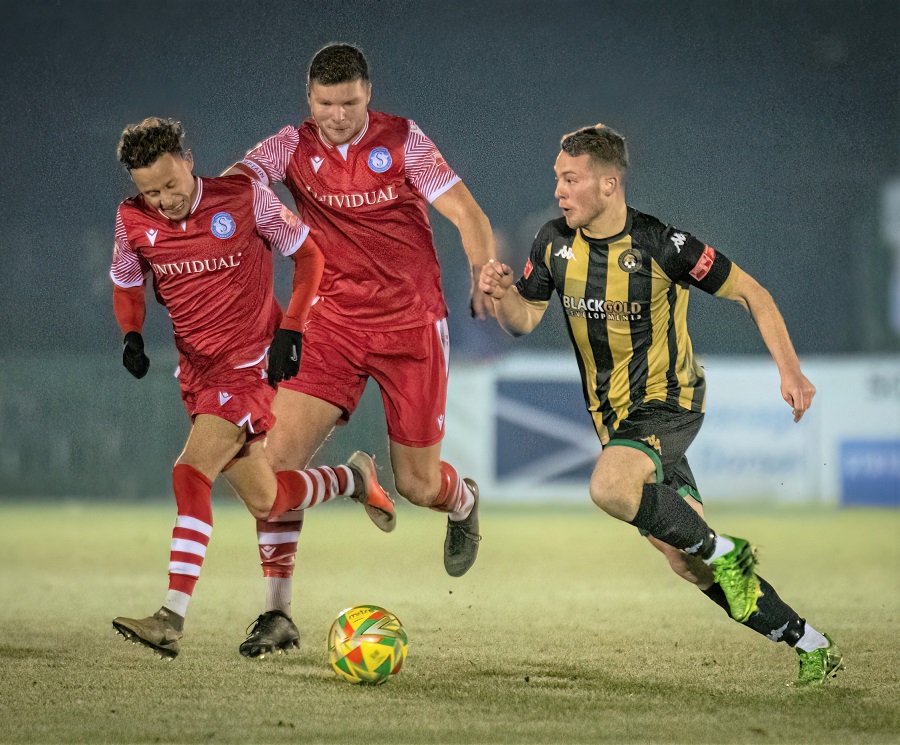 Ryan Campbell and Mat Liddiard challenge Poole's Jake Andrews
Photo © Ian Middlebrook Photography Match Album
The period between sixty and seventy minutes saw a number of match changing incidents. On sixty minutes Ryan Campbell cut in from the left wing and, as he entered the box, seemed to be bundled over by a defender. The small contingent of travelling support behind the goal were somewhat bemused when the referee deemed the challenge fair and declined to award a spot kick, when a week earlier a penalty was awarded against us for far less of a push!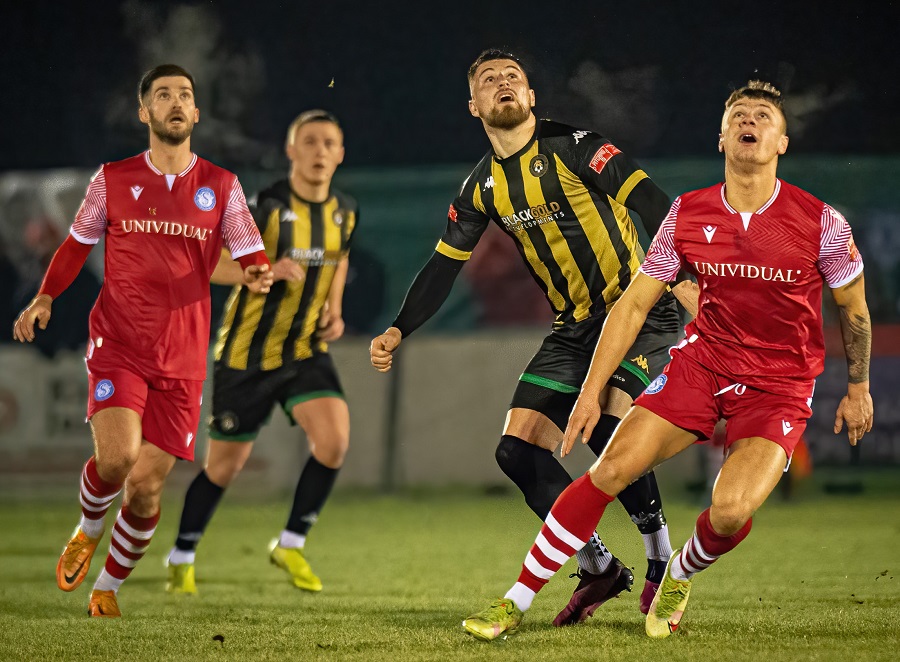 Will Tunnicliff concentrates on getting to the ball before Tony-James Lee
Photo © Ian Middlebrook Photography Match Album
Then two minutes later in front of the dug outs the host's Jack Dickson received a second yellow for a very clumsy and dangerous looking challenge on Zack Kotwica. This was a match changing moment that altered the balance and put the hosts on the back foot.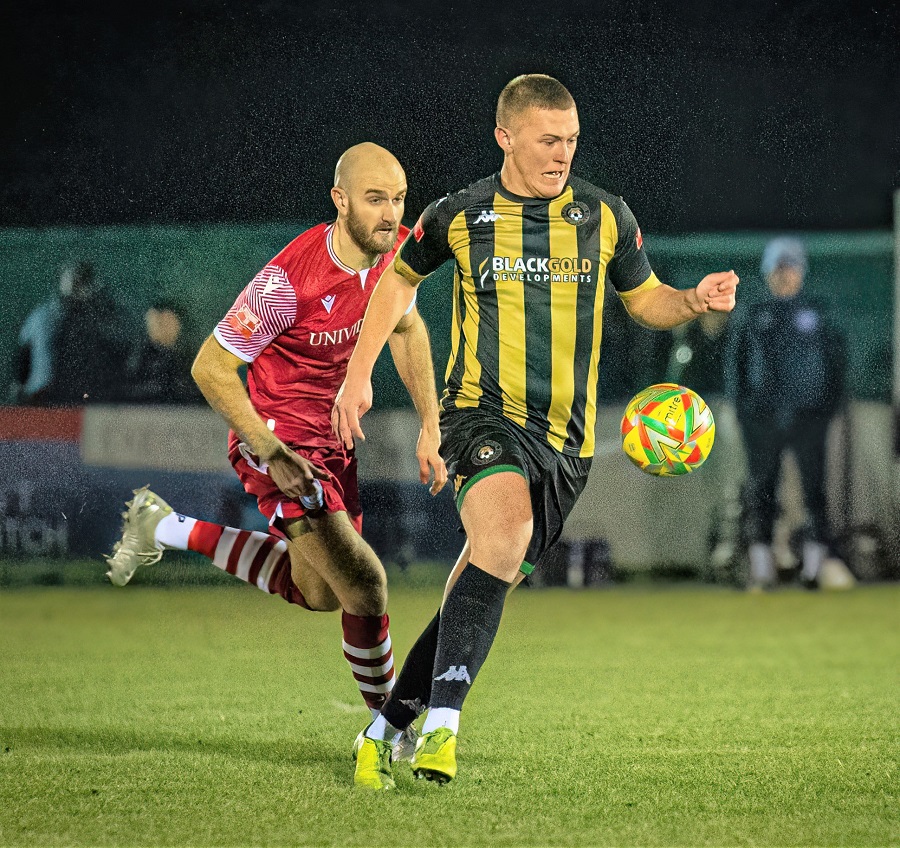 Jamie Edge and Poole's new signing Jake Andrews had a battle in midfield
Photo © Ian Middlebrook Photography Match Album
It was thus no surprise when on sixty-eight minutes Marine equalised. Some crisp passing on the left flank saw ZACK KOTWICA played in on goal from a few slick passes from Jamie Edge, Joe Tumelty and Harry Williams. He rounded the keeper and netted with composure from the acutest of angles for an excellent finish.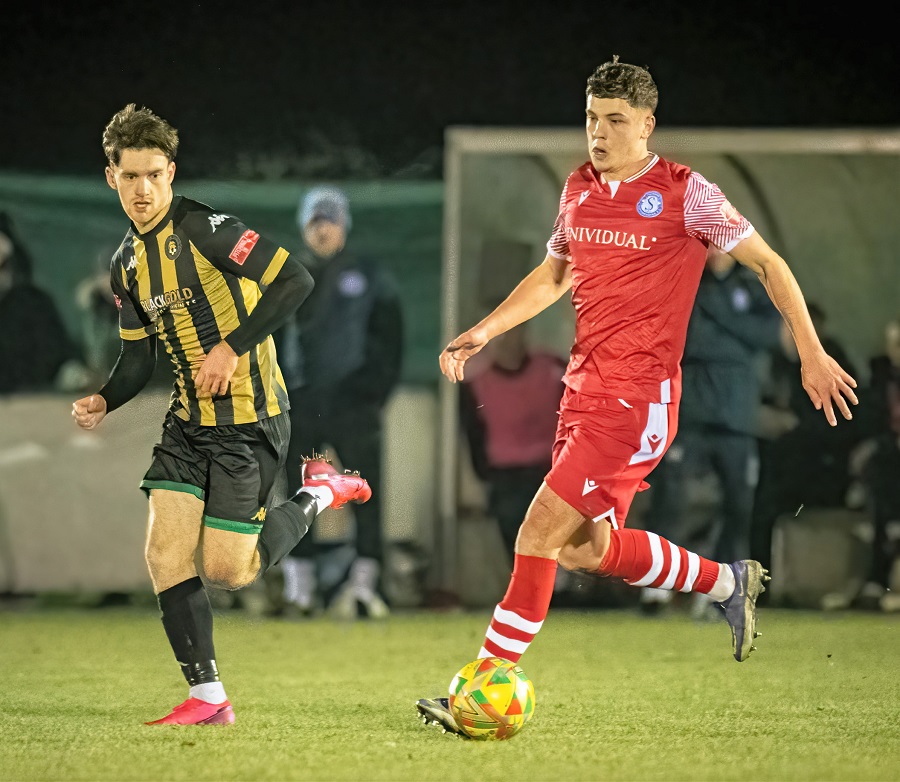 Henry Spalding saw a lot of the ball on the right wing
Photo © Ian Middlebrook Photography Match Album
The host's reduction to ten men saw the symmetry of the match change and it was now Marine pushing for the winner. In the seventy-sixth minute Marine's Joe Tumelty flashed a menacing ball across the six-yard box. Then with ten minutes remaining an excellent Harry Williams run saw him engineer a position for a shot at goal. His goal bound effort was blocked by defender and agonisingly, from a Marine perspective, drifted just wide of the far post.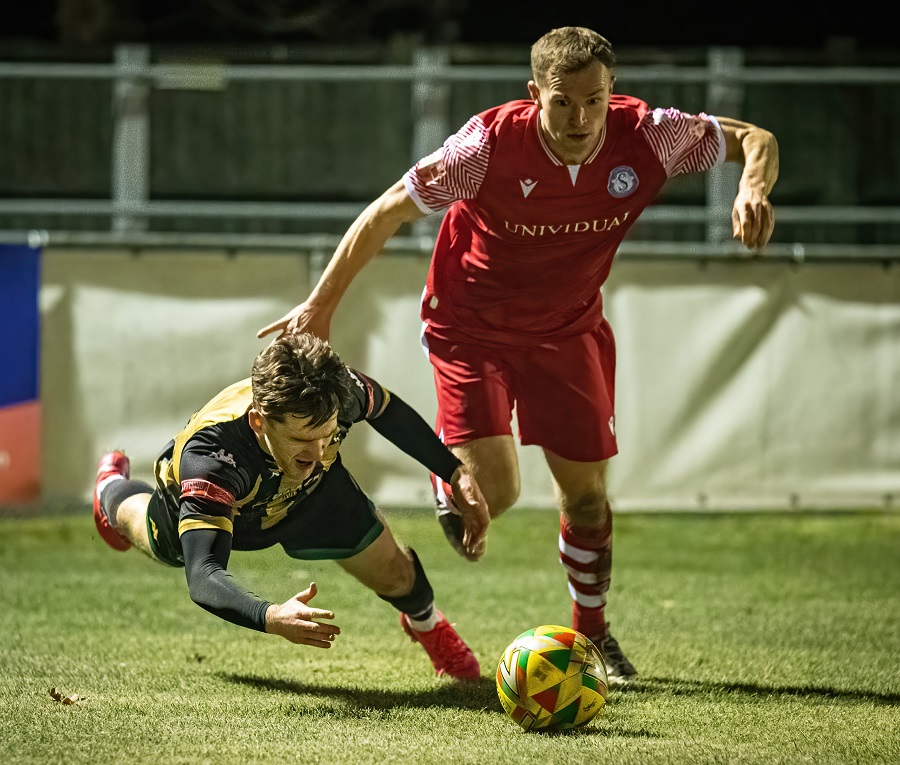 Sam Turl picked up a booking early in the second half
Photo © Ian Middlebrook Photography Match Album
Then in the eighty-seventh minute an exquisite chip from Brad Hooper saw Will Butler at full stretch tip a goal bound effort over the cross bar to prevent Marine securing the three points. At the final whistle both sides will have left the pitch with mixed emotions. Poole Town will be disappointed to have twice surrendered their lead but will also be delighted to have defended so valiantly when down to ten men for the final third of the match.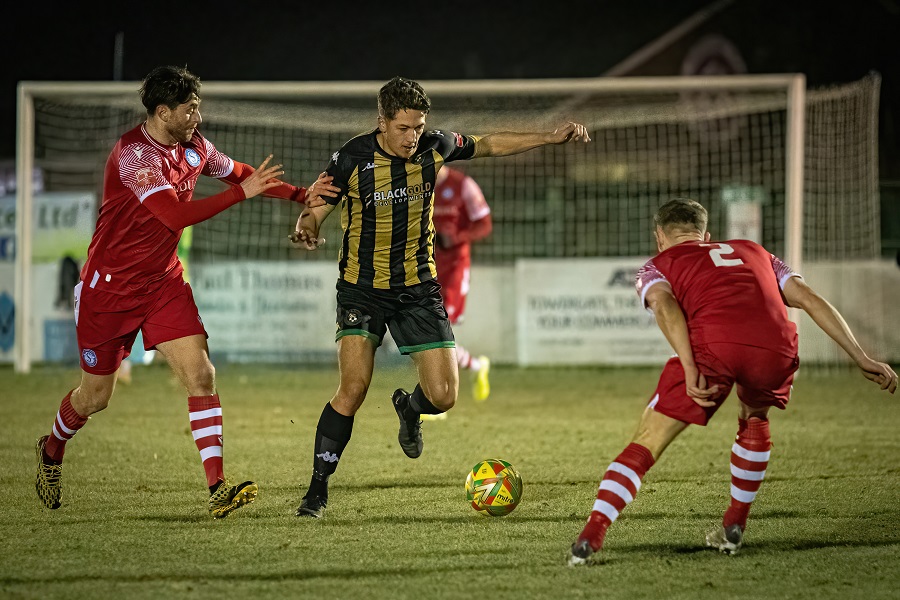 Brad Hooper tracks Poole's Harry Hutchinson
Photo © Ian Middlebrook Photography Match Album
Marine will be frustrated not to have got the third goal to win the contest but pleased with gaining a point away from home at play-off chasing rivals. In these situations whilst a win is the ideal it was important not to lose and allow a rival to pull further ahead. In that respect, and considering the significant injuries Marine were faced with, this was a good result that keeps them well positioned for a playoff challenge.
Marine pushed for a winner in the final minutes from a couple of goalmouth scrambles
Photo © Ian Middlebrook Photography Match Album
Editor's player of the match went to Jamie Edge. This went to Jamie Edge who tidied up situations in front of the back four effectively; was always available to receive the ball in tight situations; and when Marine were on top was the fulcrum of Marine's passing. Mentions in dispatches to Harry Williams and Zack Kotwica for good finishes and Will Tunnicliff and Ryan Campbell for putting in strong shifts when playing out of position.
Fans player of the match went to Joe Tumelty.
Line Ups
Poole Town

Manager: Tom Killick
Colours: Black & Gold Line-up: 1. Will Butler 3. Harry Hutchinson 5. Jamie Whisken (c) 7. Adeoye Olumuylwa 8. Corby Moore 9. Tony-James Lee 11. Jack Dickson 12. Jake Andrews (6. Luke Holmes 65') 15. Toby Holmes (2. Declan Rose 65') 15. Cameron Murray 16. Luke Pardoe
Goalscorer:


Tony-James Lee 8'pen, 32'
Subs Not Used: 4. Will Spetch, 17. Nathaniel Williams, 20. Addwell Chipangura Editors Star Man: Adeoye Olumuylwa
Cards:
Cameron Murray 47', Tony-James Lee 54'


None


Jack Dickson 42', 62'

Swindon Supermarine


Manager: Lee Spalding
Colours: All Red
Line-up: 1. Josh Gould 2. Sam Turl 3. Will Tunnicliff 4. Jamie Edge 5. Zack Kotwica 6. Mat Liddiard (c) 7. Henry Spalding 8. Brad Hooper 9. Harry Williams 10. Joe Tumelty 11. Ryan Campbell
Subs not used: 12. Conor McDonagh, 14. James Harding, 15. Leon Morrison 16. Casey Spancer-Harding
Goalscorers:

Harry Williams 22',

Zack Kotwica 68'
Editors Star Man: Mat Liddiard
Cards:
Sam Turl 53'


None


None

Supermarine TV
Highlights
Courtesy of Mike Wray
Match Album
Photo's
Courtesy of Ian Middlebrook Photography
Post Match Team Sheet
Match Officials
Referee: Antony Smith (Christchurch)
Assistant Referees: Anthony Cross, Des McCulloch