Willand Rovers 1 Marine 1
The Emirates FA Cup First Round Qualifying | Saturday 4th September 2022
Back to blog posts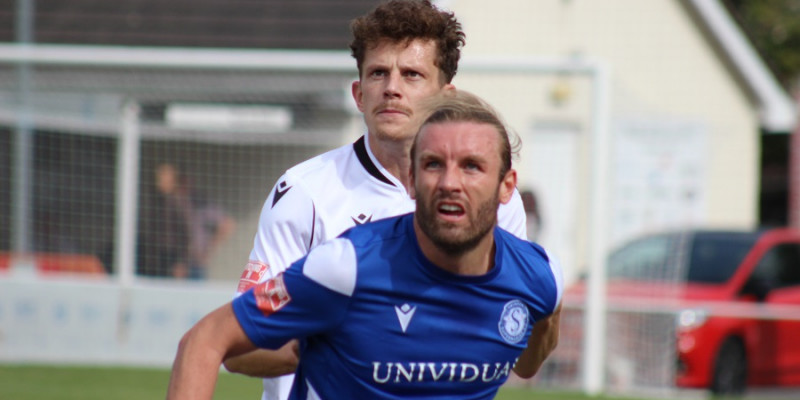 Match Report from Aleck Everard
Swindon Supermarine travelled down to Devon to get their FA Cup campaign underway with a visit to Southern League Division 1 South side Willand Rovers. Manager Lee Spalding made two changes from the previous match with Leon Morrison making his debut at the back and Jamie Edge coming in for George Dowling who had a slight strain as did Tyrone Duffus.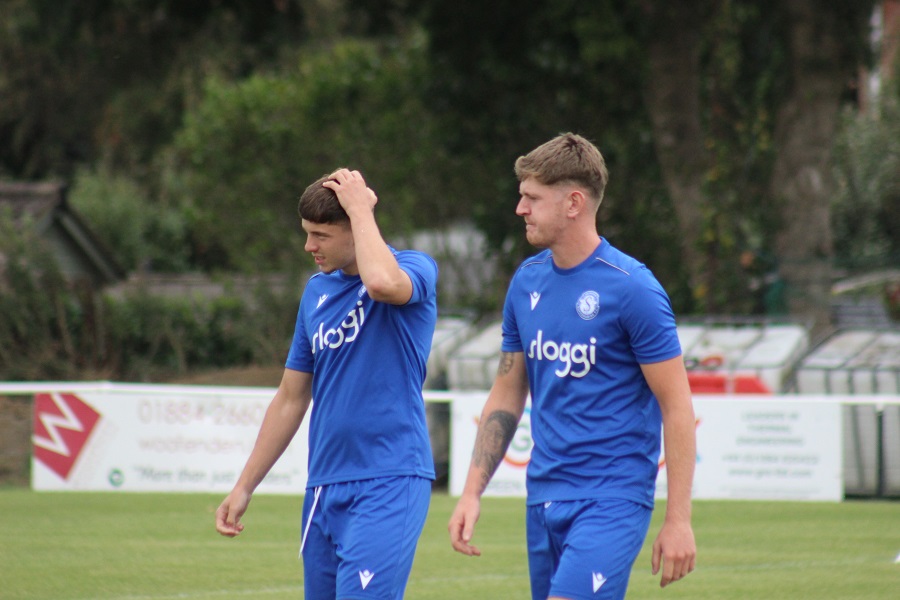 Leon Morrison (right) started and scored in his first competitive game for Marine
Photo courtesy of Mike Wray Photography
Marine played in all blue and were up against it early on as Willand came out of the traps firing. A thirty-yard effort from midfielder Jack Winsor skimmed the post with Marine keeper Connor Johns left watching the fierce drive after five minutes. Then a couple of minutes later and from a Marine corner the hosts broke at speed and Willand centre forward LEWIS HILL found himself unmarked and in front of goal and from the edge of the box he finished in style as he held off Marine's Lewis Hall to make it 1-0.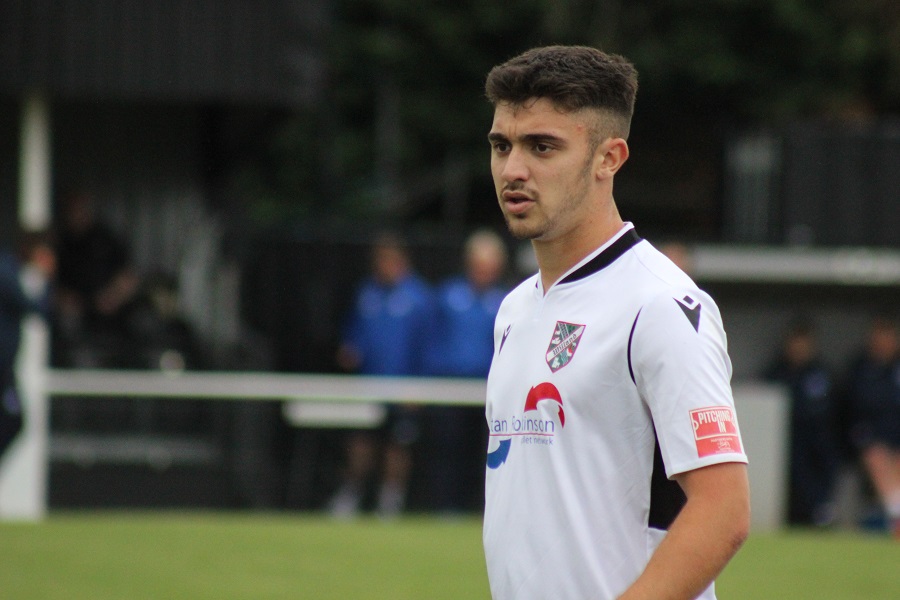 Lewis Hill scored the early opening goal for Willand Rovers
Photo courtesy of Mike Wray Photography
Marine slowly found their feet and started to dominate possession, but the hosts were defending stoutly holding on to what they had. But despite this the next shot of the game just before the break was a Willand one which went tamely into the hands of Connor Johns. Marine were the ones to come out all guns blazing after the break. An early Henry Spalding free kick hit the wall before home keeper George Burton dropped a cross soon after only for Spalding's effort to be blocked out by the impressive defence.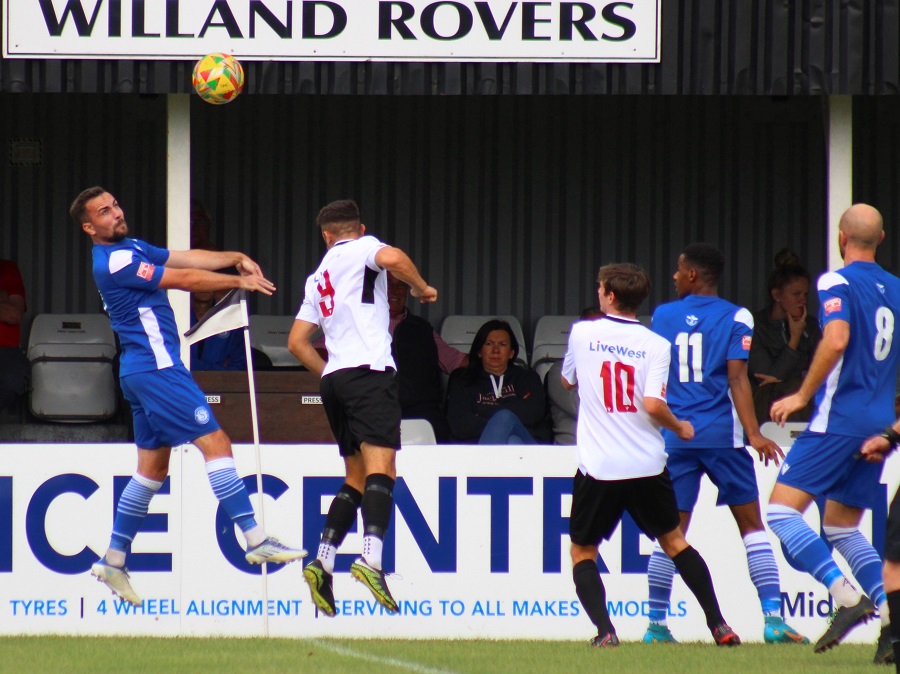 Lewis Hall wins the heading dual
Photo courtesy of Mike Wray Photography
Conor McDonagh was next to be denied when his effort beat the keeper only to be cleared spectacularly off the line by Willand defender Will Richards. But Marine would not be denied and from another corner the ball was cleared away but as the ball fell to LEON MORRISON in the fifty-second minute. He immediately turned his body as the ball came to him and he hit a beauty of a shot off the outside of his right foot from around 25-yards. Although keeper Burton got a touch, the ball flew into the top right corner of the net to level the scores on his first start for Marine.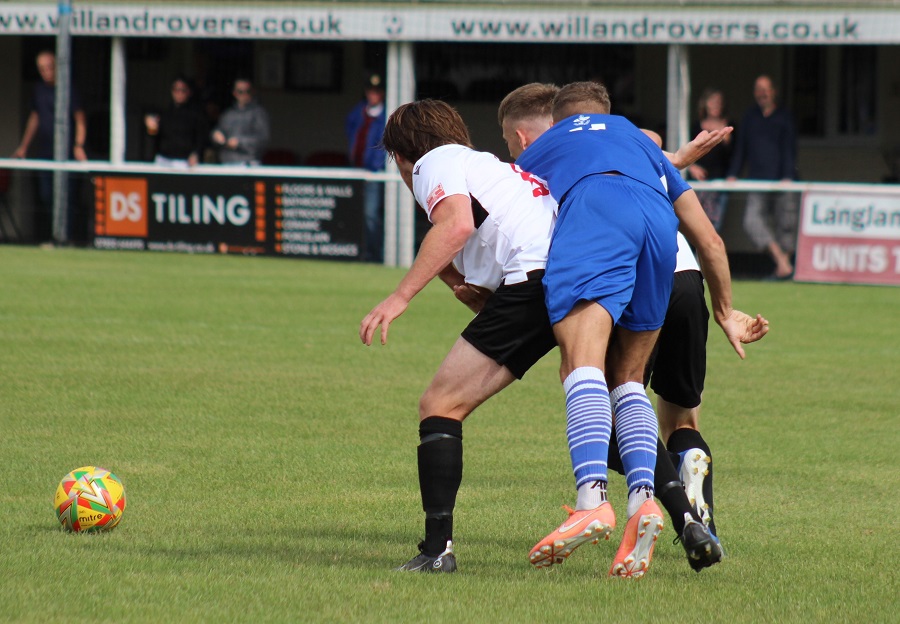 Harry Williams is stopped by all means
Photo courtesy of Mike Wray Photography
Lively midfielder Jack Winsor nearly nipped in on fifty-five minutes only to be denied by a great stop by Connor Johns with his foot before a blatant dive in the box by Willand's Lewis Hill saw him given a yellow card. Zack Kotwica replaced Sal Abubakar on the hour and then Tom Sharpe was forced off with what looked a jarred knee after he landed badly jumping for a corner with Brad Hooper replacing him, closely followed by Marine's final substitution with James Harding coming on for Conor McDonagh.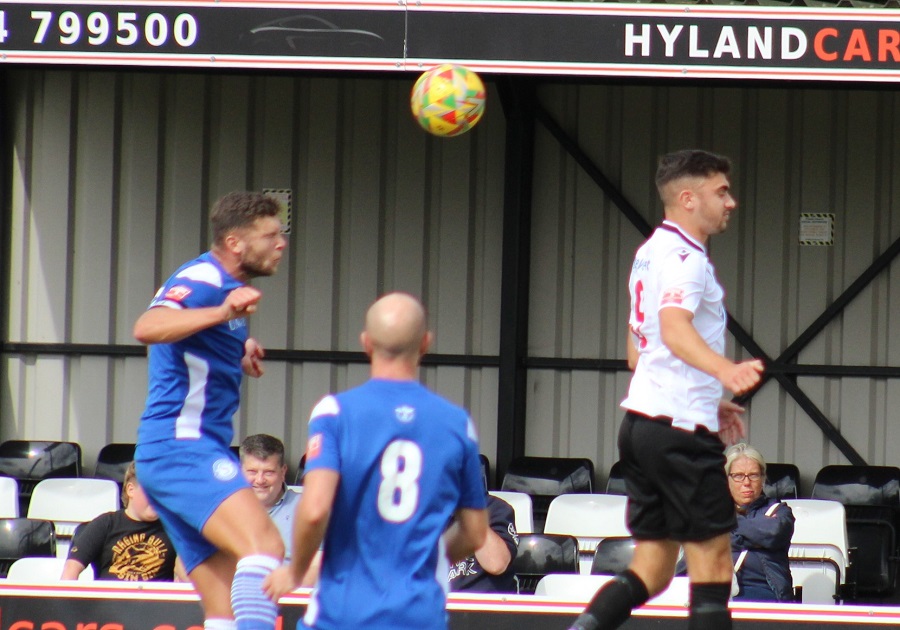 Mat Liddiard wins the header
Photo courtesy of Mike Wray Photography
Harry Williams appeared to be tripped over just inside the penalty box on sixty-eight minutes but nothing was given by the referee and shortly afterwards a Mat-Liddiard header went just wide from a corner on seventy-two minutes with James Harding just unable to connect with the ball at the far post.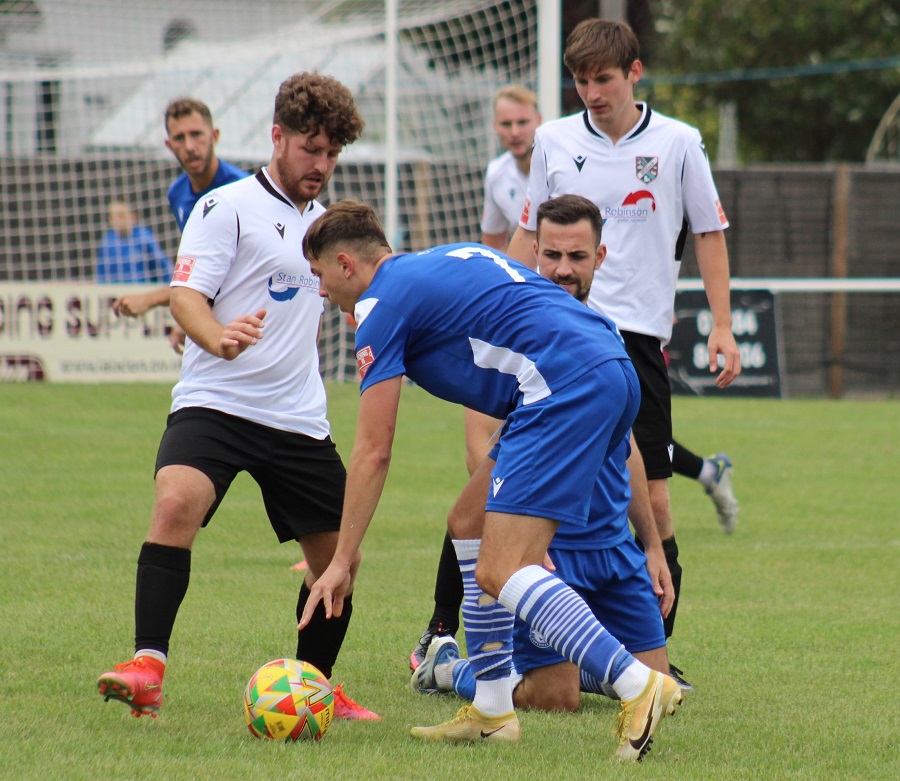 Henry Spalding attempts to take a quick free kick
Photo courtesy of Mike Wray Photography
The match became stretched late on as Marine's central defender Leon Morrison was suffering from severe cramp in both legs as he promptly picked up a yellow for a very late tackle before eventually being forced to see out the game up front as he hobbled around with Jamie Edge dropping into the centre of defence. The last chance saw James Harding hit an effort into the side netting but overall a draw seemed the fairest result and Marine will hope to have a better showing next time out.
Fans Star man: Leon Morrison with a goal scoring debutant, an excellent first competitive game for Marine.
Attendance: 160
Managers: David Steele
Colour: White / Black / Black
Line-up:
1. George Burton 2. Josh Searle 3. Will Richards 4. Jamie Hearsey (15. Sullivan McKenna 76m) 5. Kieran Bailey (c) 6. Ryan Guppy 7. Jack Winsor 8. Ashton Hewitt 9. Lewis Hill 10. Josh Baker (16. Oliver Bray 58m) 11. Bailey Kempster (12. Callum Chivers 67m)
Goalscorer:

Lewis Hill 7'
Subs Not Used: 14. Charlie Dack
Editors Star Man: Ryan Guppy
Cards: Lewis Hill 57'


None


None

Swindon Supermarine


Manager: Lee Spalding
Colours: All Blue
Line-up: 1. Connor Johns 2. Sam Turl 3. Lewis Hall 4. Tom Sharpe (15. Brad Hooper 67') 5. Leon Morrison 6. Mat Liddiard (c) 7. Henry Spalding 8. Jamie Edge 9. Harry Williams 10. Conor McDonagh _(12. James Harding 67') 11. Sal Abubakar (14.) Zack Kotwica 58')
Subs not used: 16. George Dowling, 17. Tyrone Duffus
Goalscorer:

Leon Morrison 52'
Editors Star Man: Leon Morrison
Cards: Leon Morrison 88'


None


None

Supermarine TV
Highlights
Courtesy of Mike Wray
Team Sheet
Match Officials
Referee: Luke Scott (Northampton)
Assistant Referees: Mark Urban, Kevin Hoare