Winchester City 0 Marine 5
Isuzu FA Trophy | Saturday 29th October 2022
Back to blog posts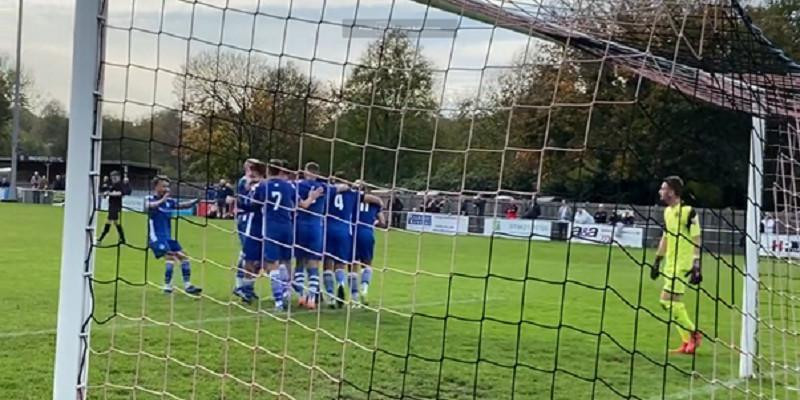 Match Report from Aleck Everard
Swindon Supermarine were in Isuzu FA Trophy action on Saturday afternoon as they travelled down to Winchester City just one week after they inflicted Swindon's first home defeat of the season. Manager Lee Spalding was forced into a couple of changes with Jamie Edge returning after injury in midfield and James Harding up front with Joe Tumelty and Will Tunnicliff both cup tied, but there was good news with George Dowling returning to the squad after a missing six weeks though injury.
Marine started well and with Harry Williams bursting through he was tripped, and defender Chugg saw yellow after just five minutes. From the free kick Tyrone Duffus got up well to head the ball across but there was no one there to convert it into a goal. Duffus then saw yellow for a challenge in midfield soon afterwards.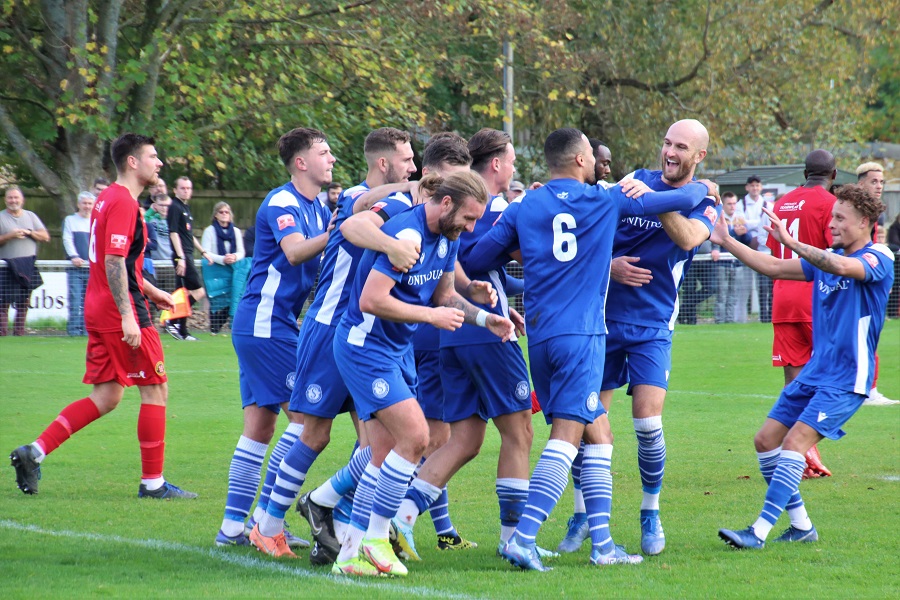 The players celebrate Harry's opening goal
Photo © Brian Simmons Photography
City star man a week ago, goalkeeper Jordi Miret came out of his box a long way on ten minutes to clear but only hit it as far as Conor McDonagh but his chipped effort from 40-yards floated wide. It was Supermarine dominating the possession and it was no shock when they eventually broke the deadlock in the nineteenth minute. Sam Turl's brilliant run and cross was met by James Harding at the back post, his header across goal was slammed home by top scorer HARRY WILLIAMS for his 17th goal of the season.
Brad Hooper was next to try but his effort was fielded well by the home keeper Miret. Winchester central defender Archie Willcox was next into the referee's book for a poor challenge on Harry Williams after half an hour. From the free kick Jamie Edge floated the ball into the area for skipper Mat Liddiard to head it back across goal and there was CONOR McDONAGH who stooped to net with his head to make it 2-0 Marine.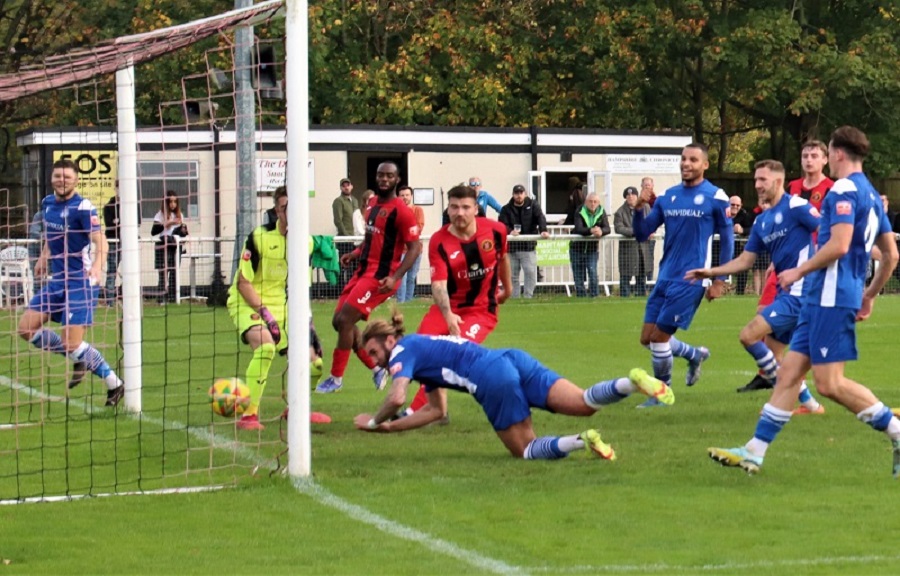 Conor McDonagh heads in the second goal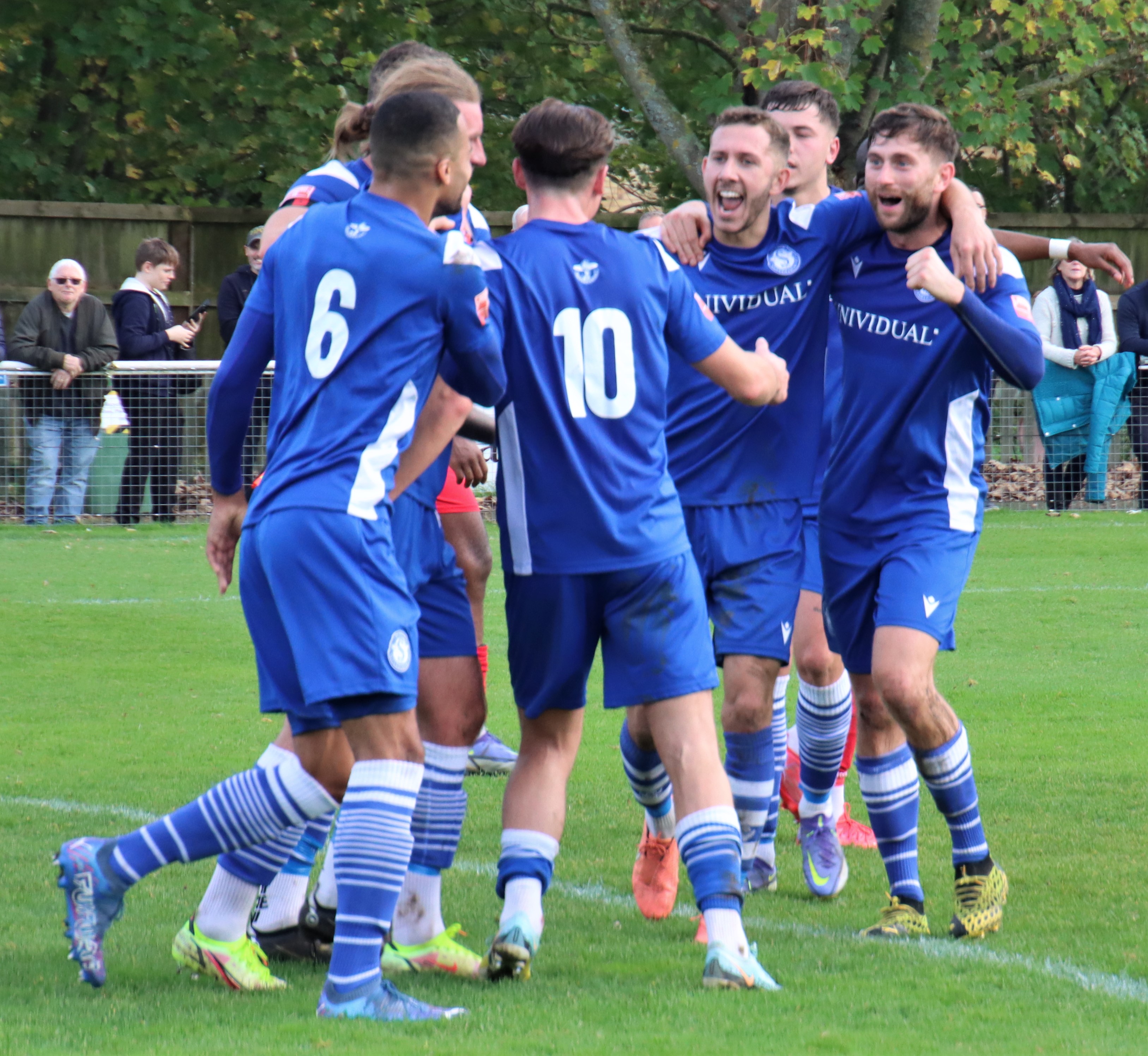 The players celebrate Conor's goal
Photo's © Brian Simmons Photography
Marine looked to seal the tie in the first half and Harry Williams, who was causing massive issues for the centre halves, had an effort juggled by the home keeper in front of goal but he just held on to keep it out. With time running out in the first half Williams broke through again only to be brought down in the box. However, the referee deemed it was just a coming together and waved away the appeals.
There was then a late appeal at the other end for a spot kick after the ball bounced up on to Ryan Campbell's arm, but he was outside the box anyway. Once again nothing was given by the referee, but Supermarine's dominant display saw then go in quite happy with their two-goal lead.
City made a half time change with Ollie Griggs coming on for Darko Obeng, but it made no chance to direction of travel in the game as Marine continued to dominate the game. James Harding appeared to have the ball over the line on fifty-three minutes, but Miret just about blocked it and Hooper's follow up effort was deflected wide. Harding had another almost straight away but hooked the ball over the crossbar.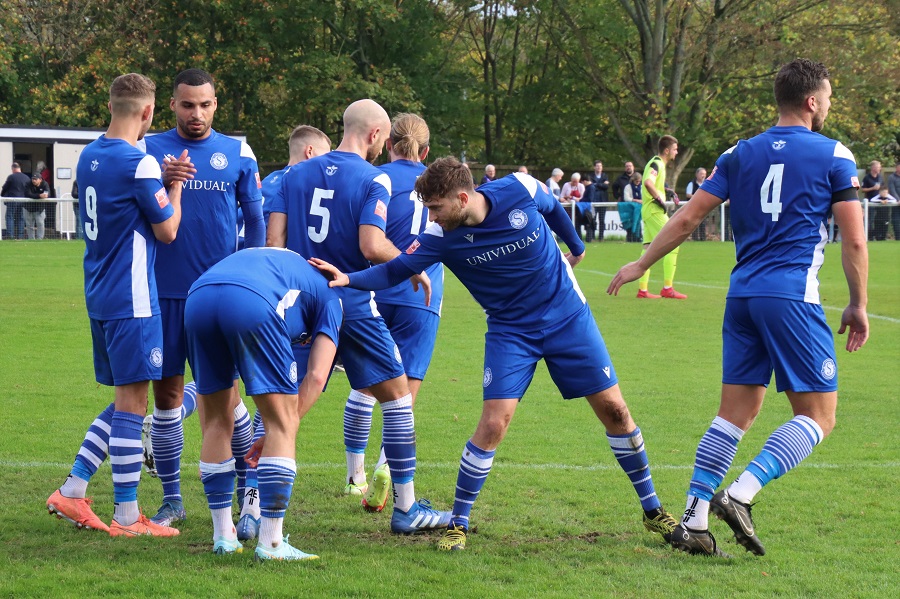 The players celebrate Harry's second goal
Photo's © Brian Simmons Photography
Henry Spalding followed this up by driving a shot that also went over the bar. Conor McDonagh nearly got on the end of a long throw in the sixty-eighth minute but somehow fired over before eventually Marine got the killer goal with twenty minutes left.
Once again, a long pass out of the defence found HARRY WILLIAMS through on goal and this time, he dinked it past the keeper, and then collected to slot it home into an unguarded net. It was now 3-0 Marine with 18 goals for the season for Williams and a milestone of 50 goals for the club in 81 games. Well done, Harry!
Manager Lee Spalding opted for a triple sub with fifteen minutes left. George Dowling, Sal Abubakar and Zack Kotwica coming on for Conor McDonagh, James Harding and Henry Spalding. The pace from Abubakar gave City another worry in defence and from one of his runs Zack Kotwica hit a volley just over on seventy-nine minutes.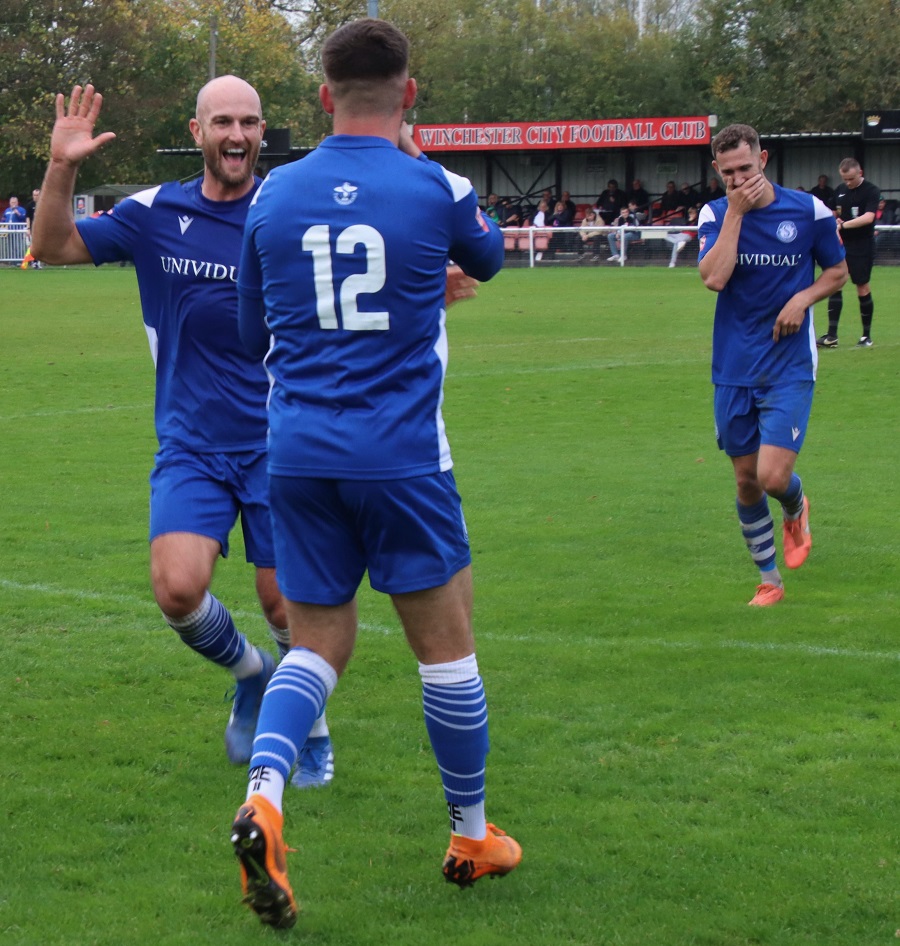 Jamie Edge is the first to celebrate Zack's goal
Photo © Brian Simmons Photography
A minute later it was four goals for Marine as Williams had another shot saved as he looked for his hat-trick. The ball was cleared out but only as far as BRAD HOOPER who blasted the ball into the corner of the net in from twenty yards for his second FA Trophy goal of the season. Marine were not finished as made it a nap hand with two minutes left. It came after a blistering run from Sal Abubakar down the right wing before he laid it back for ZACK KOTWICA to drive it home.
There was still time for another save from Miret to deny Harry Williams and the Jamie Edge follow up effort was tipped over by the keeper who put in another strong display. An emphatic revenge mission was completed in style with one of the best displays of the season. It is rare to see a team not have a good spell in a game, particularly when at home, but that is what happened today.
Marine will look to keep up this form next weekend away at Chesham but will be keen to draw one of the big boys in the next round on Monday.
Line Ups
WINCHESTER CITY


Manager: Craig Davis
Colours: Red & Black
Line-up: 1. Jordi Miret 2. Claudio Herbert (17. Callum Baughen 68') 3. Josh Bertie (18. Ik Hill 68') 4. Max Smith 5. Archie Wilcox 6. Callum Chugg 7. Henry Brooks 8. Jamie Barron (c) 9. Darko Obeng (14. Ollie Griggs 46') 10. Warren Bentley 11. Simba Miambo
Subs not used: 12. Dan Neild, 13. Dan King 15. Dan Walster 16. Rob Jamison
Goalscorer: None
Editors Star Man: Jordi Meret
Cards:
Callum Chugg 5', Archie Wilcox 31'


None


None

SWINDON SUPERMARINE


Manager: Lee Spalding
Colours: All Blue
Line-up: 1. Josh Gould 2. Sam Turl 3. Ryan Campbell 4. Mat Liddiard (c) 5. Jamie Edge 6. Tyrone Duffus 7. Henry Spalding _(12. Zack Kotwica 75') 8. Brad Hooper 9. Harry Williams 10. James Harding (16. George Dowling 75') 11. Conor McDonagh 72' (15. Sal Abubakar 75')
Subs not used: 14. Leon Morrison
Goalscorers:


Harry Williams 19', 70',

Conor McDonagh 32',

Brad Hooper 80',

Zack Kotwica 88'
Editors Star Man: Ryan Campbell
Cards:
Tyrone Duffus 10'


None


None

Mattitude Vlog
Click here to view
Courtesy of Mattitude
Match Officials
Referee: Cain Collins
Assistant Referees: Adam Hillier, David Morey