Hartley Wintney 1 Marine 0
Southern League Premier South | Saturday 23rd October 2021
Back to blog posts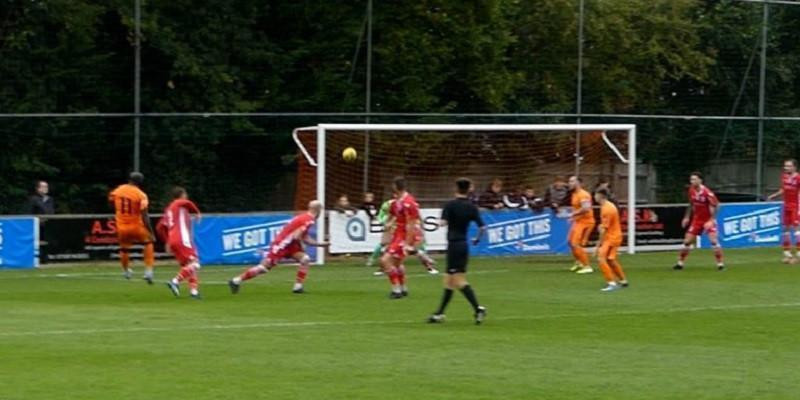 Match Report from Aleck Everard
Swindon Supermarine made the shorter trek to the Row, the home of Hartley Wintney on Saturday afternoon bidding to win their first game in the league since August 31st. Manager Lee Spalding made three changes, Michael Hopkins returned at right back with Pierce Mitchell switching to centre back, Jamie Edge returned in midfield alongside Brad Hooper and Mat Liddiard and Conor McDonagh replaced David Pratt who was unavailable up front. Frankie Artus returned from injury on the bench.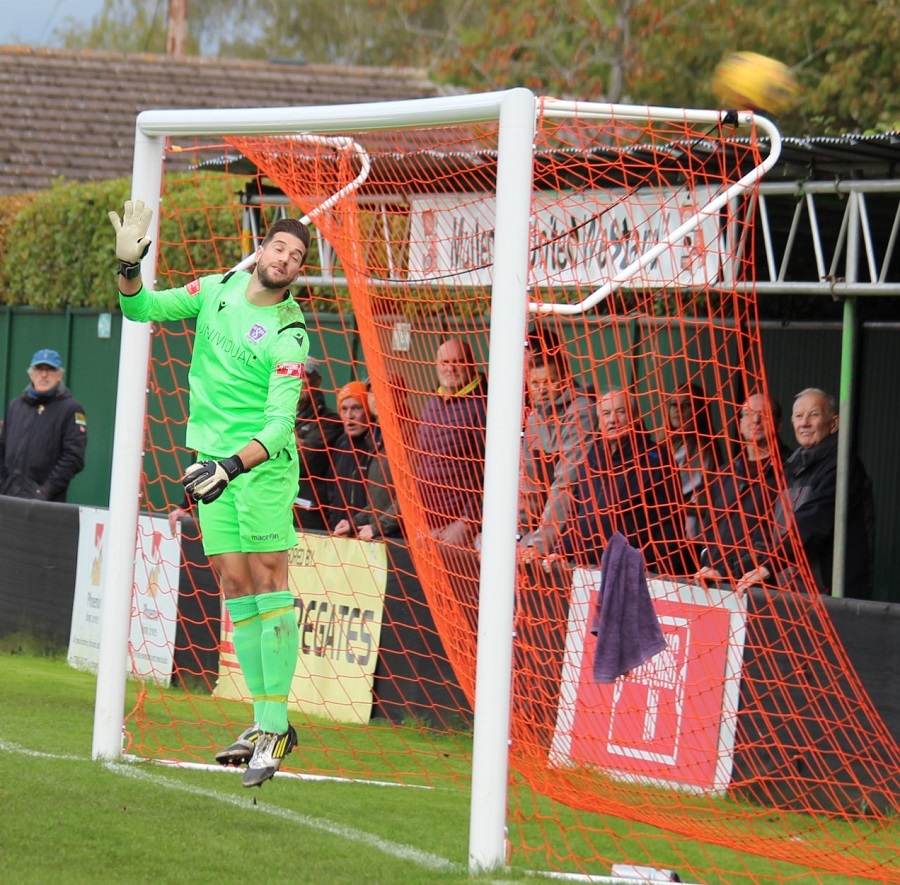 Martin Horsell watches an early effort go over the bar
Photo © Josie Shipman (Hartley Wintney FC)
The hosts started the better and put some early pressure on but good defending from Tyrone Duffus repelled an early ball in from Wylie. Free kicks at both ends came to nothing before the first real chance of the game. Conor McDonagh was played in by Lewis Hall with a ball over the Hartley defence. He broke away from the back line and his excellent shot beat the keeper only to bounce back off the bottom of the post and to safety. Pierce Mitchell was booked soon after for a late challenge on Kingsley Eshun. Martin Horsell made a good save with the foot on 20 mins from Sam Argent with the game end to end. Ryan Campbell had a strong run on the half hour but could only find the side netting. A quite half except for that massive chance for Conor McDonagh.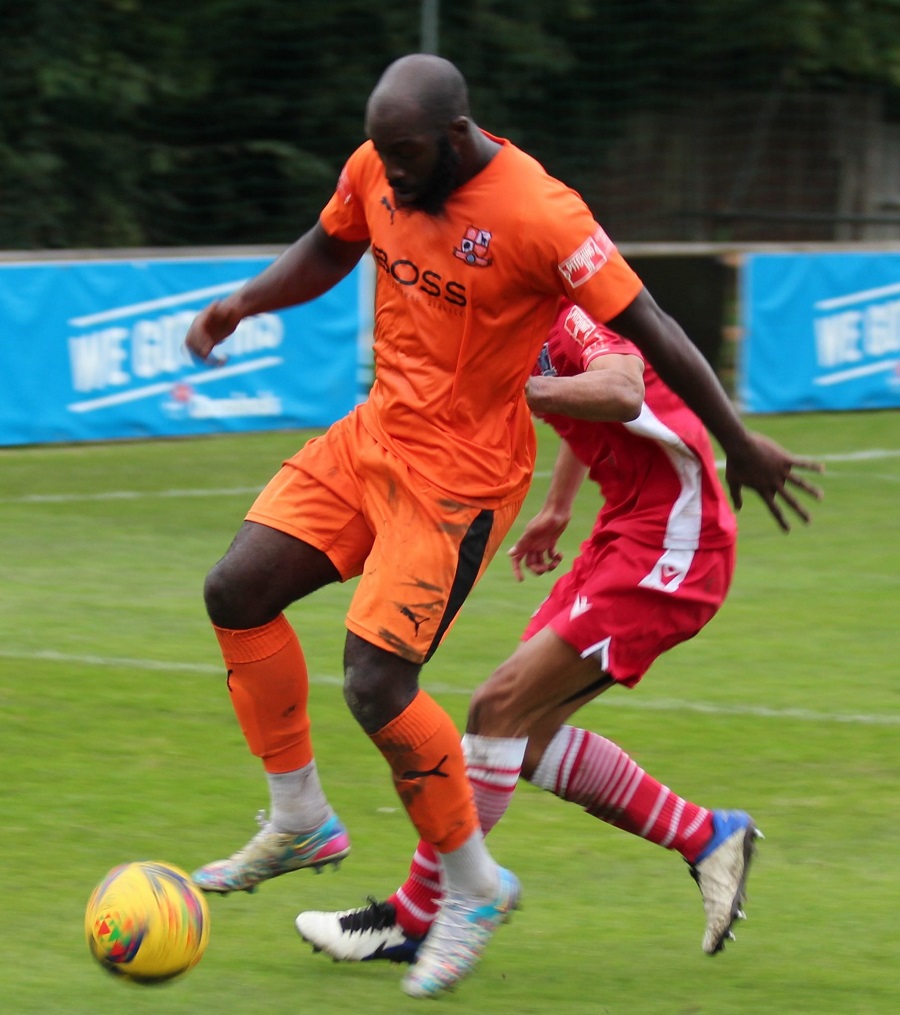 Hartley's Kingsley Eshun on the ball
Photo © Josie Shipman (Hartley Wintney FC)
The second half had to be better from both sides and so it proved with Marine came flying out the traps. An excellent team move saw Henry Spalding set it on a plate for the inrushing Brad Hooper but he somehow got it all wrong and skied the effort over the top with the goal gaping. Ryan Campbell continued to look very lively down the left putting over cross after cross to the front men.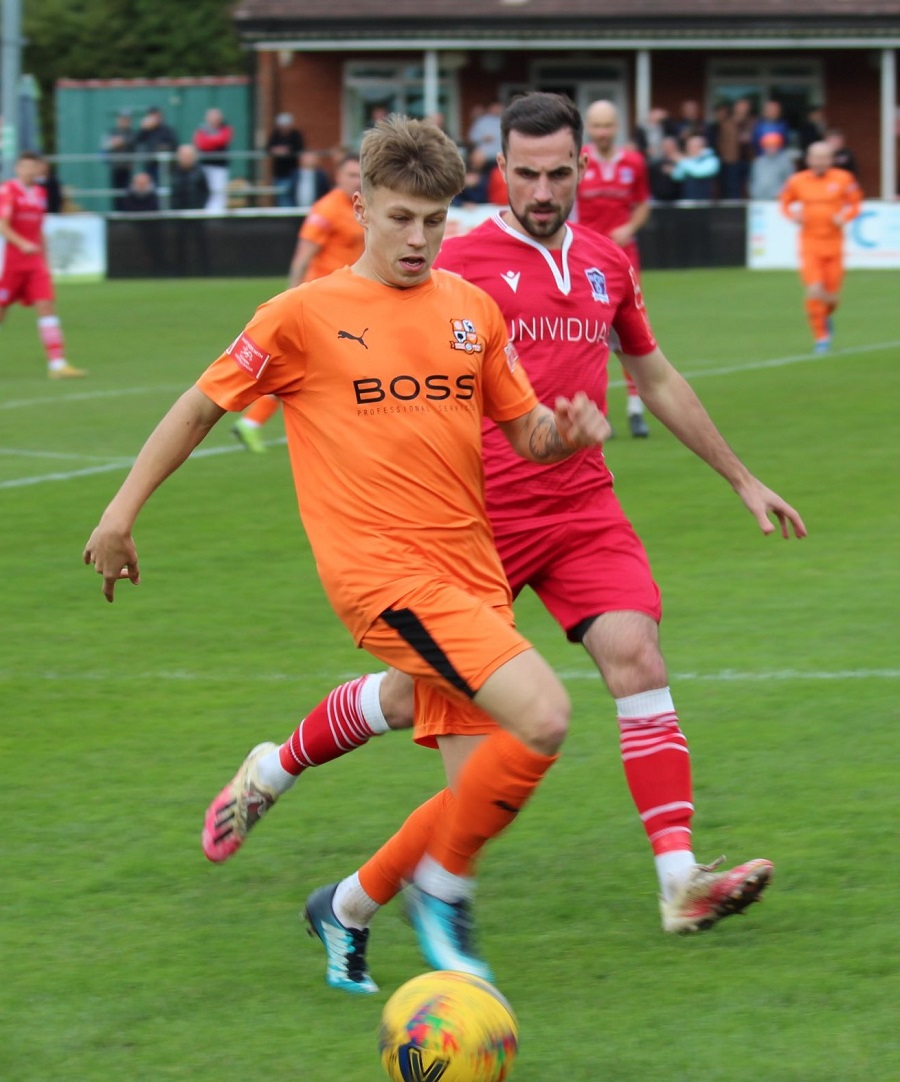 Lewis Hall challenges Hartley's Reece Wylie
Photo © Josie Shipman (Hartley Wintney FC)
And then out of the blue it was 1-0 to the hosts. A first attack of the half from Hartley, Reece Wylie intercepted a tackle and played the the ball to KINGSLEY ESHUN on the edge of the box who was given a little too much space just inside the box and allowed to cut inside and he produced a sublime curling effort into the top corner of the net on 57 mins. On 64 minutes George Dowling came on for Brad Hooper.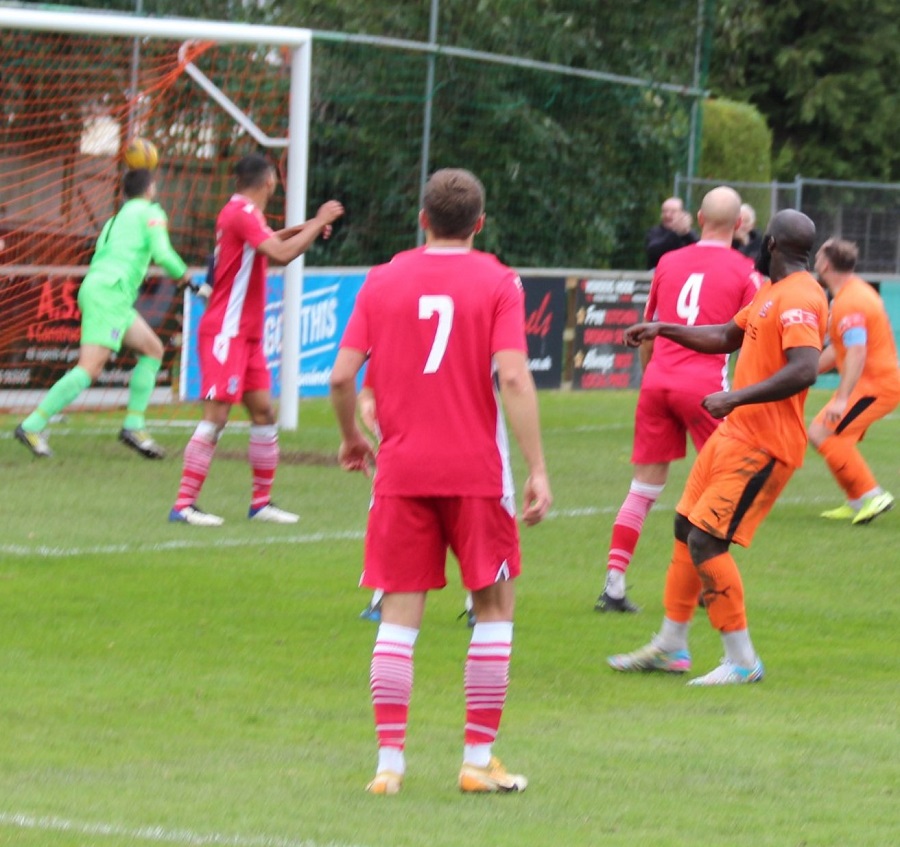 Hartley's Kingsley Eshun scores the only goal
Photo © Josie Shipman (Hartley Wintney FC)
With something to hold on to the hosts decided to adopt the approach of keep what we had. Centre back Pascal Kpohomouh was booked for a tug on Conor McDonagh on the hour. Michael Hopkins fired in a super cross for Ryan Campbell which he just headed wide of the post. Chris Zebroski was introduced with 21 mins left in place of Pierce Mitchell with Mat Liddiard dropping back to defence, in a bid to get back in the game.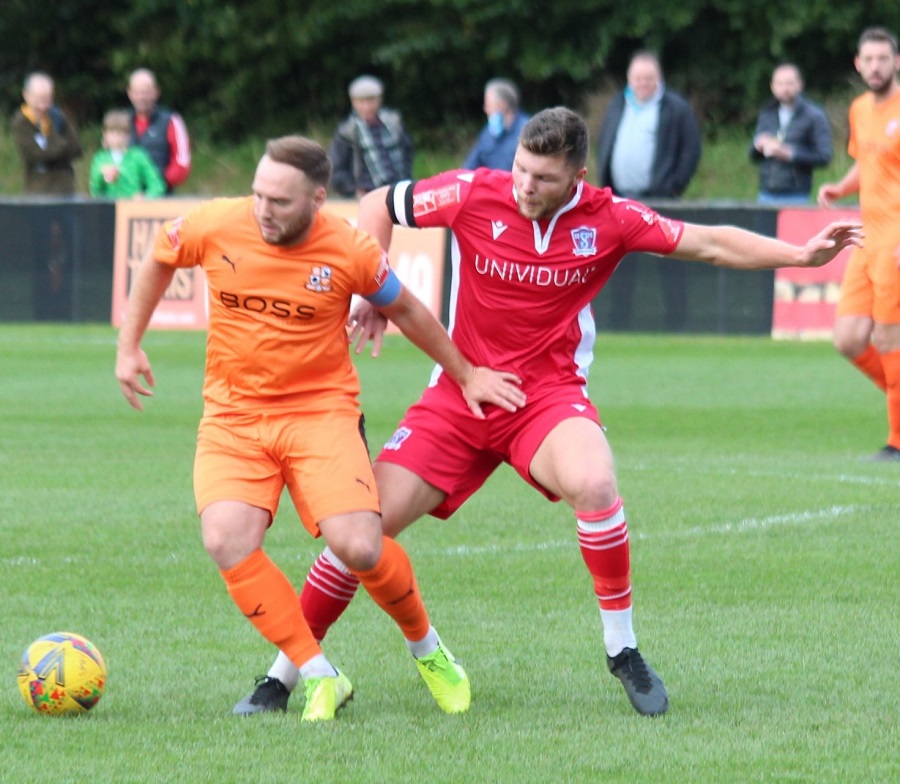 Mat Liddiard challenges for the ball
Photo © Josie Shipman (Hartley Wintney FC)
A stray pass out of defence was picked up the the hosts Josh Webb whose shot was well held by Martin Horsell before George Dowling's dangerous cross was punched away theatrically by the home keeper Luke Williams to keep the lead intact. Conor McDonagh had a strong run and saw his shot deflected wide. Ryan Campbell who never stopped running all afternoon, beat his man once more only to see his cross hit high and wide by Henry Spalding a couple of yards from the goal line.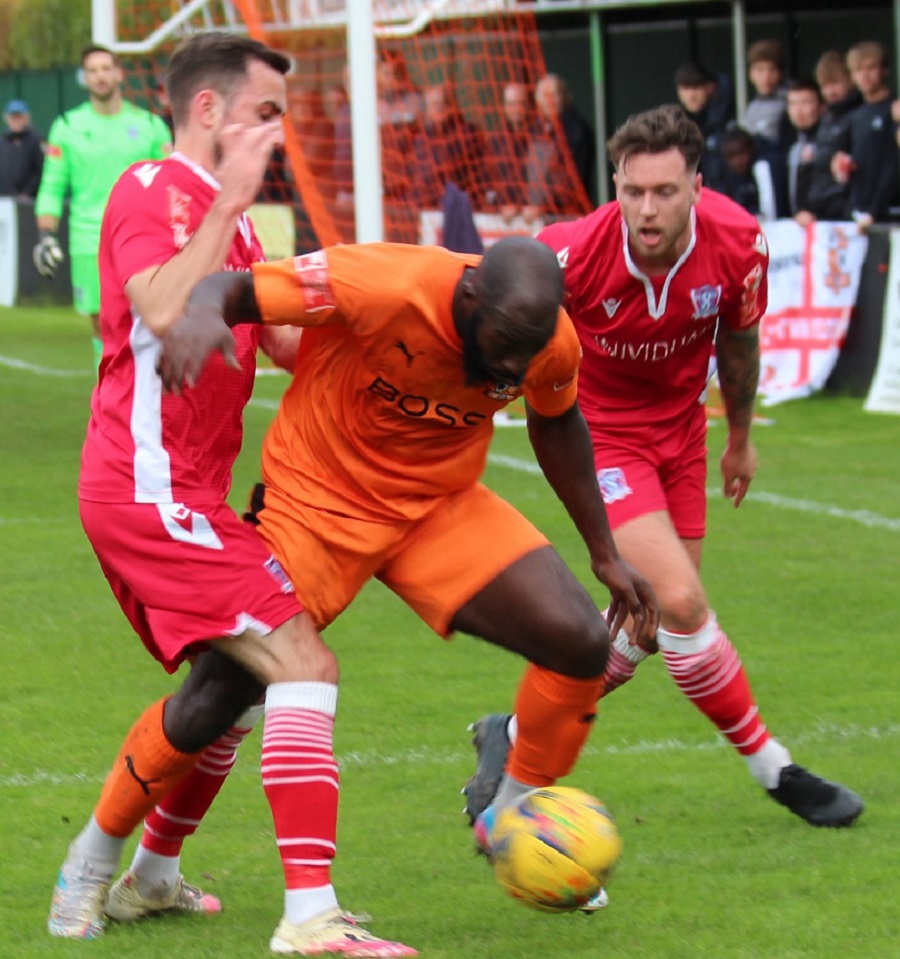 Lewis Hall and Pierce Mitchell double up on Kingsley Eshun
Photo © Josie Shipman (Hartley Wintney FC)
Hartley were by now desperate to hang on and Reece Wyler was booked for timewasting and late on Sam Argent put in a really bad challenge on Ryan Campbell and after a long delay and a few scuffles he only saw a yellow for the challenge. Despite the pressure and a much improved overall display once again Marine found themselves the wrong side of what was ultimately disappointing 1-0 defeat. Luck certainly deserting the team of late with the shot against the post, some last ditch defending from the home team and one glaring miss that nine times out of ten would be put away.
We get a rest from league action next weekend, instead visiting Tiverton Town in the FA Trophy as we look to go deep in the competition. As long as the effort continues as it did today our luck has to turn soon. Keep the faith!
Attendance: 255
Fans man of the match: Ryan Campbell
Line Ups
Hartley Wintney


Manager: Anthony Mellerick
Line-up: 1. Luke Williams 2. Ryan Case 3. Leo Hamblin 4. Matt Drage 5. Pascal Kpohomouh 6. Harrison Bailey 7. Josh Webb (12. Jordan Edwards 73') 8. Reece Wylie 9. Sam Argent (c) 10. Mitchell Parker (17. Kyen Nicholls 80') 11. Kingsley Eshun (14. Reece Robins 76')
Goalscorer: Kingsley Eshun (57')


Subs Not Used: 15. Patrick Motindo, 16. Khalid Simmo
Editors Star Man: Kingsley Eshun
Cards:
Pascal Kpohomouh 62', Reece Wylie 81', Sam Argent 89'


None


None

Swindon Supermarine


Manager: Lee Spalding
Line-up: 1. Martin Horsell 2. Michael Hopkins 3. Lewis Hall 4. Jamie Edge 5. Tyrone Duffus 6. Pierce Mitchell (12. Chris Zebroski 69') 7. Henry Spalding 8. Mat Liddiard (c) 9. Brad Hooper (15. George Dowling 64') 10. Conor McDonagh 11 Ryan Campbell
Subs not used: 14. Zack Kotwica, 16. Frankie Artus, 17. Louis Evans (GK),
Goalscorer:
Editors Star Man: Ryan Campbell
Pierce Mitchell 13'


None


None

Video's from Your Sport Swindon
Match Highlights
Access to the highlights from all of Marine's matches can be viewed on a monthly subscription of just £2:50. Click the 'match highlights' above and subscribe.
Video courtesy of Hartley Wintney
Post-Match Team Sheet
Click here for post match team sheet
Match Officials
Referee: George Warren (Balham, London)
Assistant Referees: Alec Ovens (Guildford), Callum Peter (Guildford)