Marine 0 Carshalton Athletic 0 (5-4pens)
Buildbase FA Trophy 2nd Round Proper | Saturday 12th December 2020
Back to blog posts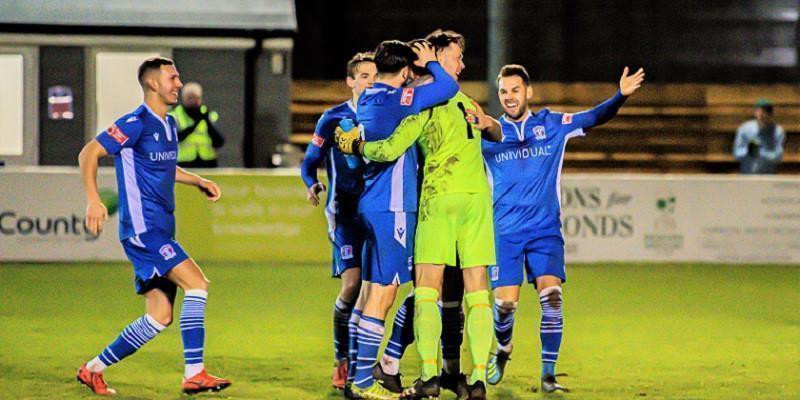 MATCH REPORT from ALECK EVERARD
BIRTHDAY BOY HORSELL THE HERO AS SUPERMARINE PROGRESS
Swindon Supermarine took on Isthmian Premier League highflyers Carshalton Athletic at the Webbswood Stadium in the FA Trophy 2nd Round this Saturday. Marine were unchanged from the starting line-up that beat Dorchester Town last week with Jake Lee and Rhys Wells returning to the squad from the bench. Jack Stanley missed out with a hip injury.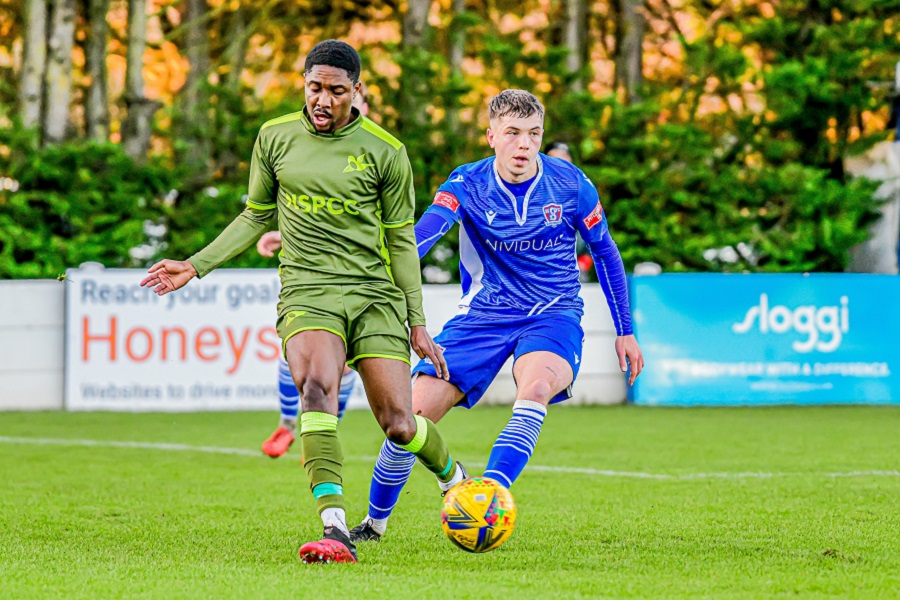 Henry Spalding challenges for the ball
Photo © Motionsport Photography
Match Album
It was close from the kickoff with both sides sussing each other out early on. Carshalton's Nyren Clunis had the first effort at goal just shy of the ten-minute mark blasting over the top. Henry Spalding went on a mazy run and his shot was pushed wide by debut keeper Lloyd Thomas for the Robins, as Carshalton are affectionally known. David Pratt and Carshalton defender Archie Proctor began a running battle during the game when on the quarter hour mark Pratt seemed to be pushed over in the box but the referee, who was on the blind side, waved play on.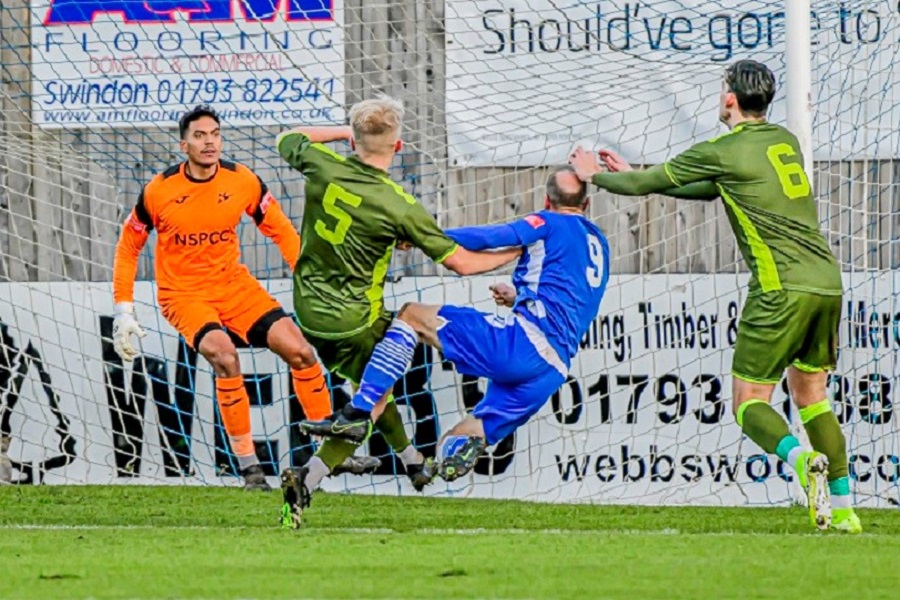 Early shout for a penalty as David Pratt is pushed over
Photo © Motionsport Photography
Match Album
Marine were by now having a good spell in the game and skipper Mat Liddiard perhaps should have opened the scoring when he headed wide from a corner. It continued to be a hard-fought game with both sides very energetic and sharing much of the play. A better chance than Liddiard's then fell to Conor McDonagh whose header from a cross by Ryan Campbell but he could only straight at the keeper Thomas.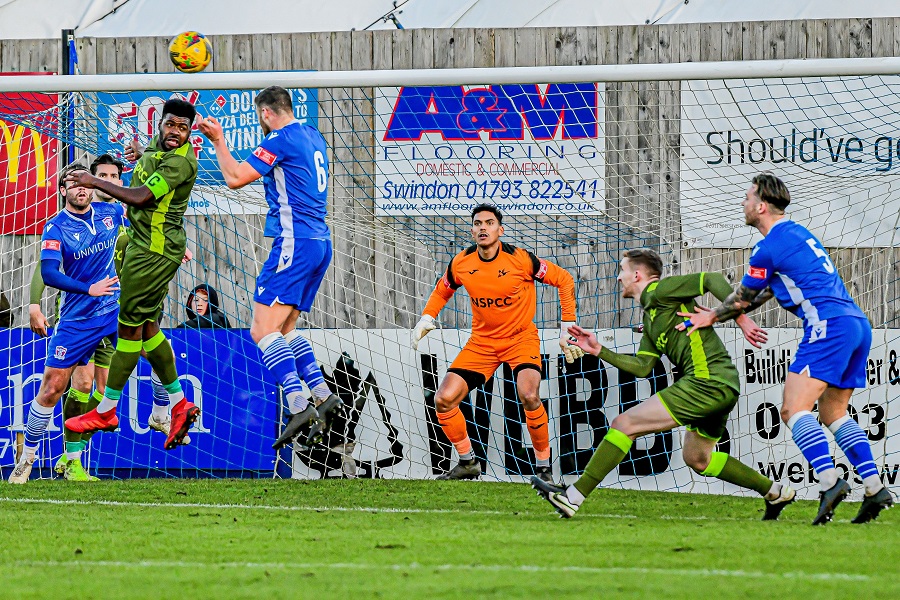 Mat Liddiard heads wide from a corner
Photo © Motionsport Photography
Match Album
Carshalton's full back Bobby Price was the first into the referee's book after a series of fouls on Campbell. There were some signs of frustration in the visiting team at this stage but then they broke forward to flash another effort over the top to remind the hosts of the danger. Martin Horsell claimed the ball well soon after from a dangerous ball in as Carshalton finished the half well before Jamie Edge was booked for a trip on the edge of the box.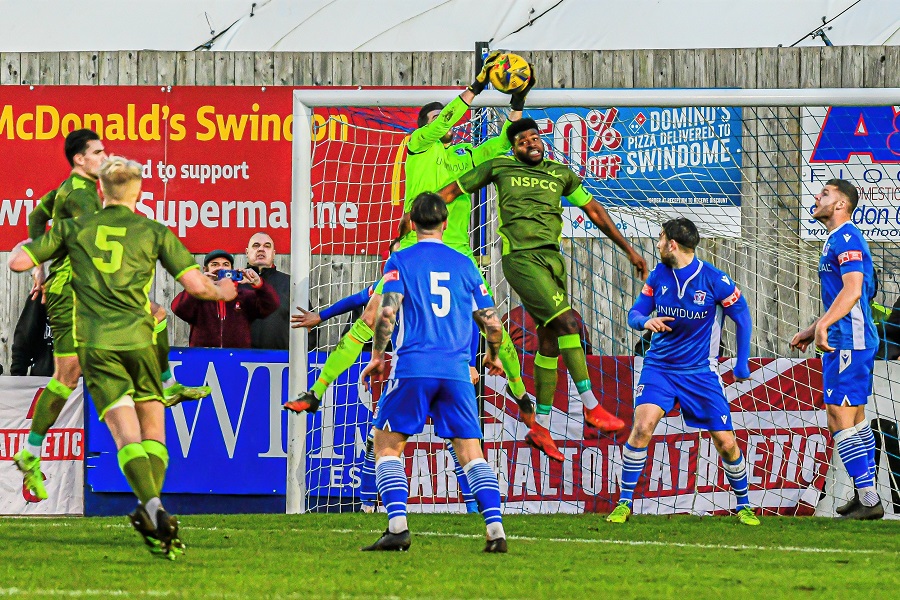 Martin Horsell collects the ball under pressure
Photo © Motionsport Photography
Match Album
HT: 0-0
Marine came out for the second half looking lively and Campbell blasted an effort over the crossbar. But Horsell was called into action as he tipped away a Harry Ottaway header from the goal. Henry Spalding had a low shot pushed away by Thomas and Pierce Mitchell's superb follow up was brilliantly blocked by a Robins defender for a corner.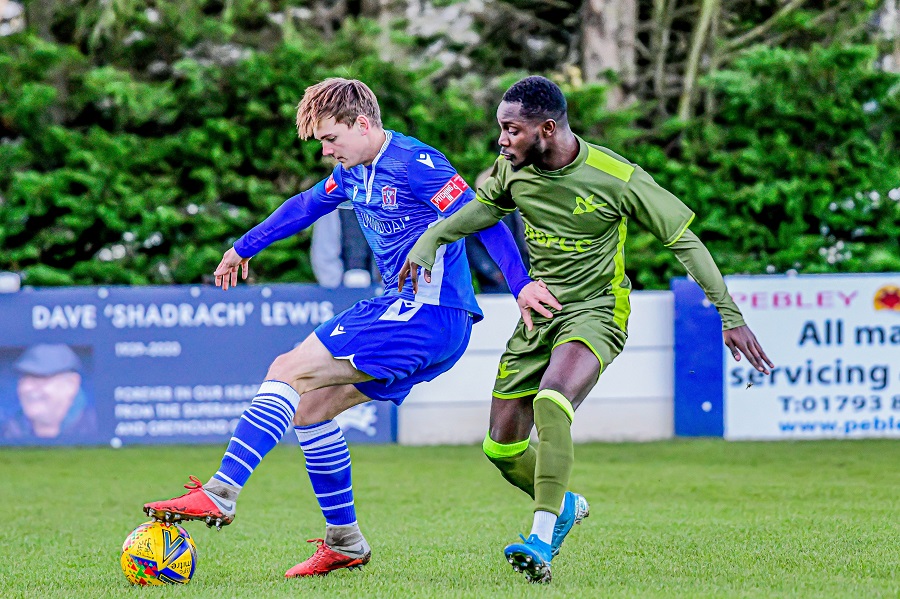 Louis Spalding defends the ball from the speedy Daniel Hector
Photo © Motionsport Photography
Match Album
Marine decided to mix things up in a bit to open the scoring and Zack Kotwica entered just before the hour for David Pratt. This led to a dominant spell from Marine, but the Robins continued to defend very well. McDonagh got another good header in but keeper Thomas once again pushed it aside.
Pierce Mitchell was part of a solid Marine defence on the day Pierce Mitchell was part of a solid Marine defence on the day
Photo © Motionsport Photography
Match Album
The best effort of the game came with 10 minutes left when Campbell cut in and blasted a fierce effort towards the bottom corner but once more Thomas was up to it and pulled off a superb reflex save to deny him. Conor McDonagh had one more good effort on goal, a thumping left footed drive but once again Thomas was up to it as he dived to his left to push away the shot with Henry Spalding just short from a tap in after following up the shot.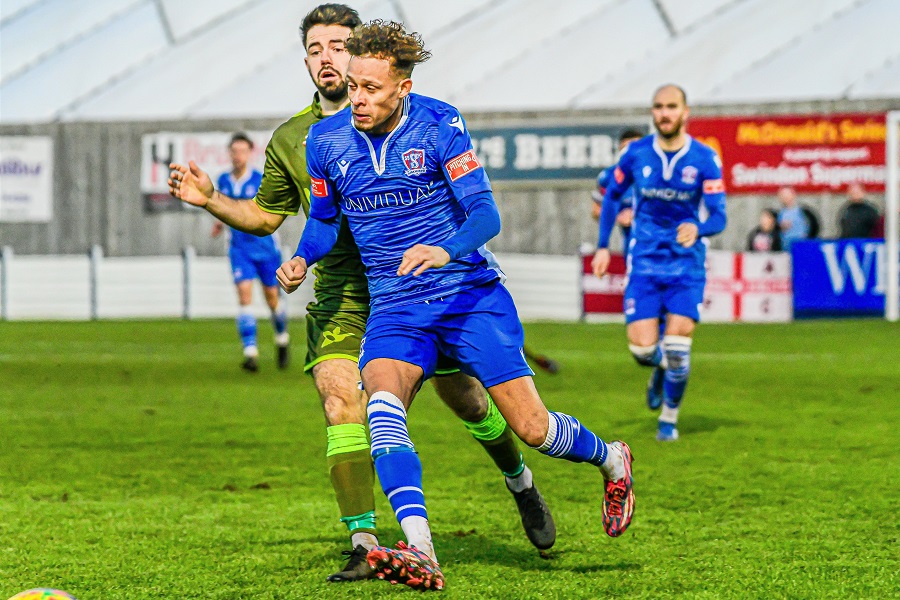 Ryan Campbell came close late in the game
Photo © Motionsport Photography
Match Album
Ten minutes from the end Harry Williams came on for Conor McDonagh. In those final ten minutes Carshalton had their best spell of pressure in the second half but some strong defending led by centre backs Mat Liddiard and Pierce Mitchell's saw the game finish 0-0 and with no extra time it was straight to spot kicks to settle this tense cup tie!
PENALTIES
1st. Carshalton went first and Kershaney Samuels spot kick was superbly turned aside by Martin Horsell to give Marine the perfect start. (0-0)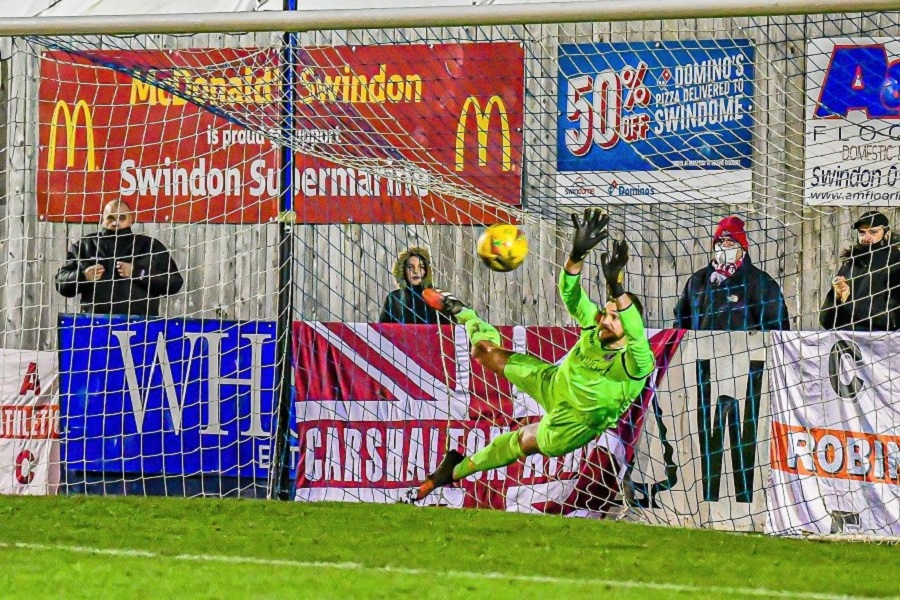 Martin Horsell first penalty save
Photo © Motionsport Photography
Match Album
2nd

Zack Kotwicaplaced his kick down the middle to score. (1-0)
3rd Carshalton's Ernold Haxhiu was next up and Martin Horsell saved again, diving to his right this time. (1-0)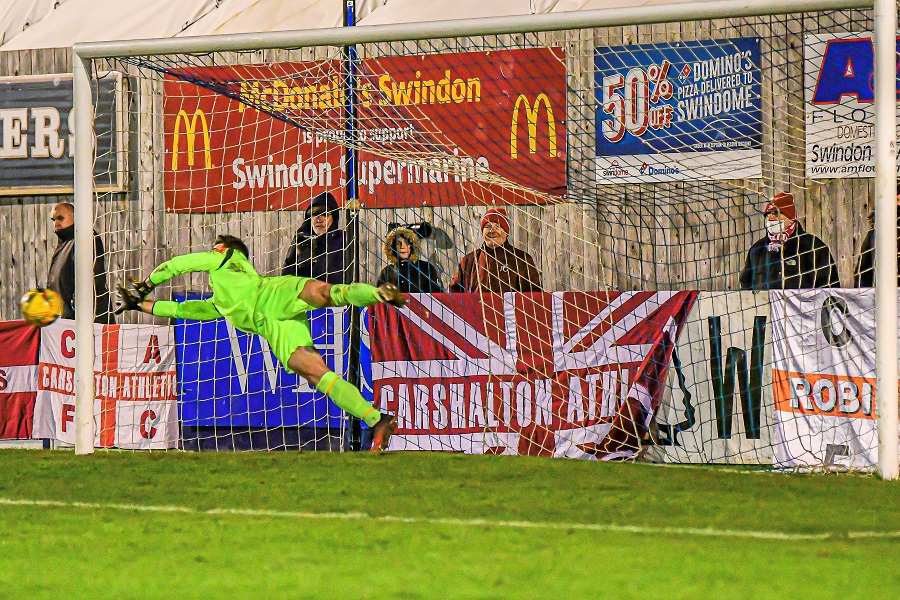 Martin Horsell second penalty save
Photo © Motionsport Photography
Match Album
4th Harry Williams then saw his spot kick pushed aside by Lloyd Thomas. (1-0)
5th

Tom Hanfrey stepped up to send Martin Horsell the wrong way to level it up. (1-1)
6th Brad Hooper's tame side foot effort was straight at Thomas for an easy save. (1-1)
7th

The miss allowed Carshalton to take the lead for the first time when Harry Ottaway converted, the shot just eluding Martin Horsell who got a hand to the ball. (1-2)
8th

Henry Spalding quickly levelled it up. (2-2)
9th

Robins' Lewis White then scored easily for the visitors. (2-3)
10th

Finally, regular penalty taker Michael Hopkins drilled it home to make the scores level after five penalties each and now it was 'squeaky bum' time with those not expecting to take a kick having to come forward! (3-3)
11th

Tommy Bradford thumped home the first sudden death penalty to give the visitors the lead again. (3-4)
12th

Jamie Edge levelled for Marine as he sent Lloyd Thomas the wrong way. (4-4)
13th Carshalton's Luke Read's driven kick was superbly kept out by Martin Horsell to give Marine the advantage. (4-4)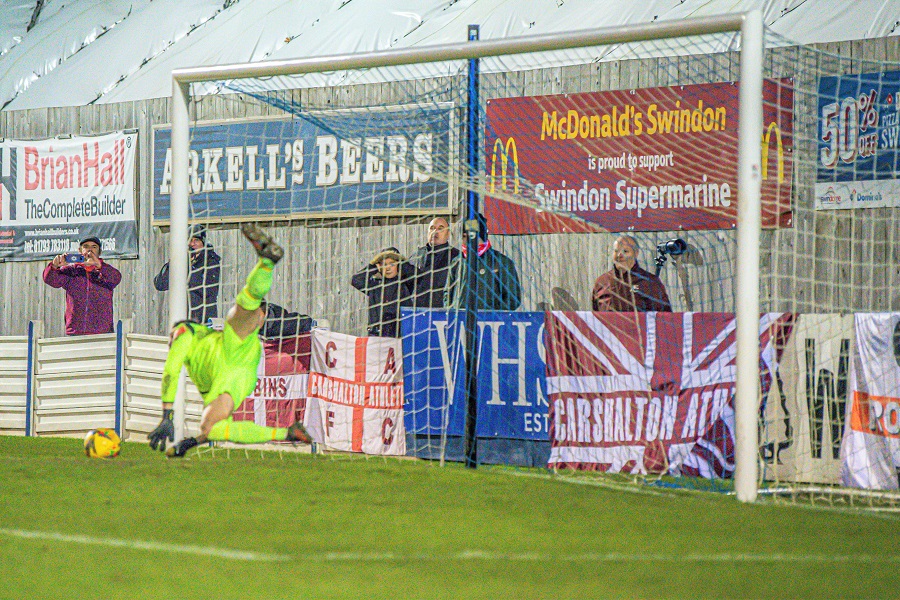 Martin Horsell third penalty save from Read
Photo © Motionsport Photography
Match Album
14th

This gave Ryan Campbell a great chance to seal an emphatic win and a trip to either National League side Bath City or Chelmsford City in the Third Round Proper! Campbell made it look simple as he sent the Lloyd Thomas the wrong way and Marine were through for a well deserved 5-4 win on penalties. (5-4)
Some good displays on the day but man of the match had to go to the birthday boy of this week Martin Horsell, for a clean sheet and the penalty king having saved three shootout penalties!
FT: 0-0
RESULT: Marine win 5-4 on pens
ATT: 221
SWINDON SUPERMARINE


Manager: Lee Spalding
Line-up: 1. Martin Horsell 2. Louis Spalding 3. Michael Hopkins 4. Jamie Edge 5. Pierce Mitchell 6. Mat Liddiard (c) 7. Henry Spalding 8. Brad Hooper 9. David Pratt (12. Zack Kotwicka 57m) 10 Conor McDonagh (14. Harry Williams 83m) 11. Ryan Campbell
Subs not used: 15. Jake Lee 16. Matt Coupe 19. Louie Evans
Goals: None
Star Man: Martin Horsell
Cards:
Jamie Edge 42m


None


None

CARSHALTON ATHLETIC


Managers: Peter Adeniyi
Line-up: 1. Lloyd Thomas 2. Bobby Price (16: Tom Hanfrey 46m) 3. Paris Hamilton-Downes (c) 4. Luke Read 5. Archie Proctor 6. Jordan Cheadle 9. Harry Ottaway 10. Tommy Bradford 11. Daniel Hector (20: Lewis White 67m) 14. Nyren Clunis (19: Kershaney Samuels 90+3) 19. Ernold Haxhiu
Subs not used: 12. Kelvin Manuel 13. Edward Allen [GK] 17. Paul Ansah
Goals: None
Star Man: Lloyd Thomas
Cards:
Bobby Price 27m, Tom Hanfrey 81m


None


None

VIDEO'S FROM YOUR SPORT SWINDON
MATCH HIGHLIGHTS
PENALTY SHOOTOUT
POST MATCH WITH KEEPER MARTIN HORSELL
VIDEO COURTESY OF [CARSHALTON ATHLETIC](https://www.carshaltonathletic.co.uk/post/highlights-swindon-supermarine)
MATCH OFFICIALS
Referee: Shane Mansfield (Chippenham)
Assistant Referee's: Oliver Kaya (Wokingham), Paul Herbert (Witney)
Observer: Nigel Saverton (Carterton)