Marine 0 Poole 1
Southern League Premier South | Saturday 9th October 2021
Back to blog posts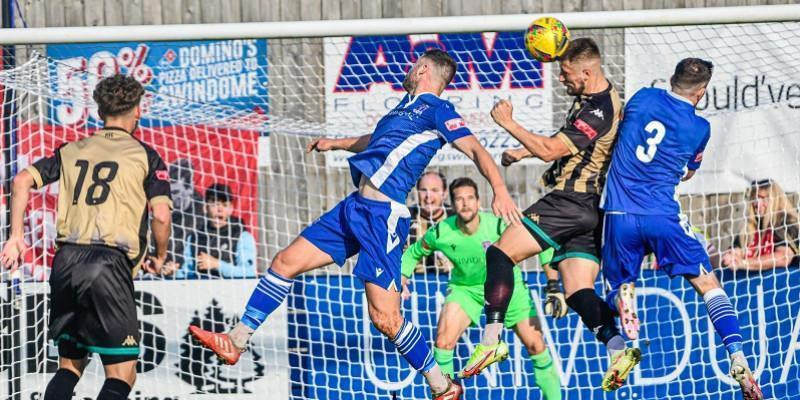 Match Report from Aleck Everard
LEE THE DIFFERENCE AS MARINE LOSE UNBEATEN HOME RECORD
Swindon Supermarine took on the Dolphins of Poole Town Saturday afternoon in the Pitching In Southern League Premier Division South looking to avenge their heavy FA Cup defeat earlier in the season in front a healthy crowd but it was the visitors who came away with the three points. Manager Lee Spalding made three changes from the cup trip in midweek at Salisbury with Ryan Campbell, Conor McDonagh and Dan Ball returning with Frankie Artus and Matt Coupe missing out with injury.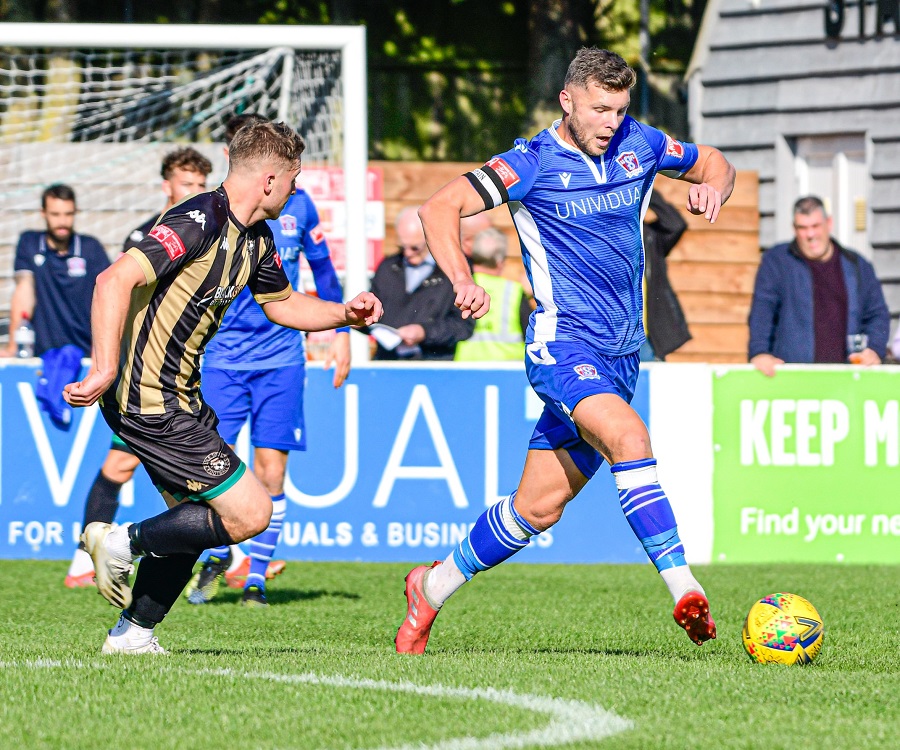 Mat Liddiard had a first half opportunity
Photo © Motion Sport Photography / Match Album
It was a quiet start to the game as both sides struggled to settle, Mat Liddiard taking up a new role on the day in midfield for the first time this season. As the game went on Marine started to show signs of finding their feet and indeed were the first to have a shot when Conor McDonagh blasted over the bar just before the half hour. The game continued to be a tight affair with Poole looking very solid at the back. McDonagh slipped Liddiard through in the best chance of the half on 33 minutes which left him with a one-on-one with Poole keeper Alex Rutter but he took the ball to close to the keeper and he smothered the ball and a great goal scoring chance had gone. The final action of the first half saw Tyrone Duffus booked for a late challenge and with both defences very much on top at the break.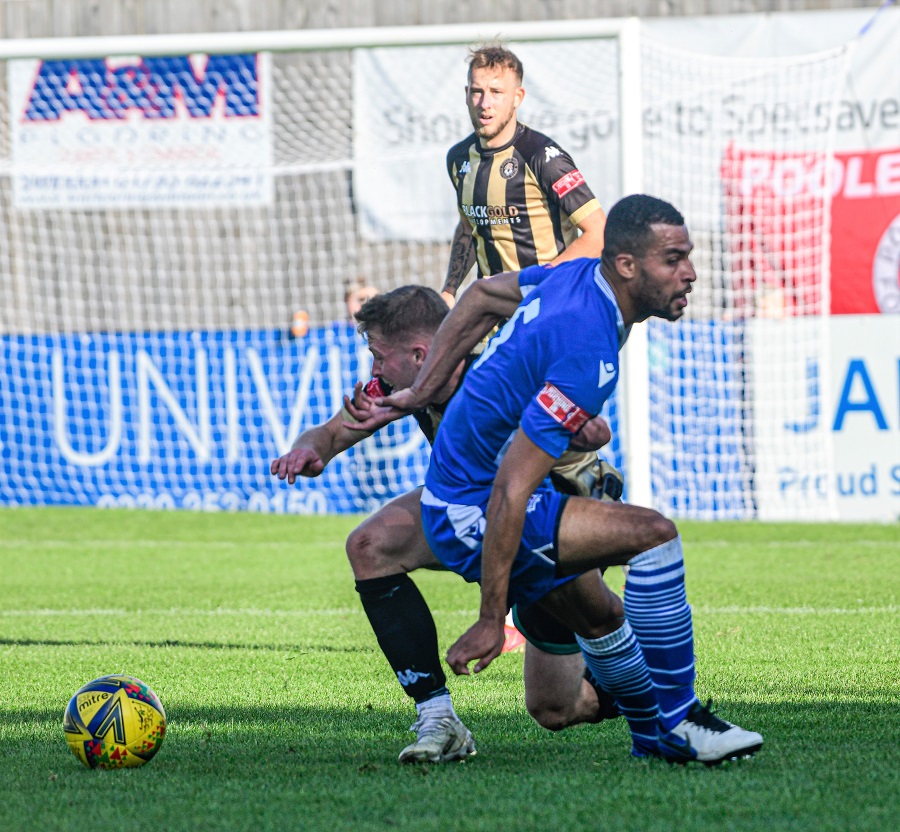 Tyrone Duffus was booked at the end of the first half
Photo © Motion Sport Photography / Match Album
Marine came out with much more determination in the second half and McDonagh whipped a terrific ball across the box but it eluded both David Pratt and Mat Liddiard in front of goal when only a touch was needed with Poole keeper Rutter static in the middle of the goal. McDonagh continued to be the catalyst for everything the hosts did. Following up with a cross that turned into a shot and struck the post and out. Jamie Edge's became the second Marine man in the book after a cynical foul on the edge of the box.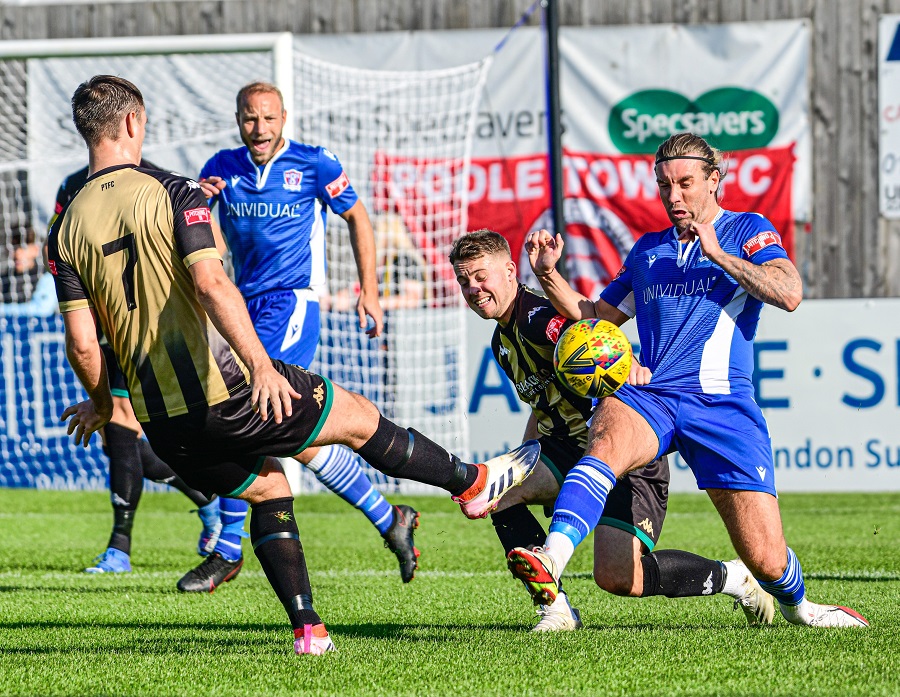 Conor McDonagh was in the action at the start of the second half
Photo © Motion Sport Photography / Match Album
On the hour Michael Hopkins went off with a knock from a heavy tackle by Luke Holmes earlier in the game which went unpunished and was replaced by Zack Kotwica. A change which also saw Liddiard move into defence. The flashpoint of the game came on 62 minutes when Poole's Jack Dickson jumped in on a challenge. It looked like a borderline red card but the referee opted for just yellow but on another day the Dolphins would have been down to ten.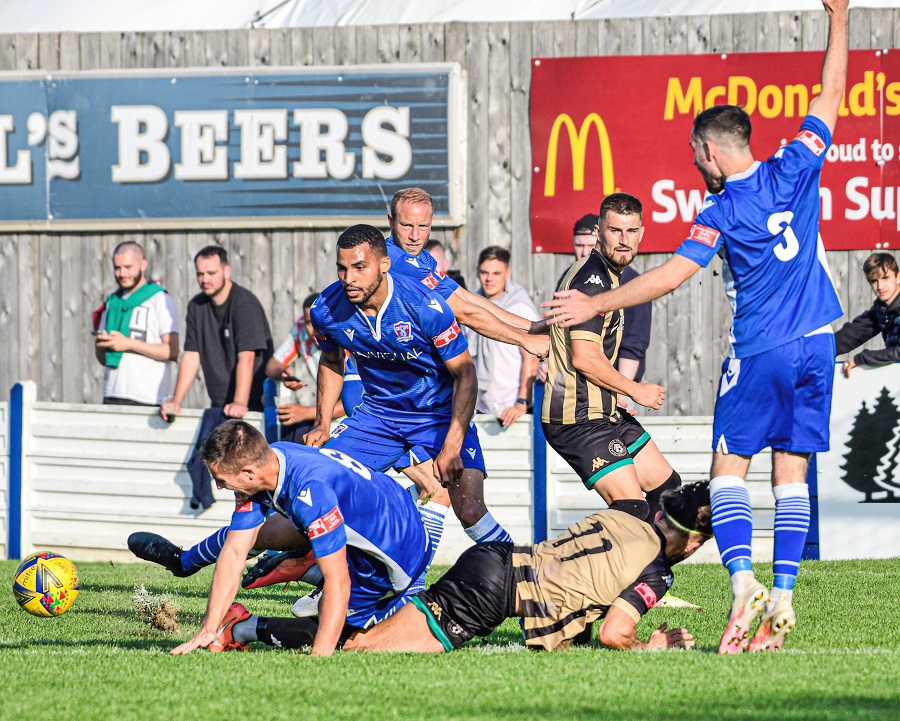 Poole's Jack Dickson booked for a foul
Photo © Motion Sport Photography / Match Album
Harry Williams replaced Ryan Campbell on the wing with 20 minutes to go after the wide man picked up a knock to the claf. The chance of the second half came soon after when the substitute beat his man and put in a perfect cross for McDonagh but he's powerful side foot was saved by the legs of Poole keeper Alex Rutter from six yards out. Poole were having only having occasional attacks by now but on 77 minutes Martin Horsell and Brad Hooper did well to deal with dangerous ball crossed into the box and clear it away.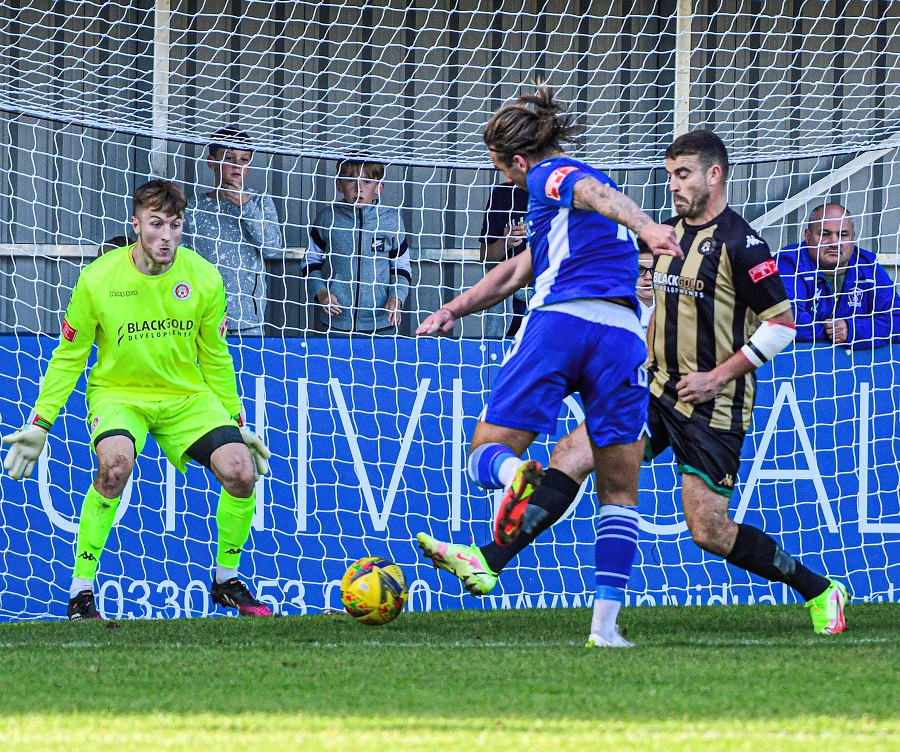 Conor McDonagh's shot saved by the legs of Alex Rutter
Photo © Motion Sport Photography / Match Album
Zack Kotwica beat his man magnificently on 80 minutes and put over a pin point cross to the head of McDonagh but once again the target man was out of luck placing his header just wide of the near post. And then the sucker punch! A mazy final foray forward from Poole's Luke Holmes saw the ball deflect on the edge of the box to the league's top scorer TONY LEE and he does what he generally always does in a match. Despite being kept very quiet all afternoon he gobbled up the one chance that came his way and drilled the ball into the bottom corner from the edge of the box to steal all three points for Poole Town.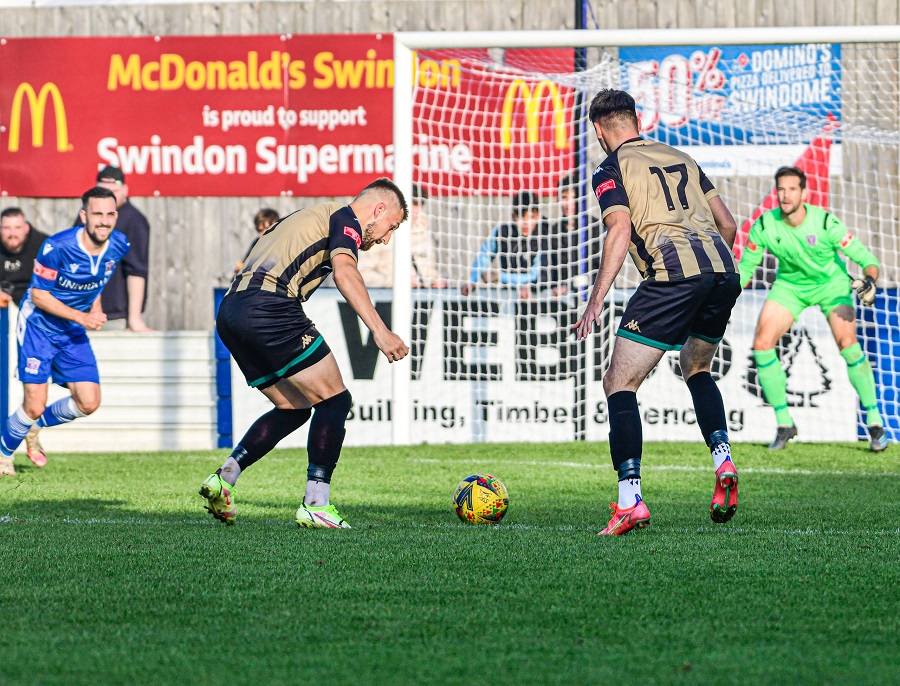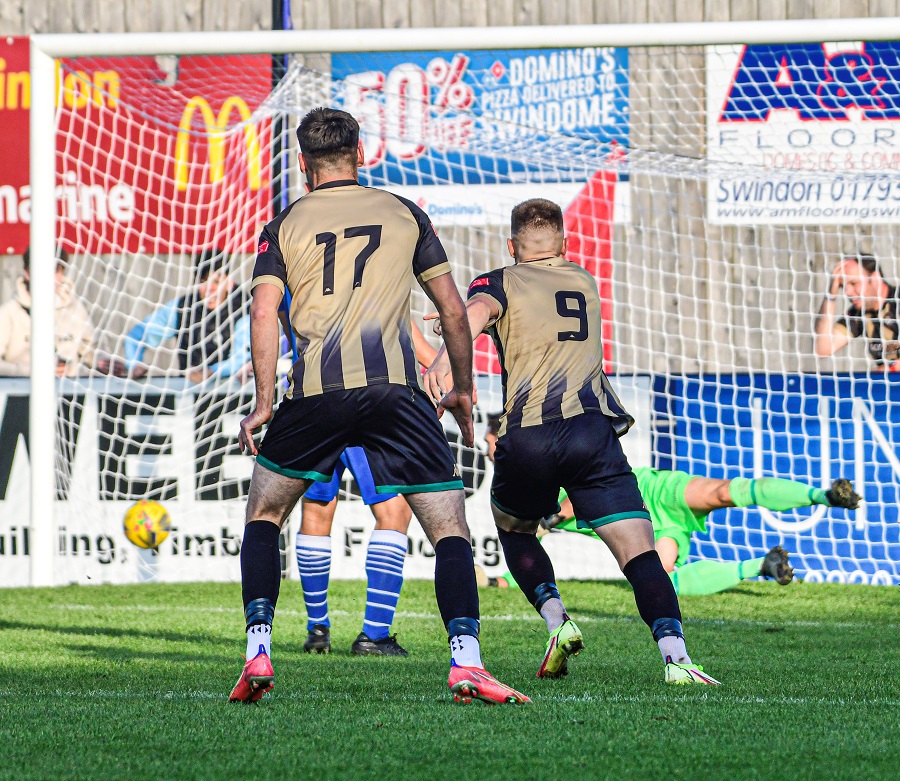 Tony Lee (9) scores the 90th minute winner
Photo © Motion Sport Photography / Match Album
A harsh result for Supermarine with the game probably deserving to be a draw practically all afternoon and as a result the unbeaten home record was broken in the process. The result leaves us in midtable but knowing we have played the majority of the sides in the top eight in our ten games so far so a lot to feel good about before another tough ask at Chesham United on Tuesday evening.
Attendance: 303
Fans man of the match: Tyrone Duffus
Line Ups
Swindon Supermarine


Manager: Lee Spalding
Line-up: 1. Martin Horsell 2. Michael Hopkins (15. Zack Kotwica 60m) 3. Lewis Hall 4. Jamie Edge 5. Tyrone Duffus 6. Dan Hall 7. Mat Liddiard (c) 8. Brad Hooper 9. David Pratt 10. Conor McDonagh 11 Ryan Campbell (12. Harry Williams 70m)
Subs not used: 14. Henry Spalding 16. George Dowling 17. Chris Zebroski
Goalscorer:
Editors Star Man: Tyrone Duffus
Cards:
Tyrone Duffus 45m, Jamie Edge 56m


None


None

Poole Town

Manager: Tom Killick
Line-up: 1. Alex Rutter 2. Declan Rose 18. Brooklyn Genesini 4. Will Spetch 5. Jamie Whisken (c) 6. Dan Bartlett 7. Josh Carmichael 9. Tony Lee 10. Luke Burbage (15. Jez Bedford 75m) 11. Jack Dickson 16. Luke Holmes (17. William Fletcherd 87m)
Subs not used: 12. Joe Wickham, 13 William Butler, 3 Sam Jackson
Goalscorers:

Tony Lee (90m)
Editors Star Man: Jack Dickson
Cards:
Jack Dickson 62m, Tony Lee 90+1m


None


None

Post Match Team Sheet
Click here for post match team sheet
Match Officials
Referee: Charlie Bullock (Hungerford)
Assistant Referees: Andrew Batten (Basingstoke), David Pilling (Tadley)
Video's from Your Sport Swindon
Match Highlights
Access to the highlights from all of Marine's matches can be viewed on a monthly subscription of just £2:50. Click the 'match highlights' above to subscribe.