Marine 1 - Dorchester Town 0
The Emirates FA Cup 2nd Qualifying Round | Saturday 17th September 2022
Back to blog posts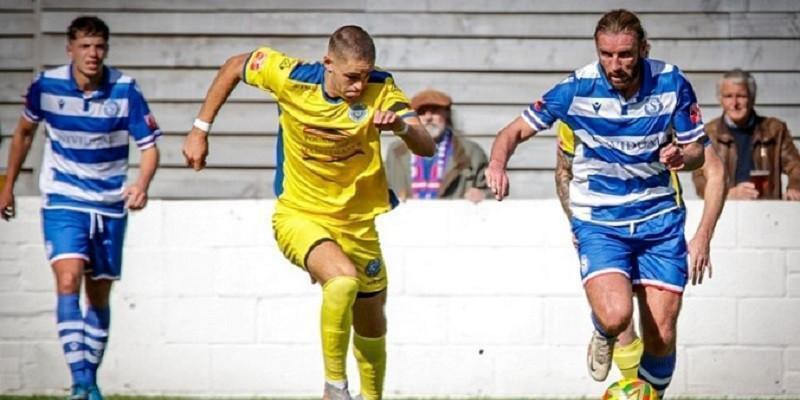 Match Report from Aleck Everard
Swindon Supermarine earned their second victory over Dorchester Town in three days with a hard fought 1-0 Emirates FA Cup victory on Saturday afternoon. Having defeated the Magpies on Wednesday evening 3-2 in the League Marine were forced into a trio of changes with Ty Duffus, Brad Hooper and Conor McDonagh coming in for the injured Lewis Hall, George Dowling and top scorer Harry Williams.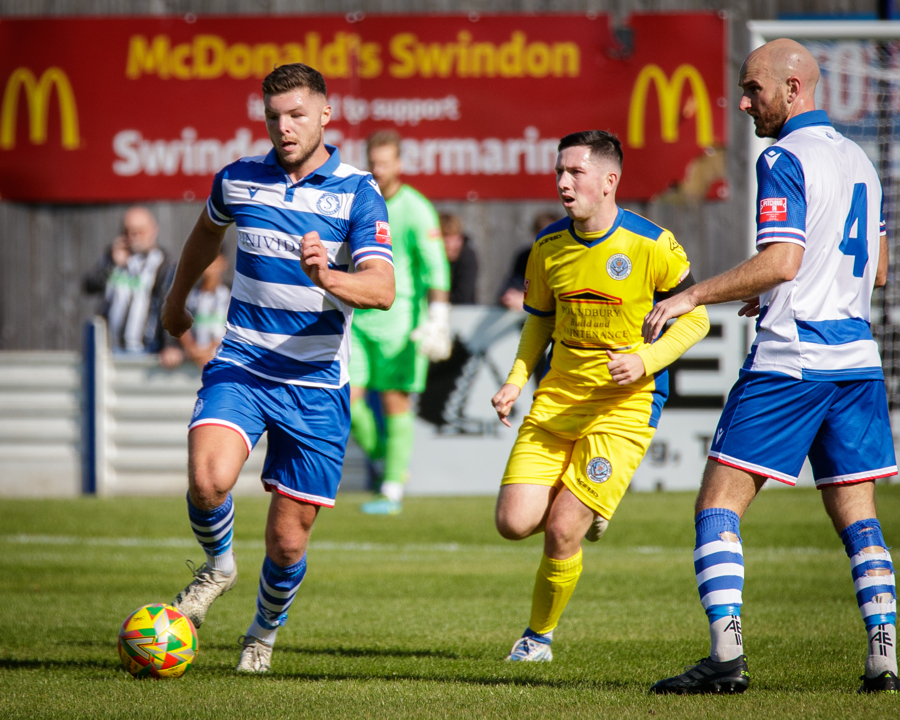 Skipper Mat Liddiard led from the front against Dorchester with a solid defensive display
Photo © Rob Mashford Photography Match Album
After a quiet opening it was Dorchester's Tiago Sa who struck the first effort at goal into the side netting on eleven minutes but with Marine's opening effort a goal nearly arrived. From their first corner of the match Conor McDonagh rising well only to see his header strike the underside of the crossbar and cleared away. It was close but no cigar, and the next period of the game was deadlocked with both sides aware of each other's abilities from the previous game and space was precious.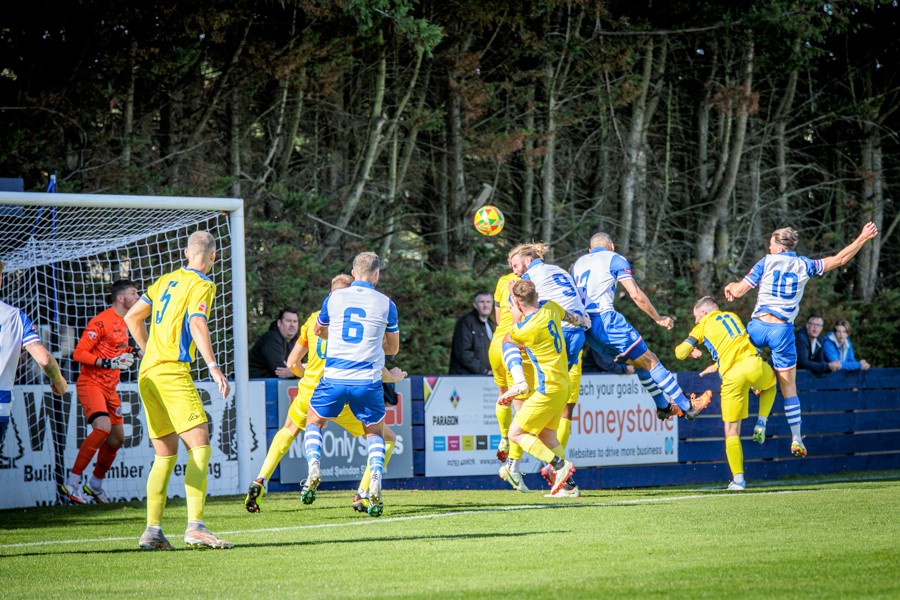 Conor McDonagh's header hits the underside of the crossbar
Photo © Rob Mashford Photography Match Album
Then out of the blue the silence was broken. Marine had been keeping possession well up to this point and with James Harding and Conor McDonagh keeping the ball well up in the frontline Marine forged a move which saw HENRY SPALDING collect the ball up on the right wing. He cleverly cut in past a couple of defenders and hit a rasping shot from the edge of the box which smacked in off the upright giving keeper Harry Lee no chance on thirty-four minutes! His first goal of the season. Marine saw off any response and a good half was complete with Marine deservedly ahead on pressure alone.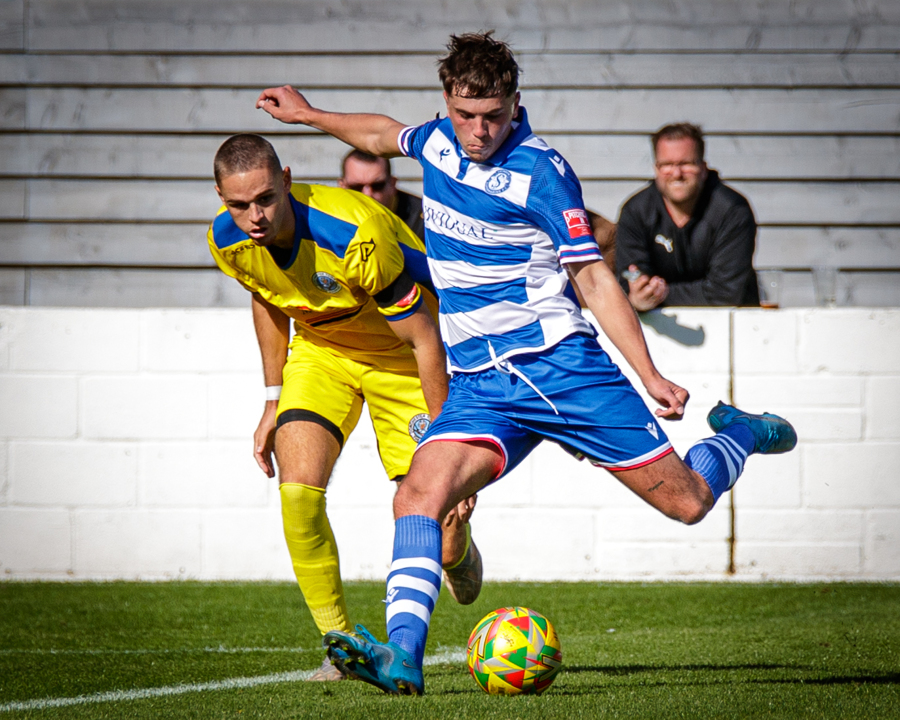 Henry shoots to score our winning goal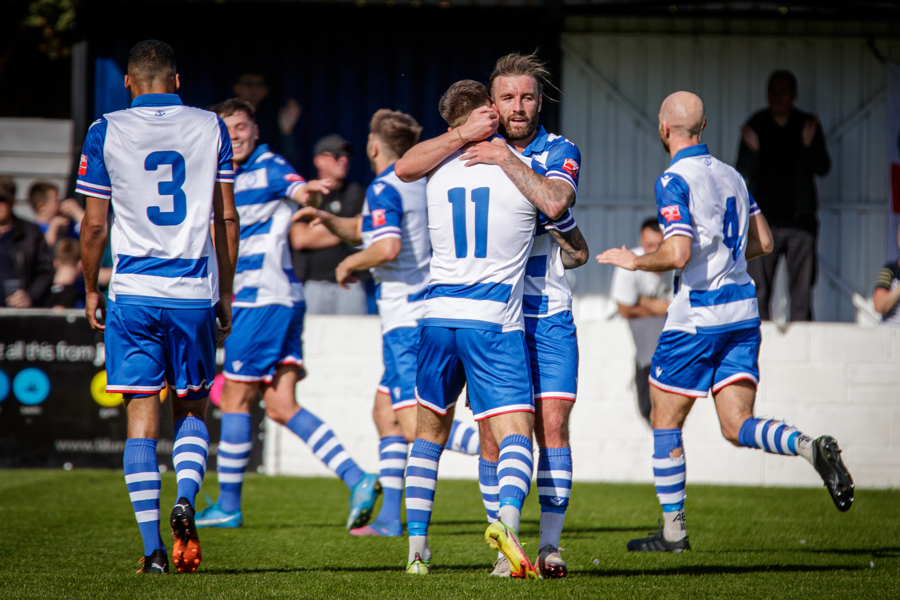 The players celebrate Henry's goal
Photo's © Rob Mashford Photography Match Album
The expected swift response from the Magpies in the second half never arrived at first, but Koszela almost levelled it up soon after only to find the towering presence of Tyrone Duffus in the way as he pulled off a superb block on the line. With the pressure now with the Magpies Marine were breaking well out of defence and it was Duffus again who provided the initiative with a strong run down the right only to see his attack ended in the box when he was brought crashing down to earth. No doubt for then for the penalty kick on sixty-three. Conor McDonagh stepped up, but his kick was too close to keeper Harry Lee and he pulled off a second penalty save in our two meetings.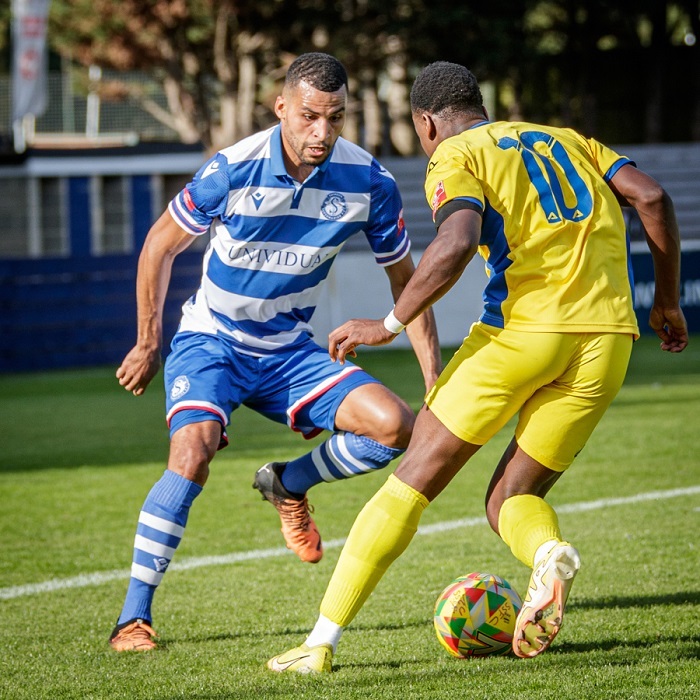 Tyrone Duffus had an excellent game at fullback and made several crucial tackles in the penalty box
Photo © Rob Mashford Photography Match Album
Ryan Campbell replaced Zack Kotwica for his first appearance since the opening day of the season and a broken foot. He then saw his first strike at goal just pushed wide for an excellent save by Lee on seventy minutes. Connor Johns who showed a safe pair of hands all afternoon and was marshalling his defence very well and clutched on to a dangerous shot with ease as the pressure increased. Tom Sharpe added to the defensive ranks with ten minutes left replacing McDonagh. A late rear-guard action for the remainder of the game saw the visitors fail to trouble the home goal to any great extent.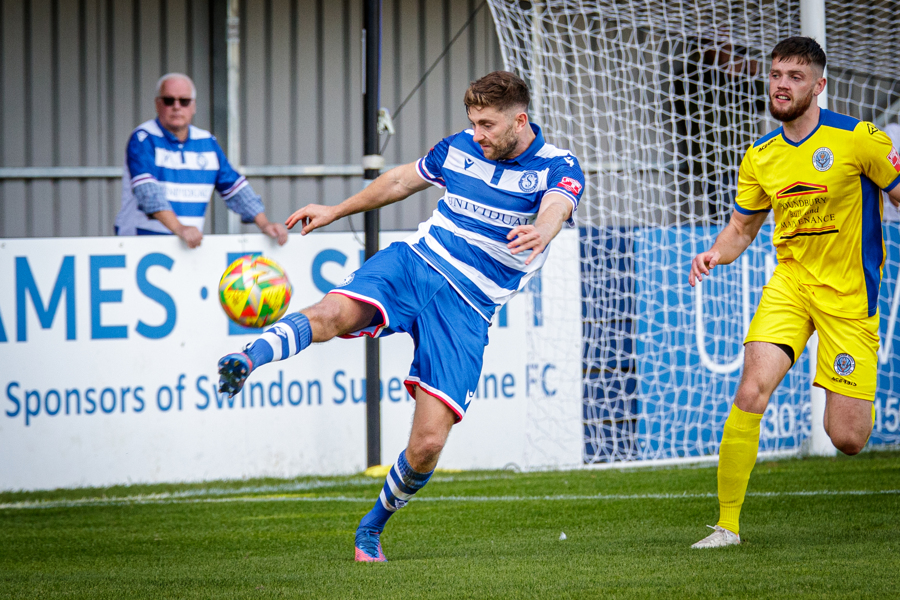 Brad Hooper was the fans players of the match
Photo © Rob Mashford Photography Match Album
A terrific shift from all the back four and those in front of them meant Marine held on successfully and a place in Monday's draw was achieved. Once again, the game had been a good advert for level 3 football. Huge credit to Dorchester Town for contributing to this side of things, despite the two defeats they will be having a much-improved campaign this season if these matches are anything to go by. Additionally, it was also a delight to once again see a set of solid and unfussy match officials who got the big decisions correct.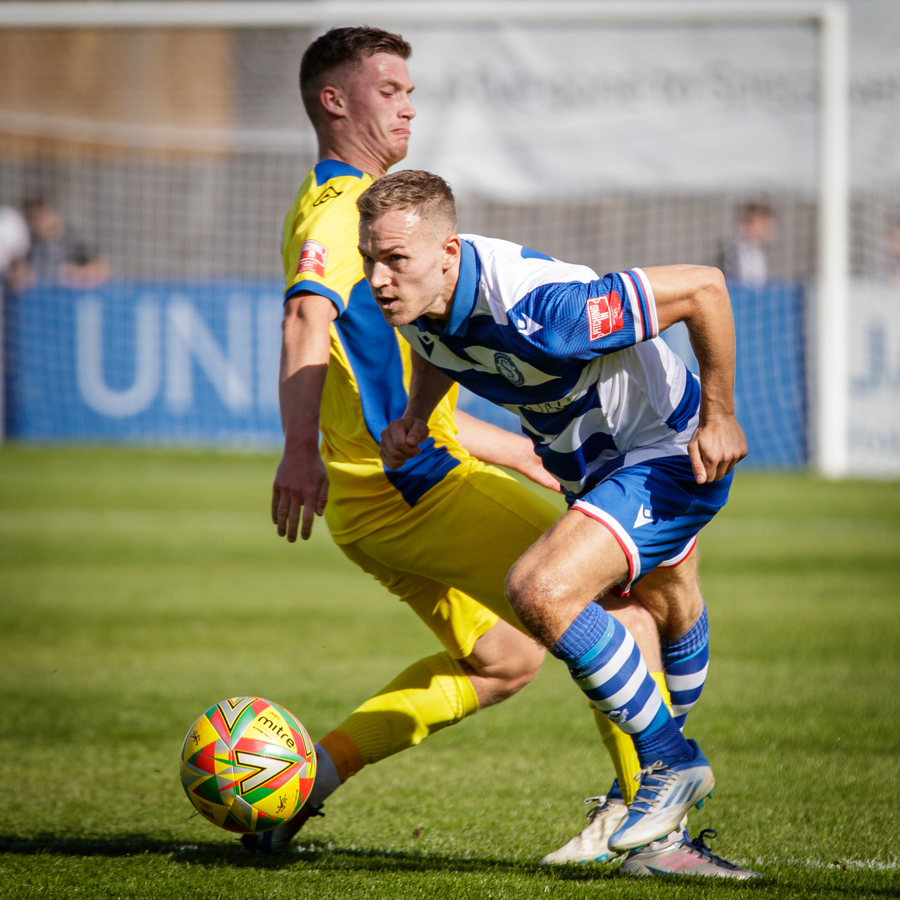 Sam Turl was the editors star man but there wasn't a lot in it with Brad Hooper, both put in excellent performances
Photo © Rob Mashford Photography Match Album
Up next is Beaconsfield Town at home in the league next Saturday, September 24th, kick off 3pm!
Fans Player of the match: Brad Hooper, he won nearly every tackle he competed in and proved a roadblock for the visitors.
Attendance: 302
Line Ups
Swindon Supermarine


Manager: Lee Spalding
Colours: Blue & White Hoops / Blue / Blue
Line-up: 1. Connor Johns 2. Sam Turl 3. Tyrone Duffus 4. Jamie Edge 5. Leon Morrison 6. Mat Liddiard (c) 7. Henry Spalding 8. Brad Hooper 9. Conor McDonagh _(12. Tom Sharpe 80') 10. James Harding 11. Zack Kotwica _(12. Ryan Campbell 62')
Subs not used: 12. Sal Abubakar, 16. Harry Williams
Goalscorer:

Henry Spalding 34'
Editors Star Man: Sam Turl
Cards:
Jamie Edge 53'


None


None

Dorchester Town


Manager: Glenn Howes
Colours: All Yellow
Line-up: 1. Harrison Lee 2. Harvey-Joe Bertrand 3. Tiago Sa 4. Jordan Foot (14. Matt Neale 72') 5. Louie Slough 6. Kieran Douglas (c) 7. Alex Moyse 8. Charlie Gunson 9. Olaf Koszela 10. Shaquille Gwengwe (16. Keith Emmerson 80') 11. Oliver Balmer (12. Alfie Stanley 68')
Subs not used: 15. Callum Buckley, 18. Michael Lilley
Goalscorer: None
Editors Star Man: Charlie Gunson
Cards:
None


None


None

Supermarine TV
Highlights
Courtesy of Mike Wray
Match Officials
Referee: Ollie Taylor (Bristol)
Assistant Referees: Ben Powell (Coventry), James West (unknown)