Marine 1 Winchester City 2
Southern League Premier South | Saturday 22nd October 2022
Back to blog posts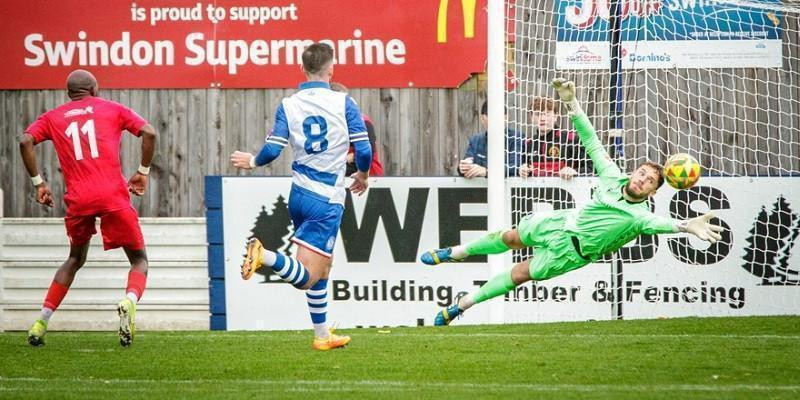 Match Report from Aleck Everard
Swindon Supermarine saw their unbeaten league home record undone by a freak winner as Winchester City pulled off a smash and grab 2-1 victory at the Webbswood Stadium on Saturday. Manager Lee Spalding made a double change from the midweek victory over Harrow Borough with Ryan Campbell in for Henry Spalding and Tom Sharpe replaced Brad Hooper. Spalding and Hooper were on the bench with long term absentees George Dowling, Lewis Hall and Jamie Edge still missing out through injury.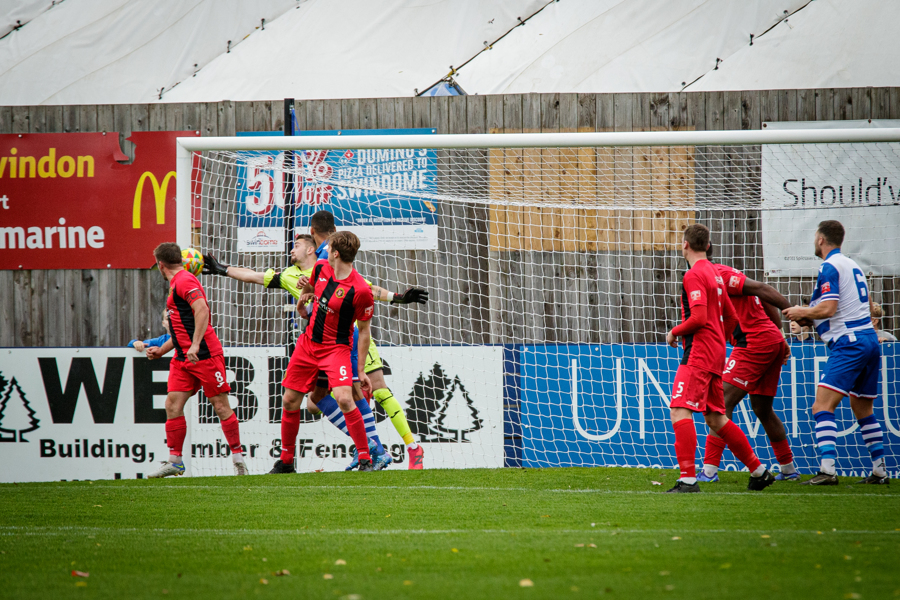 Harry Williams header brilliantly saved by Jordi Miret
Photo © Rob Mashford Photography Match Album
Marine looked lively early doors with Zack Kotwica hitting a curling shot off the bar in just four minutes. This was followed up by deflected efforts from both Harry Williams and skipper Mat Liddiard going wide. Williams then had a header from the resulting corner brilliantly saved by visiting keeper Jordi Valero Miret at the near post. City looked sharp on the break despite this and from one of these on fifteen minutes Jamie Barron had an effort well held by goalkeeper Josh Gould in the home goal.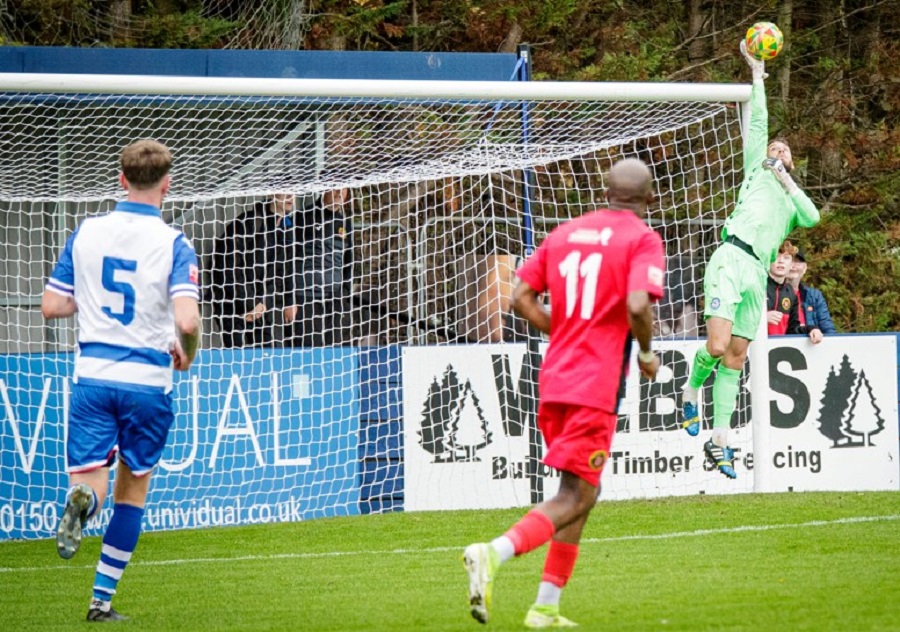 Josh Gould made a couple of good saves in a matter of minutes
Photo © Rob Mashford Photography Match Album
Both goalkeepers, Jordi Miret and Gould were the key man as Harry Williams was denied again followed by a save from Sim Miambo by Josh Gould (top photo). Tom Sharpe took a knock to the knee on twenty-five and had to be replaced by Brad Hooper. Marine were looking the better of the two sides and put together a great team move late on in the half, but Williams couldn't find his scoring boots and fired over. Winchester centre forward Darko Obeng was booked for a late one on Sam Turl as the half came to an end in what was turning into a physical encounter.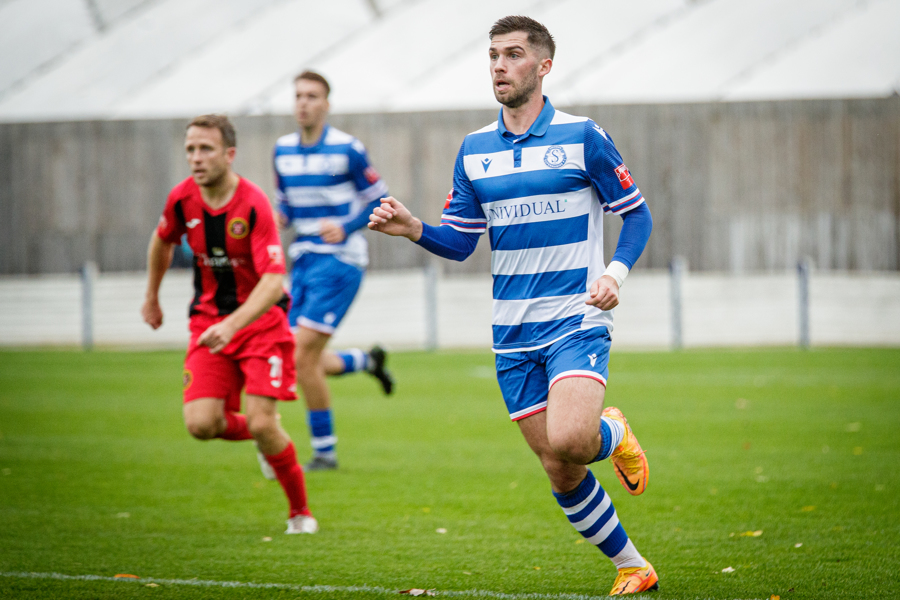 Recent signing Joe Tumelty had another good game
Photo © Rob Mashford Photography Match Album
Marine got off well again with Harry Williams rounding the keeper but being forced too wide he could only find the side netting. A series of mistimed and late tackles saw a flurry of yellow cards for City as Max Smith, Josh Bertie and Callum Baughan were all booked. In between this Miambo missed a great chance to open the scoring but Winchester were wasteful in front of goal. Once again, the outstanding Jordi Miret deniedHarry Williams just after the hour before the deciding moments came with twenty minutes left.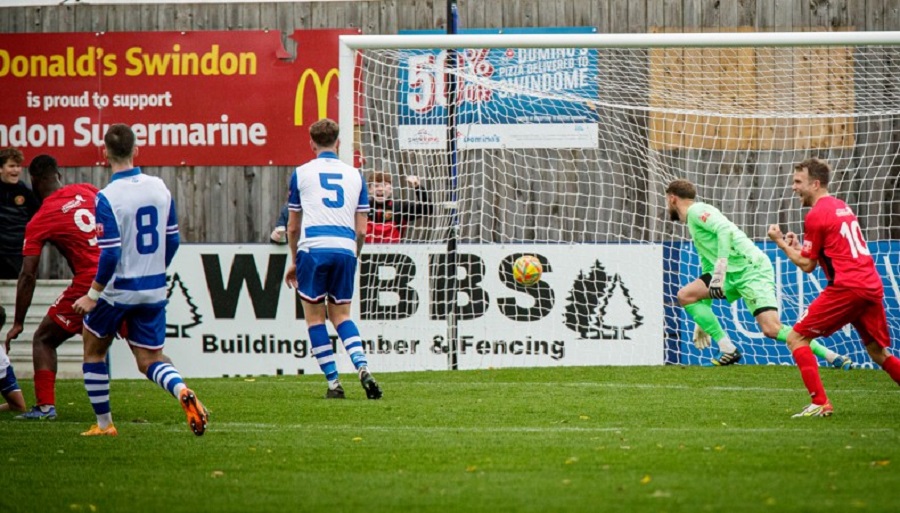 Darko Obeng fires in the opening goal from the edge of the box
Photo © Rob Mashford Photography Match Album
DARKO OBENG seized on a header won by Warren Bentley, who out jumped Tyrone Duffus to fire in low past keeper Josh Gould from the edge of the box to give the Citizens the lead. Direct from the kick off Marine played the ball back to defence. With keeper Josh Gould making an angle for Mat Liddiard to pass to him, Liddiard made the decision to send the ball forward. His attempted clearance was blocked by the advancing WARREN BENTLEY and the ball flew back past Gould for two goals in a minute.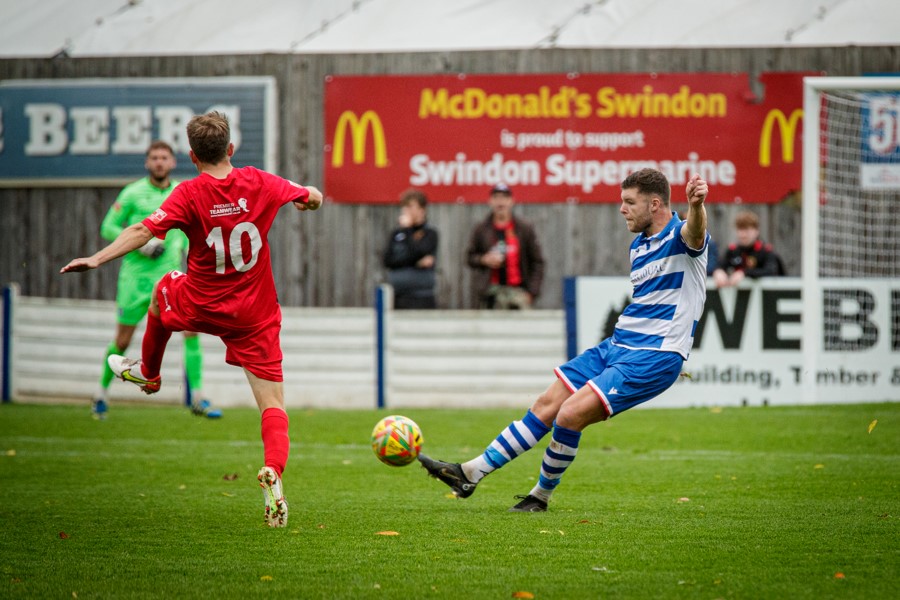 Warren Betley blocks Mat Liddiard's attempted clearance and the ball flies past keeper Josh Gould for a quick second goal
Photo © Rob Mashford Photography Match Album
There was now a mountain to climb, and Conor McDonagh and Henry Spalding were sent on in place of James Harding and Zack Kotwica to try and save the day. Marine did get a goal back five minutes later with substitute CONOR McDONAGH smashing a low shot home after a Joe Tumelty free kick into the box fell loose.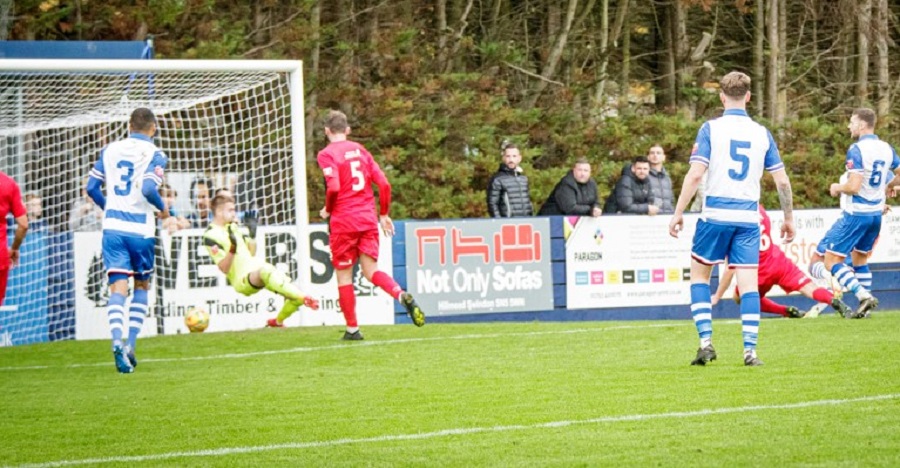 Conor McDonagh scores Marine's consolation goal
Photo © Rob Mashford Photography Match Album
This late to a flurry of late pressure but keeper Jordi Miret was the hero again to deny McDonagh a second on eighty-two minutes and deep in added minutes catching high under late pressure from home defender Ty Duffus as the kitchen sink went in from Marine with Josh Gould even going forward for a corner. Alas it wasn't to be. An unjust score line in defeat considering the overall play but the heart, effort and passion of Winchester meant they had worked so hard to get what they did and no could really deny that in many ways you get what you deserve.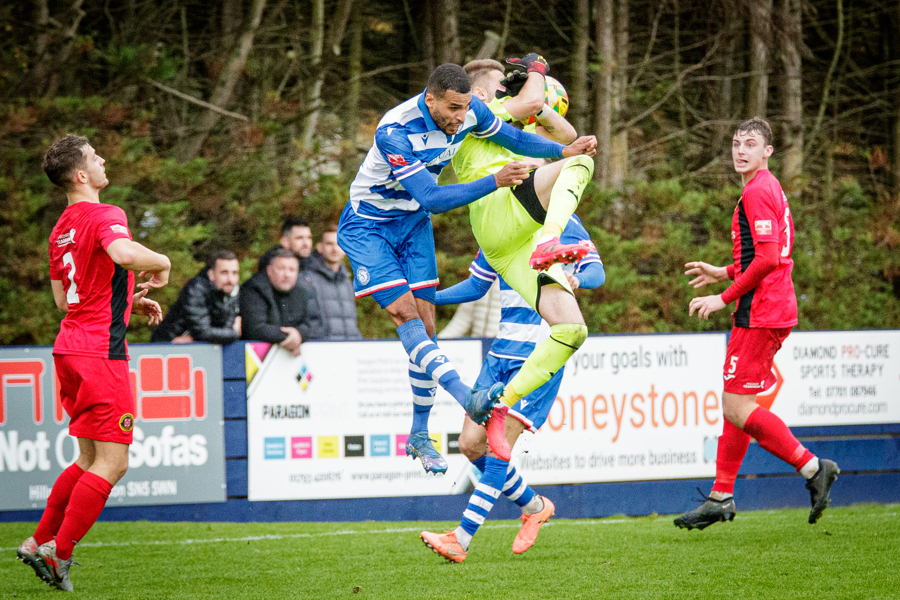 Tyrone Duffus goes up and challenges Winchester keeper Jordi Valero
Photo © Rob Mashford Photography Match Album
Fans star men Jordi Valero Miret (Wincester City), absolutely outstanding keeping and Leon Morrison (Marine), a solid display from the young centre back who improves every game he plays
Attendance: 222
Line Ups
SWINDON SUPERMARINE


Manager: Lee Spalding
Colours: Blue & White Hoops / Blue / Blue
Line-up: 1. Josh Gould 2. Sam Turl 3. Tyrone Duffus 4. Tom Sharpe (15. Brad Hooper 25') 5. Leon Morrison 6. Mat Liddiard (c) 7. Zack Kotwica (14. Henry Spalding 72') 8. Joe Tumelty 9. Harry Williams 10. James Harding (12. Conor McDonagh 72') 11. Ryan Campbell
Subs not used: 13. Jadyn Mundle, 16. Sal Abubakar,
Goalscorers:

Conor McDonagh 77'
Editors Star Man: Leon Morrison
Cards:
None


None


None

WINCHESTER CITY


Manager: Craig Davis
Colours: Red & Black
Line-up: 1. Jordi Miret 2. Callum Baughen 3. Josh Bertie 4. Max Smith 5. Archie Wilcox 6. Rob Jamison 7. Henry Brooks (14. Claudio Herbet 86') 8. Jamie Barron (c) 9. Darko Obeng (17. Callum Chugg 75') 10. Warren Bentley 11. Sim Miambo (16. Ik Hill 59')
Subs not used: 12. Dan Neild, 15. Dan Walster
Goalscorer:

Darko Obeng 71',

Warren Bentley 72'
Editors Star Man: Jordi Meret
Cards:
Darko Obeng 44', Max Smith 48', Josh Bertie 50', Callum Baughen 58', Warren Bentley 90'


None


None

Supermarine TV
Highlights
Courtesy of Mike Wray
Match Album
Courtesy of Rob Mashford Photography
Post Match Team Sheet
Match Officials
Referee: Said Ouchene (Bristol)
Assistant Referees: Valentin Promfort (Bristol), Dylan Baylis (Bristol)