Marine 2 Swindon Town 0
Preseason Friendly | Saturday 9th July 2022
Back to blog posts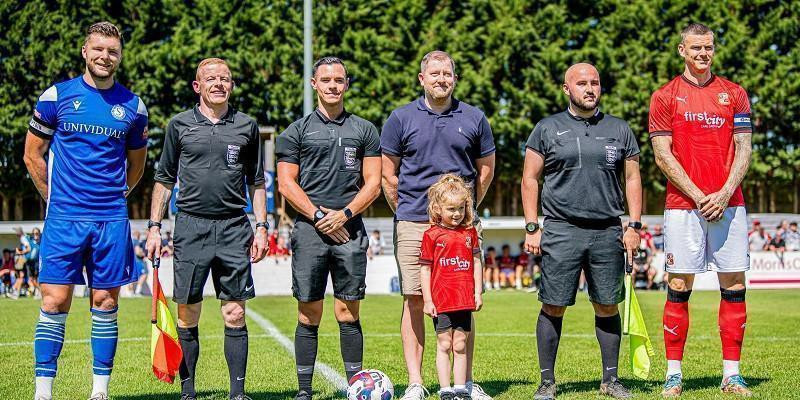 Match Report from Aleck Everard
Marine continued their pre-season campaign with an eagerly anticipated visit from local rivals and friends Swindon Town. Town under new boss Scott Lindsey fielded a strong side with key players Harry McKirdy, Louis Reed and Jonny Williams all playing a part in the match. Marine for their part were without Brad Hooper and Conor McDonagh away on holiday but did a home start for new signings Sam Turl and James Harding.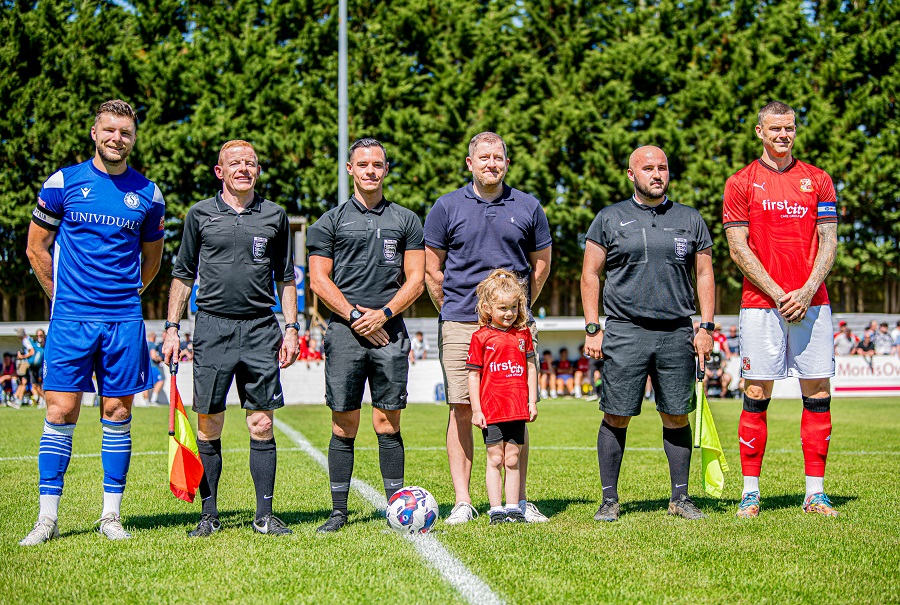 Prematch with Match Sponsors Kevin Stevens of The Marketing Connection
Photo © Motionsport Photography Match Album
In blisteringly hot conditions the early pace was set by the visitors with Harry McKirdy testing new keeper Connor Johns handling and then firing one over on eight minutes when well placed. Harry Williams had an effort deflected wide from range before Town spurned a good chance to go ahead when Ben Gladwin fed in Louis Reed but his shot was wide of the upright.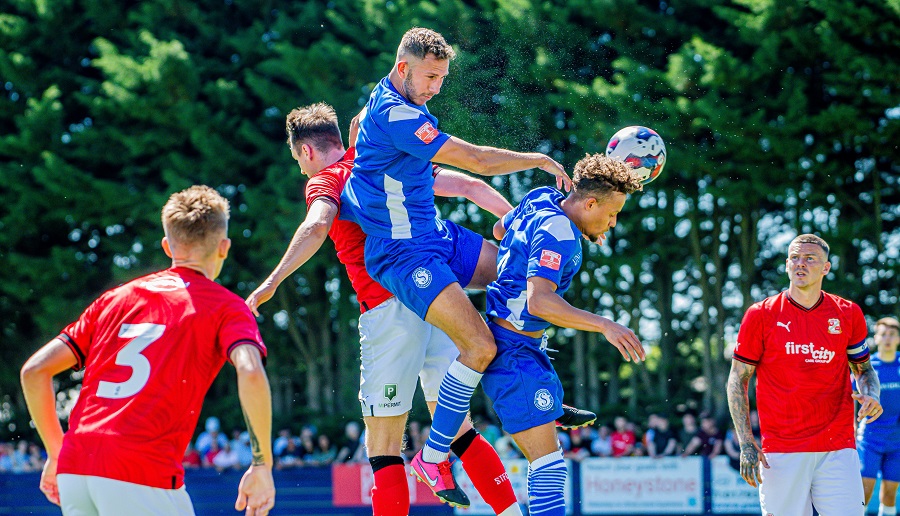 Harry Williams gets up the highest to win this header
Photo © Motionsport Photography Match Album
Reed followed this up with an effort from a free kick but once again was wide of the mark. The early periods saw the Robins dominating possession but Marine looked solid defensively. The key incident of the half came on twenty-five minutes when Harry Parsons put McKirdy through on goal only to see him brought down outside the box by Connor Johns. A yellow card was brandished but once again the free kick, this time from Gladwin, was wide of the mark once more.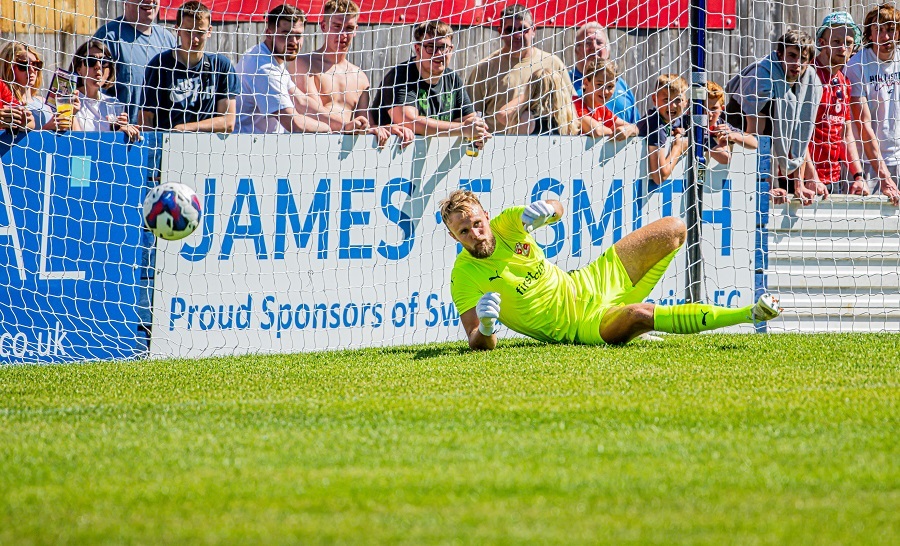 James Harding's shot gets past Lewis Ward in the Town for the opener
Photo © Motionsport Photography Match Album
Ryan Campbell was looking sharp on the break and he nearly put in Harding but he couldn't quite get on the end of it. But Town never heeded the warning and on 38 minutes the deadlock was broken. Campbell's ; long range effort was spilt by Town keeper Lewis Ward and Henry Spalding ; picked up the scraps to play in JAMES HARDING who finished at the near post with a poachers instinct and his first goal for the club. Both Louis Reed and Harry McKirdy again were wide of the target late on and Marine had completed a dream half.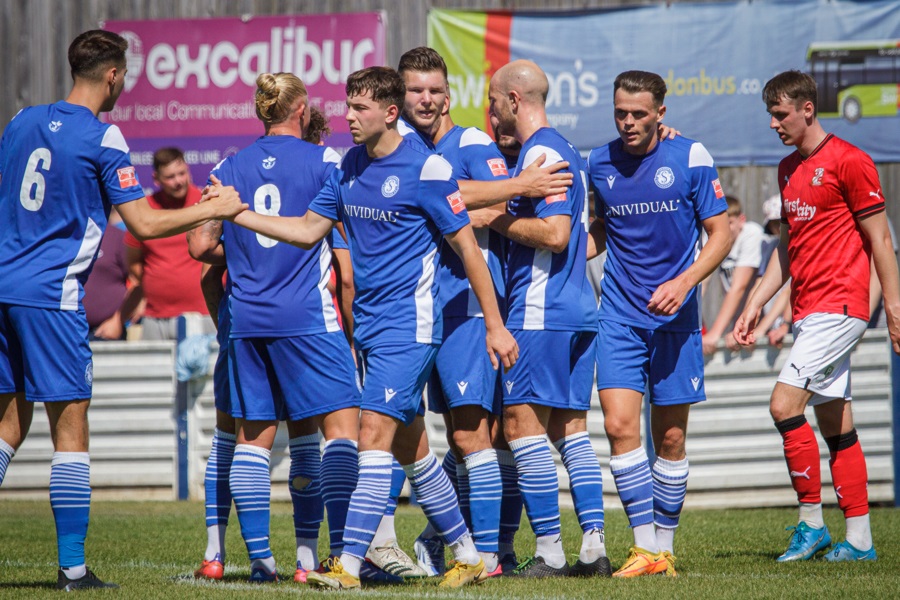 The players congratulate Hards' on his opening goal
Photo © Rob Mashford Photography Match Album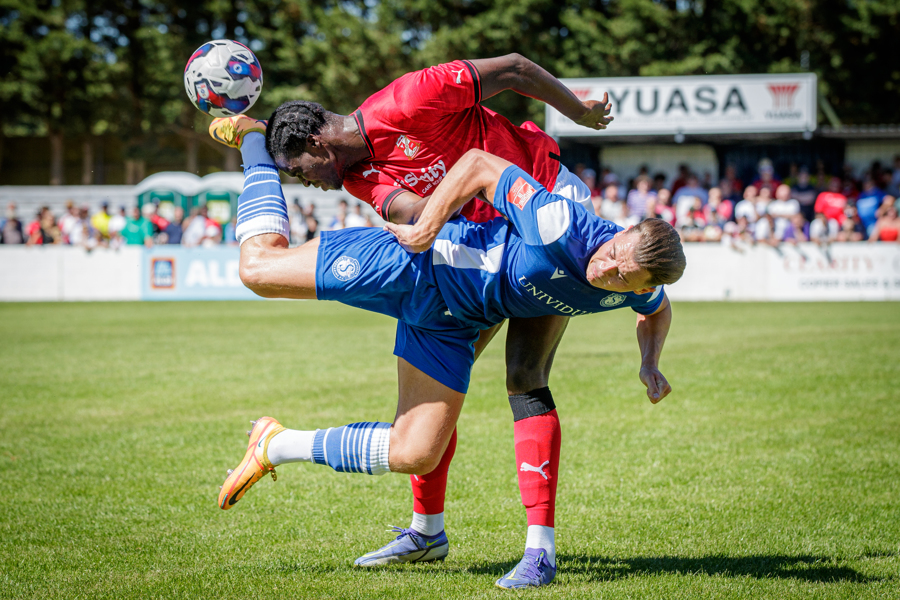 James Harding attempts a back heel
Photo © Rob Mashford Photography Match Album
The second period saw a number of changes for the visitors and just four minutes in an equaliser seemed certain from George Cowmeadow's powerful effort but Connor Johns was equal to his effort when he sprung into action with cat like reflexes to somehow tip the effort over the top, a great save from Marine's new number one.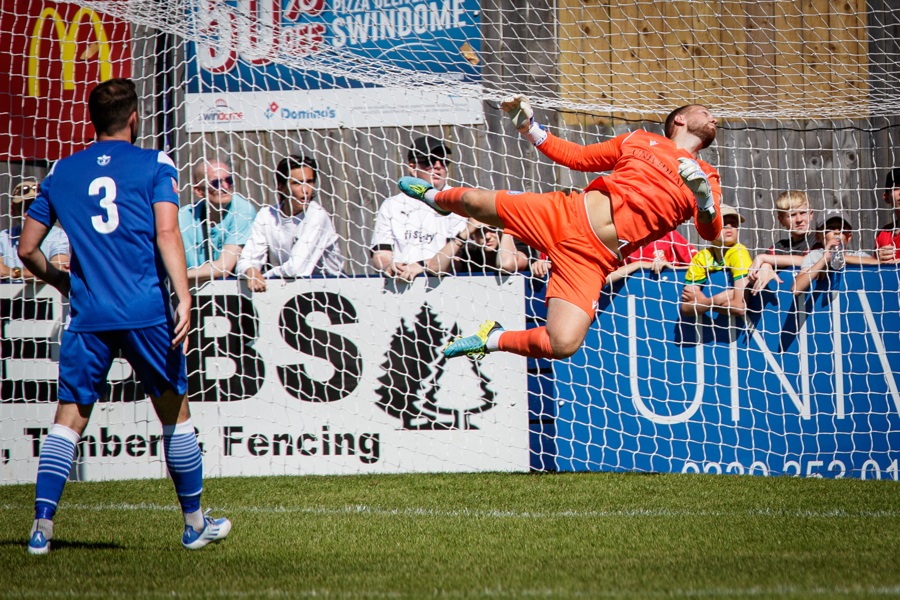 Connor Johns pulls off a great save to deny Town an equaliser
Photo © Rob Mashford Photography Match Album
Marine themselves made some change with Leon Morrison, Zack Kotwica and Jack Stanley entering the play for George Dowling, Sam Turl and James Harding. Shortly afterwards, again Marine were indebted to keeper Connor Johns as he denied new Town forward Oscar Massey in a one on one just after the hour.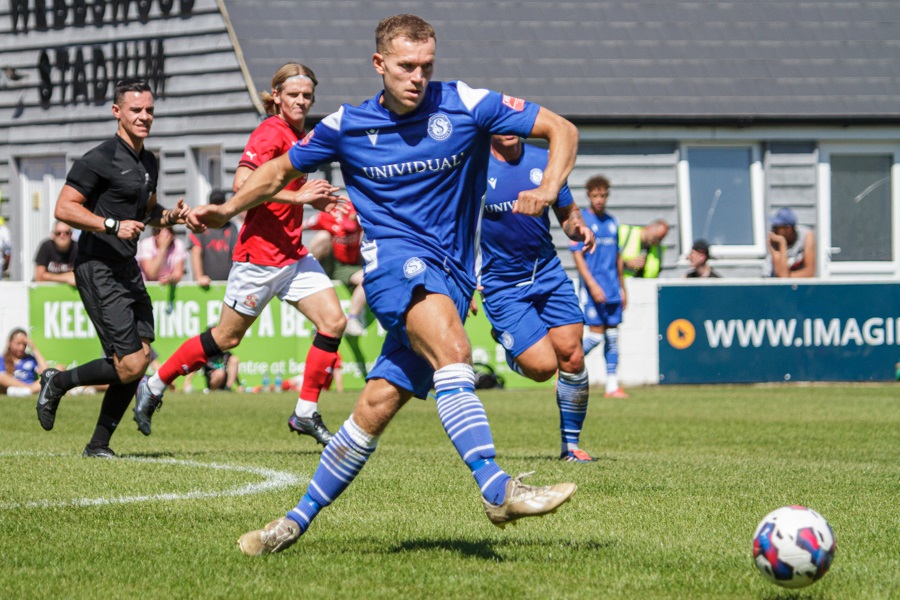 Sam Turl had a good game on his home debut for Marine
Photo © Rob Mashford Photography Match Album
Marine still looking solid at the back despite the alterations gave their two recent trialists another run out for the last twenty minutes with the hardworking Lewis Hall and Tom Sharpe making way. Then a bit of luck that you need if you are going to win games like this arrived. Tyrese Shade and Ricky Aguiar combined and the latter's shot from outside the box struck the post and bounced to safety.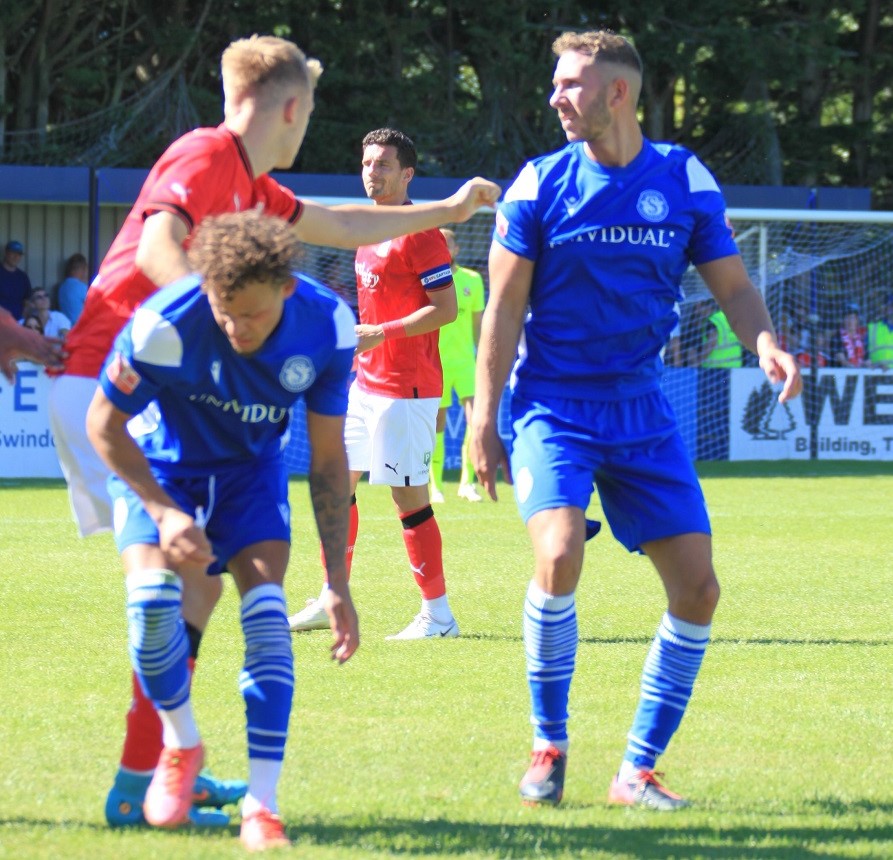 Ryan Campbell and Harry Williams challenge the Town player
Photo © Malvern12 Photography
Marine capitalised on their good fortune with a great team move that ended with our second goal. Ryan Campbell outpaced Town substitute Hart setting up one of the trialists who finished well from close in on eighty-five minutes to put the seal on an excellent team performance. Tom Golledge came on in the last five minutes end for Harry Williams but the League Two visitors could make no impact on the Marine defence.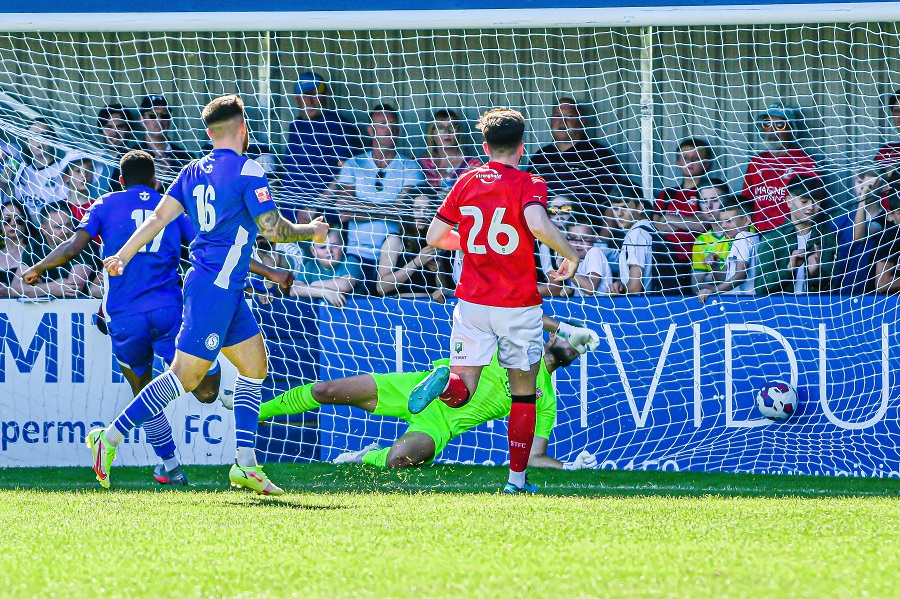 Trialist scores Marine second goal
Photo © Motionsport Photography Match Album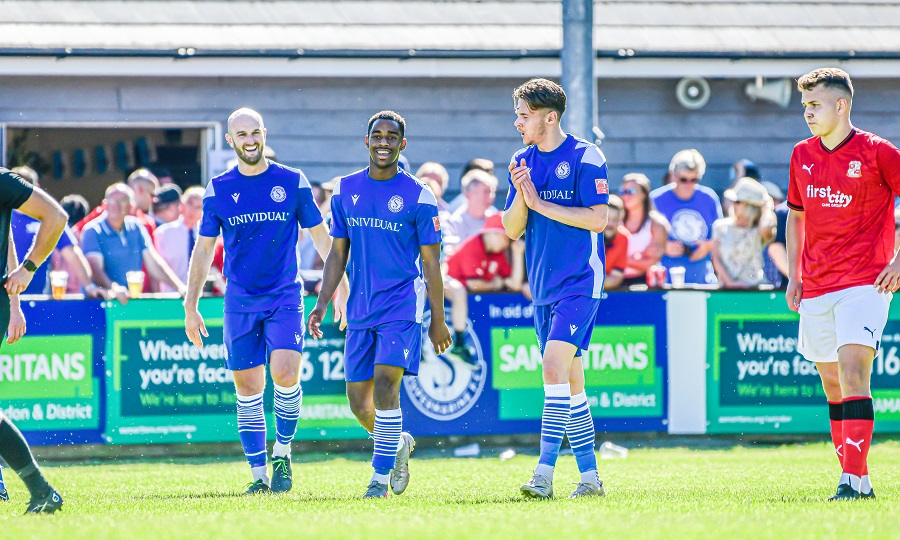 A couple of players celebrate Marine's second goal with the goalscorer
Photo © Motionsport Photography Match Album
A very professional performance for the Marine squad despite some absences against a full time professional outfit in front of a large crowd of over 1400 spectators set the team up well for the season ahead. The squad looks stronger and the team ethic more pronounced, the side can be rightly proud of their efforts in a win that will be remembered for a while.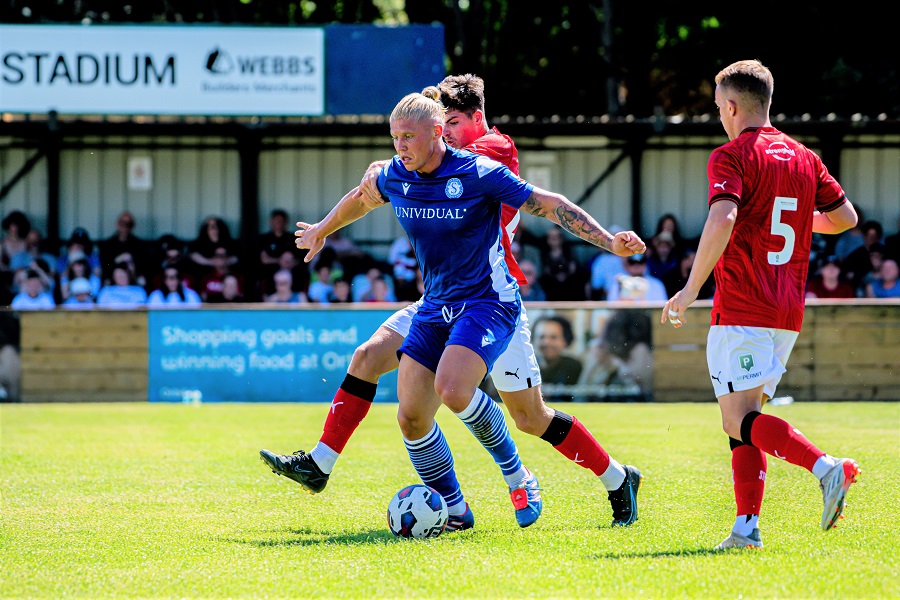 George Dowling gets past a couple of Town players
Photo © Motionsport Photography Match Album
Fans Star man: Ryan Campbell – worked extremely hard and was always a threat to the Town defence.
Attendance: 1414
Line Ups
Swindon Supermarine


Manager: Lee Spalding
Colours: All Blue
Line-up: 1. Connor Johns 2. Sam Turl (15. Jack Stanley 60') 3. Lewis Hall (17. Trialist 66') 4. Jamie Edge (c) 5. Mat Liddiard 6. Tom Sharpe (18. Trialist 72') 7. Henry Spalding 8. George Dowling (15. Leon Morrison 65') 9. Harry Williams (19. Tom Golledge 86') 10. James Harding (16. Zack Kotwica 61') 11. Ryan Campbell
Subs not used: 16. Tyrone Duffus Goalscorer:

James Harding 38', ;

Trialist 85'
Editors Star Man: Ryan Campbell
Cards:
Connor Johns 25'


None


None

Swindon Town

Managers: Scott Lindsey
1st Half Line-up: 1. Lewis Ward 34. Ciaran Brennan 31. Harrison Minturn 2. Trialist 3. Trialist 5. Louis Reed 7. Ben Gladwin (c) 10. Trialist 18. Reece Devine 29. Harry Parsons 11. Harry McKirdy
2nd Half Line-up: 1. Lewis Ward 3. Trialist (Hart 78') 6. Matthieu Baudry (c) 26. Cian Harries 28. Tyrese Shade 17. Ricky Aguier 4. Dworzak 8. Jonny Williams 32. George Cowmeadow 14. Oscar Massey 24. Jacob Wakeling (30. Mo Dabre 87')
Subs not used: 1. Sol Brynn
Goalscorer: None
Editors Star Man: Lewis Ward
Cards:
None


None


None

Match Officials
Referee: Mitchell Terry (Wiltshire)
Assistant Referees: Graham Pearce (Wiltshire), Andrew Lincoln (Wiltshire)