Marine 2 Yate Town 0
Southern League Premier South | Saturday 12th November 2022
Back to blog posts
Match Report from Aleck Everard
Swindon Supermarine were back in home league action on Saturday afternoon with manager Lee Spalding back at the helm after missing last weekend with illness. Two changes were made as George Dowling replaced Brad Hooper and new loan keeper from Gloucester City, Liam Armstrong, made his debut between the sticks in place of Josh Gould.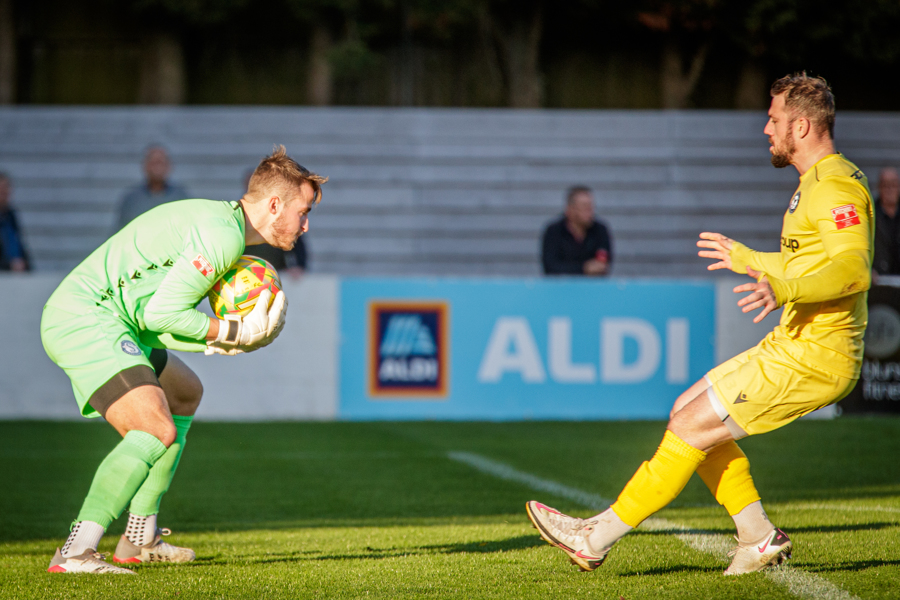 Liam Armstrong kept a clean sheet on his Marine debut
Photo © Rob Mashford Photography Match Album
After a well-respected minutes silence for Remembrance Day and a minute's applause for Glenys Rideout after her sad passing the game got underway slowly and on seven minutes came to a pause once more as the teams paid their respects to Alex Fletcher of Bath City who had suffered a serious injury in midweek. Our thoughts are with him and his family at this difficult time.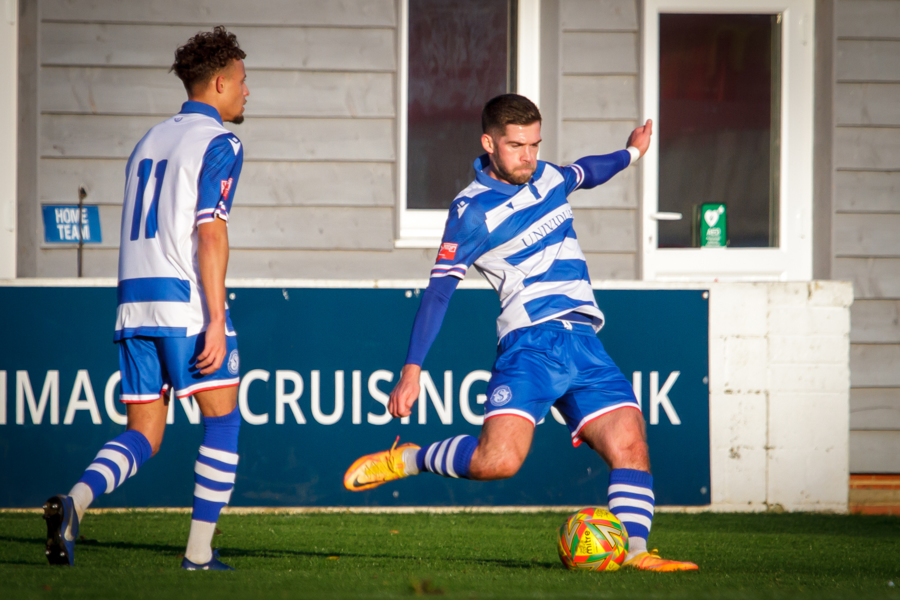 Joe Tumelty had an early effort saved
Photo © Rob Mashford Photography Match Album
With players from both sides having recently swapped clubs in the summer this was always going to be a lively and tight affair. After an early midfield scrap the first chance fell after a Joe Tumelty free kick which was spilt by Martin Horsell in the visiting goal but despite the fumble Yate managed to clear the danger.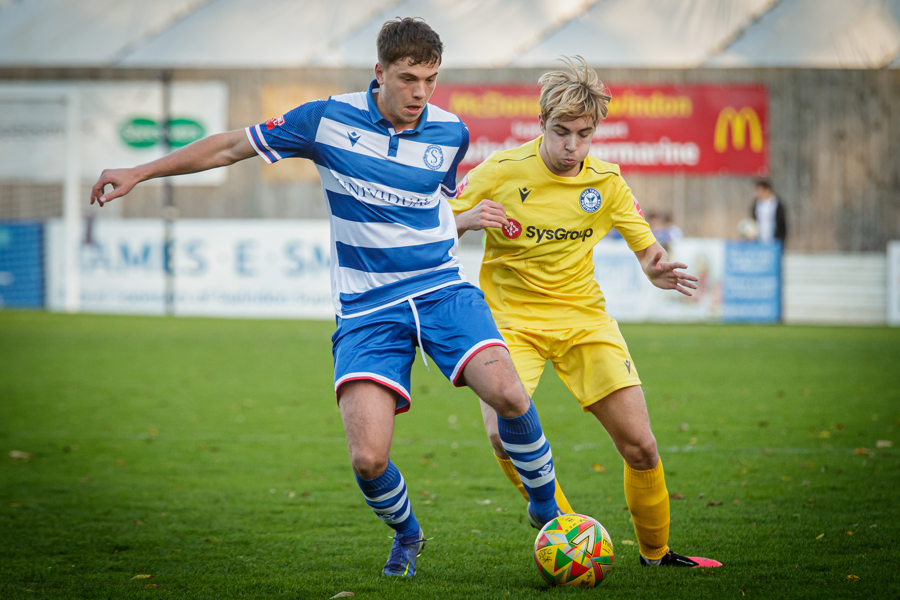 Henry Spalding had an effort saved by Horsell
Photo © Rob Mashford Photography Match Album
Marine were looking more comfortable in possession and Henry Spalding had an effort close in well saved by Martin Horsell after twenty minutes. Ben McLean was the first into the referee's book for a foul soon after and despite being on top Marine were struggling to find the killer pass in a tight first half. Tumelty had an effort from an acute angle saved by Horsell with time running out in the half before the turning point of the game came on forty-three minutes.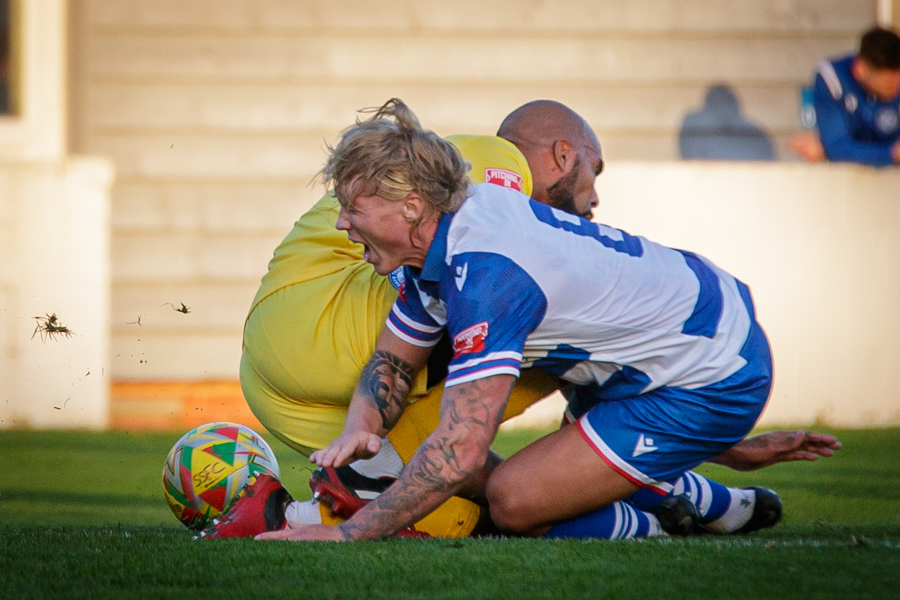 A tackle by Darren Mullings on George Dowling led to a red card
Photo © Rob Mashford Photography Match Album
A late challenge on George Dowling by Darren Mullings saw the Bluebells midfielder dismissed and this would raise Marine's hope. With this in mind Conor McDonagh replaced Dowling at the break as Marine opted for the extra man up top to break the deadlock.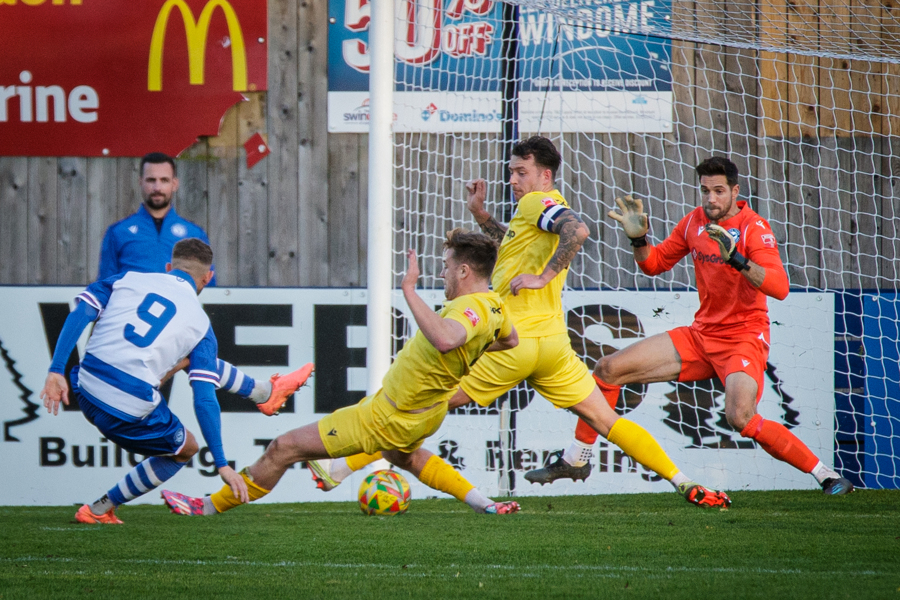 Harry Williams had a couple of early half chances
Photo © Rob Mashford Photography Match Album
With Yate digging deep to defence and apart from an effort poked wide by Harry Williams after a good run by Tyrone Duffus the Yate backline was holding strong after an hour. Harry Williams was looking sharp however and forced another good stop from Martin Horsell on sixty-five minutes. But you could sense the goal was coming and with seventy-minutes on the clock the goal finally came.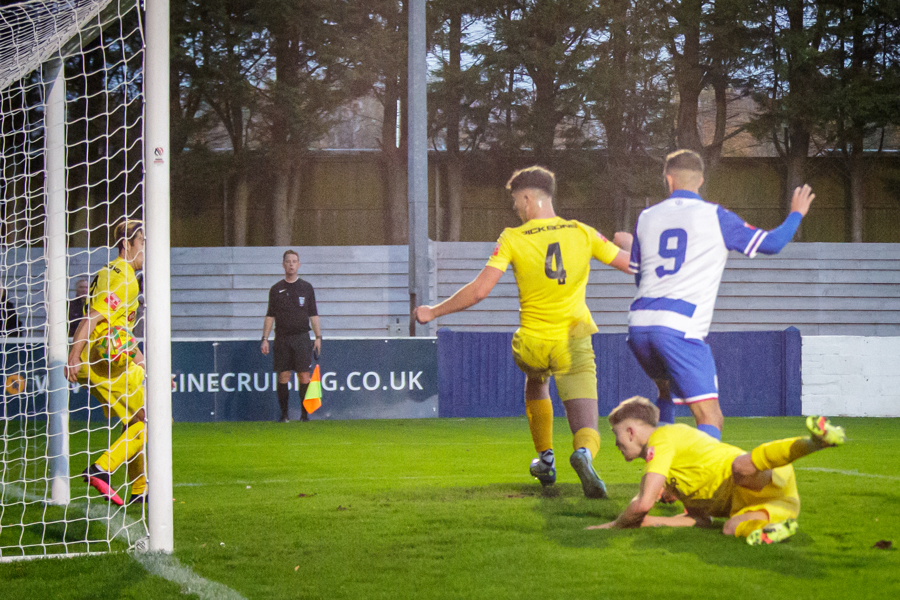 Henry Spalding's effort is blocked on the line by Barnaby Soady's right arm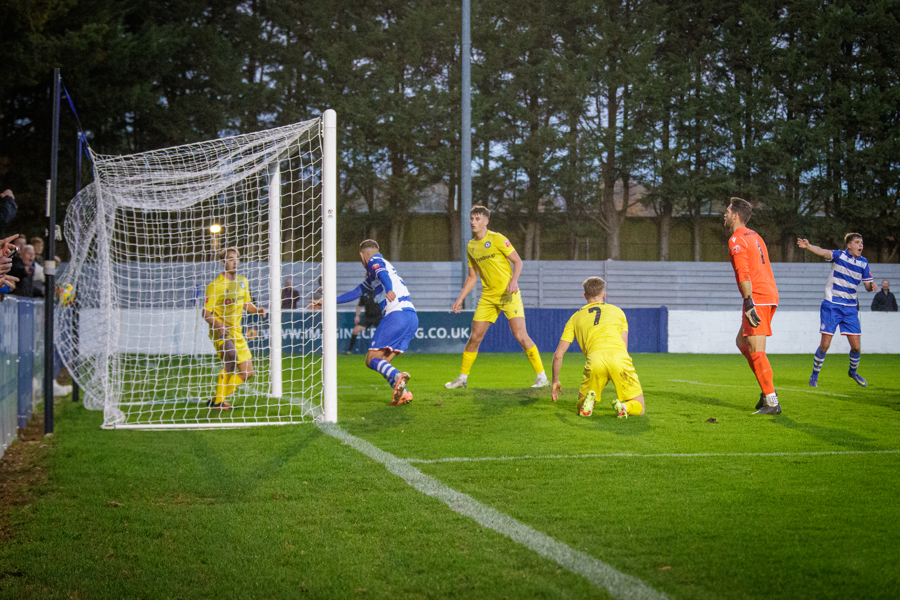 But Harry Williams follows up to score the opening goal Photo © Rob Mashford Photography Match Album
And who else but Harry Williams could be the man to break the deadlock. After pressure down the left a throw in from Ryan Campbell put the ball into the box and after it was spilled by Horsell in the Yate goal the ball fell to Henry Spalding. His strike appeared to be handled off the line by a Yate defender Barnaby Soady but rebounded back to fall to HARRY WIILIAMS who smashed it home for his 20th goal of a remarkable season.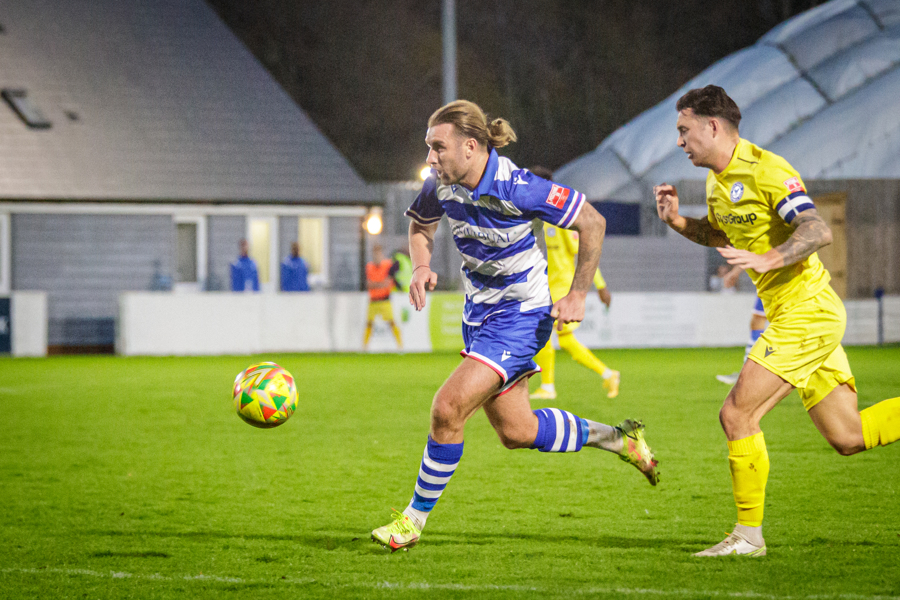 Conor McDonagh collects Williams' header and goes on to score
Photo © Rob Mashford Photography Match Album
Tyrone Duffus was denied again by Horsell with a header soon after before Marine opted for a double change with ten minutes left as Brad Hooper and Zack Kotwica entered the fray in place of Joe Tumelty and Ryan Campbell. The win was sealed when Williams headed the ball into the path of CONOR McDONAGH on 85 minutes and as he was faced with just Horsell to beat he slid the ball comfortably past him for a 2-0 score line.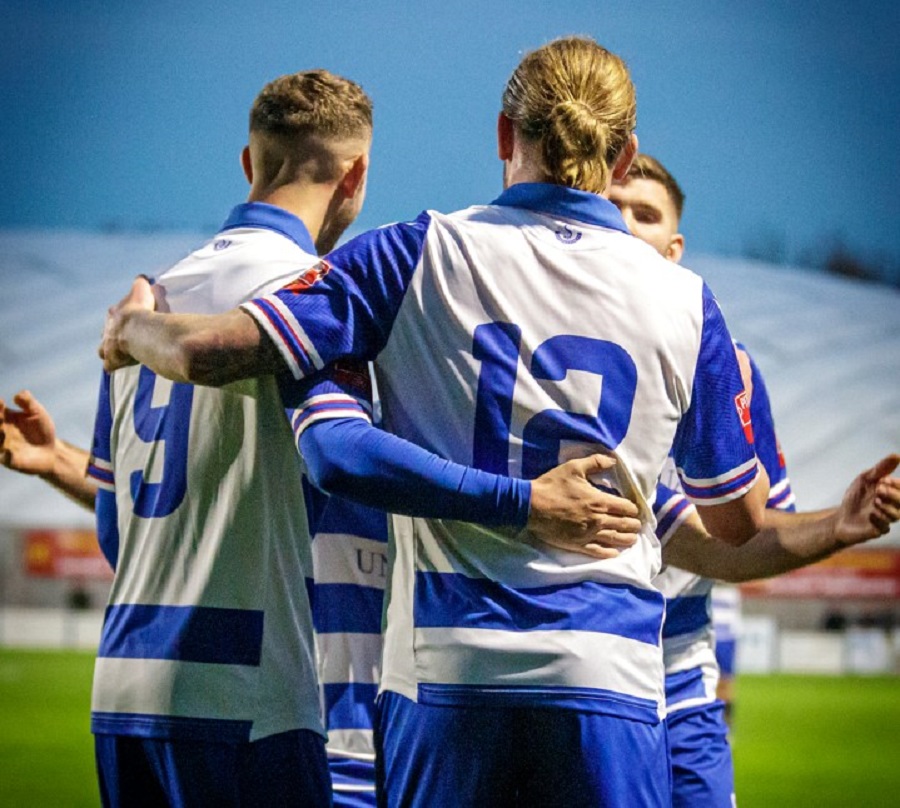 The two goal scorers celebrate
Photo © Rob Mashford Photography Match Album
Overall, a victory never really in doubt as Marine looked the better side on the day eventually breaking down a resolute backline and moving back into fifth place in the table and a well-deserved playoff spot at present. Next up – Wiltshire Premier Shield action away on Tuesday night at Bemerton Heath Harlequins and then next Saturday a massive FA Trophy tie at home to National South Dartford. See you there!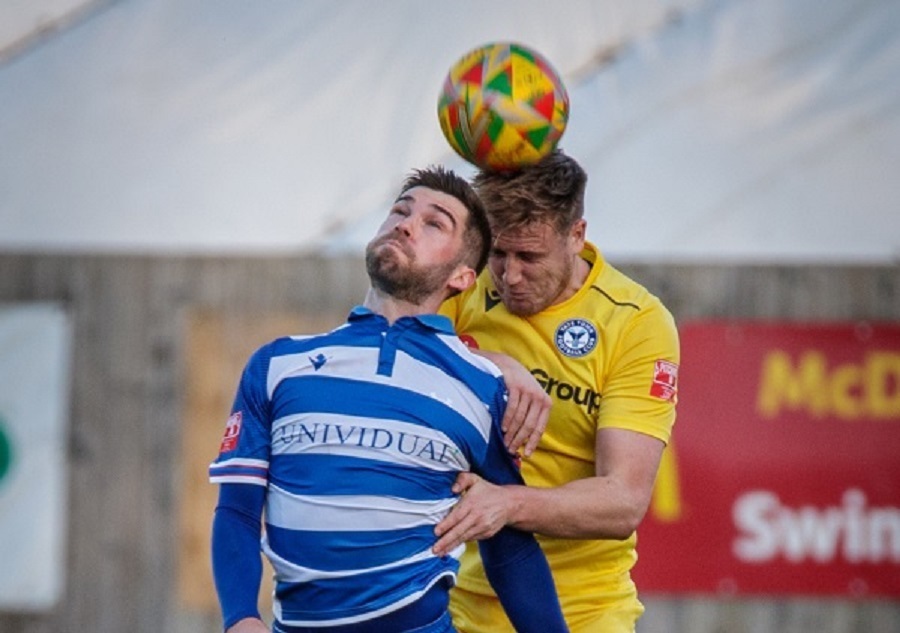 Joe Tumelty the fans star man
Photo © Rob Mashford Photography Match Album
Fans star man Joe Tumelty whose determination and range of passing meant he returned to haunt his former employers.
Attendance: 245
Line Ups
SWINDON SUPERMARINE


Manager: Lee Spalding
Colours: Blue & White Hoops / Blue / Blue
Line-up: 1. Liam Armstrong 2. Sam Turl 3. Will Tunnicliff 4. Mat Liddiard (c) 5. Jamie Edge 6. Tyrone Duffus 7. Henry Spalding 8. George Dowling (12. Conor McDonagh 46') 9. Harry Williams 10. Joe Tumelty (16. Zack Kotwica 72') 11. Ryan Campbell (14. Brad Hooper 85')
Subs not used: 15. Leon Morrison, 17. Sal Abubakar,
Goalscorers:

Harry Williams 70'

Conor McDonagh 85'
Editors Star Man: Joe Tumelty
Cards:
None


None


None

Yate Town


Manager: John Rendell
Colours: All Yellow
Line-up: 1. Martin Horsell 2. Jack Stanley (16. Dylan Lewis 63') 3. Barnaby Soady 4. Toby Raison 5. Pierce Mitchell (c) 6. Calvin Dinsley 7. Tyler Ashmead 8. Darren Mullings 9. Kyle Tooze 10. Ben McLean (15. Denis Digie 82') 11. Zack Drew (12. Liban Ibrahim 61')
Subs not used: 13. Louis Evans (GK), 14. Tom Richards
Goalscorer: None
Editors Star Man: Martin Horsell
Cards:
Ben McLean 25'


Darren Mullings 43'


None

Supermarine TV
Highlights
Courtesy of Mike Wray
Match Album
Courtesy of Rob Mashford Photography
Post Match Team Sheet
Match Officials
Referee: Craig Scriven (Burnham-on-Sea)
Assistant Referees: Andy Wertheim (Unknown), Paul Herbert (Witney)