Match Report | Marine 2 Swindon Town 3
Tuesday 20th July 2021
Back to blog posts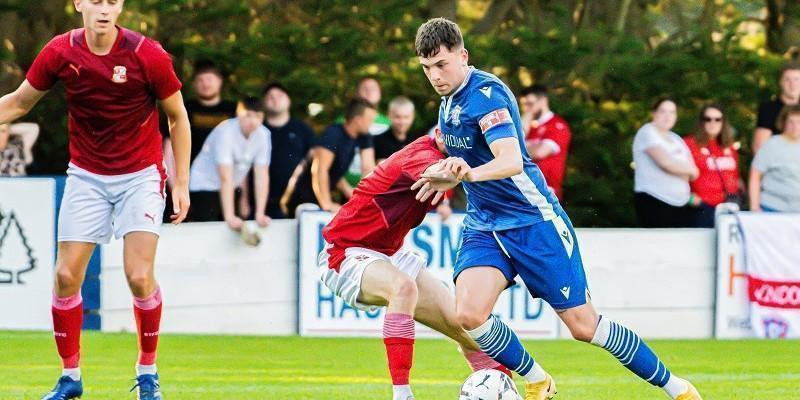 Match Report from Aleck Everard
Superb Spectacle as Marine play out a five goal thriller
In their fourth preseason outing of 2021 Swindon Supermarine took on their local friends Swindon Town at the Webbswood Stadium in front of their largest crowd in what seemed an awfully long time of 856, and it was an excellent night of top class football with extra excitement with the arrival of new Swindon Town owner Clem Morfuni who had earlier that day taken over the club with the promise of better times ahead.
Marine were still without several keys players through injury and isolation in Frankie Artus, Harry Williams Jamie Edge, Pablo Haysham, and Zack Kotwica but saw Conor McDonagh return up top having missed the weekend game.
Town picked a strong side consisting of eleven regular first team players and football league level trialists so it was never going to be easy. And the Robins made the perfect start when Luca Colville found Harry Parsons on the edge of the box and he hit a fierce drive into the corner of the net giving Martin Horsell no chance.
McDonagh and Pratt proved a lively threat all game
Photo © Motionsport Photography
But Marine responded well and looked to have equalised just a few minutes later when David Pratt side-footed home McDonagh's cross from close in but was denied by a tight call from the linesman for offside. The early exchanges were quite even – Henry Spalding had an effort on goal in the 20th minute but couldn't generate enough power and then with literally their second attack Town showed their clinical side as Parsons played through Harry McKirdy who rounded Martin Horsell to net to make it 2-0 Swindon Town.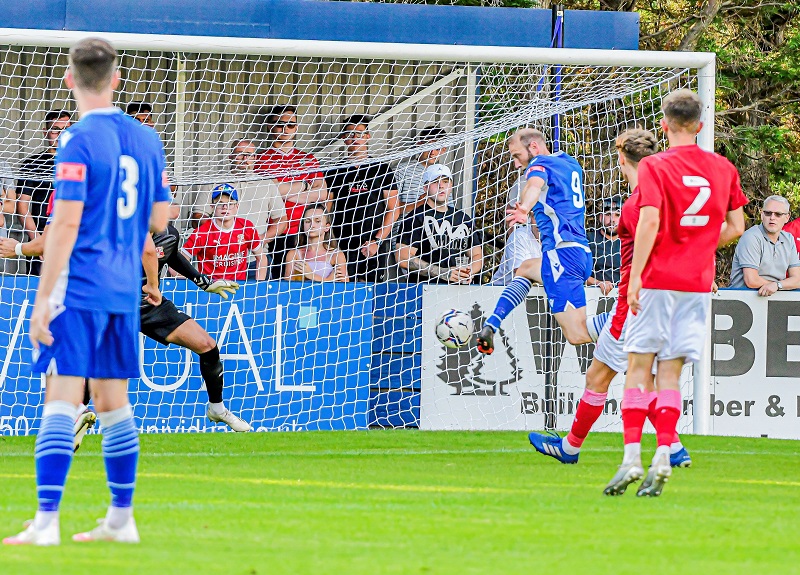 Marine's David Pratt thought he scored a first half equaliser but it was ruled offside
Photo © Motionsport Photography
Once again Marine responded in the right fashion – Conor McDonagh had a dangerous run and shot on the half hour but closing in on half time McKirdy was looking a real threat up top for the visitors. Horsell did well to punch away a dangerous cross before the two clashed when a through ball saw them collide but correctly the excellent official Phil Staynings ruled it as a coming together.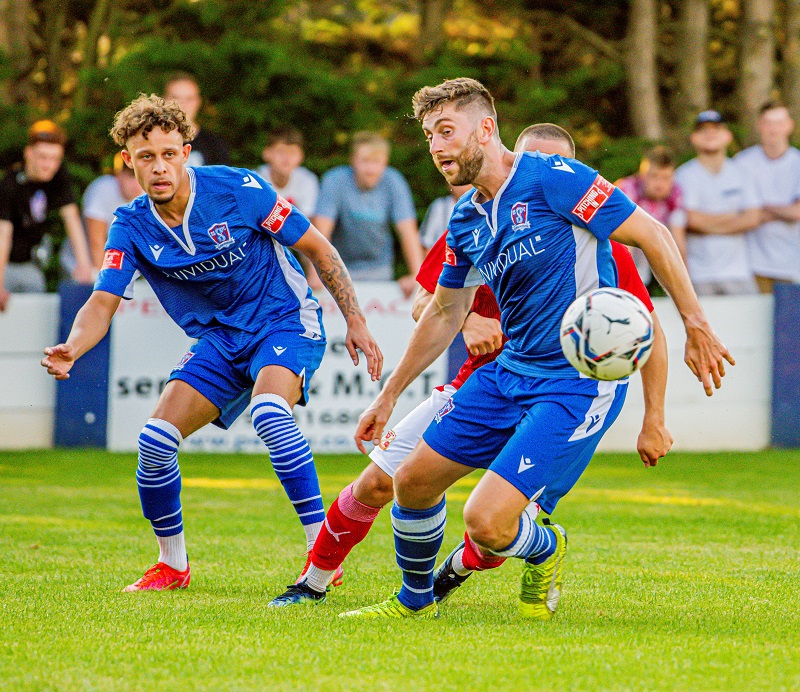 Ryan Campbell and Brad Hooper saw a lot of the ball in the first half
Photo © Motionsport Photography
But it was Harry McKirdy who had the last laugh just before half time. With a fair level of skill and cunning he eluded Pierce Mitchell down the left and hit a delicate finish just inside the far post to make it 3-0 to Town at half time. A harsh scoreline for Marine who had deserved better and nearly got it when a new signing Tyrone Duffus just headed over the bar from a late corner.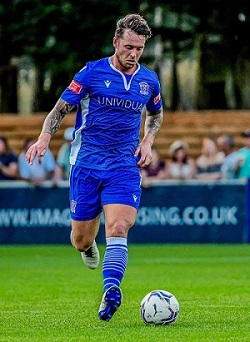 Pierce Mitchell failed to stop McKirdy scoring his second goal
Photo © Motionsport Photography
HT: 3-0
As expected there were wholesale changes on both sides during the second half including the return for a Swindon Town favourite in Anthony Grant at half time. The alterations made for a quiet opening to the second half. But on the hour Marine showed their intent. The lively David Pratt beat sub Suter to the ball and went round the Town trialist keeper but could only screw the effort wide of the post before Bruno Tavares made a mazy run that for the visitors soon after but his effort end with a wild shot that went wide.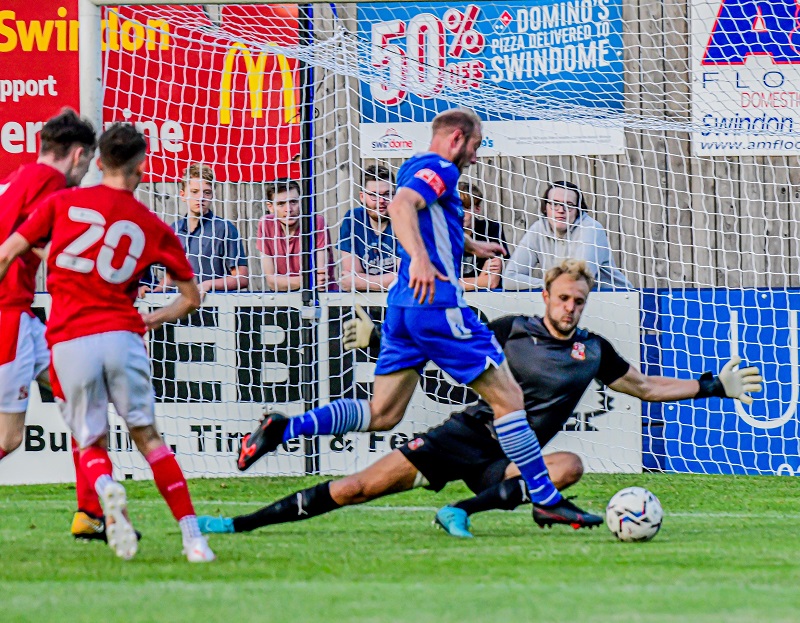 David Pratt goes around the keeper but was unfortunate to find the side netting from a tight angle
Photo © Motionsport Photography
With 20 minutes to go the Swindon trialist keeper was excelling to keep Marine at bay from a long shot by Henry Spalding and a dangerous cross in from Ryan Campbell. But he could do nothing about the next effort from Henry Spalding. After a strong run from Jack Stanley , second half substitute Rhys Wells laid off the ball to Henry Spalding on the edge of the box and from fully 25-yards he executed a top level left footed effort right into the corner of the goal. Game on!
Henry Spalding scored an excellent opening goal for Marine
Photo © Motionsport Photography
In the last few minutes Henry Spalding floated over a free kick which Tyrone Duffus volleyed across goal to put the ball on a plate for David Pratt to finish close in and make it 3-2! Alas, there was no real time left to mount another attack but the hosts can be proud of their performance in the second half, particularly bearing in mind how many players were missing.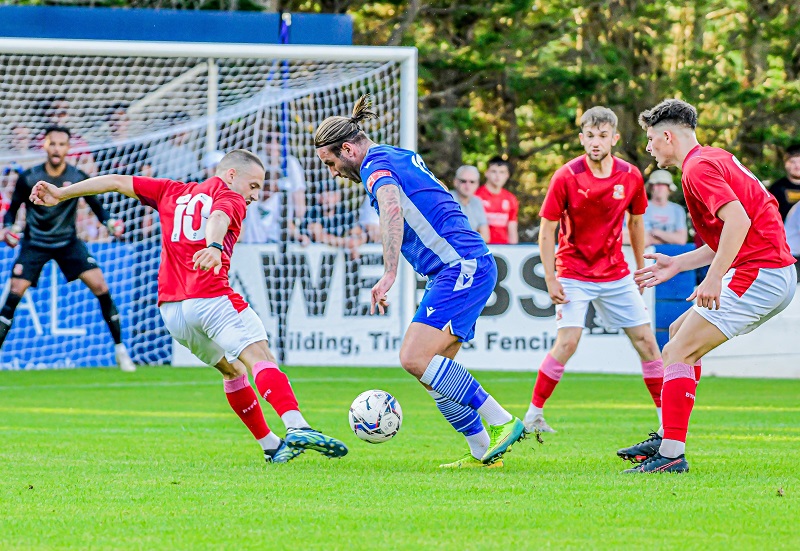 Conor McDonagh showed his trickery during the match
Photo © Motionsport Photography
Overall a great night for the fans, particularly the visiting ones buoyed by the news earlier in the day. It bodes for a great season and good days ahead for all involved. And that is what football is all about.
Marine man of the match
Swindon Supermarine


Manager: Lee Spalding
Line-up: 1. Martin Horsell 2. Louis Spalding 3. Lewis Hall (12. Jack Stanley 60m) 4. Mat Liddiard (c) 5. Pierce Mitchell 6. Tyrone Duffus 7. Henry Spalding 8. Brad Hooper (14. Josiah Dunstan 46m) 9. David Pratt 10 Conor McDonagh (14. Rhys Wells 70m) 11. Ryan Campbell
Subs not used:
Goals:

Henry Spalding 70m

David Pratt 88m
Star Man: Henry Spalding
Cards:
None


None


None

Swindon Town

Managers: Steve Mildenhall (Caretaker Roll)
1st Half Line-up: 1. Jojo Wollacott 6. Mathieu Baudry 9. Harry Parsons 10. Jack Payne 11. Harry McKirdy 14. Ellis Iandolo 15. Luca Colville 17. Mikael Ndjoli 19. Jordan Lyden 23. Corey Jordan 24. Rob Hunt
2nd Half Line-up: 12. Trialist [GK] 2. Cameron Baker 3. Sami Kern 4. Dion Conroy 5. Thomas Suter 7. Bruno Tavares 8. Cameron Berry 13. Godlove Oppong 16. Pavel Zuk 20. Luke Brophy 42. Anthony Grant
Goals:

Harry Parsons 10m


Harry McKirdy 21m, 42m Star Man:
Cards:
None


None


None

Match Officials
Referee: Phil Staynings
Assistant Referees: Sam Read, Andrew Lincoln
Video's from Your Sport Swindon
All the goals
Extended highlights
Post match with David Pratt