Walton Casuals 1 Marine 1
Southern League
Back to blog posts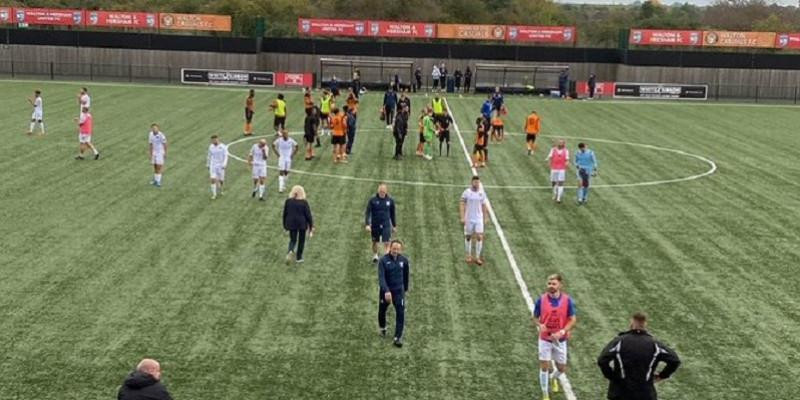 Match Report from Aleck Everard
Swindon Supermarine took the journey down to South West London to take on Walton Casuals on Saturday afternoon at the Elmbridge Xcel Leisure Complex as their quest to win a first league game since the end of August continued.
Tyrone Duffus returned to the defence after serving a one match suspension whilst David Pratt and Ryan Campbell came into the front line replacing Zack Kotwica and Chris Zebroskiwho moved to the bench. Michael Hopkins returned to the squad after his injury as a sub.
With Marine in White third kit they kicked from left to right in the first half on an artificial surface that seemed not the best with the players finding the ball difficult to control with some unexpected bounces. An early corner from Henry Spalding forced a clearance off the line from the hosts as Marine started well. A spell of pressure in the ninth minute saw shots from Conor McDonagh David Pratt and Ryan Campbell all blocked in turn with the last deflecting out for a corner.
Walton finally started to settle and Martin Horsell did some smart work by punching away a dangerous cross ahead of the front line. Walton centre forward Adam Liddle went down theatrically for the hosts on 24 minutes but earnt a free kick on the edge of the box which the lively James Comley took but Martin Horsell saved it well.
The game sparked into life just after the half hour went a late challenge from James Conley saw George Dowling writhing in what looked like some pain but the referee did not see the challenge? Shortly after Dowling went in late for a tackle and was promptly booked. A follow up challenge with what looked like an high elbow minutes later on Dowling did earn a free kick for Marine but no card on this occasion for Bradley Keetch. Dowling was now the centre of the match and a powerful shot was parried away by the home keeper. An off the ball incident involving James Comley who appeared to raise his foot into Pierce Mitchell's throat was once again not seen by the referee of his assistant close by and despite the protests nothing was given.
With time ticking away in the first half and the ball bouncing around awkwardly in the Walton penalty area it eventually fell to RYAN CAMPBELL on the left hand side of the box, he turned his defender and shot straight in the bottom corner to give Supermarine the lead right on half time for his second goal of the season. A great time to score with Marine looking to build on this in the second half but it was noticeable that home manager Anthony Gale was deep in discussion with the officials all the way off the pitch over the first half decisions that had taken place?
The second half started quietly with the ball stuck in the middle of the park without much action. On the hour manager Lee Spalding made a change with Chris Zebroski coming on for Conor McDonagh to add a bit of height and muscle into the front line to match the physical centre backs, but within seconds Walton had a penalty. A needless throw in was given away by Pierce Mitchell when he tried to let a long ball run out but got a slight touch on it.
Walton's James Comley's long throw went deep into the penalty box and with a number of players challenging for the ball it came off the head of Marine's Jamie Edge and went into the open space in the six-yard box. With both Walton's Adam Liddle and Marine's Tyrone Duffus completely missing the ball they collided and the referee immediately pointed to the penalty spot without no hesitation? A penalty was given which looked a very harsh decision at the time and a subsequent look at the video after the game you can quite clearly see it wasn't a penalty?
Walton's ROCHELL GORDON stepped up to level the scores from the spot with keeper Martin Horsell going the right way but the ball was just out of his reach and the match was all square. Walton were awarded another free kick on 70 minutes and once again Liddle the man that was deemed to have been "brought down". The free kick on the edge of the box and James Comley found the target but Horsell pulled off an excellent save to dive his left hand side and push the ball away.
Shortly afterwards Brad Hooper replaced Dowling and immediately after and James Comley finally tested the patience of the referee once too often with some more petulance and promptly went into the notebook and minutes later he was withdrawn by the home team for Daniel Rowe. Another long ball over the top on 76 minutes saw Liddle race away into the box and with skipper Mat Liddiard challenging, it looked as though he threw himself to the ground once more, but this time the referee waved play on, although no card for simulation was shown, another odd decision?
Lewis Hallhad an effort on goal from the edge of the box but it went straight down the keepers throat before a couple of late yellow cards for Marine, David Pratt for dissent and Jamie Edge for what didn't even appear to be a free kick but still saw yellow. One final excellent goal scoring chance went begging in injury time. With the ball bouncing around unusually just inside the Walton penalty box it landed in front of David Pratt but his shot, that was well hit, went into Walton keeper Jacob Adams' hands and the chance to gain all three points had passed.
Overall a draw seemed a fair result on a very difficult playing surface which the Marine players were clearly not happy with but with the equalising goal only coming from a dubious spot kick Marine will be wondering when their luck will turn. Hopefully on Tuesday night at home to Taunton who smashed seven goals past Beaconsfield this weekend!
Attendance: 142
Fans man of the match: Martin Horsell
Line Ups
Walton Casuals


Manager: Anthony Gale
Line-up: 1. Jacob Adams 2. Zack Chislett 3. Reuben Duncan 4. Shaun McAuley 5. Tarik Moore-Azille 6. Josh Lelan (c) 7. Zidan Akers (17. Kyle Reid 70') 8. Bradley Keetch (14. Ansu Jenneh 76') 9. Adam Liddle 10. James Comley (15. Daniel Rowe 83') 11. Rohdell Gordon
Goalscorer: Rohdell Gordon (63')


Subs Not Used: 12. Gabriel Odunaike, 16. Joe Morrison
Editors Star Man: Shaun McCauley
Cards:
James Comley 75'


None


None

Swindon Supermarine


Manager: Lee Spalding
Line-up: 1. Martin Horsell 2. Pierce Mitchell 3. Lewis Hall 4. Jamie Edge 5. Tyrone Duffus 6. Mat Liddiard (c) 7. Henry Spalding 8. George Dowling (14. Brad Hooper 72) 9. David Pratt 10. Conor McDonagh (12. Chris Zebroski 60') 11 Ryan Campbell
Subs not used: 15. Michael Hopkins, (16. Zack Kotwica, 17. Louis Evans (GK),
Goalscorer: Ryan Campbell 43'


Editors Star Man: Martin Horsell
George Dowling 30', Tyrone Duffus 62', David Pratt 83', Jamie Edge 90'


None


None

Video's from Your Sport Swindon
Match Highlights
Access to the highlights from all of Marine's matches can be viewed on a monthly subscription of just £2:50. Click the 'match highlights' above and subscribe.
Post-Match Team Sheet
Click here for post match team sheet
Match Officials
Referee: Luke Donaldson (London)
Assistant Referees: Damian Mirzadeh (London), Ronald Albert (London)