Chesham United 0 Marine 1
Pitching In Southern League Premier South | Saturday 10th October 2020
Back to blog posts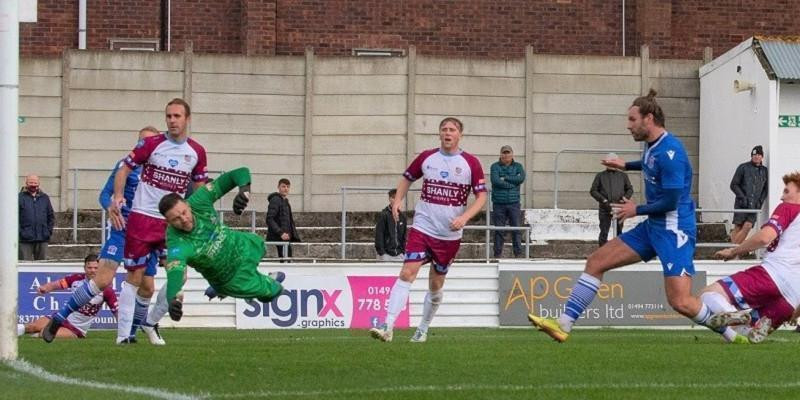 Photos © Trevor Hyde Photography
Conor McDonagh scoring the winning goal above
MATCH REPORT from ALECK EVERARD
SUPERMARINE LAND SUPERB AWAY WIN
Swindon Supermarine moved up to fourth in the PitchingIn Southern League Premier Division with a superb team performance to pick up their second away win of the season when they visited The Meadow at Chesham United and picked up a 1-0 victory. With Brad Hoopersuspended for one match it meant a start for Joe Shepherd for the first time this season with new signing from Chippenham Town David Pratt beginning his second spell with Marine from the bench.
Ryan Campbell attacks Chesham in the first half
Photo © Trevor Hyde Photography
In front of a large crowd of 552 including local resident Spandau Ballet star Tony Hadley, the game took a while to really get going. There was an early chance for Chesham's Eion Casey when he headed over from close in after four minutes and Chesham were applying the early pressure but both sides were struggling to keep hold of the ball in the slightly tricky wind for the first twenty minutes.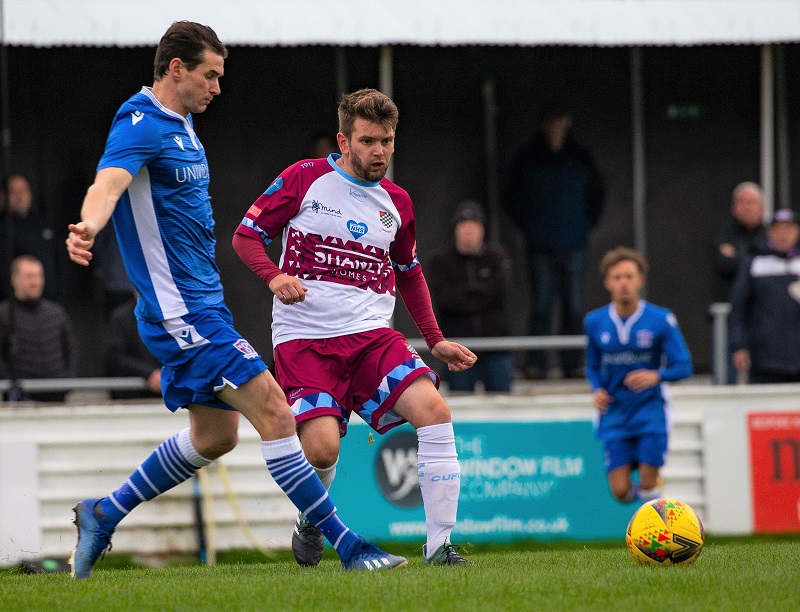 Jake Lee clears the ball away from danger
Photo © Trevor Hyde Photography
Marine burst into life on 24 minutes though when Conor McDonagh went on a run and his strike from the edge of the box hit the outside of the post and bounced out. Chesham had a string of corners on the half hour but Marine were looking solid in defence with Jake Lee Mat Liddiard and marshalling the troops well.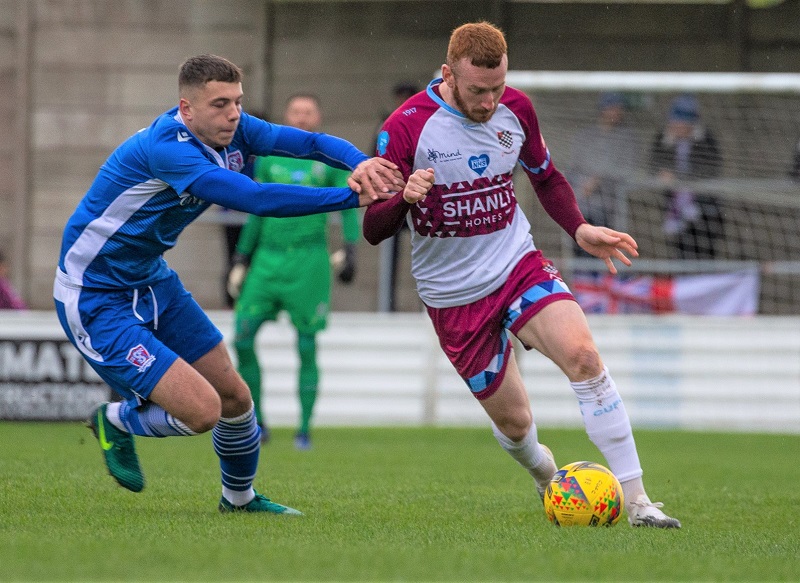 Henry Spalding challenges the Chesham player
Photo © Trevor Hyde Photography
Sam Jenkins went into the book for the hosts after a late challenge on Jamie Edge before the back line were beaten for the first time but Chesham's Bradley Clayton could only fire weakly at Martin Horsell who held the shot easily on 38 minutes. The final action of a tame half saw Ryan Campbell's intercept well but drag his shot past the post. A decent half for Marine who had soaked up the pressure easily and would look to push on second half.
HT: 0-0
Chesham came out strongly but once again the Marine defence were looking strong and only allowing the odd shot from distance and one close in header by Dernell Wynter which Horsell held on to the ball very well. Henry Spalding was withdrawn on 56 minutes to allow David Pratt to make his second debut and the change seemed to bring instant reward for gaffer Lee Spalding.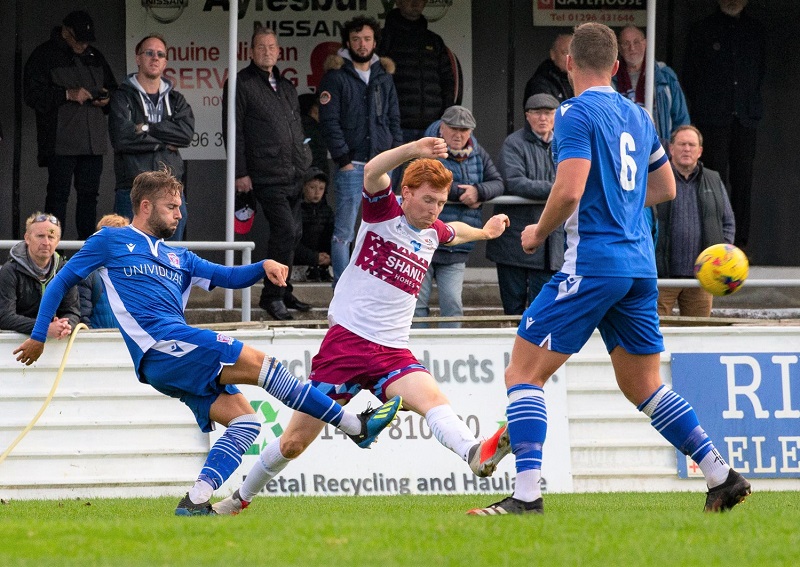 Michael Hopkins clears the ball
Photo © Trevor Hyde Photography
A nice team move down the right culminated in an excellent move with a deep run and pull back from Joe Shepherd which landed at the feet of CONNOR McDONAGH. He had the easiest of tap ins to give Marine an excellent lead for his third goal of the season.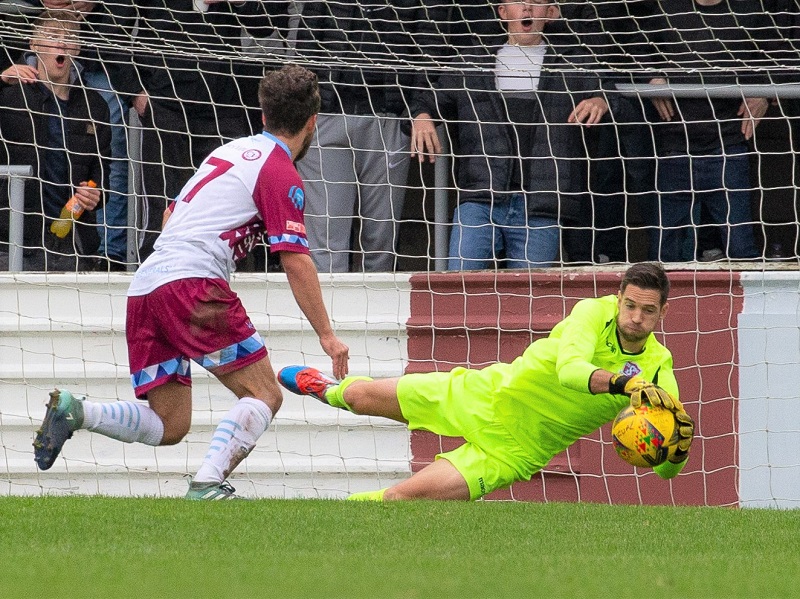 Martin Horsell makes a save
Photo © Trevor Hyde Photography
Chesham were frustrated by the hard working Marine defensive line with Shepherd and Edge soaking up the play ahead of the immense back four and made a double change with 25 minutes to go in a bid to change things. But it was Marine on their superb breaks led by the lively Zack Kotwica. On 60 minutes he executed a superb nutmeg on a defender to create an opening but got the cross all wrong with other Marine players well placed.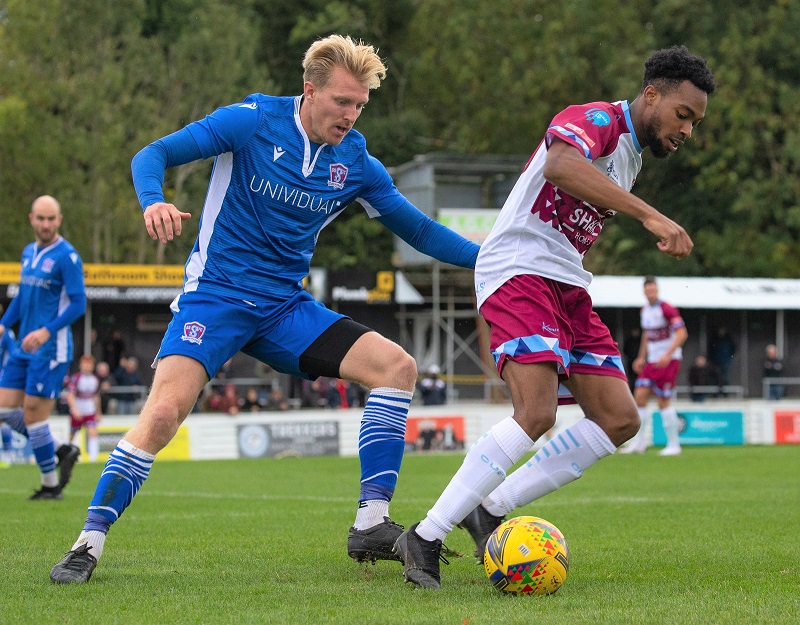 Joe Shepherd closes down the Chesham player
Photo © Trevor Hyde Photography
Pratt then had a shot deflected wide on 73 minutes but the corner and a follow up set piece came to nothing on this occasion. Harry Williams provided fresh legs up top with 15 minutes to go when he replaced goalscorer Conor McDonagh. An increasingly desperate home side appealed for a penalty as substitute Jake Cass went down in a melee in the box with three minutes to go, but the referee ruled the ball was played by a defender much to the relief of Marine players and fans alike.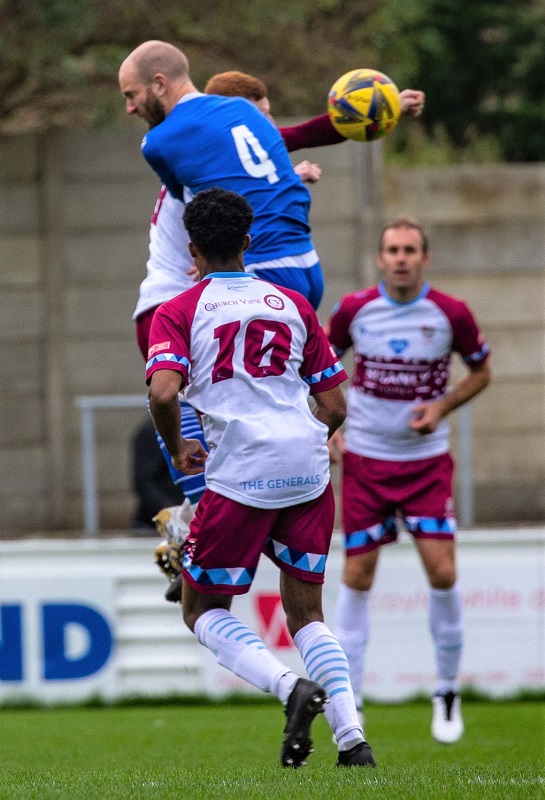 Jamie Edge gets the highest to win the ball
Photo © Trevor Hyde Photography
One final break saw Pratt net but he had just strayed offside, but because he had played on after the referee's whistle he received a caution. Marine held on comfortably, as they had done for most of the game, and picked up a superb three points against the previously unbeaten Chesham United side. An all round team performance where everyone put in at least an 8 out of 10 performance with the back four imperious, the front line dangerous and the midfield dropping deep to control the game. My star man on his first start of the season was Joe Shepherd who looked sharp and got through a lot of work in the middle of the park.
FT: 0-1
Attendance 552
MATCH LINEUPS
CHESHAM UNITED


Managers: James Duncan & Michael Murray
Line-up: 1. Sam Beasant 2. Sam Jenkins (14: Kyle Watson 82m) 3. Lewis Rolfe 4. Mark Kirby 5. Keiran Murphy 6. Adam martin (c) 7. Bradley Clayton 8. Billy Adcock 9. Eoin Casey (12: Jake Cass 66m) 10. Dernell Wynter 11. David Pearce (16: Billy Busari 66m)
Subs not used: 17. T'Sharne Gallimore
Goals:
Star Man: Billy Adcock
Cards:
Sam Jenkins 32m Jake Cass 86m


None


None

SWINDON SUPERMARINE


Manager: Lee Spalding
Line-up: 1. Martin Horsell 2. Louis Spalding 3. Michael Hopkins 4. Jamie Edge 5. Jake Lee 6. Mat Liddiard (c) 7. Henry Spalding (14. David Pratt 60m) 8. Joe Shepherd 9. Zack Kotwicka 10 Conor McDonagh (16. Harry Williams 75m) 11. Ryan Campbell
Subs not used: 12. Jack Stanley 15. Lee Marshall 17. Tommy Ouldridge
Goals:

Conor McDonagh 59m
Star Man: Joe Shepherd
Cards:
David Pratt 90m


None


None

MATCH HIGHLIGHTS from YOUR SPORT SWINDON
Post match with Lee Spalding and defender Jake Lee
MATCH OFFICIALS
Referee: Stephen Parkinson
Assistant Referee's: Stephen Matthews, James Barry