Chesham United 1 Marine 2
BetVictor Southern League Premier South | Tuesday 11th February 2020
Back to blog posts
MARINE BOUNCE BACK WITH AN IMPRESSIVE WIN
by Brian Davis (Media & Press Officer)
Bounceback or bounce-back[ bouns-bak ] noun
The act or an instance of bouncing back, recovering, or recuperating:
"Swindon Supermarine have experienced a tremendous bounceback following three consecutive league defeats."
Ability[ uh-bil-i-tee ] noun, plural a·bil·i·ties.
Power or capacity to do or act physically, mentally, legally, morally, financially, etc
Competence in an activity or occupation because of one's skill, training, or other qualification:
"The ability to play football well."
Abilities, talents; special skills or aptitudes:
Composing music is beyond his abilities.
Bouncebackability /ˌbaʊnsbakəˈbɪlɪti/ noun (especially in sport) the capacity to recover quickly from a setback.
"Promotion-chasing sides like Swindon Supermarine need to show the requisite bouncebackability after defeat"
There was plenty of Bouncebackability on a cold and frost evening in Buckinghamshire as 'Marine bounced back from not only three consecutive league defeats, but also from a half time deficit to take all three points at league leaders Chesham United as two goals in a minute won them the game for them.
It was a tepid affair for half an hour with neither side creating any real chances. 'Marine made three personnel changes from Saturday with Mat Liddard moving into midfield from centre half in place of Brad Hooper as Matt Coupe came in next to Matt Williams, whilst Joe Shepherd also came into midfield in place of Henry Spalding and Harry Williams replacing Stuart Fleetwood up front.
Liddard received a yellow card when he brought down Bradley Clayton and from the resulting free kick a dangerous ball was played into the Marine back four but unfortunately for the hosts, nobody could get on the end of it. They did go one step closer a few minutes later though as when Clayton was pulled to the ground again, the ball broke to Dave Pearce who lashed his effort into the bottom corner from 20-yards to put the league leaders in front.
Chesham should have extended their lead when after a break in play due to a spectator who had falling over on the terraces, 'Marine switched off at the back and it looked for all the world like Clayton would score but he guided his volley over the bar in front of a beaten Martin Horsell from only a few yards out. It was a huge let off and a chance that Chesham would rue.
Everybody at Supermarine passes on our regards to the gentleman who fell over behind the visiting fans and wish him a speedy recovery. We would also like to thank the speedy response from both the officials and staff from both clubs who came over to check on his situation.
Lee Spalding rolled his lucky dice early as Henry Spalding came on in place of Joe Shepherd and it was 10 minutes into the second half when his side had their first shot on target as Harry Williams made home keeper Ben Goode make a good save down to his left to deny him.
The striker was in the middle of the action only a couple of minutes later when he was taken down as he advanced into the box to win a penalty. Left back Michael Hopkins calmly stepped up and sent Goode the wrong way to tie the scores up.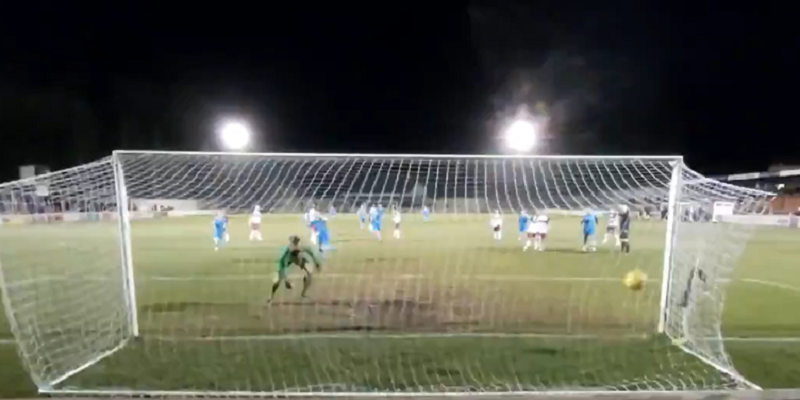 Michael Hopkins penalty sends keeper Goode the wrong way
Before I could find Hopkins' goal GIF, I was quickly then searching for Liddard's as almost from kick-off, 'Marine won the ball back, broke down the left hand side through Ryan Campbell and Michael Hopkins and from the latter's cross Liddard powered home a low header at the near post to turn the game on its head within just a few seconds!
Conor McDonagh then hit a great chance over the bar and with the home side looking for an equaliser, the game really opened up into an exciting end-to-end encounter.
Clayton hit an effort into the side-netting before Horsell was forced into an excellent save to preserve the lead. With just two minutes left on the clock, it looked like the home side may get something but as the ball was floated over into the box, a Chesham attacker somehow managed to head his effort wide of the target.
Lee Spalding will see if his side can maintain their Bouncebackability this Saturday at the Webbswood Stadium when they host Met Police, which, in the reverse fixture, was a night where there was plenty of bounce back and ability on display when his side came from two goals down to win 3-2. The best three points he's ever had off the Police, probably!
HT: 1-0
FT: 1-2
Att: 354
MATCH VIDEO
Highlights & Post Match with Lee Spalding
Video Courtesy of Your Sport Swindon

MATCH STATISTICS
CHESHAM UNITED


Managers: Michael Murray & James Duncan
Line-up: 1. Ben Goode 2. Jeanmal Prosper 3. Kyle Watson (12. Sandro Costa 85m) 4. Adam Martin 5. Mark Kirby 6. Steve Brown (c) 7. Zak Joseph (15. Dernell Wynter 77m) 8. Bayley Brown 9. Eoin Casey 10. Bradley Clayton 11. David Pearce
Subs not used: 14. Sam Jenkins 17. Kieran Murphy
Goalscorers: David Pearce 36m
Star Man: David Pearce
Cards:
Steve Brown 45m

None

None

SWINDON SUPERMARINE


Manager: Lee Spalding
Line-up: 1. Martin Horsell 2. Louis Spalding 3. Michael Hopkins 4. Jamie Edge 5. Matt Coupe 6. Matt Williams 7. Joe Shepherd (16. Henry Spalding 53m) 8. Mat Liddiard 9. Harry Williams (14. Stuart Fleetwood 75m) 10. Conor McDonagh 11. Ryan Campbell
Subs not used: 12. Josh Hill 15. Brad Hooper
Goalscorers: Michael Hopkins 62m pen, Mat Liddiard 63m
Star Man: Mat Liddiard
Cards:
Mat Liddiard 28m

None

None

MATCH OFFICIALS
Referee: Dan Simpson
Assistant Referees: Colin Wordsworth, Bogdan Caraghin