Marine 1 Hendon 1
Southern League Premier South | Saturday 2nd October 2021
Back to blog posts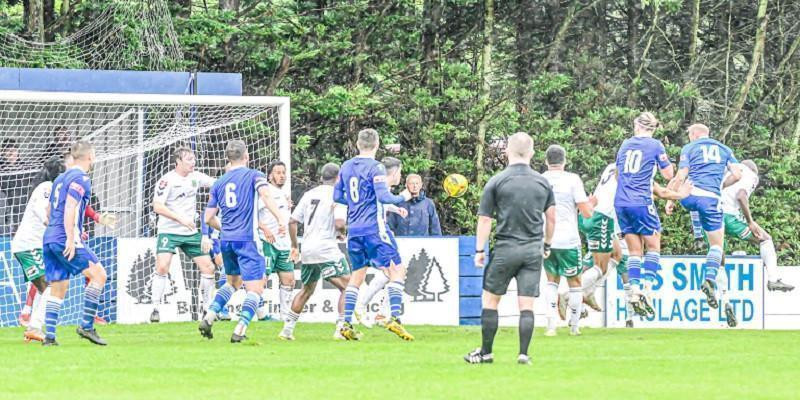 Match Report from Aleck Everard
SWINDON MAKE THEIR POINT AS UNBEATEN HOME RUN CONTINUES
Supermarine took on Hendon on a soggy afternoon with both sides chasing the play off places. Brad Hooper, Ryan Campbell and Conor McDonagh returned to the starting line with injury continuing to rule out George Dowling, Pierce Mitchell and Frankie Artus. There was also a second home debut for returning defender from Stratford Town Michael Hopkins who re-signed for Marine ten days ago.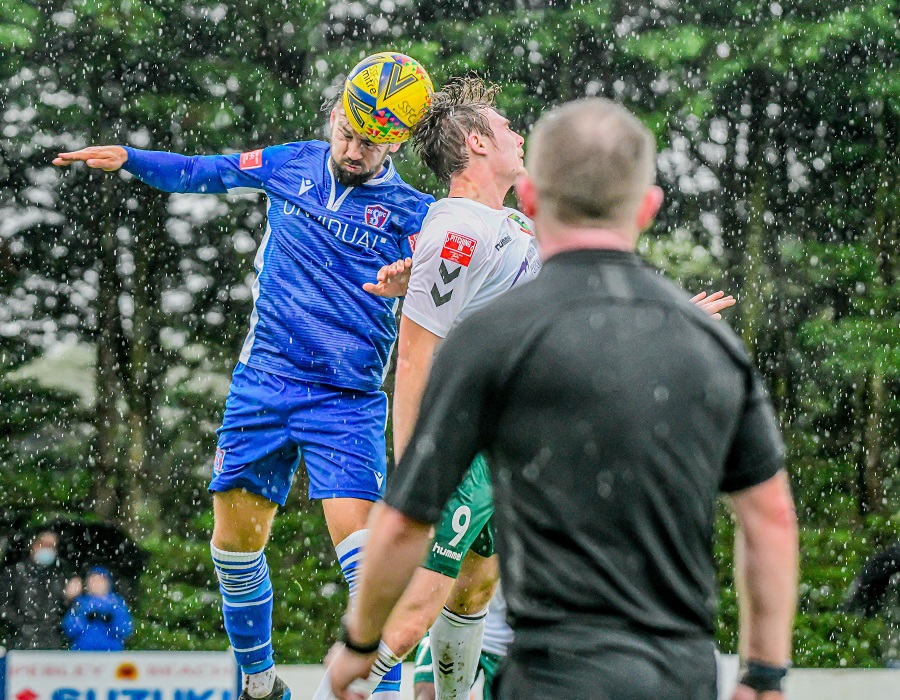 Michael Hopkins made his second home debut for Marine
Photo © Motion Sport Photography / Match Album
On eight minutes Conor McDonagh's long range effort struck the bottom post. Harry Williams beat Hendon keeper Fred Burbidge to a through ball but could only poke the ball wide on eighteen minutes and followed this up with another chance when put clean through on the half hour, but the Hendon keeper excelled once again to keep him out. But it was the first real chance for Hendon that opened the scoring. With the rain thumping down a cross from the right wing by Shaun Lucien was met by a well-timed run from LIAM BROOKS who scored from close range with the ball coming off his knee to put the Greens in front on 34 minutes.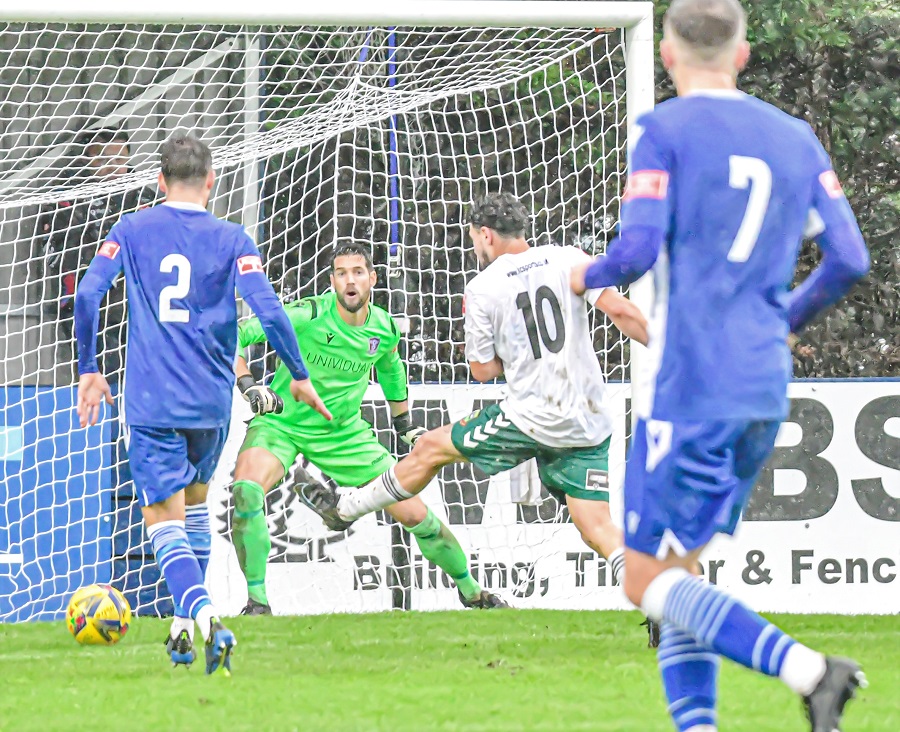 Liam Brooks scores Hendon's goal
Photo © Motion Sport Photography / Match Album
Marine responded well and the lively Harry Williams was brought down on the edge of the box by Hendon's Christian Smith that received the first yellow card of the game. Jamie Edge's free kick was top notch as it flew past the Hendon wall and annoyingly came back off the post with keeper Burbidge well beaten! Conor McDonagh followed this up with a strike into the side netting as the hosts dominated the chances. McDonagh was denied again by the superb Burbidge with a shot heading for the top corner somehow pushed over for the final chance of the half. Once again the fans were left wondering just how Supermarine were not in front yet somehow found themselves trailing once more.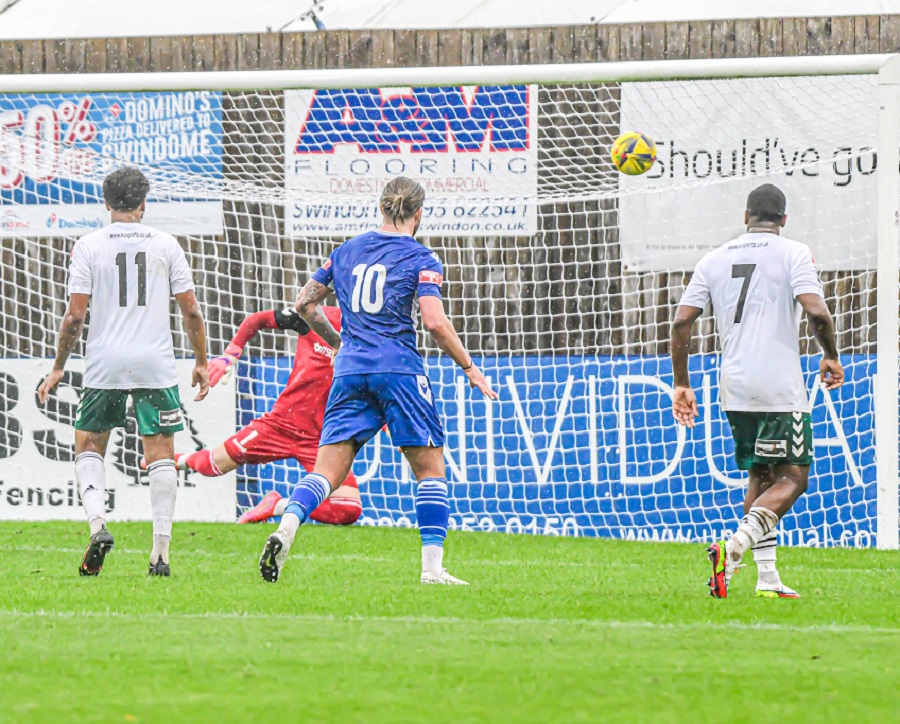 Jamie Edge's free kick hits the post
Photo © Motion Sport Photography / Match Album
In the second period the trend of Supermarine attacking and possession with Hendon seemingly determined to keep their lead rather than add to it continued. However despite the early pressure there was no killer pass to prise open the strong defensive unit. Manager Lee Spalding decided therefore to ring the changes just after the hour with David Pratt and Zack Kotwica entering the fray in place of Harry Williams and Henry Spalding. This seemed to have the desired effect as within seconds Pratt found space and had a strike kicked away by the Hendon keeper. This was swiftly followed up by a strong header after Ryan Campbell's cross but Pratt's effort was cleared off the line by a defender.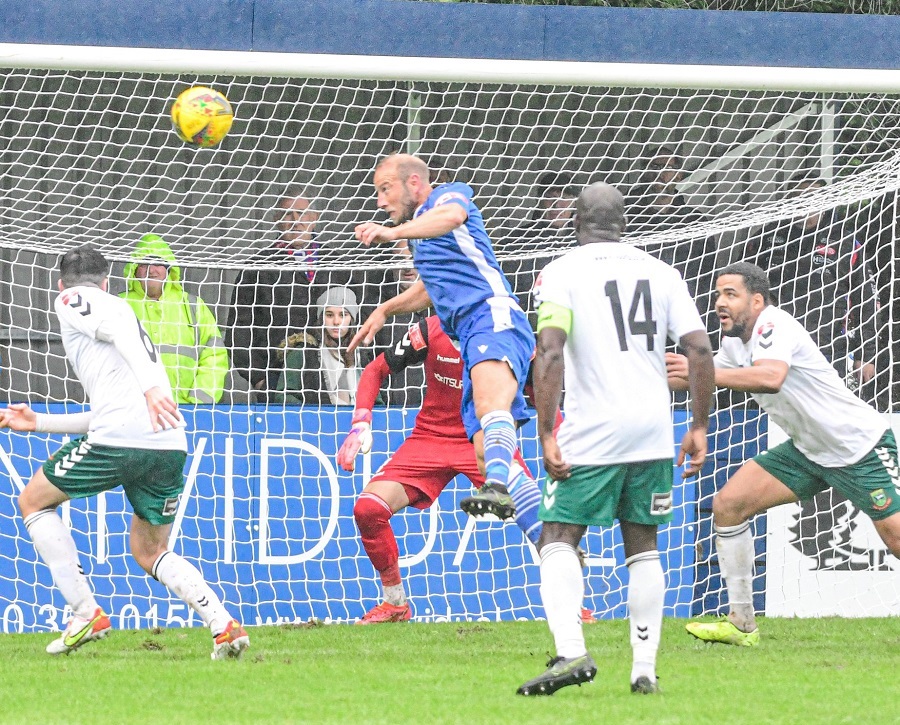 David Pratt went close with this header
Photo © Motion Sport Photography / Match Album
Brad Hooper had another go but once again Hendon keeper Burbidge was there to deny on the line with a block. The final roll of the dice came with Chris Zebroskimaking it four up top replacing Lewis Hall as Marine went all out to score an equalising goal with a move to a back three. Marine nearly lost the game minutes later when a Hendon player had the goal at his mercy for only a few yards out but somehow Marine keeper Martin Horsell saved the shot with an outstretched leg as he dived the other way.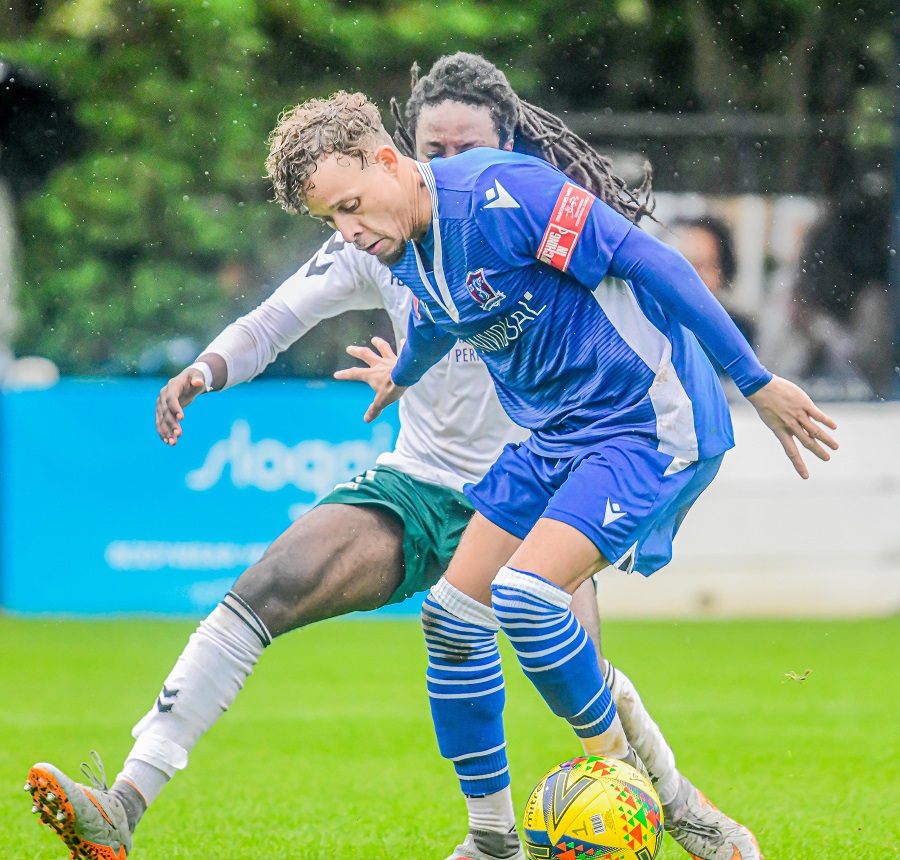 Ryan Campbell tormented the Hendon defence all game
Photo © Motion Sport Photography / Match Album
David Pratt had another header somehow cleared away off the line and Conor McDonagh scuffed the rebound wide, but Marine were not to be denied. A corner on 88 minutes was initially headed clear by a defender but only as far as BRAD HOOPER just outside the box and with a text book half volley it flew beautifully into the back of the net past Hendon keeper Burbidge's dive, a well-deserved leveller for Marine.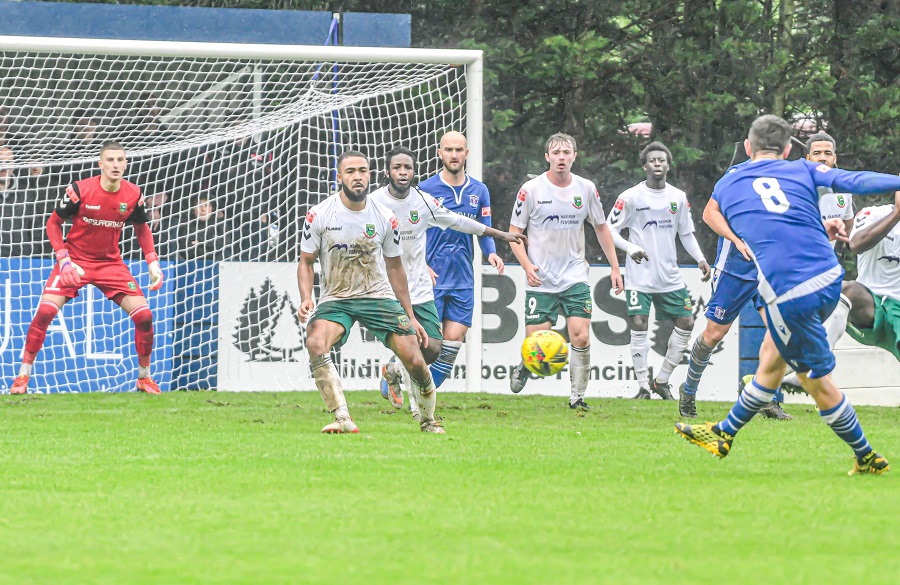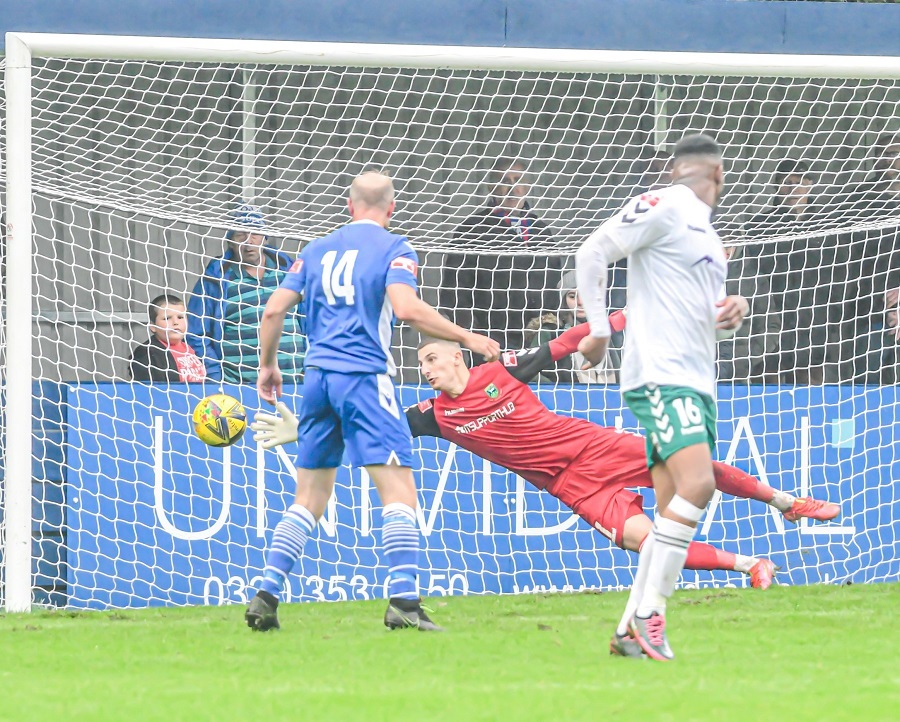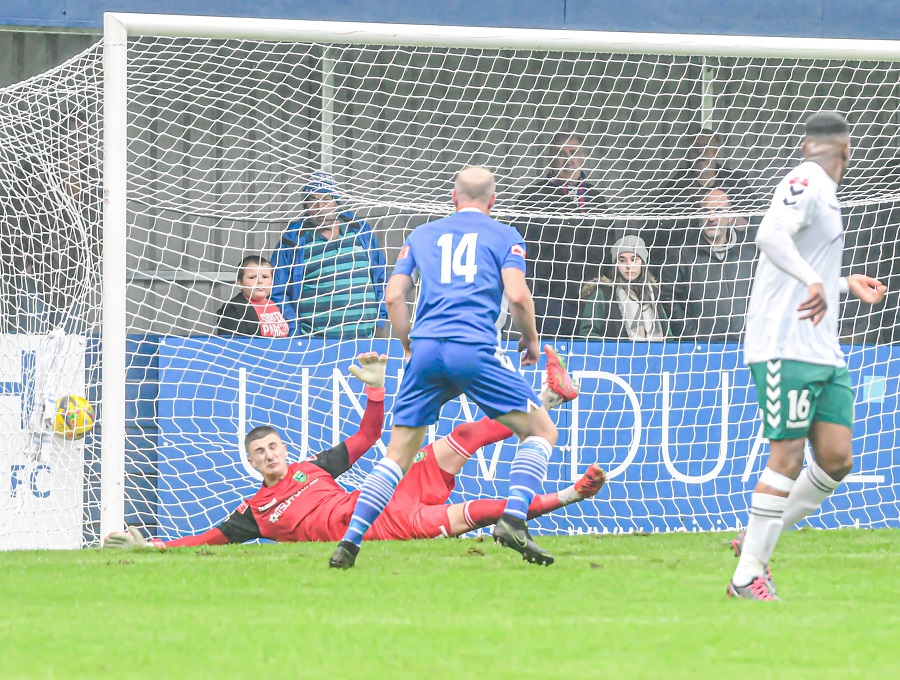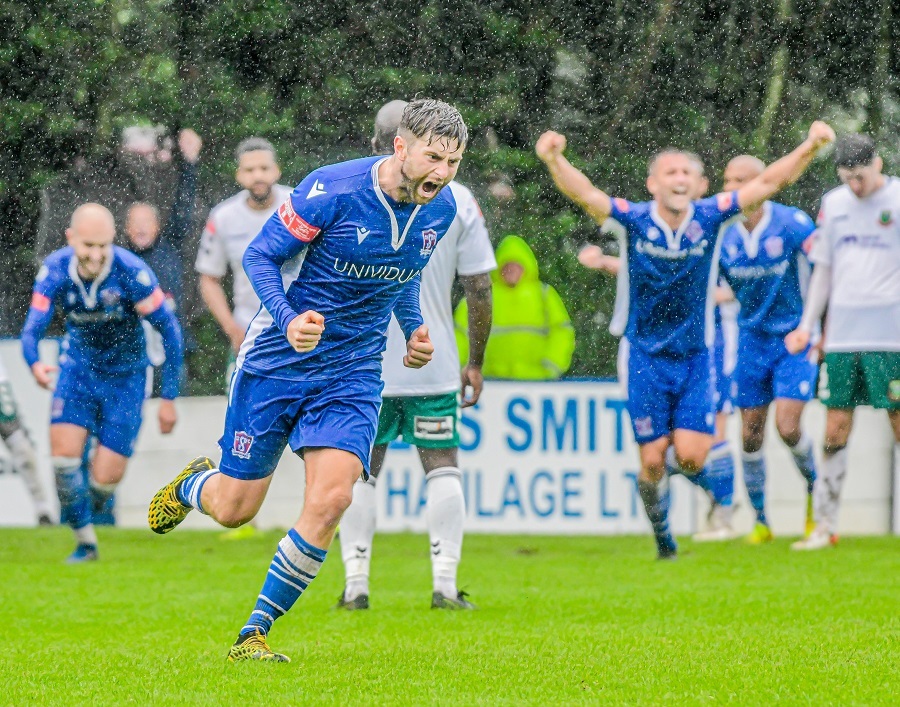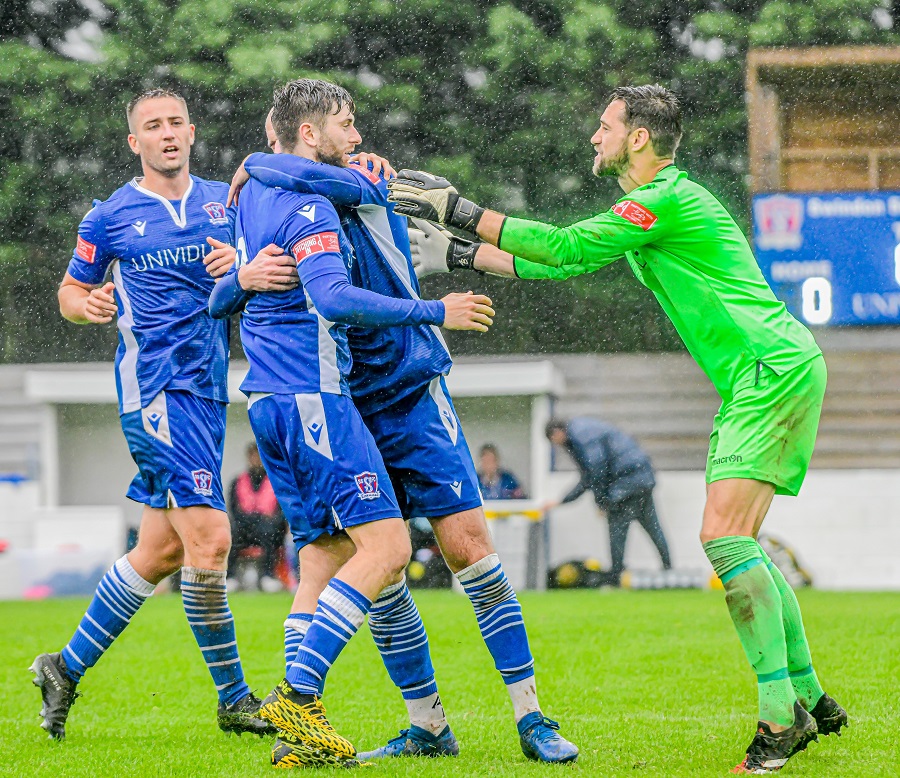 Brad Hooper lets fly with a brilliant equalising goal and the players celebrate
Photo © Motion Sport Photography / Match Album
The game petered out despite a few extra minutes of injury time and a point had been the least Marine had deserved, for the most dominating the match. The unbeaten home record had been preserved but there nevertheless a feeling that a win may have slipped away. A deserved point for Marine but they will know but for the man of the match display from Hendon keeper Fred Burbidge three points would have been theirs but they go away in the comfort of knowing they still remain unbeaten at home.
Fans man of the match: Brad Hooper
Line Ups
Swindon Supermarine


Manager: Lee Spalding
Line-up: 1. Martin Horsell 2. Michael Hopkins 3. Lewis Hall (12. Chris Zebroski 82m) 4. Jamie Edge 5. Mat Liddiard (c) 6. Dan Hall 7. Henry Spalding (17. Zack Kotwica 69m) 8. Brad Hooper 9. Harry Williams (14. David Pratt 69m ) 10. Conor McDonagh 11 Ryan Campbell
Subs not used: 15. Pablo Haysham 16. Tyrone Duffus
Goalscorer: Brad Hooper 88m


Editors Star Man: Brad Hooper
Cards:
Michael Hopkins 72m, Jamie Edge 90m


None


None

Hendon


Manager: Lee Alinson
Line-up: 1. Fred Burbidge 2. Tafari Moore 3. Lucas Perry 4. Chris Smith 5. Tommy Brewer (c) (14. Kieran Forbes 68m) 6. Sam Dreyer 7. Shaun Lucien 8. Hamza Semakula 9. Joe White 10. Liam Brooks (16. Kyen Nicholas 73m) 11. Jayden Clarke (12. Luca Allinson 71m)
Subs not used: 15. Simeon Olarerin, 17. Joe Budd
Goalscorer: Liam Brooks 34m


Editors Star Man: Fred Burbidge
Cards:
Hamza Semakula 36m, Chris Smith 46m


None


None

Post Match Team Sheet
Click here for post match team sheet
Match Officials
Referee: Stuart Kane (Highworth)
Assistant Referees: Dan Spyer (Calne), Kwame Hinson (Chippenham)
Video's from Your Sport Swindon
Match Highlights
Post match Brad Hooper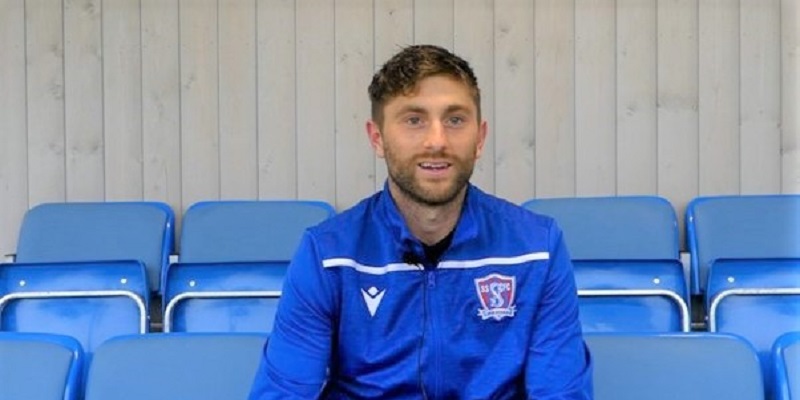 Access to the highlights from all of Marine's matches can be viewed on a monthly subscription of just £2:50. Click the 'match highlights' above to subscribe.