Marine 3 Dorchester Town 2
Buildbase FA Trophy1st Round | Saturday 5th December 2020
Back to blog posts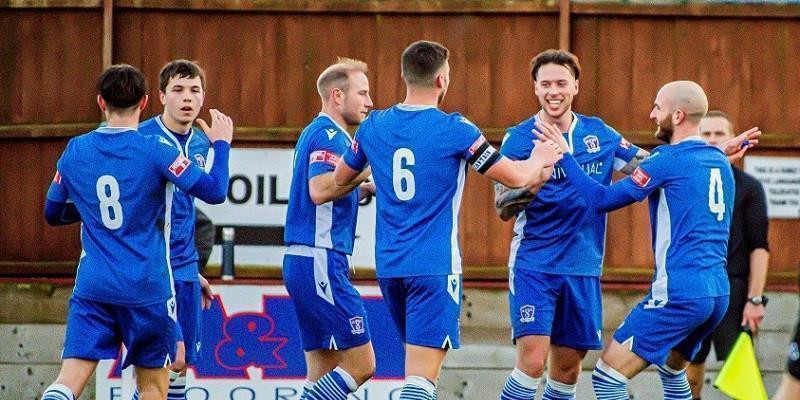 MATCH REPORT from ALECK EVERARD
SUPERMARINE "EDGE" THROUGH
After a month off Swindon Supermarine were back in action at the Webbswood Stadium as they took on PitchingIn Southern League Premier Division South side Dorchester Town in the first round of the FA Trophy sponsored by Buildbase, and what a match!
Marine started without central defender Jake Lee for personal reasons meaning Pierce Mitchell lined up alongside the returning skipper Mat Liddiardwith Henry Spalding starting on the right wing ahead of Zack Kotwica.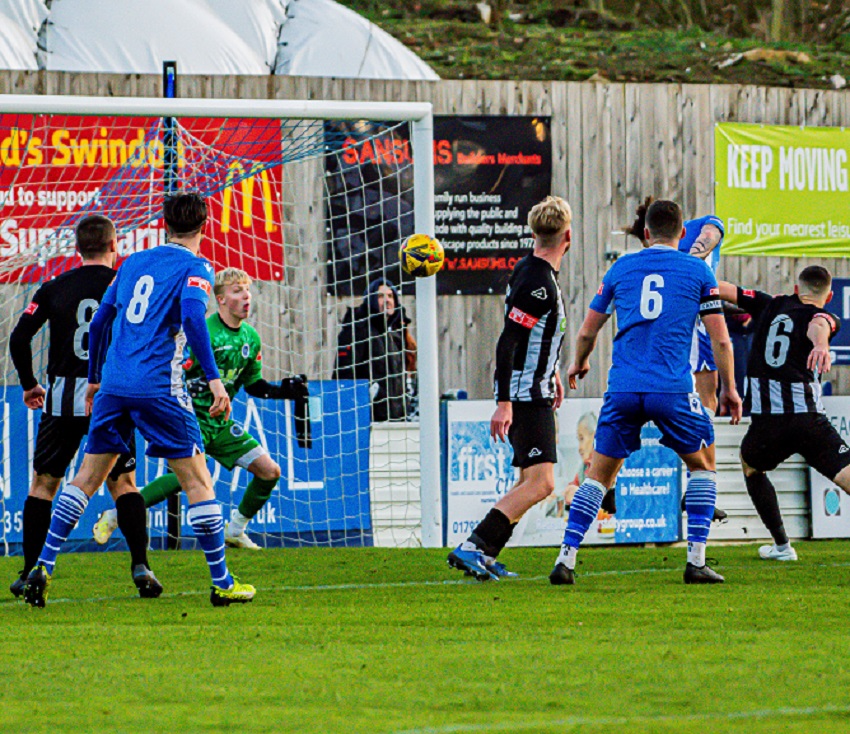 Pierce Mitchell's heads home the opening goal
Photo © Motionsport Photography
Match Album
Supermarine started the match strongly and Conor McDonagh had an early effort deflected wide. McDonagh continued to menace early on and curled a strike just over the bar on 10 minutes. The first yellow card came soon after when Louis Spalding received what looked a harsh booking for a foul on the halfway line.
Henry Spalding was looking bright and his fine cross created a great chance but McDonagh headed wide when well placed. It seemed as if the pressure was building and from a Henry Spalding corner on 20 minutes PIERCE MITCHELL bulleted home a fine header, his second in successive games in the competition. David Pratt was put through almost immediately afterwards but a weak shot was easily saved Will Buse in the Dorchester goal.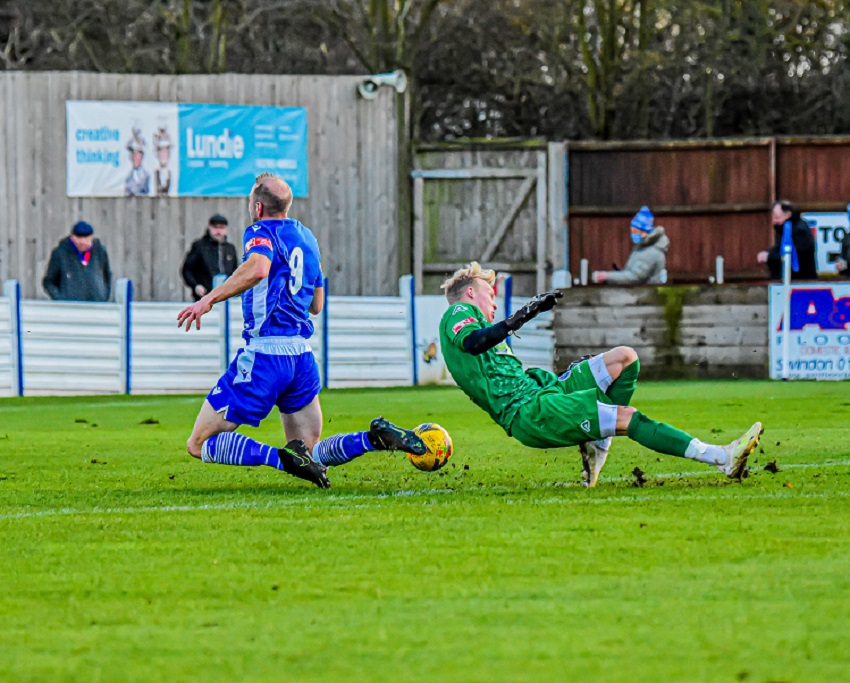 David Pratt is fouled just inside the box
Photo © Motionsport Photography
Match Album
David Pratt was causing all sorts of problems up top with his intelligent running and he broke the offside trap when a delightful defence splitting pass from Henry Spalding sent him away and sprinting down on goal. His charge was halted by the onrushing Dorchester keeper Buse and he was brought down as he rounded him. Originally pointing to a free kick just outside the are he sort the advice of the assistant referee who confirmed it was inside the area. This decision was fortunate for Buse who only received a yellow and Michael Hopkins stepped up to take the spot kick.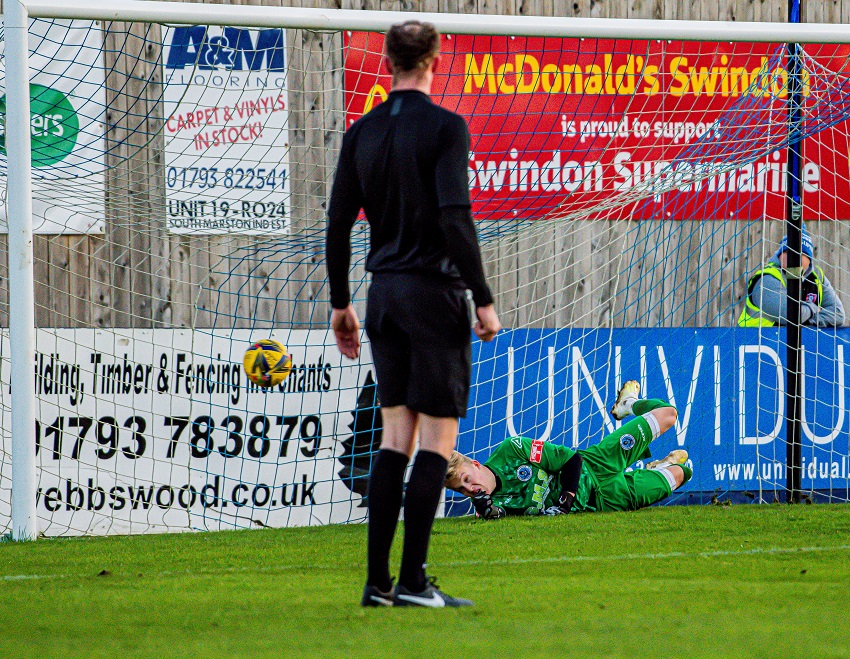 Michael Hopkins 26th minute penalty strikes the post
Photo © Motionsport Photography
Match Album
Hopkins strike appeared to be finger-tipped onto the post and from the rebound Hopkins netted to make it two. Or so it seemed. Then after some discussion with the assistant referee further away from the kick and next to the Dorchester dugout, the goal was ruled out with all the players seemingly ready to kick off again. Apparently the officials deemed that the keeper did not get a touch and therefore it was ruled out for a double touch from Hopkins.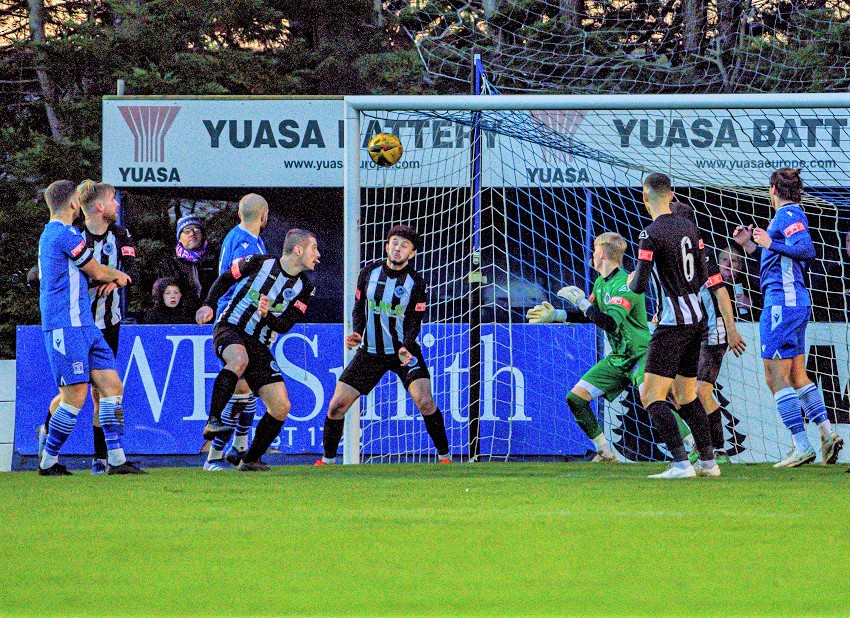 Jamie Edge heads home an early second half goal
Photo © Motionsport Photography
Match Album
David Pratt had chance late on close in which was well saved just before the break but Marine went in leading but feeling they should have had more. It wasn't long however before they had doubled the lead. An early Henry Spalding corner on 47 minutes saw a collector's item as JAMIE EDGE sneaked in at the back stick to head home for only his second ever goal for the club.
Dorchester responded swiftly after the restart and Martin Horsell was called in to make a good block from Tiago Sa and Marine were now on the back foot. Henry Spalding had a shot from just inside the box well saved, then on the hour an excellent run by Ryan Campbell ended after he went past three defenders but his final cross just eluded Pratt at the far post.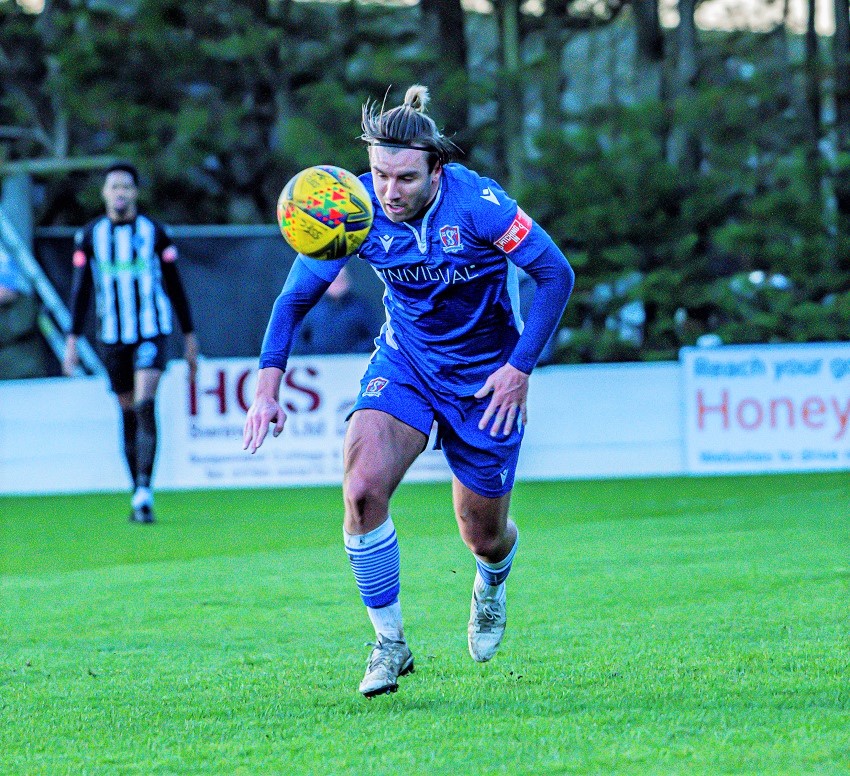 Conor McDonagh was Marine's star player
Photo © Motionsport Photography
Match Album
The Magpies were getting closer and looked dangerous on the break. Olaf Koszela brought out another good save from Martin Horsell with 20 minutes to go. Henry Spalding was replaced by Zack Kotwica and soon afterwards and Dorchester made an attacking change with Harry Burns replacing Emile Ngoy. The change worked instantly as Ashley Wells had a shot from distance and from the rebound TOM BATH tapped home with 15 minutes left on the clock. The goal gave the visitors new life and suddenly Marine looked jittery as Dorchester flung everyone forward late on to try and grab an equaliser.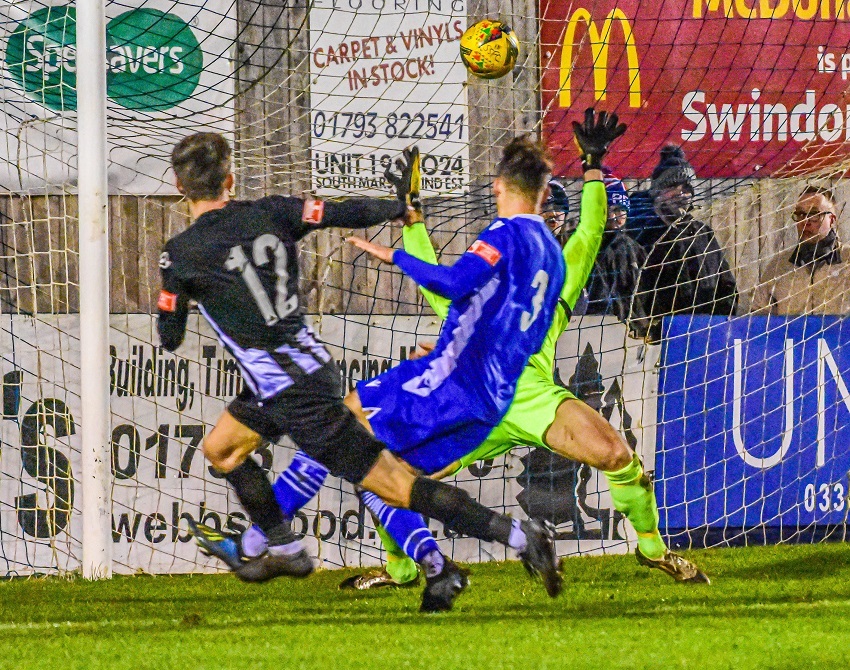 Dorchester's Harry Burns (12) scores a late equaliser
Photo © Motionsport Photography
Match Album
With a minute to go they got that equaliser. A long ball was pumped into the box and after a scramble it fell at the feet of substitute HARRY BURNS who poked home to scenes of joy from the visitors. Somehow the cup tie that seemed an early win for Marine had been turned into a draw and penalties after ninety-minutes? But Marine were not done, another long ball was raced on to by Conor McDonagh and as he went across Dorchester defender Charlie Madden he was adjudged to have fouled McDonagh and a late penalty was awarded!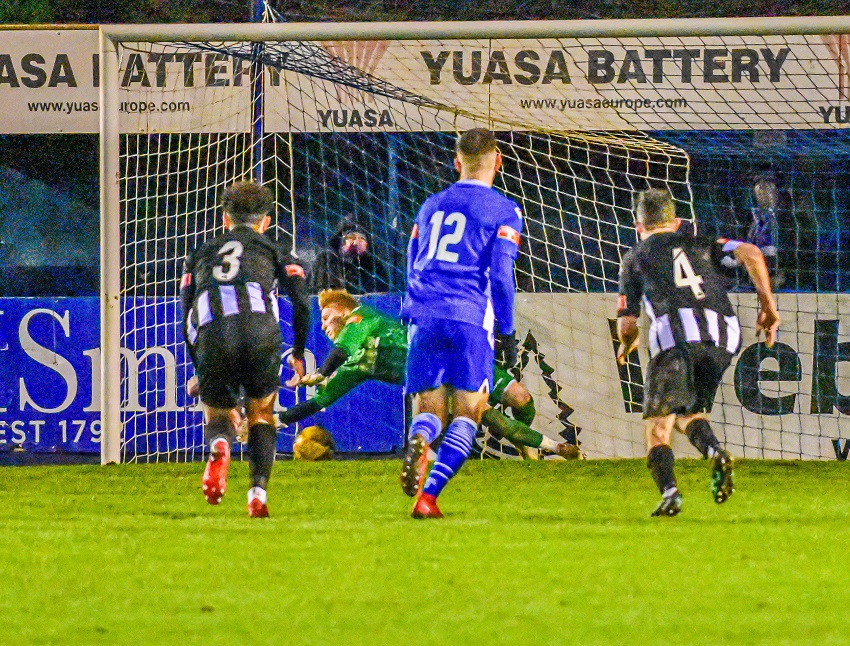 Hopkins scores the late winner from the penalty spot
Photo © Motionsport Photography
Match Album
MICHAEL HOPKINS lined up to take his second penalty of the game, showing nerve by electing to step up again but this time he found the inside of the post drilled it low past the impressive Buse to seal the victory and a place in the Second Round of the FA Trophy.
Marine had been the better side during the game but had suffered an almighty scare from what looked a much improved Dorchester Town side under their recently new boss. Conor McDonagh gained man of the match for his hard working display and with no league games in sight for a while Supermarine will have an eye on the draw later this week to see who they will face on the Tuesday 15th December, the date for the next round.
HT: 1-0 FT: 3-2 Attendance: 289
MATCH LINEUPS
SWINDON SUPERMARINE


Manager: Lee Spalding
Line-up: 1. Martin Horsell 2. Louis Spalding 3. Michael Hopkins 4. Jamie Edge 5. Pierce Mitchell 6. Mat Liddiard (c) 7. Henry Spalding (12. Zack Kotwicka 70m) 8. Brad Hooper 9. David Pratt 10 Conor McDonagh 11. Ryan Campbell
Subs not used: 14. Harry Williams 15. Matt Coupe 16. Jack Stanley 17. Louie Evans
Goals:

Pierce Mitchell 20m

Jamie Edge 47m

Michael Hopkins 90+4 pen
Star Man: Conor McDonagh
Cards:
Louis Spalding 12m, Jamie Edge 45m


None


None

DORCHESTER TOWN


Managers: Robbie Herrera
Line-up: 1. Will Buse 2. Oakley Hanger 3. Tiago Sa 4. Ashely Wells (c) 5. Charlie Madden 6. Louie Slough 7. Sam Bayston 8. Billy Lowes 9. Tom Bath 10. Olaf Koszela 11. Kpama Ngoy (12: Harry Burns 72m)
Subs not used: 14. Josiah Dunstan 15. Sam Davidson 17. Jordan Foot
Goals:

Tom Bath 76m,

Harry Burns 90+1m
Star Man: Will Buse
Cards:
Will Buse 26m, Oakley Hanger 48m


None


None

VIDEO'S FROM YOUR SPORT SWINDON
MATCH HIGHLIGHTS
POST MATCH WITH LEE SPALDING
POST MATCH WITH MICHAEL HOPKINS
MATCH OFFICIALS
Referee: Thomas Green (Witney)
Assistant Referee's: John Painter (Pewsey), Mark Millard (Basingstoke)