Cirencester Town 1 Marine 6
Tuesday 11th August 2020
Back to blog posts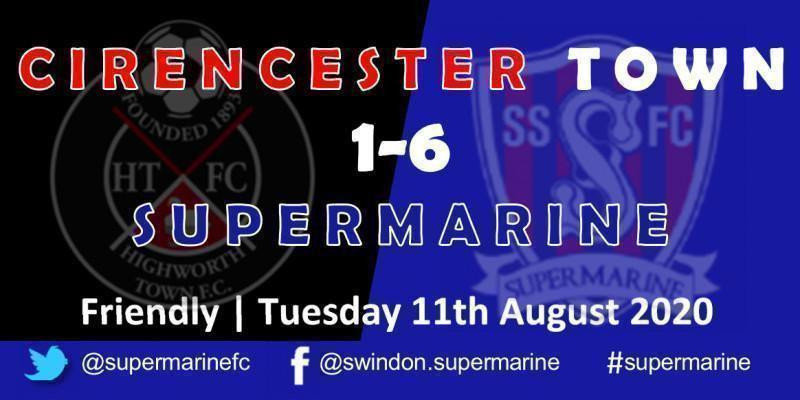 MATCH REPORT from ALECK EVERARD
MARINE SCORE 5 SECOND HALF GOALS IN 6-1 WIN
Marine faced their second pre-season challenge on Tuesday night as they visited the Corinium Stadium to take on John Brough's Cirencester Town of the Southern League Division One South.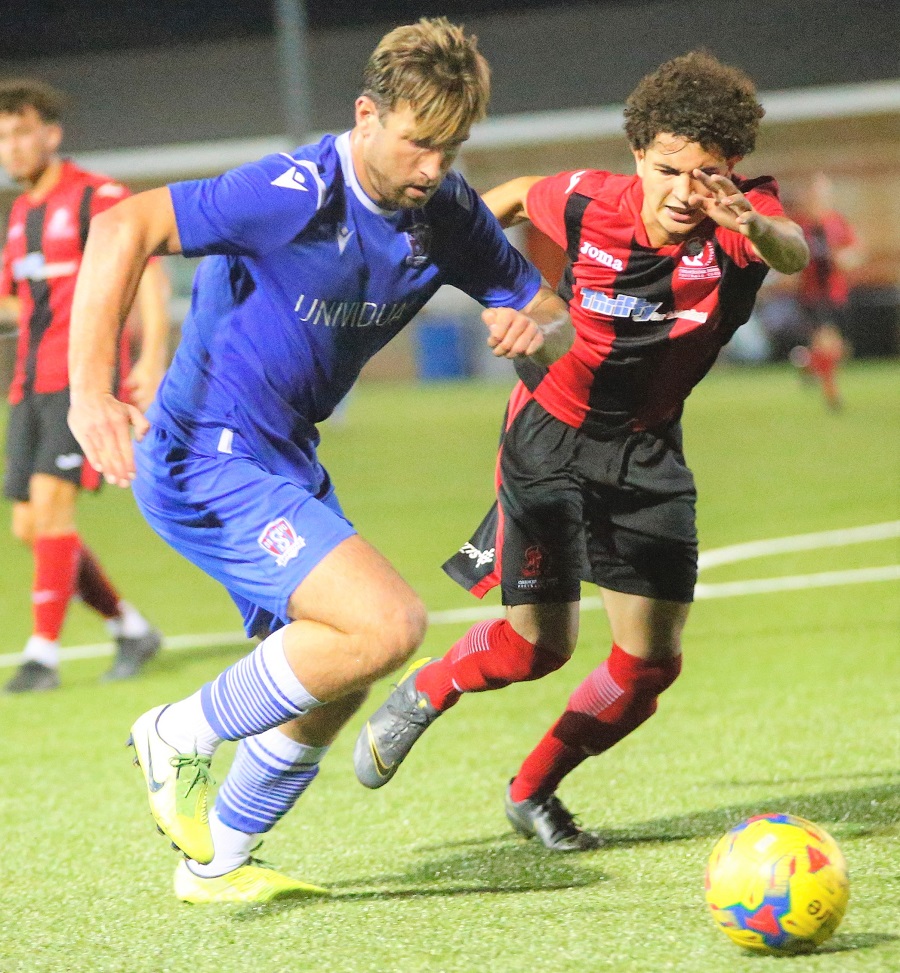 Conor McDonagh runs the Cirencester defender
© Jeff Youd Photography
With a mix and match line-up of first team regulars and those looking to push for a starting place the Blues couldn't have made a better start. A cross was swung in from the right and Cirencester defender Shayne Anson headed back into his own goal giving keeper Harris no chance.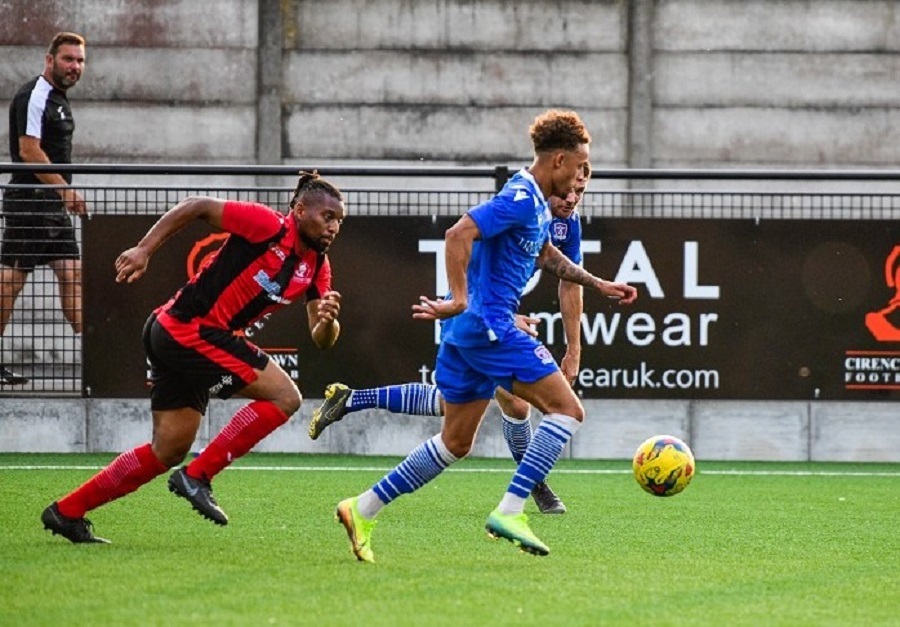 Ryan Campbell in action at Cirencester Town
© Motion Sport Photography
Marine were bossing possession on the synthetic surface buoyed by the early goal but gradually as the half drew on the hosts grew in confidence and got into the game with Rodger James a menace on the right. The hosts nearly drew level after Supermarine got into a tangle at the back and Martin Horsell did well to clear from the onrushing Josh Parsons.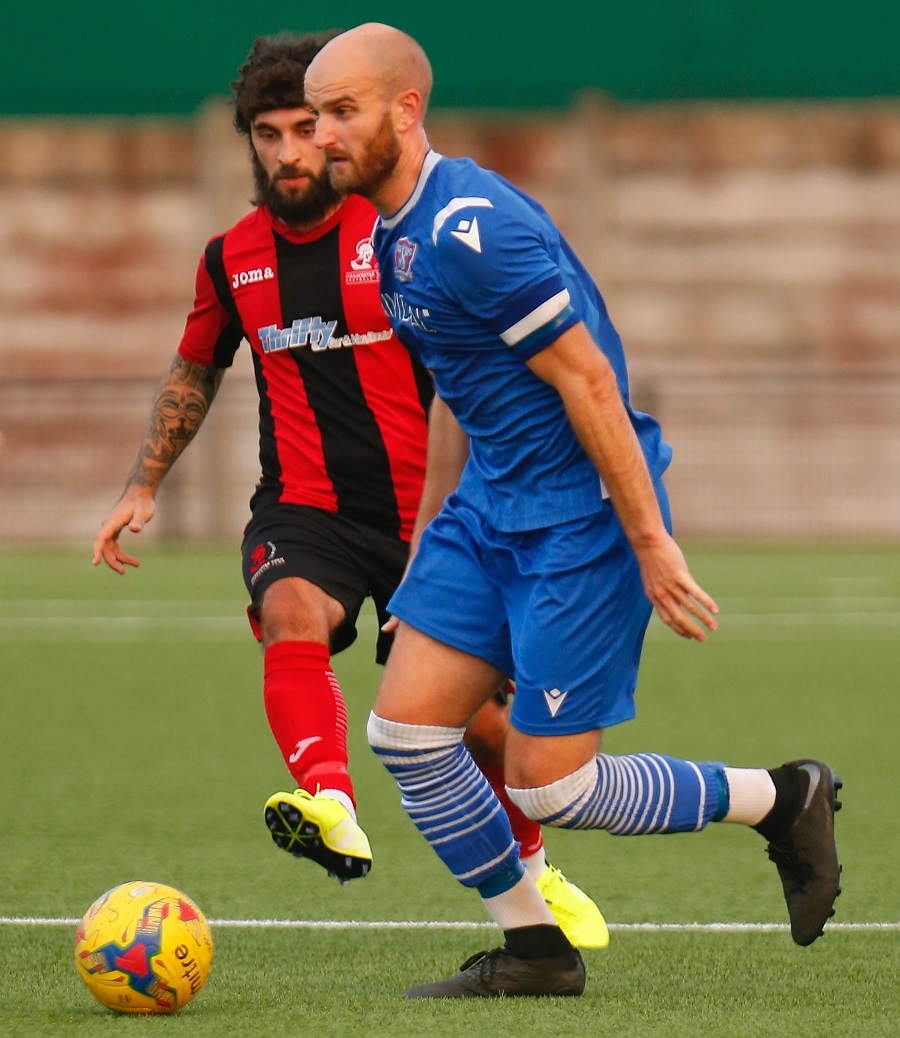 Jamie Edge on the ball
© Jeff Youd Photography
Just after the half hour an excellent cross from Rhys Wells was met weakly by Marine trialist Cameron Allen and a good opportunity to double the lead was squandered. Overall a mixed first half – solid at the back but lacking the cutting edge up top.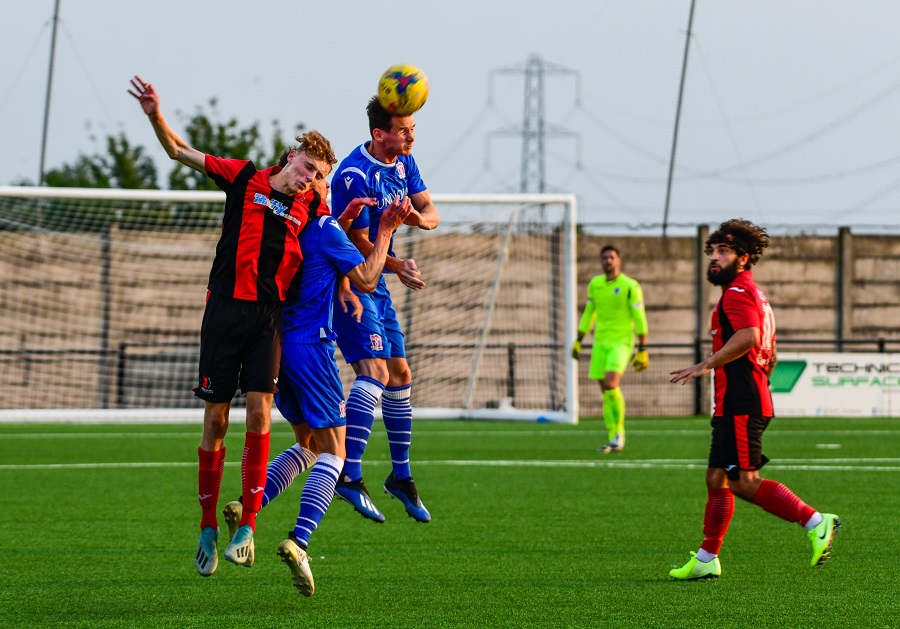 Jake Lee wins the header at Cirencester Town
© Motion Sport Photography
HT: 0-1
It was all change at the break with Allen,Edge, Wells, Marshall and Campbell withdrawn and McDonagh and Williams moving up top, Hooper and Liddiard slotting into midfield and Henry Spalding arriving in the middle of the park. But the changes seemed to unsettle Marine as a good team move from Cirencester saw Josh Parsons nip in with a neat finish to level it up just 5 minutes after the restart.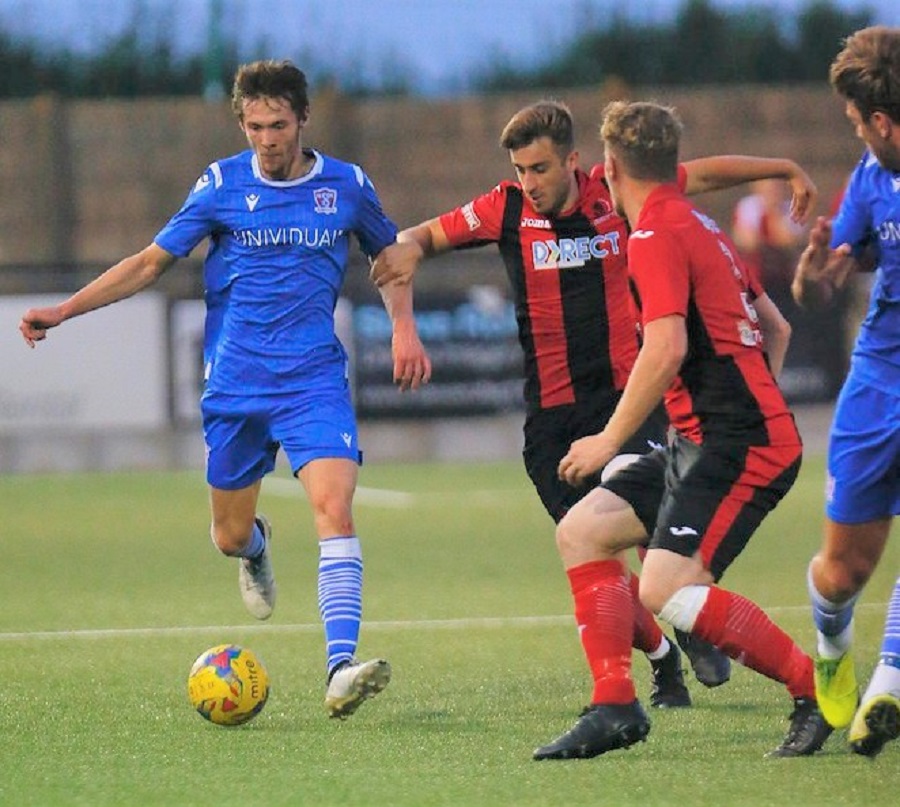 Goalscorer Jack Stanley goes on the attack
© Jeff Youd Photography
Williams tried to solicit an instant response but his turn and shot was well held by the hosts custodian Alex Harris. It did not take long though for the Blues to retake the lead and who else to score but CONOR McDONAGH. A turn, a swivel and some quick feet combined with a strong finish saw the net ripple and just after the hour it was effectively game over after right back JACK STANLEY'S cross shot eluded the keeper to make it 3-1.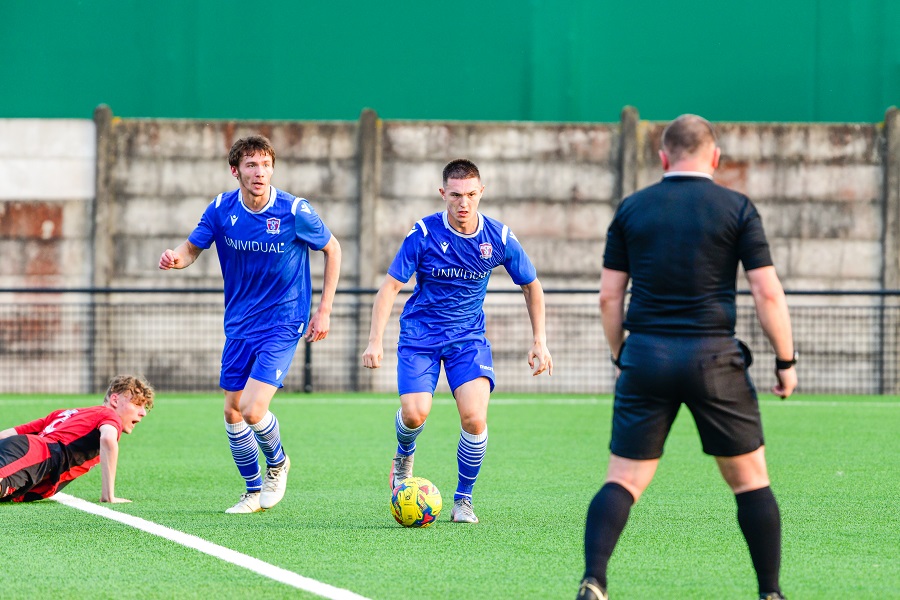 Recent signings Jack Stanley & Rhys Wells in action at Cirencester Town
© Motion Sport Photography
Further changes saw youngsters Tommy Ouldridge and Ollie Rejek come on for Pierce Mitchell, who had a solid first showing and Stanley.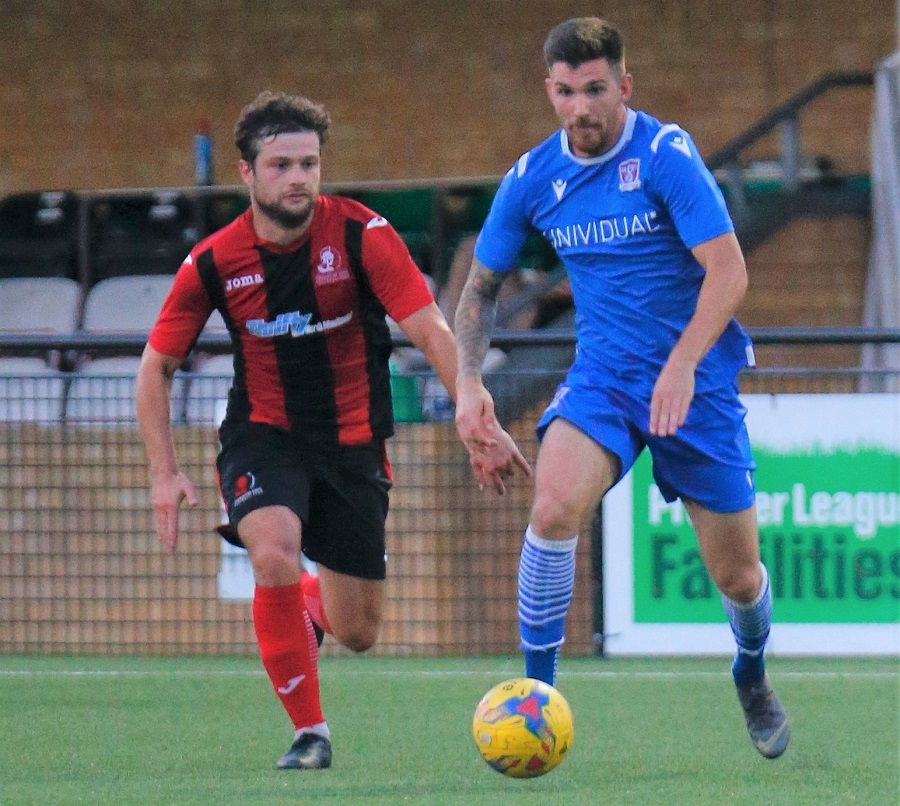 Zack Kotwica scored another excellent goal on the night
© Jeff Youd Photography
Ouldridge was straight into the action with a shot from range deflected for a corner, and from that he thumped over again from close in. Then the goal of the night on 71 minutes. ZACK KOTWICA, who seems to be specialising in top quality strikes was found at a short corner and he curled a 25-yard effort into the top of the net for an outstanding goal!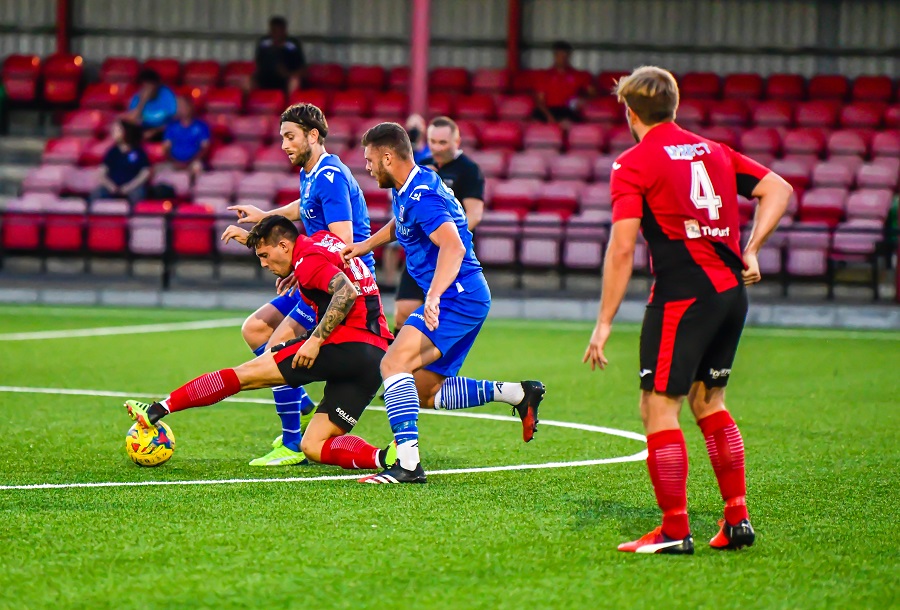 Brad Hooper & Mat Liddiard challenge for the ball at Cirencester Town
© Motion Sport Photography
With 10 minutes left the night was tempered with the first of two injury worries. Henry Spalding seemed to get his studs caught and left the field with a nasty looking knee injury and this was quickly followed by Ouldridge after taking a bang to the nose at a corner. This saw Edge and Wells return to the field.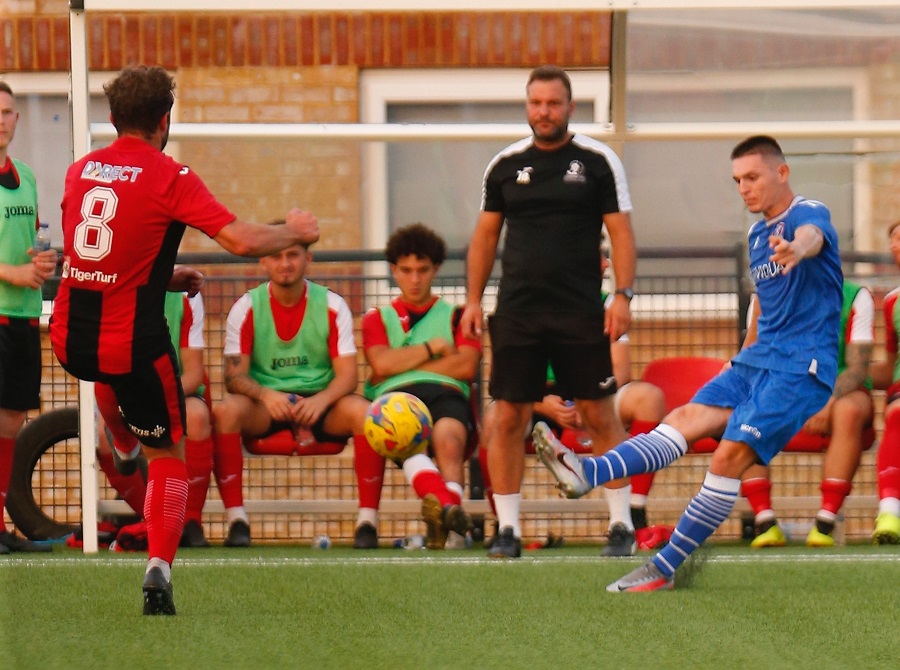 Rhys Wells crosses the ball
© Jeff Youd Photography
Marine weren't done yet as they added two strikes in injury time and this after McDonagh and Lee had chances blocked and cleared off the line. On 93 mins Williams set through McDONAGH for his second goal – a neat low finish into the bottom corner and right on time HOOPER netted with a neat volley from close in to make the scoreline look very convincing indeed.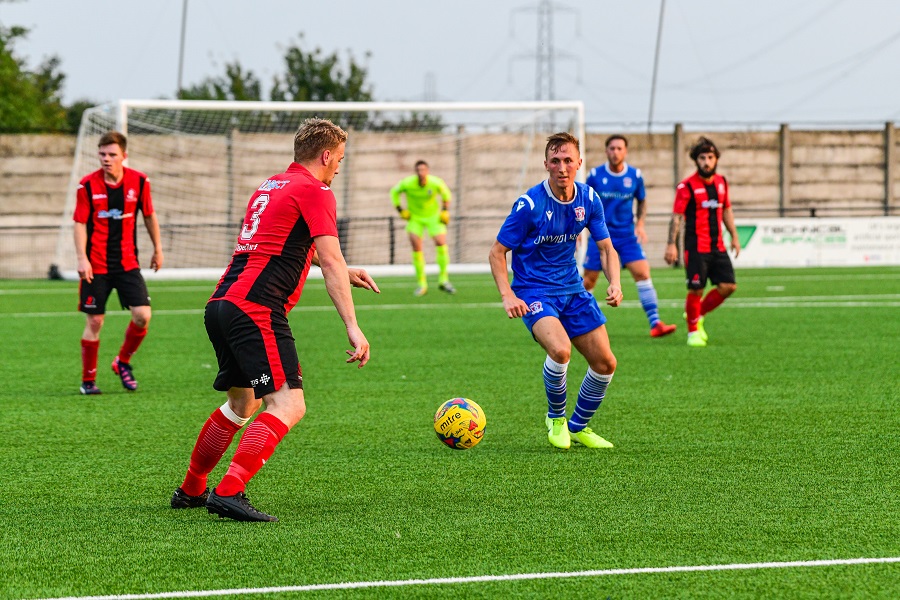 Lee Marshall looks to challenge the Cirencester player
© Motion Sport Photography
An excellent run and superb second half attacking display against strong opponents. The only down side is the injuries sustained. Marine will be hoping the one to Henry Spalding is not as serious as it looked.
MOM For a superb goal and selfless running for the whole 90 mins ZACK KOTWICA
FT: 1-6
MATCH LINEUPS
CIRENCESTER TOWN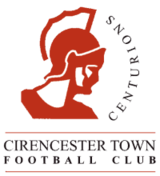 Managers: John Brough
Line-up: 1. Alex Harris 2. Tom Handley 3. Ellis Dunton 4. Michael Pook 5. Shayne Anson 6. Josh Nelmes 7. Rodger James 8. Joe Turley 9. Levi Irving 10. Josh Parsons 11. Tommy Anderson
Second half Subs: Aidan Bennett, Ross Gabriel, Archie Brennan, Lee Llewellyn, Ben Hands, Felipe Dias, Jack Freeman, Dan Lawrence (GK)
Goalscorer: Josh Parsons
Star Man: Rodger James
Cards:
None


None


None

SWINDON SUPERMARINE


Manager: Lee Spalding
Line-up: 1. Martin Horsell 2. Jack Stanley(19. Ollie Rejek 55m) 3. Louis Spalding 4. Jamie Edge(14. Mat Liddiard 46m) 5. Jake Lee 6. Pierce Mitchell(16. Henry Spalding 46m) 7. Rhys Wells (15. Brad Hooper 46m) 8. Lee Marshall (19. Tommy Ouldridge 46m) 9. Cameron Allen (12. Conor McDonagh) 10. Zack Kotwica 11. Ryan Campbell (20. Harry Williams 46m)
Subs not used:
Goalscorers: Anson o.g.2m, Conor McDonagh 50m & 91m, Jack Stanley 61m, Zack Kotwica 71m, Brad Hooper 93m
Star Man: Zack Kotwica
Cards:
None


None


None

MATCH HIGHLIGHTS from YOUR SPORT SWINDON
MATCH OFFICIALS
Referee: Unknown
Assistant Referees: Unknown