Marine 1 Taunton Town 2
Southern League Challenge Cup | Tuesday 22nd February 2022
Back to blog posts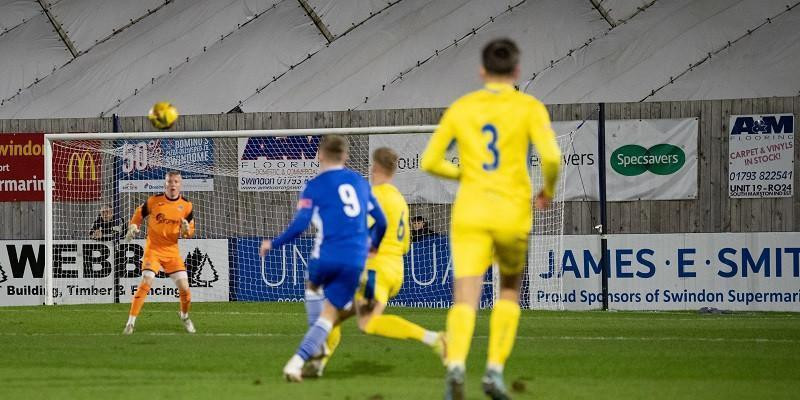 Match Report from Aleck Everard
Marine returned to action after the weekend game was lost to a waterlogged pitch as they finally played the Southern League Cup Semi Final clash against high flyers Taunton Town. Manager Lee Spalding rang the changes although some alterations were enforced. Pierce Mitchell returned at right back after a long period on the side lines in place of Michael Hopkins, Jamie Edge returned the squad after suspension but into the backline, replacing the injured Tyrone Duffus, Tom Sharpe was back in after missing the away game at Taunton though injury. Up front Kieran Phillips replaced the suspended Harry Williams up top and George Dowling came in to midfield, with Michael Hopkins, Ryan Campbell and Henry Spalding dropping to the bench.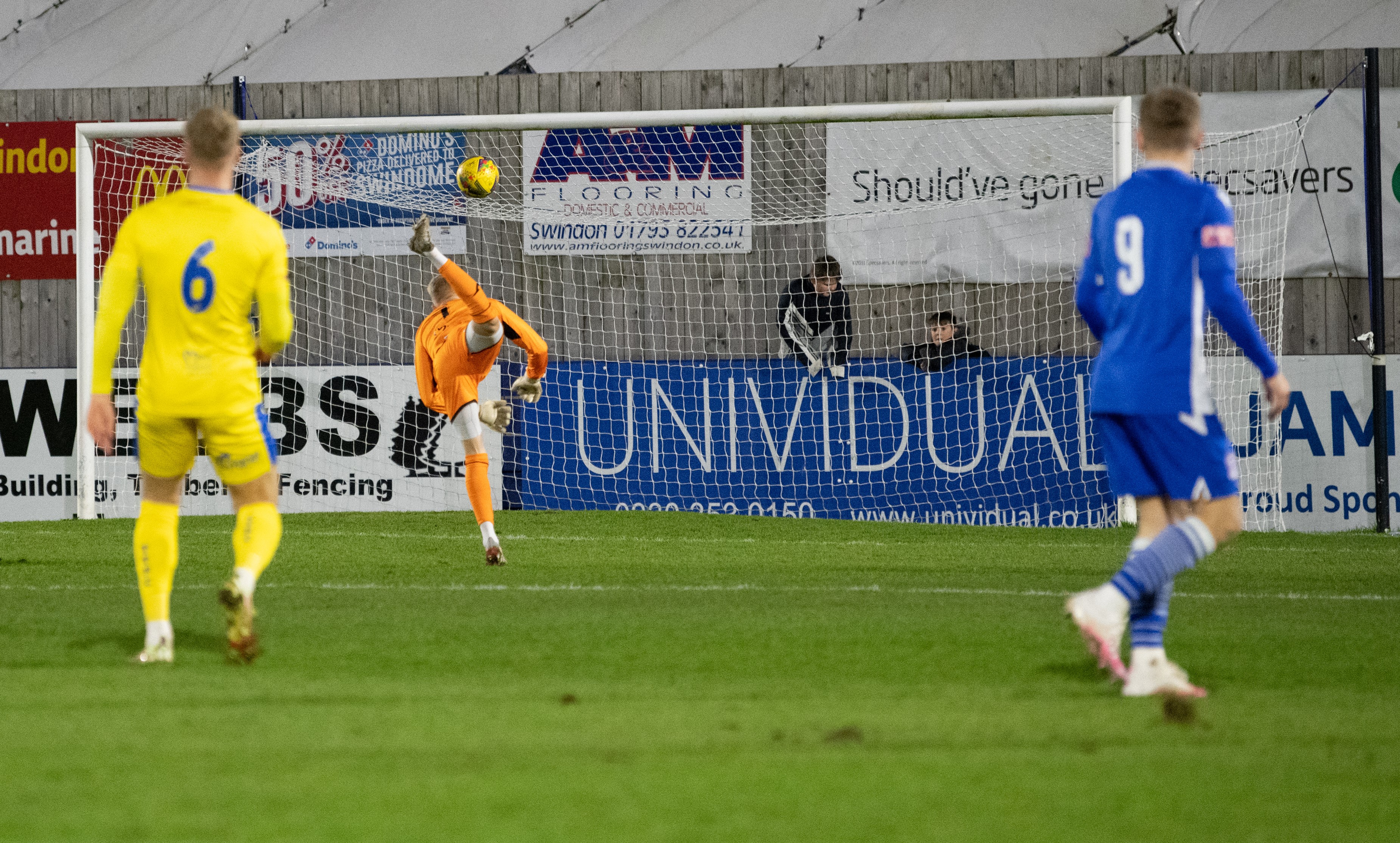 Kieran Phillips scores for Marine with a delightful lob
Photos © Motion Sport Photography / Match Album
It was the perfect start for Marine. After some initial settling in on a heavy surface the visitors failed to clear their lines on eleven minutes. Defender headed the ball back to keeper Will Buse who was out of his area. The keeper's clearance fell to KIERAN PHILLIPS 30-yards from goal and with some quick thinking he lobbed the Taunton keeper with a first time finish! A real piece of class from the on-loan striker netting his 11th goal of the season. He almost doubled his tally soon after but his snap shot was well held by Buse.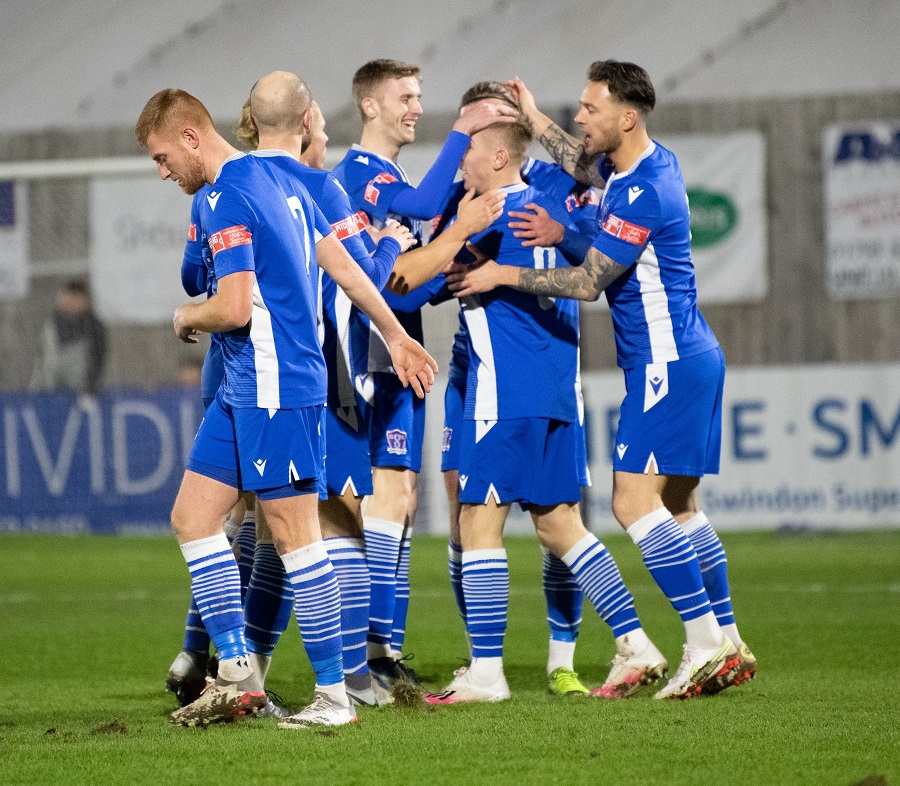 The players congratulate Phillips on scoring and receives a tap on the head?
Photos © Motion Sport Photography / Match Album
Taunton tried to respond but good defending by Mat Liddiard kept out the dangerous Dan Sullivan. George Dowling then hit a powerful effort just wide of the goal on sixteen minutes which was quickly followed up by a low curling striker from Conor McDonagh which was well held. Matt Britton then showed some silky skills on twenty two minutes to burst through the back line but he couldn't get the shot right to beat keeper Buse as Marine were the more dominant side at this period. Taunton and in particular Sullivan were starting to respond on the half hour mark, hitting one shot high over the bar and another striker which Martin Horsell did well to grab hold of low down. But the half petered out and Marine went in very happy at the break.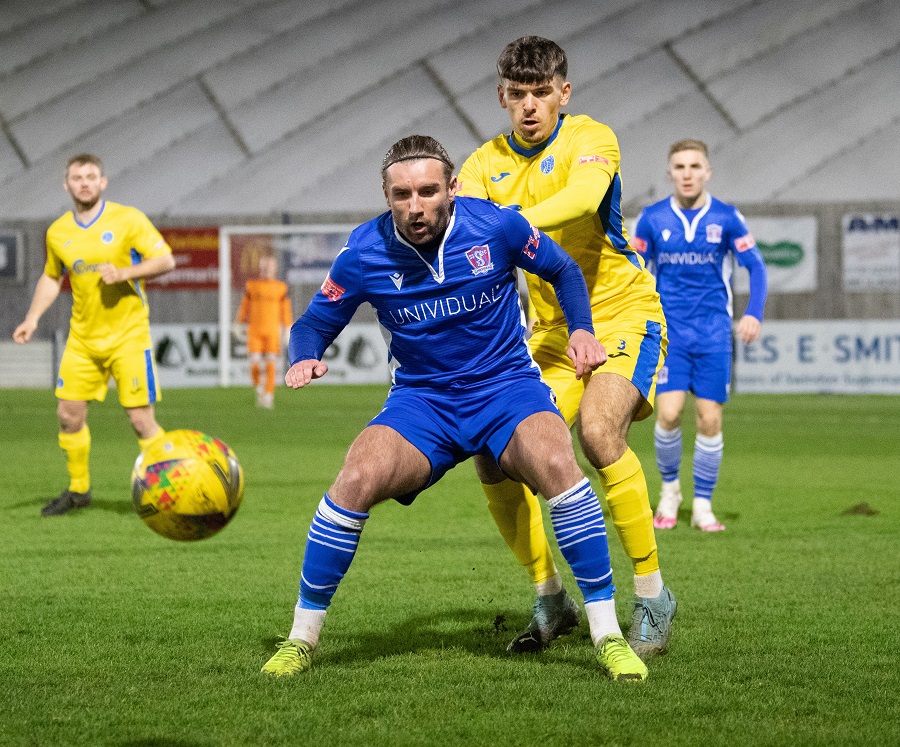 Conor McDonagh is challenge by Taunton's Jay Foulston
Photos © Motion Sport Photography / Match Album
Taunton made a half time alteration with Nick Grimes replacing by Ben Adelsbury but Marine were once again first to show in the second period. A superb piece of play and whipped shot from Conor McDonagh from just outside the box went agonisingly wide of the left upright early on. Taunton's Jake Wannell went into the book for dissent soon after as the visitors appeared to be losing their composure before a card for Marine keeper Martin Horsell for timewasting although it did appear to be more about miscommunication on the restart?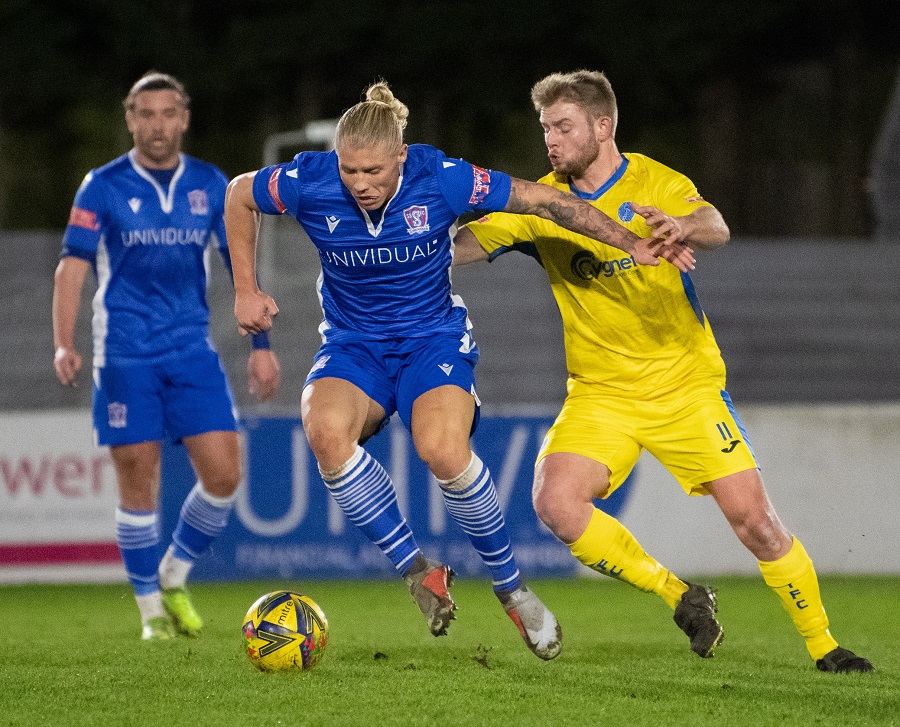 George Dowling gets to the ball before Taunton's Joe Guest
Photos © Motion Sport Photography / Match Album
It was the keeper at the other end, Taunton's Will Buse, that then came to the fore in the pivotal decision of the match. Kieran Phillips burst through on goal and Buse came flying out of the goal and clattered into the oncoming forward. A red card seemed a certainty but to everyone's surprise the match official showed leniency and chose only to show a yellow card. Phillips was flying again when his driving run set up Conor McDonagh but the end result was too weak to trouble Buse. This prompted Taunton to bring on Ross Stearn for Ioan Richards with 30 mins to go.
Kieran Phillips was fouled by keeper Will Buse
Photos © Motion Sport Photography / Match Album
The change was instant as Stearn's first action was to test Martin Horsell who was down well to stop. Taunton visibly lifted by the decision in their favour just before made their pressure tell when TOBY HOLMES lifted the ball over Horsell on 64 minutes to level up the tie. The equaliser coming seconds after Kieran Phillips set up Conor McDonagh for what looked like a tap in but somehow the striker lifted the ball over the crossbar. Then a long ball forward fell to Holmes who looked suspiciously offside before scoring the equalising goal.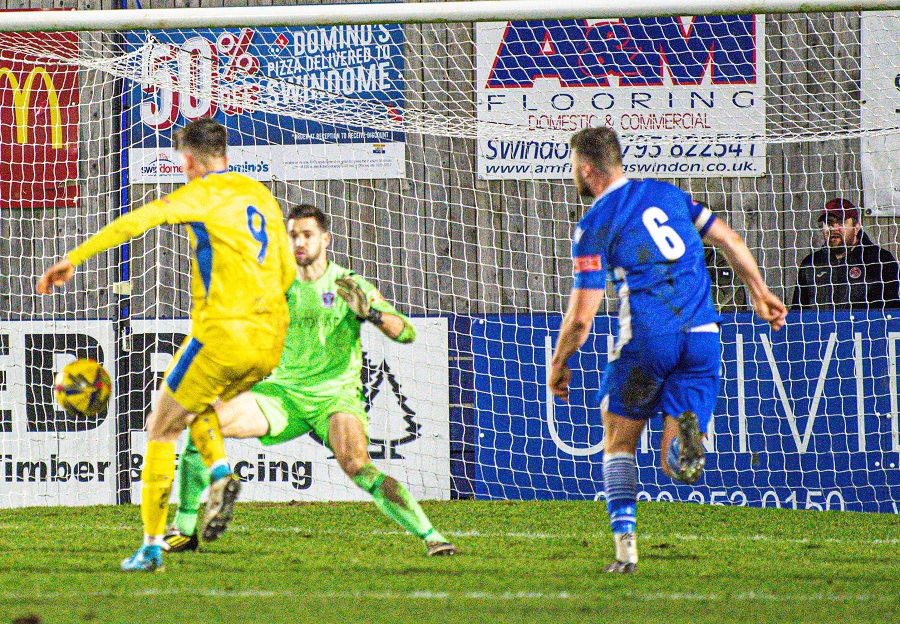 Toby Holmes lobs keeper Martin Horsell to score the equaliser
Photos © Motion Sport Photography / Match Album
Brad Hooper replaced Tom Sharpe with twenty minutes left on the clock before a nice move between Tom Mehew and Kieran Phillips set up the latter for a shot on goal but keeper Buse was in the way again. The impressive Jay Foulston at left back then stung the palms of Martin Horsell with a wicked shot before Marine lost the ball to easily on the edge of the box and it was returned with interest by TOBY HOLMES who fired into the bottom corner with thirteen minutes to go.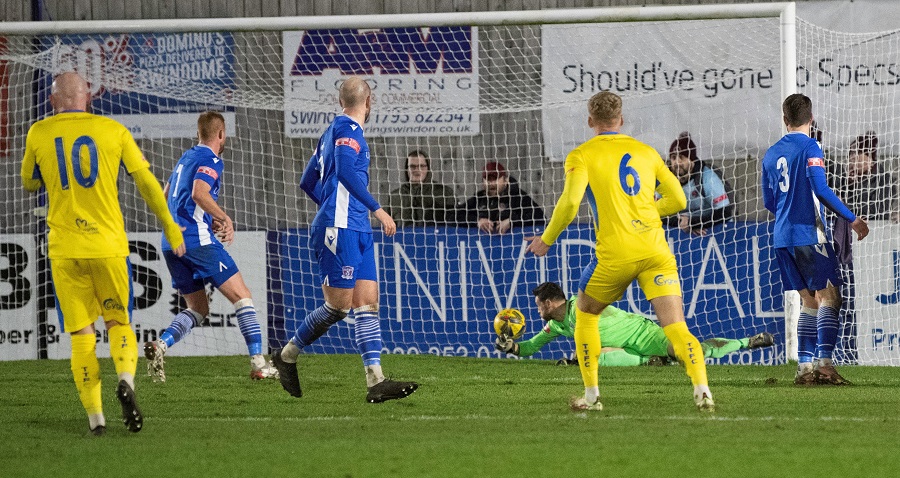 Martin Horsell can't stop Toby Holmes drive to score Taunton's second goal
Photos © Motion Sport Photography / Match Album
The management decided on a double change to try and wrestle back a leveller with Ryan Campbell and Henry Spalding replacing midfielders George Dowling and Tom Mehew. Henry Spalding had a chance in the final minutes but spooned the ball high and wide before a late booking for Matt Britton ended proceedings and Taunton Town were on their way to the final. It had been another strong display against the inform team of the league. Whilst not quite making it to the end Marine had an excellent run in the League Cup this season and can be rightly proud of their efforts in this competition.
Fans player of the match: MAT LIDDIARD who marshalled the defence well whilst having an excellent game himself.
Line Ups
Swindon Supermarine


Manager: Lee Spalding
Colours: All Blue Line-up: 1. Martin Horsell 2. Pierce Mitchell 3. Lewis Hall 4. Tom Sharpe (12. Brad Hooper 72') 5. Jamie Edge 6. Mat Liddiard(c) 7. Matt Britton 8. George Dowling (14. Henry Spalding 79') 9. Kieran Phillips 10. Conor McDonagh 11. Tom Mehew (16. Ryan Campbell 79')
Subs not used: 15. Michael Hopkins
Goalscorers:

Kieran Phillips 11'
Editors Star Man: Mat Liddiard(c)
Cards:
Martin Horsell 52', Tom Mehew 69', Matt Britton 90+4'


None


None

Taunton Town


Manager: Rob Dray
Colours: All yellow
Line-up: 1. Will Buse 2. Joe Budd 3. Jay Foulston 4. Ben Adelsbury (5. Nick Grimes 46') 6. Jacob Wannell 8. Lloyd James 11. Joe Guest 9. Tobias Holmes (19. Jared Lewington 88') 10. Dan Sullivan (c) 16. Zack Smith 20. Ioan Richards (13. Ross Stearn 60')
Subs not used: 1. Connor Sidley-Adams 18. Ross Staley
Goalscorer:


Tobias Holmes 66', 78'
Editors Star Man: Dan Sullivan
Cards:
Dan Sullivan 52', Will Buse 58'


None


None

Post Match Team Sheet
Click here for post match team sheet
Match Officials
Referee: Robert Finn
Assistant Referees: Kwane Hinson, Steven Brenchley