Tiverton Town 1 Marine 1
Southern League Premier South | Saturday 11th September 2001
Back to blog posts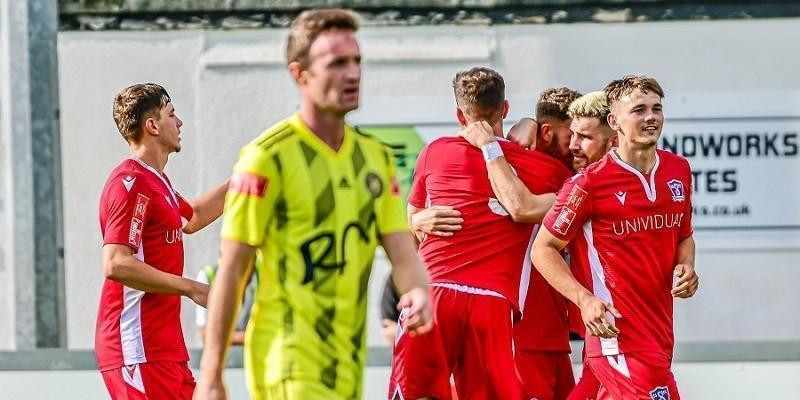 Match Report from Aleck Everard
MARINE EARN HARD FOUGHT POINT AT TIVVY
Swindon Supermarine were on the road again this Saturday as they travelled to the Ian Moorcroft Stadium to take on the always difficult Tiverton Town in front of a crowd of over 300. The game saw a first start for defender Matt Coupe this season. Coupe was in the starting line up to help thwart the big physical threat of the Tiverton forwards. He was joined in a league debut this campaign by midweek two goal cup hero Harry Williams and new signing Chris Zebroski in an attacking line up. Injuries continued to rule out Pierce Mitchell, George Dowling, Tyrone Duffus and Jack Stanley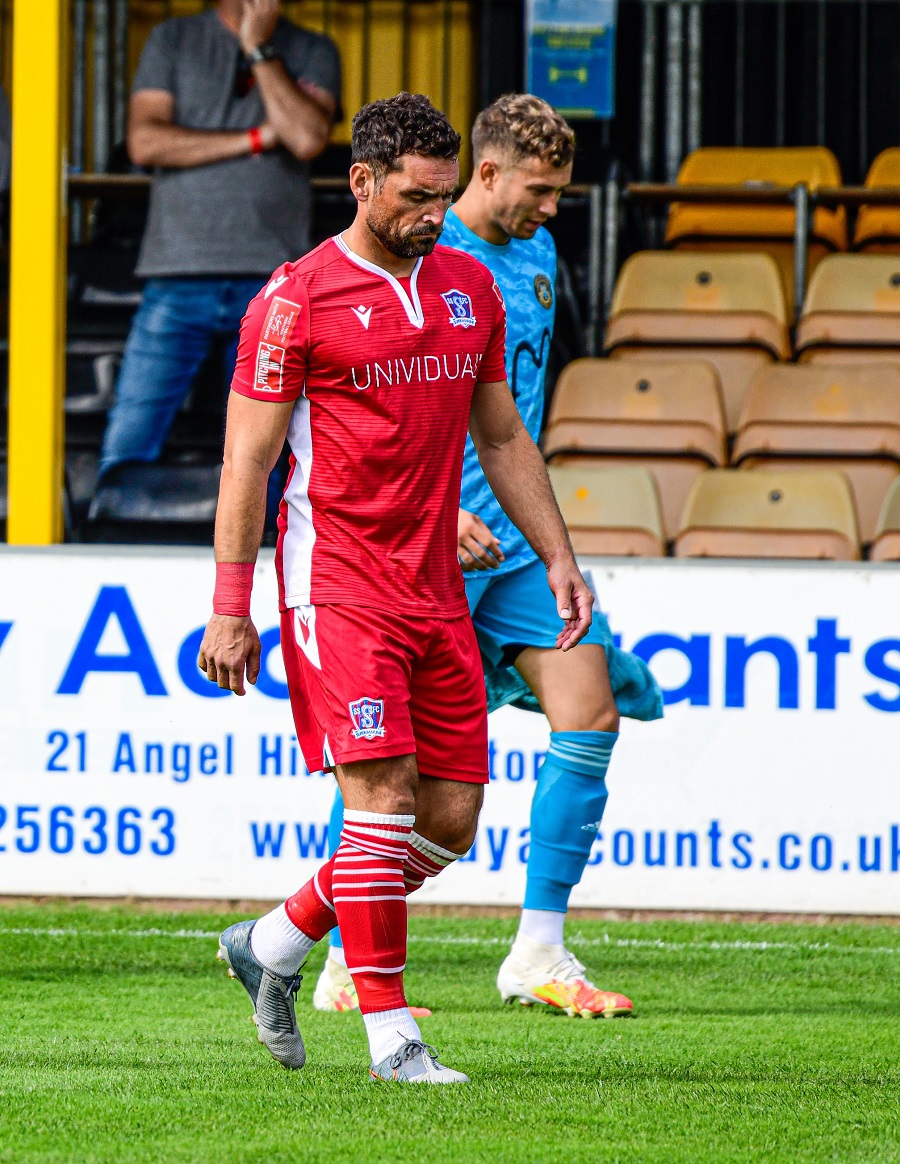 Matt Coupe started his first league game in two seasons
Photo © Motion Sport Photography / Match Album
Marine in red change strip started brightly and an early effort by Chris Zebroski was saved by the feet of home keeper Lewis Williams but Tiverton soon began to assert some pressure of their own with Aaron Dawson missing a good early chance to open the scoring but hitting it wide. Zebroski meanwhile looked lively and was causing problems for the home defence without however creating any chances.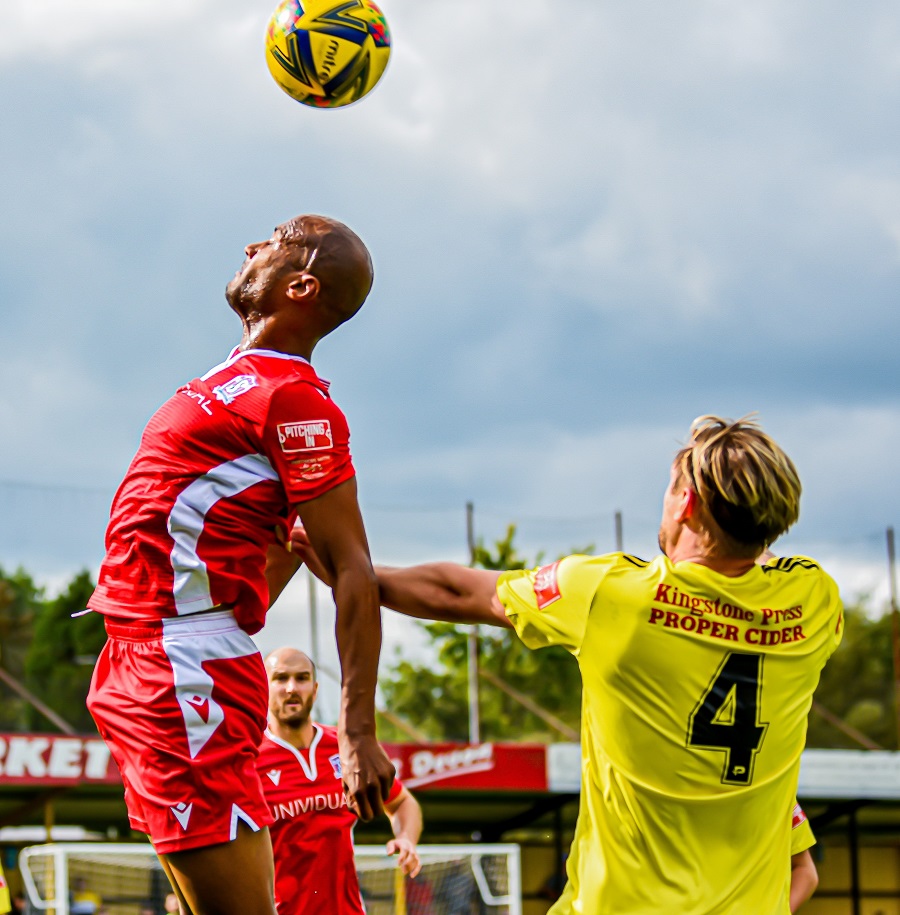 Debutant Chris Zebroski caused problems for the home defence
Photo © Motion Sport Photography / Match Album
Another chance was blasted over from a good position by Tiverton's Andy Watkins before the best move of the half. Zack Kotwica who had a good game cut in from the left and struck an excellent curling shot to the top corner. Somehow keeper Lewis Williams managed to fingertip the ball to flick it just over for a corner. The lively Olaf Koszela then went close then for the hosts in an end to end encounter, putting the ball into the side netting.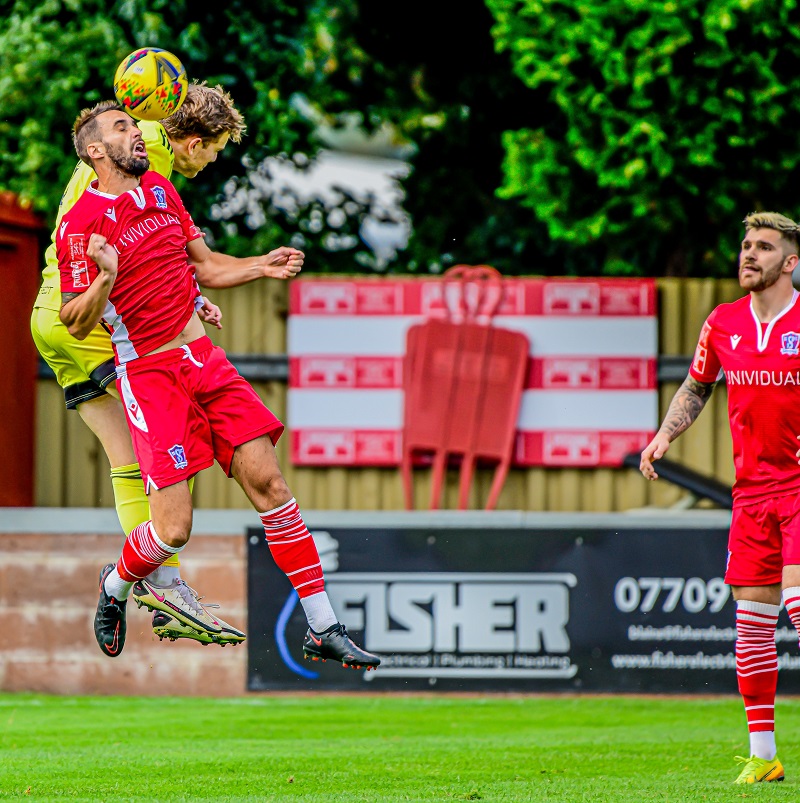 Frankie suffered another strain injury at Tiverton
Photo © Motion Sport Photography / Match Album
Frankie Artus continues to be dogged by injury as he was forced off on 27 minutes with what looked like a groin strain, Brad Hooper came on to replace him. Martin Horsell pulled off a top draw save as he dived to his right from a Louis Morison shot to keep the scoreline all square before Marine burst down the other end and Harry Williams headed just over the top. An end to end encounter eventually saw no goals in the first half but with the chances created it was only going to be a matter of time before this changed.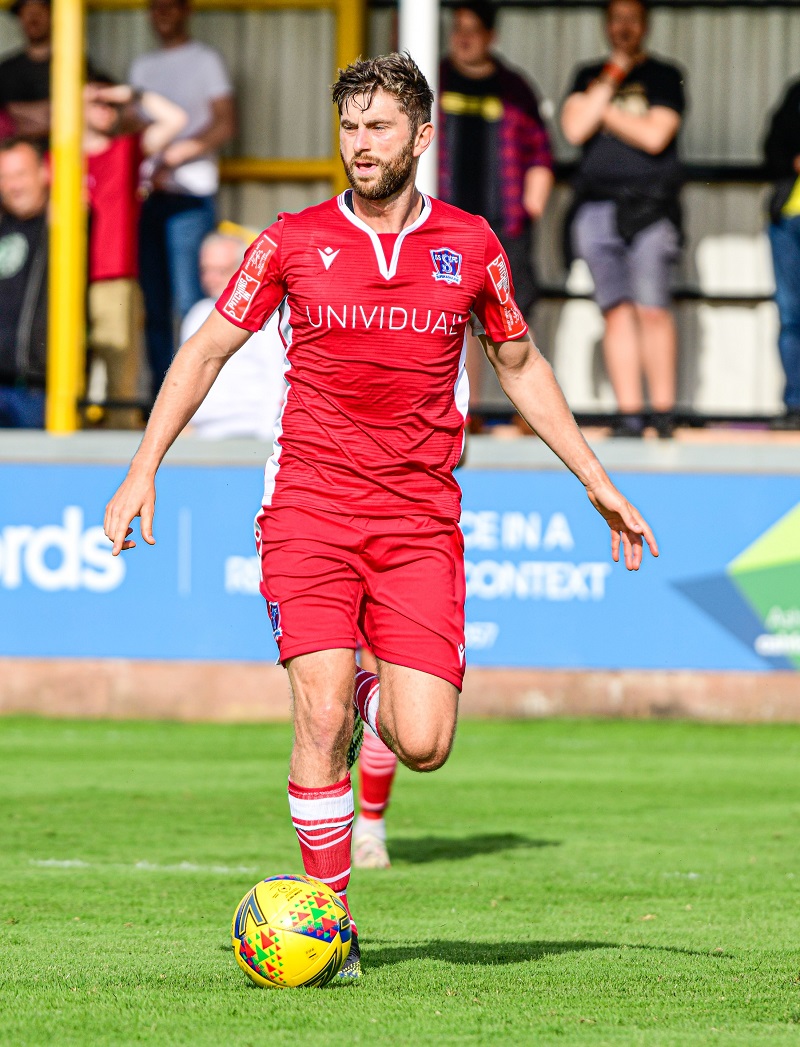 Brad Hooper came on to replace Frankie Artus
Photo © Motion Sport Photography / Match Album
And change it did ten minutes into the second half. Henry Spalding had an early effort hit wide before a soft free kick was awarded to Tivvy just outside the box. The ball was swung in and met superbly by the head of central defender Gary Warren only to see Marine keeper Martin Horsell pull off an outstanding save to deny him at the near post but Tivvy's on loan striker OLAF KOSZELA was the quickest to react and blasted the into the roof of the net to give home side into the lead on 54 minutes.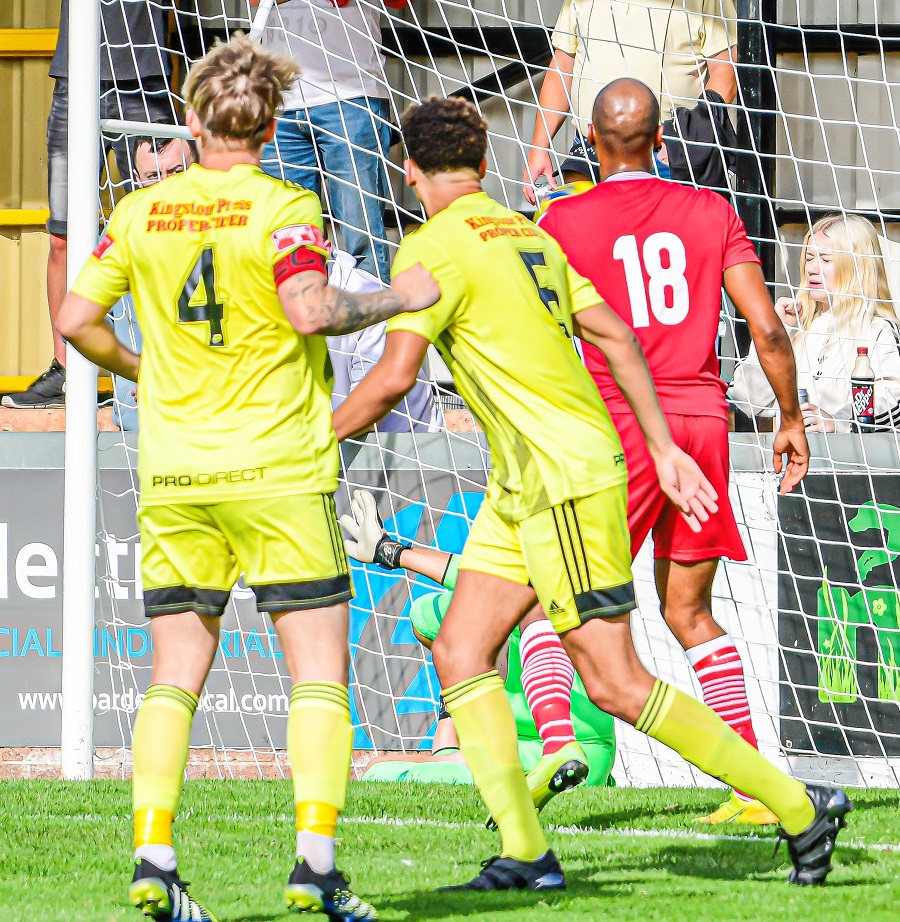 Tiverton's Olaf Koszela scores the opening goal
Photo © Motion Sport Photography / Match Album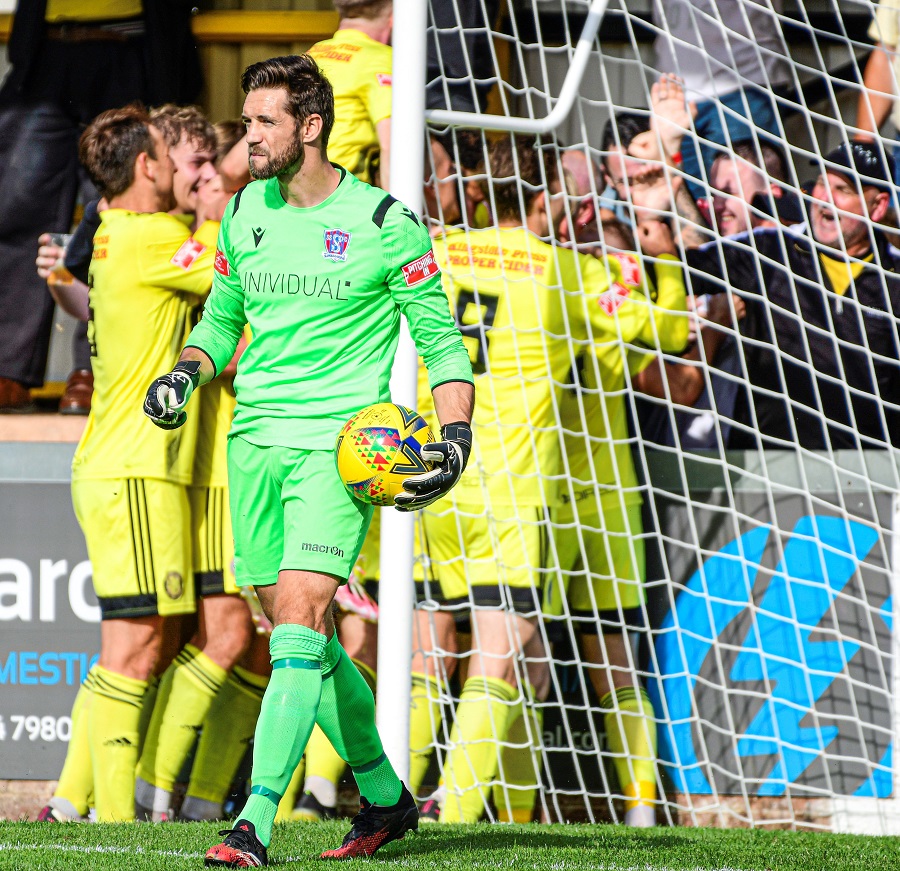 Martin Horsell's look says it all as the Tivvy players celebrate the opening goal behind him
Photo © Motion Sport Photography / Match Album
But Marine reacted superbly and within sixty seconds had levelled it up as the game exploded in life. Chris Zebroski got away on the left wing and with several defenders around him he swung in a left-footed cross and HARRY WILLIAMS leapt like the proverbial salmon to perfectly place his header into the top corner for his third goal of the season. This was an excellent goal for the rejuvenated striker and the perfect response to the set back a minute earlier.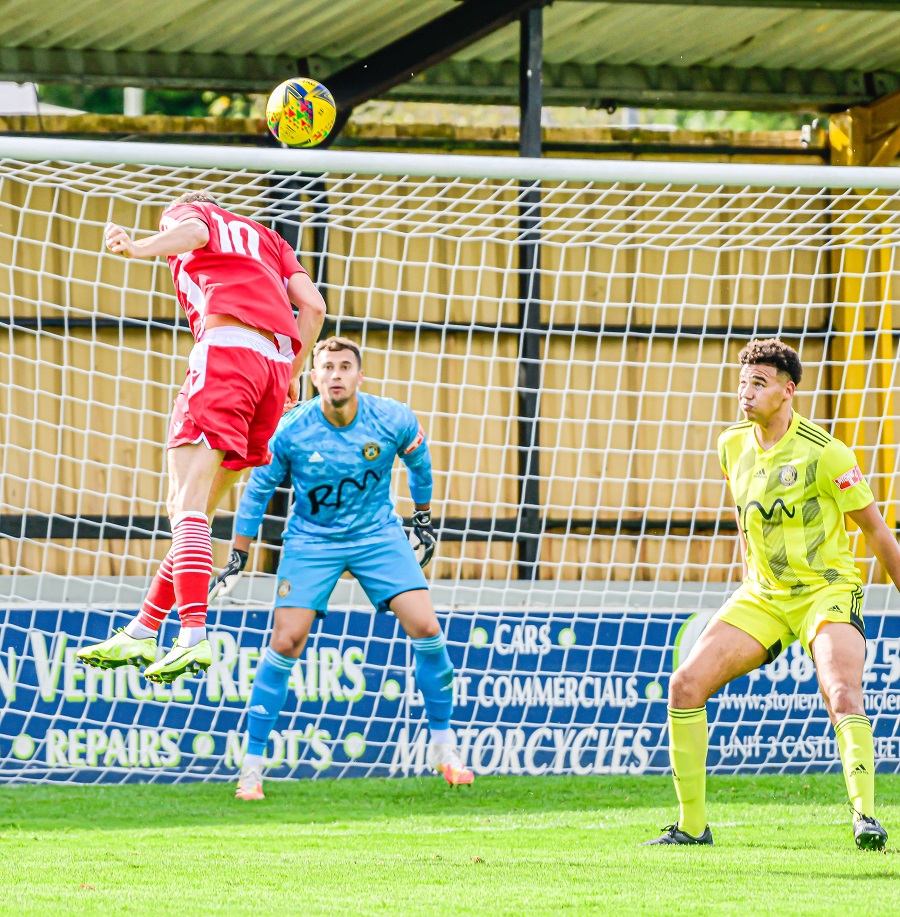 Harry Williams gets to Zebroski's excellent cross to head goalward
Photo © Motion Sport Photography / Match Album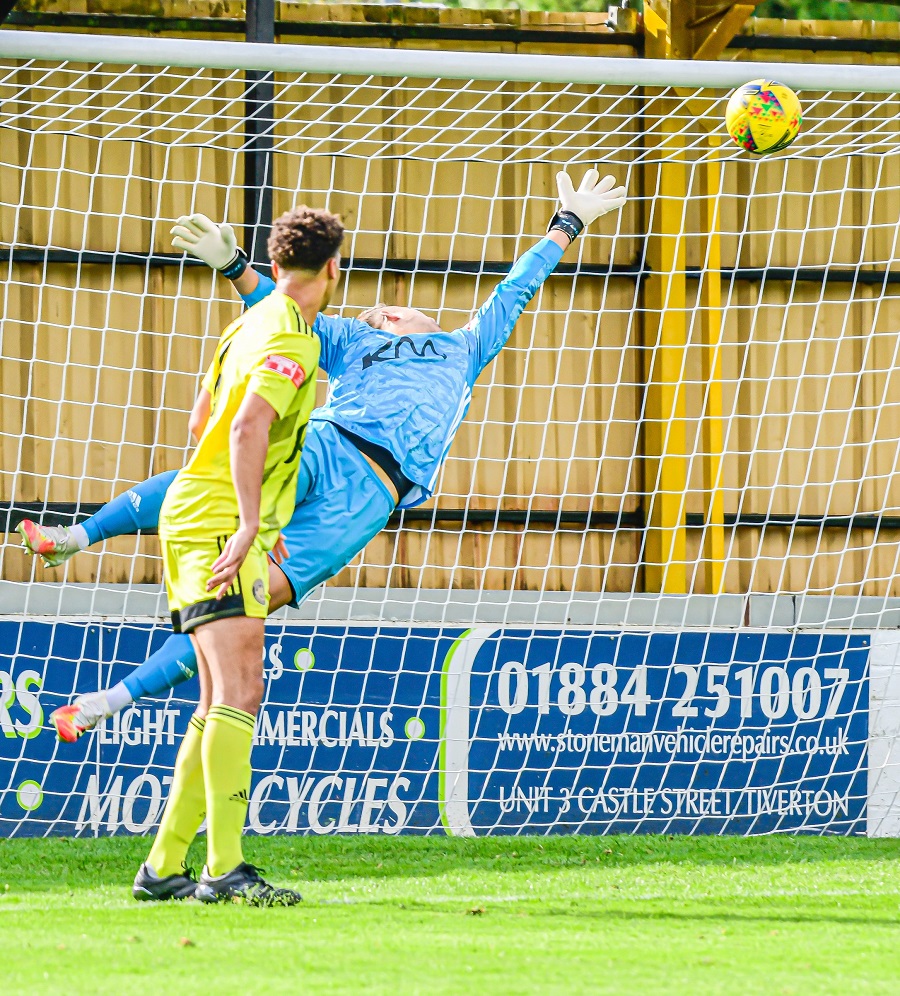 Harry Williams' header flies past home keeper Williams for our equaliser
Photo © Motion Sport Photography / Match Album
Tiverton put together a good move just after the hour but once again Andy Watkins fired wide. Ryan Campbell entered the fray soon after replacing Henry Spalding with Kotwica switching wings to the right. The game then petered out somewhat with chances as both sides battled away in the middle of the park. Manager Lee Spalding rolled the dice for the last time with ten minutes left bringing on Conor McDonagh up top to replace the hard working Zebroski who had an effective league debut. This led to some good Marine pressure earning a couple of corners in a row but the home side defended them all well. Both sides seemed content with their point and ultimately the game drifted into a draw. Marine had dug in well against a side who had shown some excellent football on the day and are sure to be pushing at the top end come the end of the season.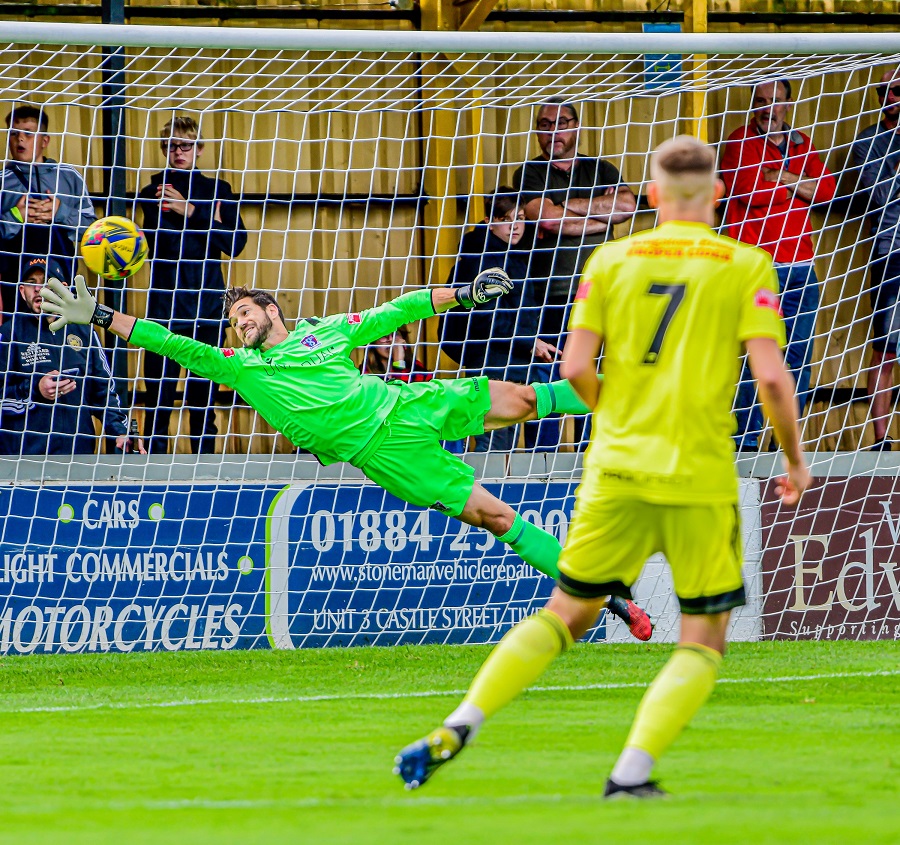 Martin Horsell pulls of a good save
Photo © Motion Sport Photography / Match Album
A friendly game at a friendly club who were particularly kind when a member of the visiting contingent was stuck by the ball and suffered a small injury. Thank you to the stewards and the fans who looked after and checked on him after, particularly the young lad who came up and offered his sweets and good wishes and the home keeper Lewis Williams who informed the referee of the situation and waited for it to be resolved before restarting the game.
Fans Man of the Match: Harry Williams
Line Ups
Tiverton Town


Manager: Scott Rogers
Line-up: 1. Lewis Williams 2. Alfie Pond (15. Kyle Egan 77m) 3. Joe Belsten 4. Aaron Dawson (c) 5. Gary Warren 6. Austen Booth 7. Louis Morison (14. Theo Simpson 77m) 8. Dan Hayfield 9. Matt Wright 10. Olaf Koszela 11. Andy Watkins (12. Jordan Lamb 67m)
Goalscorer: Olaf Koszela (54m)
Editors Star Man: Gary Warren
Cards:
None


None


None

Swindon Supermarine


Manager: Lee Spalding
Line-up: 1. Martin Horsell 2. Louis Spalding 3. Lewis Hall 4. Jamie Edge 5. Matt Coupe 6. Mat Liddiard (c) 7. Henry Spalding (17. Ryan Campbell 63m) 8. Frankie Artus (15. Brad Hooper 24m) 9. Chris Zebroski (12. Conor McDonagh 79m) 10. Harry Williams 11 Zack Kotwica
Subs not used: 14. David Pratt, 16. Pablo Haysham
Goalscorer: Harry Williams 55m


Editors Star Man: Matt Coupe
Cards:
None


None


None

Post Match Team Sheet
Click here for post match team sheet
Match Officials
Referee: Tim Burley (Redruth)
Assistant Referees: Mark Loughlin (Bristol), Mark Wilkes (Bristol)
Video's from Your Sport Swindon
Match Highlights
Post Match with Lee Spalding Post Match with goalscorer Harry Williams Access to the highlights from all of Marine's matches can be viewed on a monthly subscription of just £2:50. Click the 'match highlights' above to subscribe.